This website uses cookies to ensure you get the best experience while browsing it. By clicking 'Got It' you're accepting these terms.


The best of EcoWatch, right in your inbox. Sign up for our email newsletter!
By Harvey Wasserman
Had last Friday's 7.1 earthquake and other ongoing seismic shocks hit less than 200 miles northwest of Ridgecrest/China Lake, ten million people in Los Angeles would now be under an apocalyptic cloud, their lives and those of the state and nation in radioactive ruin.
By Peter Miller
The historic proposal to retire and replace California's last remaining nuclear power plant, Diablo Canyon, was mostly rejected Thursday in a final decision unanimously adopted by the California Public Utilities Commission (CPUC), which removed critical elements protecting the climate, plant workers and surrounding communities. The commission voted to approve this decision, setting the wheels in motion to close the plant by 2025, but without these protections.
EcoWatch Daily Newsletter
The first smoke from the Camp Fire arrived in Ukiah and turned the daylight red.
Bob Dass
/ Flickr / CC BY 2.0
By Brenda Ekwurzel
Before we dive into the science behind the four factors specific to the California Santa Ana winds, let's review the current situation in California and wildfire disaster risks in general.
The latest issue of the U.S. Energy Information's (EIA) Electric Power Monthly (with data through June 30) reveals that renewable energy sources (i.e., biomass, geothermal, hydropower, solar—inc. small-scale PV and wind) remain in a statistical dead heat with nuclear power vis-à-vis their respective shares of the nation's electrical generation, with each providing roughly 20 percent of the total.
During the six-month period (January — June), renewables surpassed nuclear power in three of those months (March, April and May) while nuclear power took the lead in the other three. In total, according to EIA's data, utility-scale renewables plus small-scale solar PV provided 20.05 percent of U.S. net electrical generation compared to 20.07 percent for nuclear power. However, renewables may actually hold a small lead because while EIA estimates the contribution from distributed PV, it does not include electrical generation by distributed wind, micro-hydro or small-scale biomass.
New analysis from Amory B. Lovins debunks the notion that highly unprofitable, economically distressed nuclear plants should be further subsi­dized to meet financial, security, reliability and climate goals. The analysis, which will appear shortly in The Electricity Journal, shows that closing costly-to-run nuclear plants and reinvesting their saved operating costs in energy efficiency provides cheaper elec­tricity, increases grid reliability and security, reduces more carbon, and preserves (not distorts) market integrity—all without subsidies.

A rising tsunami of U.S. nuke shut-downs may soon include California's infamous Diablo Canyon double reactors. But it depends on citizen action, including a statewide petition.
Five U.S. reactor closures have been announced within the past month. A green regulatory decision on California's environmental standards could push the number to seven.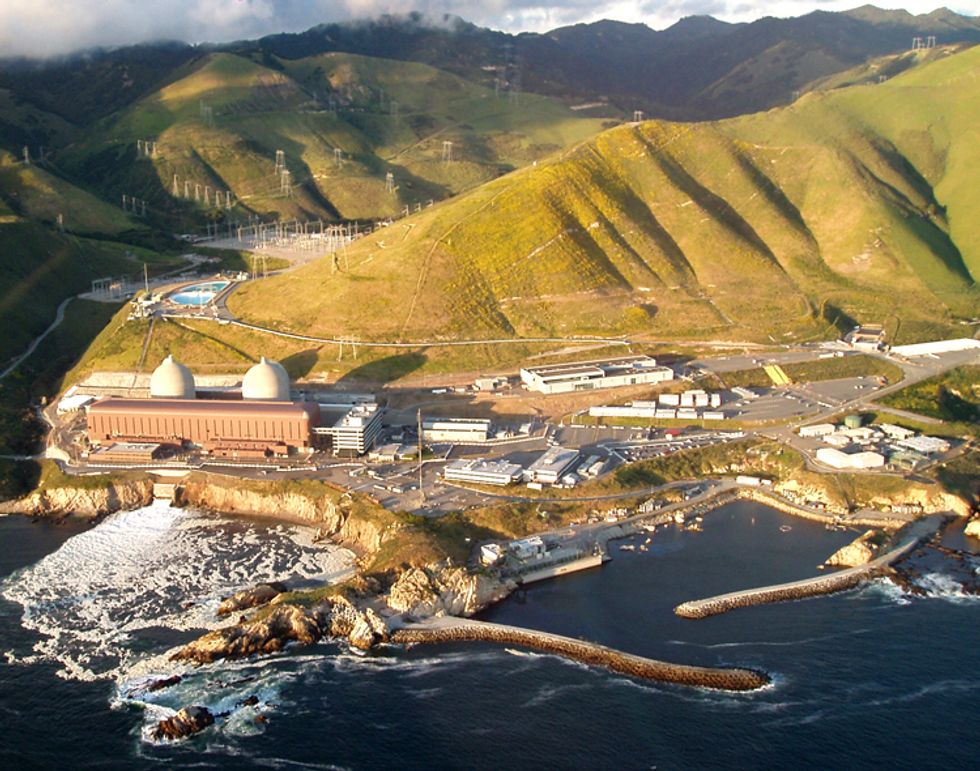 The focus is now on a critical June 28 California State Lands Commission meeting. Set for Sacramento, the hearing could help make the Golden State totally nuke free, ending the catastrophic radioactive and global warming impacts caused by these failing plants. A public simulcast of the Sacramento meeting is expected to gather a large crowd at the Morro Bay Community Center near the reactor site. The meeting starts at 10 a.m., but environmental groups will rally outside the community center starting at 9 a.m.
The three State Lands Commissioners will decide whether to require a legally-mandated Environmental Impact Report under the California Environmental Quality Act (CEQA). If ordered, a public scoping process will begin, allowing interested groups and individuals to weigh in on the environmental impacts of operation of two nuclear reactors on California's fragile coastline.
In 1969 and 1970 PG&E got state leases for tidewater acreage for Diablo's cooling system. These leases are set to expire in 2018 and 2019. If the State Lands Commission does not renew them, both reactors will be forced to shut down.
Signed in 1970 by then-Gov. Ronald Reagan, CEQA requires more extensive Environmental Impact Reports on such leases. Included among the issues to be evaluated are water quality, potential damage to human and other life forms, chemical and radiation releases, and impacts on threatened and endangered species. The commission will not decide whether Diablo will continue to operate, only whether it will now be required to meet CEQA standards.
Pro-nukers say PG&E is at the brink of shutting Diablo's reactors. They cannot economically compete with renewables or gas and are sustained by an intricate network of subsidies, liability protection and tax breaks. Many believe the cost of new environmental studies and of meeting updated standards would be a death blow. More protestors have been arrested at Diablo than any other American nuke, and the public pressure to finally shut it is intense.
One of the commissioners is Gavin Newsom, California's Lieutenant Governor, 2018's leading gubernatorial candidate. Newsom said he sees no long-term future for Diablo.
Another commissioner, state controller Betty Yee, is widely thought to favor the requirement.
State finance director Michael Cohen is the third commissioner. He generally votes as instructed by Gov. Jerry Brown. Brown opposed Diablo early in his career, but has recently waffled.
Among other things, Diablo dumps daily some 2.5 billion gallons of super-heated water into the ocean, killing vast quantities of marine life and worsening the global climate crisis. The project's chemical runoff infamously killed millions of abalone years before it operated.
Diablo may soon face regulatory challenges from other state and federal agencies that could, among other things, require cooling towers, at a cost of up to $14 billion. PG&E would then face a fierce public fight over who would pay for them.
Diablo is surrounded by a dozen earthquake faults. It is half the distance from the San Andreas as was Fukushima from the shock that destroyed it. The Nuclear Regulatory Commission's former resident inspector Dr. Michael Peck has warned Diablo might not survive a similar quake. Such a disaster would irradiate the Central Valley, which supplies much of the U.S. with its fruits, nuts and vegetables. It would send radioactive clouds into Los Angeles within about five hours, and across virtually the entire continental U.S.
Closing Diablo would make California entirely nuke-free. Grassroots activists, with help from U.S. Sen. Barbara Boxer and Friends of the Earth, recently shut two big reactors at San Onofre, between Los Angeles and San Diego. They also closed plants at Rancho Seco (near Sacramento) and Humboldt Bay, and stopped proposed projects at Bodega and Bakersfield.
Along with most nukes around the world, the only other remaining west coast reactor, WPPS2 on Washington's Hanford military reservation, is also losing massive amounts of money.
Because they can't evenly compete with renewable energy or gas, a tsunami of shut-downs has swept away a dozen U.S. reactors since October, 2012. Dozens more teeter at the brink, including two at Indian Point, just north of Manhattan, and Ohio's rapidly crumbling Davis-Besse reactor near Toledo.
In Japan, more than 40 reactors remain shut despite intense government pressure to reopen them in the wake of the Fukushima catastrophe. Germany's energiewende conversion to 100 percent renewables, which aims to shut all its reactors by 2022, is ahead of schedule and under budget. Much of the rest of Europe, including France, is now moving that way.
Should California follow suit at Diablo, its conversion to a wholly green-powered economy would accelerate, likely leading Los Angeles to become the world's first Solartopian megalopolis.
Ironically, with citizen action, a big push in that direction could now come from a state commission's decision to enforce environmental protections signed into law by California's most pro-nuke governor.
Harvey Wasserman's SOLARTOPIA! OUR GREEN-POWERED EARTH is atwww.solartopia.org, along with his upcoming AMERICA AT THE BRINK OF REBIRTH: THE ORGANIC SPIRAL OF U.S. HISTORY. He has co-written six books on election protection with Bob Fitrakis (www.freepress.org), and was arrested at Diablo Canyon in 1984.
YOU MIGHT ALSO LIKE
Nation's Largest Residential Solar Storage Project to Launch This Summer
NASA: Porter Ranch Gas Leak Was So Big It Could Be Seen From Space
Exxon Sues Massachusetts Attorney General to Block Climate Fraud Investigation
Toxic Chemicals Found in Residents Living Near Oil and Gas Operations in Pavillion, Wyoming
An historic agreement has been reached between Pacific Gas and Electric (PG&E), Friends of the Earth and other environmental and labor organizations to replace the Diablo Canyon nuclear reactors with greenhouse-gas-free renewable energy, efficiency and energy storage resources. Friends of the Earth says the agreement provides a clear blueprint for fighting climate change by replacing nuclear and fossil fuel energy with safe, clean, cost-competitive renewable energy.
The agreement, announced today in California, says that PG&E will renounce plans to seek renewed operating licenses for Diablo Canyon's two reactors—the operating licenses for which expire in 2024 and 2025 respectively. In the intervening years, the parties will seek Public Utility Commission approval of the plan which will replace power from the plant with renewable energy, efficiency and energy storage resources. Base load power resources like Diablo Canyon are becoming increasingly burdensome as renewable energy resources ramp up. Flexible generation options and demand-response are the energy systems of the future.
By setting a certain end date for the reactors, the nuclear phase out plan provides for an orderly transition. In the agreement, PG&E commits to renewable energy providing 55 percent of its total retail power sales by 2031, voluntarily exceeding the California standard of 50 percent renewables by 2030.
"This is an historic agreement," Erich Pica, president of Friends of the Earth, said.
"It sets a date for the certain end of nuclear power in California and assures replacement with clean, safe, cost-competitive, renewable energy, energy efficiency and energy storage. It lays out an effective roadmap for a nuclear phase-out in the world's sixth largest economy, while assuring a green energy replacement plan to make California a global leader in fighting climate change."
A robust technical and economic report commissioned by Friends of the Earth served as a critical underpinning for the negotiations. The report, known as Plan B, provided a detailed analysis of how power from the Diablo Canyon reactors could be replaced with renewable, efficiency and energy storage resources which would be both less expensive and greenhouse gas free.
With the report in hand, Friends of the Earth's Damon Moglen and Dave Freeman engaged in discussions with the utility about the phase-out plan for Diablo Canyon. The Natural Resources Defense Council was quickly invited to join. Subsequently, International Brotherhood of Electrical Workers Local 1245, Coalition of California Utility Employees, Environment California and Alliance for Nuclear Responsibility partnered in reaching the final agreement. The detailed phase out proposal will now go to the California Public Utility Commission for consideration. Friends of the Earth (and other NGO parties to the agreement) reserve the right to continue to monitor Diablo Canyon and, should there be safety concerns, challenge continued operation.
The agreement also contains provisions for the Diablo Canyon workforce and the community of San Luis Obispo.
"We are pleased that the parties considered the impact of this agreement on the plant employees and the nearby community," Pica said. "The agreement provides funding necessary to ease the transition to a clean energy economy."
Diablo Canyon is the nuclear plant that catalyzed the formation of Friends of the Earth in 1969. David Brower left the Sierra Club and founded Friends of the Earth over a disagreement about nuclear power and the Diablo Canyon plant specifically. The plant was the first issue on the organization's agenda and it has been fighting the plant ever since. This agreement is not only a milestone for renewable energy, but for Friends of the Earth as an organization.
YOU MIGHT ALSO LIKE
World's First 24/7 Solar Power Plant Powers 75,000 Homes
Help Put an End to Coal Mining on Public Lands
Nation's Largest Residential Solar Storage Project to Launch This Summer
SolarCity Gigafactory in Buffalo, New York. Photo credit: SolarCity
By Harvey Wasserman and Tim Judson
Elon Musk's SolarCity is completing the construction of its "Buffalo Billion" Gigafactory for photovoltaic (PV) cells near the Niagara River in Buffalo, New York. It will soon put 500 New Yorkers to work inside the 1.2 million-square-foot facility with another 700 nearby, ramping up to nearly 3,000 over the next few years.
The two deadly, dangerous nuke reactors at Diablo Canyon may be on the brink of shut-down.
Citizen action is desperately needed on upcoming state regulatory decisions that could flip Diablo's off switch, but would a Bernie Sanders victory in the California primary speed the process?
A dozen earthquake faults surround this huge double reactor complex, which sits 9 miles west of San Luis Obispo, half-way down the coast from San Francisco to Los Angeles. A disaster there would spew radiation into the Central Valley, where much of the nation's winter produce is grown. Los Angeles would have just hours to evacuate in the wake of a Fukushima-type catastrophe.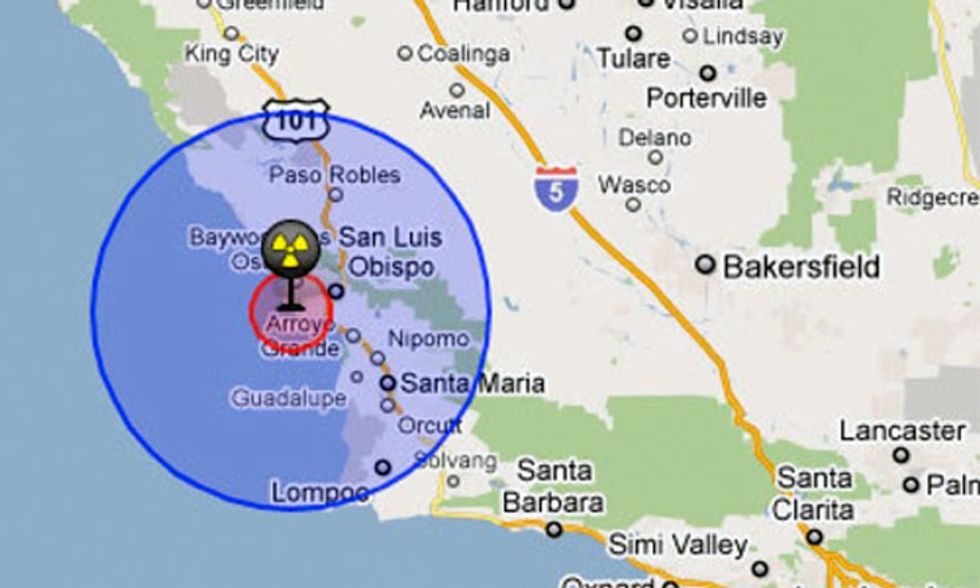 But these 30-year-old nukes cannot be guaranteed to safely withstand a likely seismic shock according to the Nuclear Regulatory Commission's (NRC) own Dr. Michael Peck. Peck served five years as the NRC's resident safety inspector at Diablo. He was transferred after he filed reports warning that required studies on Diablo's ability to withstand seismic shocks had not been completed.
Diablo's operating license should now be invalid. But the feds are letting it run anyway.
Would a President Sanders step in and force the reactors to shut until those studies were done? Would properly done studies then show that Diablo cannot, in fact, meet safe seismic standards and must be permanently closed?
On June 28, the California Lands Commission will meet in Sacramento to decide on a critical lease extension. The three-member commission includes Gavin Newsom, the likely Democratic front-runner in the 2018 race for the governor's seat being vacated by Jerry Brown.
The extension involves land leased by Pacific Gas & Electric for Diablo. Linda Seeley of the San Luis Obispo Mothers for Peace characterizes its deliberations like this:
It's whether or not a full California Environmental Quality Act (CEQA) review must be done, which would force an Environmental Impact Review. The CEQA review would be of the environmental impacts to the tidelands that are leased from the state. The environmental review would be of the intake and outfall water systems, diesel plant, harm to fish and endangered species (plants and animals), harm to air, possibly taking into account the health impacts of radiation releases, harm to indigenous lands and spaces, and other concerns that environmental groups and individuals might bring up in the scoping process.
It would require a preliminary EIR, time to review, and then a final EIR. All of this takes a lot of time. PG&E would have to mitigate for environmental harms, but for some of them there could be no mitigation. The whole process could take a long time, and the mitigations could cost PGE lots of dinero.
The California Coastal Commission and State Water Resources Board could also hang Diablo in regulatory requirements. Despite the hype that it "helps" with global warming, Diablo dumps more super-heated water into the ocean than any other California power plant. Should cooling towers be required, PG&E would have to get the California Public Utilities Commission (CPUC) to force rate payers to foot the bill, which could soar as high as $14 billion.
The CPUC recently approved a 15 cents/kwh tariff for solar-generated electricity, which, along with cheap gas has thrown Diablo's economics into chaos. In 2010 PG&E's negligence caused a natural gas explosion that killed eight people in San Bruno. It is under federal indictment for those deaths, and is being investigated for a cover-up. The CPUC fined PG&E $1.4 billion in the case.
None of that has deterred a desperate nuke power industry. Reactors are now at the brink in Massachusetts, New York, Nebraska, Ohio, Alabama and elsewhere. California "No Nukers" forced shut reactors at San Onofre, Rancho Seco and Humboldt, and stopped construction at Bodega and Bakersfield.
The industry is spending millions to keep our biggest state from going totally post-nuclear. Hugely funded pro-nukers have poured into San Luis Obispo to stage "grassroots" marches and rallies prior to the June 28 California State Lands Commission meeting. PG&E lawyers demand the CPUC be abolished for having fined the company, for supporting solar energy and possibly in anticipation of trying to force the public to pay for cooling towers.
Coming from Vermont, where grassroots action has shut the Yankee nuke, Candidate Sanders's official position is this:
Begin a moratorium on nuclear power plant license renewals in the United States. Sanders believes that solar, wind, geothermal power and energy efficiency are proven and more cost-effective than nuclear—even without tax incentives—and that the toxic waste byproducts of nuclear plants are not worth the risks of the technology's benefit. Especially in light of lessons learned from Japan's Fukushima meltdown, Sanders has also raised questions about why the federal government invests billions into federal subsidies for the nuclear industry. We can have an affordable carbon-free, nuclear-free energy system and we must work for a safe, healthy future for all Americans.
Since the Diablo license is soon up for renewal, and since its operations depend on federal subsidies (most importantly for liability insurance), a Sanders victory in Tuesday's California primary might mark a step toward shutting Diablo.
But far more important is that Sanders' supporters stick with the issue. To make a real difference, Sanders voters in California and elsewhere must escalate their activism after they cast their ballots.
The ultimate difference will be made by those who turn the tide June 28 at the California State Lands Commission, and at the Coastal Commission and CPUC hearings to come, and in the day-to-day organizing by which we shut these nukes.
In the weeks and months to come, it's the tangible activism beyond voting that must shut Diablo before it blows.
Harvey Wasserman was arrested at Diablo Canyon in 1984. His Solartopia! Our Green-Powered Earth is at Solartopia.org, along with The Strip & Flip Selection of 2016, written with Bob Fitrakis. His America at the Brink of Rebirth: The Organic Spiral of U.S. History is coming soon.
YOU MIGHT ALSO LIKE
Oil Train Derails in Columbia River Gorge, Rally Calls for Ban on 'Bomb Trains'
As California Goes, So Goes the Planet
Stephen Hawking: One Thing Threatens Us More Than Donald Trump … Climate Change
Student Abandons Economics Major at George Mason Over Koch 'Donations'
As worldwide headlines have proclaimed, California's Pacific Gas & Electric (PG&E) says it will shut its giant Diablo Canyon reactors near San Luis Obispo, and that the power they've been producing will be replaced by renewable energy.
PG&E has also earmarked some $350 million to "retain and retrain" Diablo's workforce, whose union has signed on to the deal, which was crafted in large part by major environmental groups.
On a global scale, in many important ways, this marks the highest profile step yet towards the death of U.S. nuclear power and a national transition to a Solartopian green-powered planet.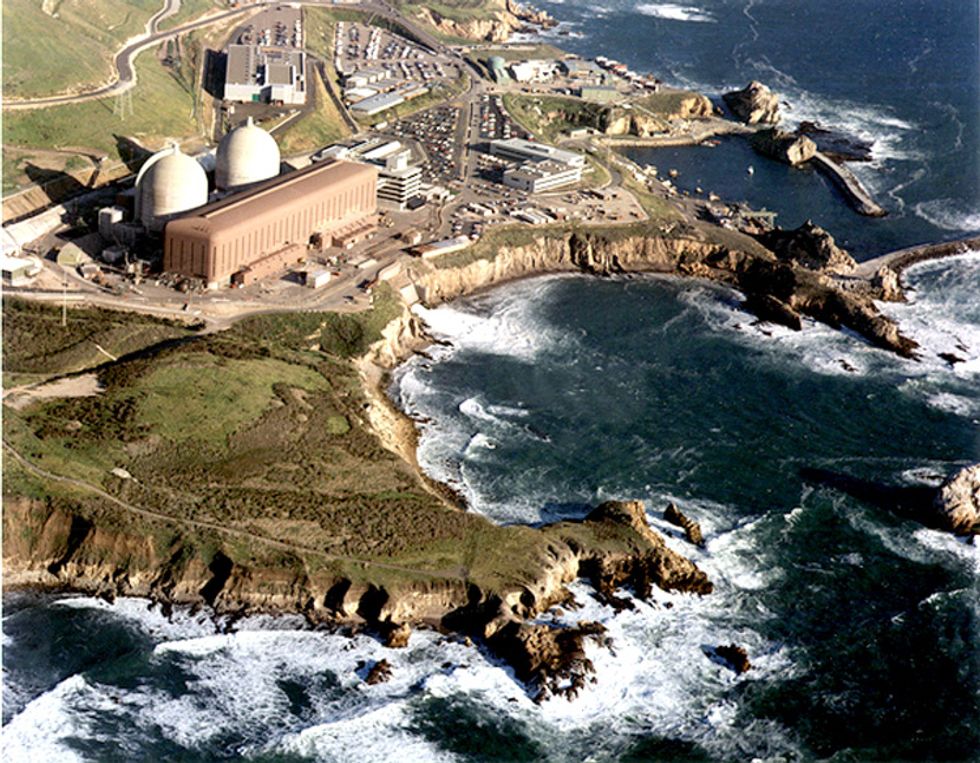 For Californians, as we shall see, there's an army of devils in the details, which cannot be ignored. But let's deal with the big picture first.
The three most important lines on nuke power's Diablo tombstone may be these:
1. A major U.S. utility has admitted that the energy from a nuke—one of the world's biggest—can be effectively replaced with renewables.
Over the past decade the nuke industry has spent more than $500,000,000 hyping an utterly failed "nuclear renaissance" partly on the premise that green power can't make up for the energy production lost by shutting reactors. One of the world's top nuclear utilities has now signed a major public document saying that this is not true.
2. A major union has approved an agreement that provides retraining for soon-to-be-displaced workers at a soon-to-be-shut nuke.
For years the International Brotherhood of Electrical Workers (IBEW) and other unions representing atomic workers have fought reactor shut-downs because of lost jobs. The IBEW's partnership in this agreement shows that with planning and funding, a smooth transition for displaced reactor workforces can be charted.
3. The agreement was crafted with leadership from two major national environmental organizations—Friends of the Earth (FOE) and the Natural Resources Defense Council (NRDC).
The corporate "nuclear renaissance" hype has conjured up a cadre of "environmentalists for nuclear power." Like clockwork the corporate media breathlessly reports from time to time that formerly green activists are now flocking like lemmings to the atomic sea.
Thus the Wall Street Journal recently published a major feature alleging a pro-nuke shift at the Sierra Club, which it then mutated into yet another re-run of the "greens for atoms" meme. The piece was sharply denounced by Sierra Club's executive director Michael Brune, who reaffirmed the club's staunch opposition to nuke power.
As environmental mainstays, FOE and NRDC's role in this Diablo agreement re-confirms the core stance of a green community whose "No Nukes" stance has deepened since Fukushima and with the rise of renewables. Greenpeace, the Abalone Alliance, Mothers for Peace, Alliance 4 Nuclear Responsibility, World Business Academy in Santa Barbara and many others hold more fiercely than ever to the anti-nuke/pro-renewables positions they've sustained for decades.
A tiny, top-down "greens for nukes" front group is currently shouting around California in support of Diablo. But this agreement renders the "atomic environmentalist" charade even more marginal.
Meanwhile corporate media outlets throughout U.S. have accepted this Diablo news as nuclear power's definitive death notice. The SFGate called it the "End of an Atomic Era." I saw it reported that way on a streaming news wire high above downtown Cleveland. What Linda Seeley, a multi-decade veteran of the San Luis Obispo Mothers for Peace, thought was a local radio interview went nationwide on NPR.
Closing Diablo will make our largest state nuke-free. The agreement embodies the sixth and seventh U.S. reactor shut-downs announced in the last month, the fifteenth and sixteenth since 2012. WPPSS2, the only other operating reactor on the west coast, is bleeding cash and may be among the next to go.
Safe energy activists can warmly embrace this announcement. More have been arrested at Diablo than any other U.S nuke. This would never have happened without citizen activism.
So all you tried and true "No Nukes" greenies … go out and have a party!
But ... then listen to the rest of the news, and get back to work.
• What PG&E has actually announced is something that's been expected for quite a while, which is that it won't pursue NRC re-licensing. The agreement thus predicts closures in 2024 and 2025, when Diablo's current licenses expire.
• But unlicensed operations continue at New York's Indian Point. Fail-proof legal safeguards are needed to make sure that doesn't happen at Diablo.
• The agreement comes just prior to a crucial June 28 hearing in front of the California State Lands Commission. PG&E wants the State Land Commission to renew leases issued in 1969 and 1970 that allow Diablo's cooling systems to pollute coastal territory. Just after that, then-Gov. Ronald Reagan signed the California Environmental Quality Act, imposing a wide range of requirements and reporting on state lands. Diablo can't meet those requirements, and PG&E doesn't want to do the studies.
At least two of the three commissioners have indicated they would expect PG&E to now comply with CEQA. But many fear this agreement might incline them to now let those requirements go unenforced until the alleged new shut-down date, rather than forcing the reactors to close in 2018 and 2019, when the leases expire. Grassroots activists are circulating petitions and exerting as much pressure as they can to make sure the commissioners hold the line.
• PG&E is now in what amounts to a federal murder trial, and may hope this agreement will soften the prosecution. Despite repeated warnings, in 2010 the company's badly maintained gas network blew up in San Bruno. It killed eight people through what amounts to criminal negligence. The usually docile California Public Utilities Commission has already fined the company $1.4 billion. PG&E executives may see this agreement as something of a federal plea bargain in an extremely serious prosecution.
• Worldwide studies show cancer and infant disease rates climb when reactors open, and decline when they shut. Such numbers have been confirmed at Diablo and at Rancho Seco in studies commissioned by the World Business Academy, which warns that the longer Diablo operates, the more the public health will suffer.
• Diablo is in clear violation of state and federal water quality laws. It daily sucks in 2.5 billion gallons of sea water which it returns far hotter (18-20 degrees Farenheit) than allowable. Regulatory hearings on the near horizon would tell whether PG&E will be forced to build cooling towers to spew the heat into the air instead of the water. Cooling tower cost estimates range from $2 billion to $14 billion. Should the towers be required, PG&E would face a wild melee over who'd pay for them. But faced with a shut-down date, regulators might just let Diablo continue in violation (as has been done at New Jersey's Oyster Creek).
• PG&E may be short hundreds of millions of dollars in funds necessary to decommission Diablo. Bitter disputes have already erupted over decommissioning San Onofre and other down U.S. reactors, including Vermont Yankee. Major technical problems, including serious leaks, have already emerged at Diablo and are certain to escalate in both confrontation and cost.
• PG&E and its fellow centralized utilities worldwide are terrified of home-owned roof-top solar panels, whose escalating spread could spell their doom. While hyping its entry into the solar world, PG&E will continue to assault net-metering and other essentials of the distributed generation revolution that threatens its core.
• The agreement includes no guarantee from Mother Nature that one of the dozen earthquake faults surrounding the plant won't go off before the reactors finally shut. Diablo is half the distance from the San Andreas that Fukushima was from the epicenter of the quake that destroyed it. The Nuclear Regulatory Commission's former resident inspector Dr. Michael Peck has warned PG&E has never proven Diablo could withstand such a shock.
• Tsunami expert Dr. Robert Sewell has also testified that a nearby undersea landslide could cause a wave capable of destroying Diablo, including its vulnerable intake pipes. His official report has been buried by the NRC for more than a decade.
There is more ...
But above all, no independent observer believes PG&E has signed this agreement out of love for the planet, its workers, the public well-being or the spirit of the law. It could mark a significant leap toward shutting Diablo Canyon, but it does not seal its fate. Indeed, unless accompanied with fierce activism, some fear it could offer PG&E political cover to prolong its operations.
Globally, this landmark treaty embodies a nuclear utility's admission that renewables can replace nukes, that union-endorsed provisions can ease the transition for workers at closing reactors and that a purported "green shift" to nuke power is mere industry hype.
None of which mitigates the reality Diablo Canyon could be melting as you read this. No matter what this agreement says, no matter when the anointed close-down date ... until those reactors at Diablo Canyon are dead, dismantled and somehow buried, we all live at the brink of a potential apocalypse.
Harvey Wasserman's SOLARTOPIA! OUR GREEN-POWERED EARTH is at www.solartopia.org, along with his upcoming AMERICA AT THE BRINK OF REBIRTH: THE ORGANIC SPIRAL OF US HISTORY. With Bob Fitrakis he has co-authored six books on election protection (www.freepress.org). He was arrested at Diablo Canyon in 1984.
YOU MIGHT ALSO LIKE
Diablo Canyon Nuclear Reactors to Be Replaced With 100% Renewable Energy
5 More U.S. Nukes to Close, Will Diablo Canyon Be Next?
Noam Chomsky: The Doomsday Clock Is Nearing Midnight
Nuclear Industry Worldwide Faces Escalating Battle to Keep Aging Reactors Running
By Noah Long and Kevin Steinberger
Renewable energy is one of the most effective tools we have in the fight against climate change and there is every reason to believe it will succeed. A recent New York Times column seems to imply that renewable energy investments set back efforts to address climate change—nothing could be further from the truth. What's more, renewable technologies can increasingly save customers money as they displace emissions from fossil fuels.
The U.S. must continue—and accelerate—its clean energy growth and the transition to a low-carbon electric grid.
Wind and solar energy have experienced remarkable growth and huge cost improvements over the past decade with no signs of slowing down. Prices are declining rapidly and renewable energy is becoming increasingly competitive with fossil fuels all around the country. In some places, new renewable energy is already cheaper than continuing to operate old, inefficient and dirty fossil fuel-fired or nuclear power plants.

In fact, the investment firm Lazard estimates that the cost of generating electricity from wind and solar has declined by 58 percent and 78 percent, respectively, since 2009. Those cost trends are expected to continue and coupled with the recent extension of federal tax credits for renewable energy, wind and solar growth is widely expected to accelerate over the next several years, with capacity projected to double from 2015 levels by 2021. With careful planning, renewable energy and clean energy options like increased energy efficiency and storing energy for use later will help pave the way.
In the longer term, the U.S. Environmental Protection Agency's Clean Power Plan to establish the first national limits on carbon pollution from power plants will continue to drive renewable energy growth. Wind and solar energy will play a central role in achieving the emissions cuts required and carbon policies like the Clean Power Plan will be critical to ensuring that low-carbon resources are prioritized over higher-emitting power plants.
The Benefits are Huge
In addition to the climate benefits that they will help deliver, renewables already provide a wide range of market and public health benefits that far outweigh their costs. A recent report from the Department of Energy and Lawrence Berkeley National (LBNL) Laboratory found that renewable portfolio standards—state policies that mandate that a specific amount of the state's electricity comes from renewables—provide a wide range of economic, health and climate benefits. The report concluded that in 2013 alone, renewable standards across the country saved customers up to $1.2 billion from reduced wholesale electric prices and $1.3 billion to $3.7 billion from lower natural gas prices (as a result of lower demand for natural gas across the power sector).
The non-market benefits of renewable energy also are considerable. The LBNL researchers estimated that renewables supported nearly 200,000 jobs, provided $5.2 billion worth of health benefits through improved air quality and resulted in global climate benefits of $2.2 billion. At the same time, according to a separate report by DBL Investors, the top 10 leading renewable states experienced lower electricity price increases than the bottom 10 states between 2002 and 2013.
The U.S. must continue—and accelerate—its clean energy growth and the transition to a low-carbon electric grid. There will be technical challenges to completing this transformation, but study after study concludes that integrating high levels of renewables into our electric grid is achievable. This is also being demonstrated in practice, as many states are already incorporating wind and solar, including in Texas, where wind has now supplied more than 45 percent of the state's total energy demand on multiple occasions and in Iowa, as the state now generates 31 percent of its total annual power from wind.
Change is Here
Much is said about the need to adapt the electric grid to the variability associated with integrating renewable energy into our electricity mix. Until recently, the huge costs of maintaining back-up generation and transmission in case they're needed to keep the lights on when large, inflexible resources like coal and nuclear plants suddenly and unexpectedly go offline has too often been ignored. Grid managers and planners are now appropriately as concerned about the need for flexibility and predictability, assets that large fossil and nuclear plants lack. Renewable energy production is variable, but predictable (we mostly know when it will be sunny or windy). However, it can be impossible to predict when large fossil or nuclear plant will have to shut down for critical maintenance.
In a sign of the declining status of large, inflexible base load resources, PG&E recently announced it will close the Diablo Canyon nuclear plant in California and replace it with 100 percent clean energy (NRDC is a signatory), PG&E explains: "California's electric grid is in the midst of a significant shift that creates challenges for the facility in the coming decades. Changes in state policies, the electric generation fleet and market conditions combine to reduce the need for large, inflexible baseload power plants."
As we move forward, there are a number of grid planning practices and technologies that will help facilitate America's transition to higher and higher amounts of renewable energy. For example, as more and more cars on the road become electric, those vehicles can help store electricity and manage peak demand so that supply and demand can be better aligned. Demand response (compensating customers for altering their electricity use at specific periods) and time of use electricity pricing can provide similar support. Leading states are currently contemplating how to design policies and market structures that support a modernized, low-carbon grid. Planning for the future can and must be done in parallel with promoting strong renewables growth in the present.
Renewable energy is already helping address climate change. It's time to put our feet on the accelerator.
Noah Long is the director of the Western Energy Project and Kevin Steinberger is policy analyst for the Climate & Clean Air Program at Natural Resources Defense Council.
This website uses cookies to ensure you get the best experience while browsing it. By clicking 'Got It' you're accepting these terms.


The best of EcoWatch, right in your inbox. Sign up for our email newsletter!