By Farron Cousins
On Wednesday, President Obama signed the Protecting our Infrastructure of Pipelines and Enhancing Safety Act of 2016 into law. The bill, known as the PIPES Act, reauthorizes the federal government to move swiftly in the event of a pipeline leak or rupture. Specifically, the Secretary of Transportation is allowed to issue emergency orders if the unthinkable happens.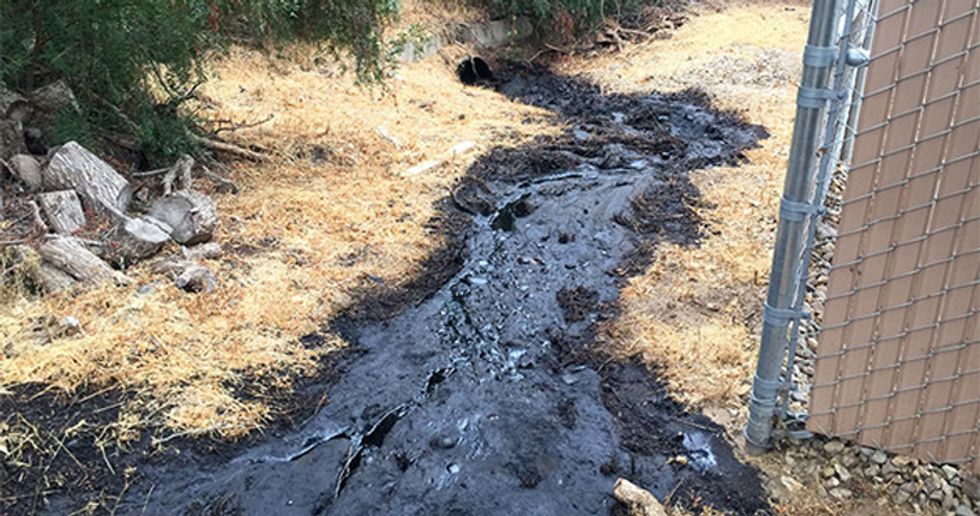 The reauthorization was in response to the natural gas pipeline rupture in California where an estimated 97,000 tons of gas were released from the Aliso Canyon pipeline near Porter Ranch. The bill also includes new mandates on construction to insure the safety of future pipelines and to reduce the chances of another massive leak.
Ironically and very disturbingly, less than 24 hours after the bill was signed into law, an oil pipeline in Ventura County, California ruptured and current estimates put the amount of oil leaked at more than 29,000 gallons, though that number continues to rise.
#VenturacityFD @VCFD responding to crude oil spill #GroveInc #Ventura. Up to 5,000 barrels -- HazMat teams on scene. https://t.co/FHAxrWEjKb

— Ventura County Fire (@Ventura County Fire)1466695184.0
According to the LA Times:
The oil was flowing out near the beach at San Jon Road and the 101 Freeway, Lindbery said. But the area has a natural catch basin that crews are relying on to capture the oil while they build larger barriers with bulldozers and hand crews, officials said.
The oil belongs to Aera Energy and was flowing through a pipeline owned by Crimson Pipeline, Lindbery said. Crimson Pipeline operates in California and Louisiana. The oil company owns 1,000 miles of pipelines in Ventura, Los Angeles, Orange, Kern and in some Northern California counties, according to its website.
When the leak was discovered, the company shut the pipeline down, but the oil remaining in the pipeline continues to flow out.
YOU MIGHT ALSO LIKE
Diablo Shutdown Marks End of Atomic Era
Obama Fracking Rule Struck Down by Federal Judge
How Radioactive Fracking Waste Wound Up Near Homes and Schools
Methane Emissions From Onshore Oil and Gas Equivalent to 14 Coal Plants Powered for One Year
By David Manthos, SkyTruth
On Nov. 5, 2015, a mine-waste dam collapsed at an enormous iron mine in southeastern Brazil. The wave of toxic waste was at least twice the volume of the Johnstown Flood and wiped out buildings and bridges more than 40 miles downstream. Using post-spill satellite imagery and Google Earth, we have produced a bird's-eye view of the devastation wrought by the deluge of arsenic-laced sludge.
During the spill, we reported extensively on the immediate aftermath visible on satellite imagery, the remaining threat of a possible second dam failure (which thankfully did not materialize) and by looking back in time with historical satellite imagery, documented the increase of waste in the impoundment behind the failed Fundão Dam. We also wrote about how frequently these kinds of disasters occur around the world.
The video above was created using Google Earth, comparing pre-spill imagery with images collected on Nov. 9 and Nov. 11. Our analyst Christian delineated the extent of the mine waste from a lake 70 miles downstream of the mine, all the way up to the town of Bento Rodrigues, the damaged Santarem Dam and the failed Fundão impoundment (skipping a section of the river with cloudy imagery). Even further downstream, more than 400 miles away, the Rio Doce ran orange for months afterwards.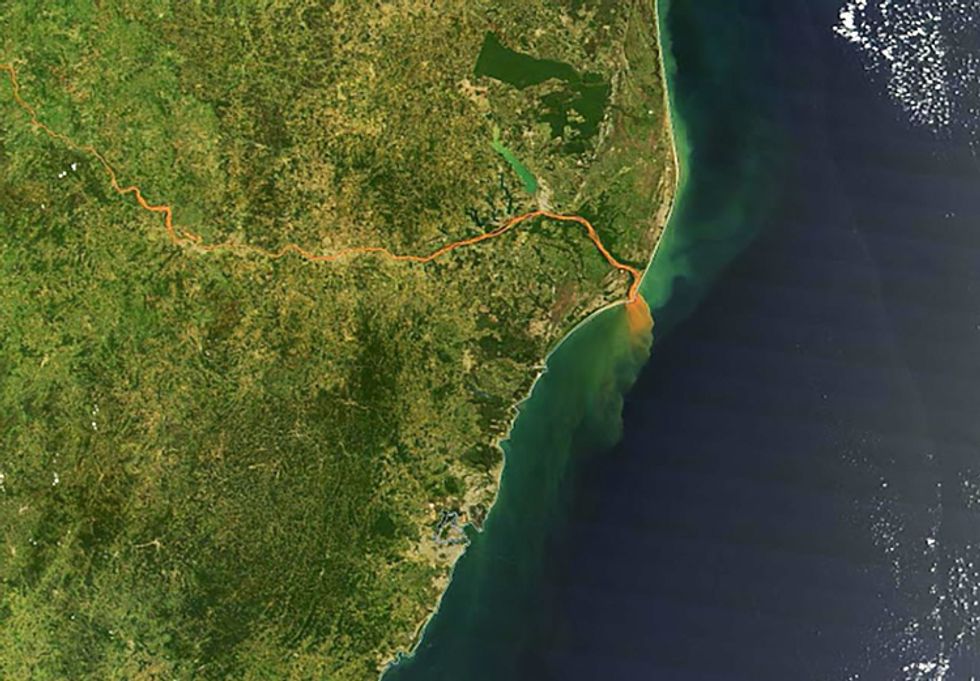 Now the Brazilian government is seeking $44 billion in damages, likening the disaster to the ecological devastation of the oil spilled in the 2010 BP/Deepwater Horizon disaster. A police investigation recently concluded that Samarco Mineração, a joint venture of Vale SA and BHP Billiton, was "more than negligent" in overlooking structural failings and continuing to push for more production.
What is even more alarming is that studies have shown a correlation between the frequency of tailings dam incidents and downturns in commodity prices decrease and the height of dams is soaring around the world as mines produce more and more waste.
YOU MIGHT ALSO LIKE
Breaking: Diablo Canyon Nuclear Reactors to Be Replaced With 100% Renewable Energy
How Radioactive Fracking Waste Wound Up Near Homes and Schools
Methane Emissions From Onshore Oil and Gas Equivalent to 14 Coal Plants Powered for One Year
Filipino Artists Used Pigments From Contaminated Rivers to Highlight Pollution
EcoWatch Daily Newsletter
Sweden opened a stretch of electric highway, becoming the first country to test electric power for heavy transport.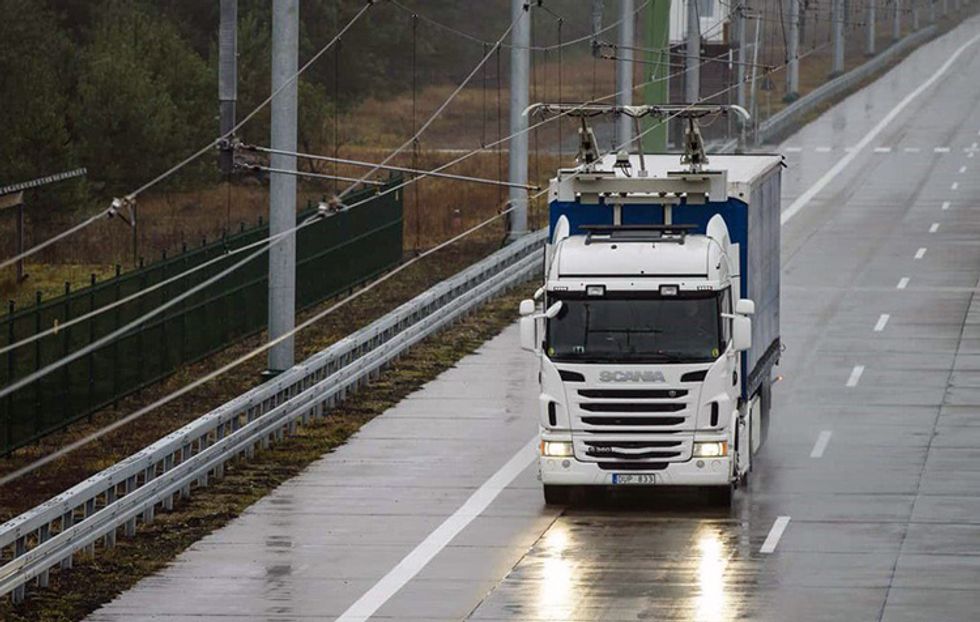 Electric-powered trucks are expected to cut 80 to 90 percent of fossil fuel emissions in Sweden.
A 22 kilometer (or roughly 13 miles) stretch of the E16 road—which connects Oslo, Norway, to Gävle, Sweden—is fitted with power lines overhead, developed by Siemens, providing electricity to hybrid trucks. The system works like a tram system. A current collector on the trucks will transfer energy from the power lines to the trucks' hybrid electric motors, Sputnik News reported. The electric lines help trucks operate longer between recharges.
"Electric roads will bring us one step closer to fossil fuel-free transports, and has the potential to achieve zero carbon dioxide emissions," Lena Erixon, director general of transport authority Trafikverket, said. "This is one way of developing environmentally smart transports in the existing road network. It could be a good supplement to todays road and rail network."
#Siemens Building Electric #Highway for Trucks in #Sweden - via @DoF_Project http://t.co/iUNiOrkUSF #EVs http://t.co/Lu6uPII7lX

— Valeria Cantello (@Valeria Cantello)1441533310.0
When the trucks, provided by Scania, are not on the electric stretch of road, they will operate as hybrid vehicles running on biofuel. Electric-powered trucks are expected to cut 80 to 90 percent of fossil fuel emissions. The opening of this stretch of road is another step toward Sweden's goal of operating a fossil fuel-free fleet by 2030, Inhabitat reported.
"Electric roads are one more piece of the puzzle in the transport system of the future, especially for making the heavy transport section fossil fuel-free over the long term," Erik Brandsma, director general of the Swedish Energy Agency, said. "This project also shows the importance of all the actors in the field cooperating."
Opening of "the world's first electric highway", nr Gävle, central Sweden. More on https://t.co/NuEyvmegfZ Thursday. https://t.co/8fU4DyT4Dl

— UllaEngbergRS (@UllaEngbergRS)1466602850.0
Road transport accounts for one third of Sweden's net carbon dioxide emissions, Sputnik News reported. In the U.S. in 2014, carbon dioxide emissions accounted for 80.9 percent of all human-related greenhouse gas emissions, according to the U.S. Environmental Protection Agency. Carbon dioxide emissions accounts for 65 percent of global greenhouse gas emissions.
Siemens is planning to create another demonstration route, according to Sputnik News. The new stretch will be completed on public roads near Los Angeles and Long Beach, California. Siemens is working with Volvo Trucks on that project.
YOU MIGHT ALSO LIKE:
First Self-Driving, 3D-Printed Smart Bus Hits the Streets of Washington, DC
Tesla Makes $2.8 Billion Offer to Acquire SolarCity
Breaking: Diablo Canyon Nuclear Reactors to Be Replaced With 100% Renewable Energy
Solar Impulse 2 Takes Off for Historic Odyssey Across the Atlantic
The New York Times published an astonishing article last week that blames green power for difficulties countries are facing to mitigate climate change.
The article by Eduardo Porter, How Renewable Energy is Blowing Climate Change Efforts Off Course, serves as a flagship for an on-going attack on the growth of renewables. It is so convoluted and inaccurate that it requires a detailed response.
Our planet is burning up from fossil fuels and being irradiated by decrepit money-losing reactors that blow up. Blaming renewable energy for all that is like blaming the peace movement for causing wars.
As Mark Jacobson, director of Atmosphere/Energy Program at Stanford University, pointed out to me via email:
The New York Times article "suffers from the inaccurate assumption that existing expensive nuclear that is shut down will be replaced by natural gas. This is impossible in California, for example, since gas is currently 60 percent of electricity supply but state law requires non-large-hydro clean renewables to be 50 percent by 2030. This means that, with the shuttering of Diablo Canyon nuclear facility be 2025, gas can by no greater than 35-44 percent of California supply since clean renewables will be at least 50 percent (and probably much more) and large hydro will be 6-15 percent. As such, gas must go down no matter what. In fact, 100 percent of all new electric power in Europe in 2015 was clean, renewable energy with no new net gas, and 70 percent of all new energy in the U.S. was clean and renewable, so the fact is nuclear is not being replaced by gas but by clean, renewable energy.
"Further, the article fails to consider the fact that the cost of keeping nuclear open is often much greater than the cost of replacing the nuclear with wind or solar. For example, three upstate New York nuclear plants require $7.6 billion in subsidies from the state to stay open 12 years. To stay open after that, they will need an additional $805 million/year at a minimum, or at least $17.7 billion from 2028-2050, or a total of $25.3 billion from 2016 to 2050. If, on the other hand, those three plants were replaced with wind today, the total cost between now and 2050 would be $11.9 billion. Thus, keeping the nuclear plants open 12 years costs an additional $7.6 billion; keeping it open 34 years costs and additional $25.3 billion, in both cases with zero additional climate benefit, in comparison with shuttering the three plants today and replacing them with onshore wind."
Gideon Forman, climate change and transportation policy analyst at David Suzuki Foundation, also shared his dismay on the Times piece:
"The notion that non-renewable power sources are necessary is questionable at best. Some scientists believe that, over the next few decades, renewables could provide all our power. One is Stanford Prof. Mark Jacobson. He has done modeling to show the U.S. could be entirely powered by renewables by 2050.
"Porter is wrong to claim that nuclear produces 'zero-carbon electricity.' If we look at the full nuclear cycle, including production of uranium fuel, we find it involves considerable carbon emissions. Jacobson and his co-author, Mark A. Delucchi, have written, 'Nuclear power results in up to 25 times more carbon emissions than wind energy, when reactor construction and uranium refining and transport are considered.'
"Porter says if American nuclear plants were replaced with gas-fired generators it would lead to 200 million tons of additional CO2 emissions annually. But it's wrong to suggest that nuclear could only be replaced by natural gas. A full suite of renewables—along with energy storage and conservation programs—could meet demand, certainly in the not very distant future.
"Porter suggests that nuclear power can 'stay on all the time.' But of course, nuclear plants, like all generators, are sometimes out of service for maintenance. This downtime can be considerable. For example, it is expected that from 2017 to 2021, Ontario's Pickering nuclear station will require back-up almost 30 percent of the time."
Karl Grossman, professor of journalism at State University of New York/College at Old Westbury, called the Times piece "outrageous." He told me:
"The Times piece continues the paper's long record of minimizing and downplaying—not recognizing and indeed often denying—the deadly impacts of nuclear power. It's been a shameful journalistic dysfunction. As Alden Whitman, a Times reporter for 25 years, told me, 'there certainly was never any effort made to do' in-depth or investigative reporting on nuclear power. 'I think there stupidity involved,' he said, and further, 'The Times regards itself as part of the establishment." Or as Anna Mayo of The Village Voice related: 'I built a full-time career on covering nuclear horror stories that the New York Times neglected.'"

So where do I stand on the Porter piece? Here are my eight biggest complaints:
1. Though viewed as the "journal of record," the Times has been consistently pro-nuclear. Its slanted coverage has served as an industry bulwark for decades. A long-time atomic beat reporter, Matt Wald, went straight from the Times to a job with the Nuclear Energy Institute, the primary public relations front for the reactor industry. The Times has a long history as a cheerleader for nuclear power dating back to the atomic bomb era, when it consistently denied health problems from radioactive fallout. It also denied health problems resulting from radiation releases at Three Mile Island, and much more. Now it has taken a major role in defending the nuclear industry from the renewable energy revolution that is driving it to bankruptcy while bringing a tsunami of reactor shut downs. It's these shut downs that now seem to worry the paper.
2. The primary technological transition in the world of electric power today is from fossil and nuclear fuels (King CONG: Coal, Oil, Nukes, Gas) to a Solartopian system based on green power. But there's a deeper shift going on: from centralized, grid-based corporate control to decentralized citizen-based community control. When nuclear power and its apologists defend continued operations at dangerously deteriorated reactors, they are more broadly defending the power and profits of huge corporations that are completely invested in a centralized grid. When they argue that renewables "can't do the job," they're in fact working to prolong the lives of the large generators that are the "base load" basis of a corporate grid-based supply system.
3. But that grid is now obsolete. What strikes the ultimate terror in utility boardrooms is the revolutionary reality of a decentralized power supply, free of large generators, comprised instead of millions of small photovoltaic (PV) panels owned by individuals. Industry sources have widely confirmed that this decentralized, post-grid model means the end of big utilities. Thus when they fight against PV and for nuclear power, they are fighting not for the life of the planet, but for the survival of their own corporate profits.
4. Some utilities do support some renewables, but primarily in the form of large centralized grid-based solar and wind turbine farms. Pacific Gas & Electric said it will replace the power from the Diablo Canyon nuke plant with solar energy. But PG&E is simultaneously fighting rooftop solar, which will allow individual homeowners to disconnect from the grid. Germany's transition from fossil-nukes to renewables has also been marked by conflict between large grid-based wind farms versus small community-based renewables.
5. PG&E and other major utilities are fighting against net metering and other programs that promote small-scale renewables. The Koch Brothers' American Legislature Exchange Council (ALEC) has spread a wide range of taxes and disincentives passed by the states to make it ever-harder to go solar. All this is being done to preserve the grid-based monopolies that own large fossil/nuclear facilities.
6. The idea that nuclear power might fight climate change, and that environmentalists might support it, is a recent concoction, a disgraceful, desperate load of utility hype meant to defend the status quo. Fukushima, unsolved waste problems and the plummeting price of renewables have solidified the environmental community's opposition to nuke power. These reactors are dirty and dangerous. They are not carbon-free and do emit huge quantities of heated water and steam into the ecosphere. The utility industry can't get private liability insurance for them, and relies on the 1957 Price-Anderson Act to protect them from liability in a major catastrophe. The industry continually complains about subsidies to renewable energy but never mentions this government protection program without which all reactors would close.
7. Not just nuke power but the entire centralized fossil/nuke-based grid system is now being undermined by the massive drops in the price of renewable energy, and massive rises in its efficiency and reliability. The critical missing link is battery technology. Because the sun and wind are intermittent, there needs to be energy storage to smooth out supply. Elon Musk's billion-dollar Tesla Gigafactory in Nevada and many other industrial ventures indicate major battery breakthroughs in storage is here today.
8. Porter's NY Times piece correctly says that the massive amounts of cheap, clean renewables flooding the grid in Europe and parts of the U.S. are driving nuclear power plants into bankruptcy. At least a dozen reactor shut downs have been announced in the U.S. since 2012 and many more are on their way. In Japan 52 of the 54 reactors online before the Fukushima disaster are now closed. And, Germany has pledged to shut all its reactors by 2022.
But Porter attacks this by complaining that those nukes were supplying base load power that must be otherwise—according to him—shored up with fossil burners. Here's his key line:
"Renewable sources are producing temporary power gluts from Australia to California, driving out other energy sources that are still necessary to maintain a stable supply of power."
But as all serious environmentalists understand, the choice has never been between nukes versus fossil fuels. It's between centralized fossil/nukes versus decentralized renewables.
Porter's article never mentions the word "battery" or the term "rooftop solar." But these are the two key parts in the green transition already very much in progress.
So here is what the Times obviously can't bring itself to say: "Cheap solar panels on rooftops are now making the grid obsolete." The key bridging element of battery back-up capability is on its way. Meanwhile there is absolutely no need for nuclear power plants, which at any rate have long since become far too expensive to operate.
Spending billions to prop up dying nuke reactors for "base load" generation is pure corporate theft at the public expense, both in straight financial terms and in the risk of running badly deteriorated reactors deep into the future until they inevitably melt down or blow up.
Those billions instead should go to accelerating battery production and distribution, and making it easier, rather than harder, to gain energy independence using the wind and the sun.
All this has serious real-world impacts. In Ohio, for example, a well-organized shift to wind and solar was derailed by the Koch-run legislature. Some $2 billion in wind-power investments and a $500 million solar farm were derailed. There are also serious legal barriers now in place to stop homeowners from putting solar shingles and panels on their rooftops.
Meanwhile, FirstEnergy strong-armed the Ohio Public Utilities Commission into approving a huge bailout to keep the seriously deteriorated Davis-Besse nuke operating, even though it cannot compete and is losing huge sums of money. Federal regulators have since put that bailout on hold.
Arizona and other Koch-owned legislatures have moved to tax solar panels, ban solar shingles and make it illegal to leave the grid without still paying tribute to the utilities who own it. Indeed, throughout the U.S. and much of the western world, corporate-owned governments are doing their best to slow the ability of people to use renewables to rid themselves of the corporate grid.
For an environmental movement serious about saving the Earth from climate change, this is a temporary barrier. The Times and its pro-nuke allies in the corporate media will continue to twist reality. But the Solartopian revolution is proceeding ahead of schedule and under budget. A renewable, decentralized energy system is very much in sight.
The only question is how long corporate nonsense like this latest NY Times screed can delay this vital transition. Our planet is burning up from fossil fuels and being irradiated by decrepit money-losing reactors that blow up. Blaming renewable energy for all that is like blaming the peace movement for causing wars.
The centralized King CONG grid and its obsolete owners are at the core of the problem. So are the corporate media outlets like the New York Times that try to hide that obvious reality.
Harvey Wasserman's SOLARTOPIA! OUR GREEN-POWERED EARTH is at www.solartopia.org, where his
AMERICA AT THE BRINK OF REBIRTH: THE ORGANIC SPIRAL OF US HISTORY is soon to arrive. He edits www.nukefree.org and hosts the Solartopia Green Power & Wellness Show at www.prn.fm.
When we talk about climate change all too often we focus on carbon dioxide, the main greenhouse gas. But there is a much more potent greenhouse gas, methane, which is much more efficient at trapping radiation than CO2. Some estimates put it at 87 times more potent over a 20 year lifetime than carbon dioxide.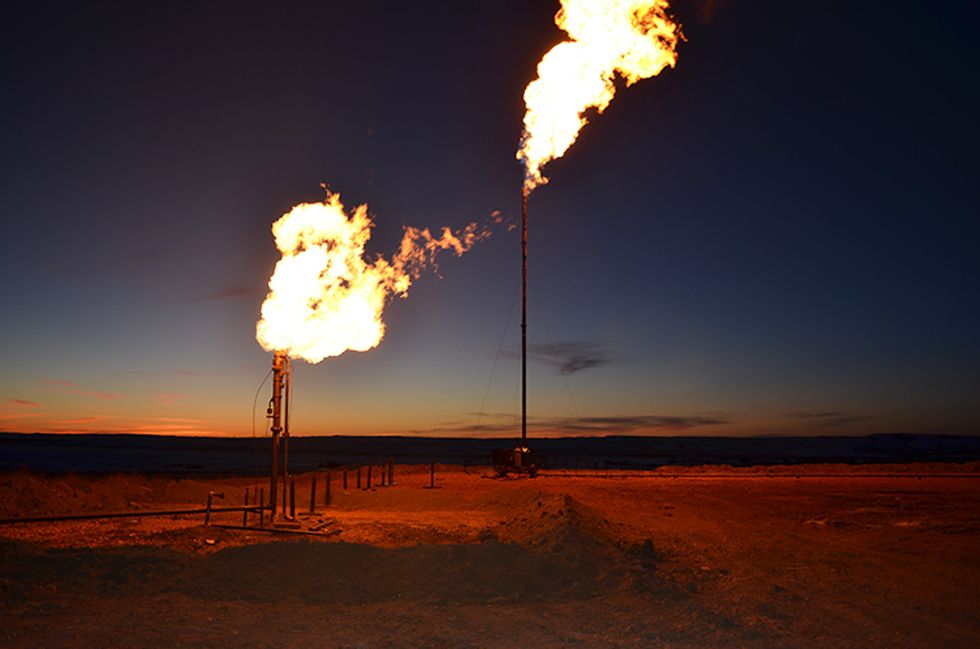 And who is the biggest culprit for releasing methane in the U.S.? It is the oil and gas industry, which is the largest industrial source of methane pollution in the country, releasing 33 percent of all methane emissions in 2014.
There are a staggering amount of old and new wells with the potential to release methane. At least 3.5 million wells have been drilled in the U.S., with a quarter of those still active. Many old and new ones are leaking the potent greenhouse gas. Adding to the problem, there will be thousands of old wells leaking methane which the authorities do not even know the whereabouts of.
First let's look at existing wells.
A new report, published by the Center for American Progress on Monday, reveals that the onshore oil and gas industry's methane emissions totaled more than 48 million metric tons of carbon dioxide equivalent or CO2e, in 2014.
To put this into perspective, this is the equivalent of 14 coal-fired power plants powered for one year.
The worst culprits were ranked in order and came out as: ConocoPhillips, Exxon, Chesapeake Energy, EOG Resources and BP.
Concern has been growing about the oil industry's methane emissions for a while. Last month, the U.S. Environmental Protection Agency (EPA) finalized limits on methane emissions from new sources in the oil and gas sector. Indeed, the Obama administration has set a goal of reducing methane emissions from the oil and gas sector by 40 percent from 2012 emissions levels by 2025.
The biggest emitters were not necessarily the biggest natural gas producers. For example, ConocoPhillips was the sixth largest natural gas producer in 2014.
The parts of the country experiencing the worse methane pollution are of course the main oil and gas producing areas including the following: the Anadarko Basin of Colorado, Kansas, Oklahoma and Texas; the Gulf Coast Basin of Louisiana and Texas; the San Juan Basin of Colorado and New Mexico; the Permian Basin of New Mexico and Texas; and the Appalachian Basin in the eastern part of the U.S.
But now let's look at old wells.
There are other areas too which are suffering from chronic methane leakage from old wells. Yesterday, Bloomberg ran an article on the problems of methane leakage affecting Pennsylvania, the birthplace of the U.S. oil industry, where "century-old abandoned oil wells have long been part of the landscape."
Bloomberg reports that these abandoned wells as now the "focus of growing alarm," especially ones close to the new fracking fields, due to them leaking methane.
"We had so much methane in our water, the inspector told us not to smoke a cigar or light a candle in the bath," Joe Thomas, a machinist, whose 40-acre farm has at least 60 abandoned wells, tells Bloomberg.
Pennsylvania's Attorney General is now reviewing the rules requiring drillers to document wells within 1,000 feet of any new potential fracking site. The obvious worry is that abandoned wells might interact with new fracking wells, creating an easy methane escape route from the frack well. And in Pennsylvania only ten percent of abandoned wells are documented.
One person searching for these abandoned wells is Laurie Barr, who co-founded Save Our Streams Pennsylvania. Over the last five years she has located almost 1,000 wells, most of which were not recorded.
Bloomberg quotes Mary Kang, a postdoctoral fellow at Stanford University in California who co-authored a widely cited paper on methane leakage from Pennsylvania's wells. "These old wells are emitting methane into the atmosphere and they are worth considering in greenhouse-gas emissions inventories," she said.
YOU MIGHT ALSO LIKE
Help Put an End to Coal Mining on Public Lands
5 More U.S. Nukes to Close, Will Diablo Canyon Be Next?
EPA Bans Fracking Wastewater from Sewage Treatment Plants
NASA: Porter Ranch Gas Leak Was So Big It Could Be Seen From Space
On June 24, foreign oil company TransCanada filed a lawsuit against the U.S. under NAFTA, the North American Free Trade Agreement, arguing that the U.S. rejection of the Keystone XL pipeline violated NAFTA's broad rights for foreign investors by thwarting the company's "expectations." As compensation, TransCanada is demanding more than $15 billion from U.S. taxpayers.
TransCanada's case will be heard in a private tribunal of three lawyers who are not accountable to any domestic legal system, thanks to NAFTA's "investor-state" system, which is also included in the proposed Trans-Pacific Partnership (TPP). The controversial TPP would empower thousands of additional corporations, including major polluters, to follow TransCanada's example and use this private tribunal system to challenge U.S. climate and environmental policies.
TransCanada's Request for Arbitration follows the Notice of Intent to submit a claim to arbitration that it filed on Jan. 6.
Oil company led climate denial, now helping make trade rules in #TPP and #TTIP @sierraclub https://t.co/magVbS7Lfr https://t.co/y7beC5lbUG

— Expose The TPP (@Expose The TPP)1465314715.0
TransCanada's attempt to make American taxpayers hand over more than $15 billion because the company's dirty Keystone XL pipeline was rejected shows exactly why NAFTA was wrong and why the even more dangerous and far-reaching Trans-Pacific Partnership must be stopped in its tracks.
The TPP would empower thousands of new firms operating in the U.S, including major polluters, to follow in TransCanada's footsteps and undermine our critical climate safeguards in private trade tribunals. Today, we have a prime example of how polluter-friendly trade deals threaten our efforts to tackle the climate crisis, spotlighting the need for a new model of trade model that supports rather than undermines climate action. We urge our members of Congress to learn from this historic moment and commit to reject the TPP.
Here's more information on the TPP:
Environmental opposition to the TPP is mounting. Earlier in June, more than 450 environmental, landowner, Indigenous rights, and allied organizations sent a letter to Congress warning that pending trade deals like the TPP threaten efforts to keep fossil fuels in the ground.
Read the Sierra Club's report on how the TPP would roughly double the number of corporations that could follow TransCanada's example and challenge U.S. safeguards in private, unaccountable tribunals.
The corporations that would gain this ability include hundreds of foreign-owned fossil fuel firms, such as the U.S. subsidiaries of BHP Billiton, one of the world's largest greenhouse gas emitters and one of the U.S.'s largest foreign investors in fracking and offshore drilling.
The TPP would nearly double the number of foreign fracking firms that could challenge new U.S. fracking restrictions in private tribunals.
The deal also would enable oil and gas corporations with nearly 1 million acres' worth of U.S. offshore drilling leases to use this private tribunal system to try to undermine new restrictions on offshore drilling.
No prior U.S. trade deal has granted such broad rights to corporations with such broad interests in maintaining U.S. fossil fuel dependency.
YOU MIGHT ALSO LIKE
Stanford Professor's New Zero-Net Energy Home Sets the Standard for Green Living
Diablo Shutdown Marks End of Atomic Era
Tesla Makes $2.8 Billion Offer to Acquire SolarCity
Koch Brothers Continue to Fund Climate Change Denial Machine, Spend $21M to Defend Exxon
Many of us who have dedicated our lives to environmental protection believe that all crimes against nature are also crimes against people. After all, nature is the life source for the human species. But unfortunately, not all members of the public agree with us.
Some people care more about saving animals, a wetland or a forest. None of these matters are of much interest to the media, government or funding organizations. However, when people are also involved and directly harmed by the crime against nature, it can help draw attention to efforts to protect the health and life of people as well as the environment.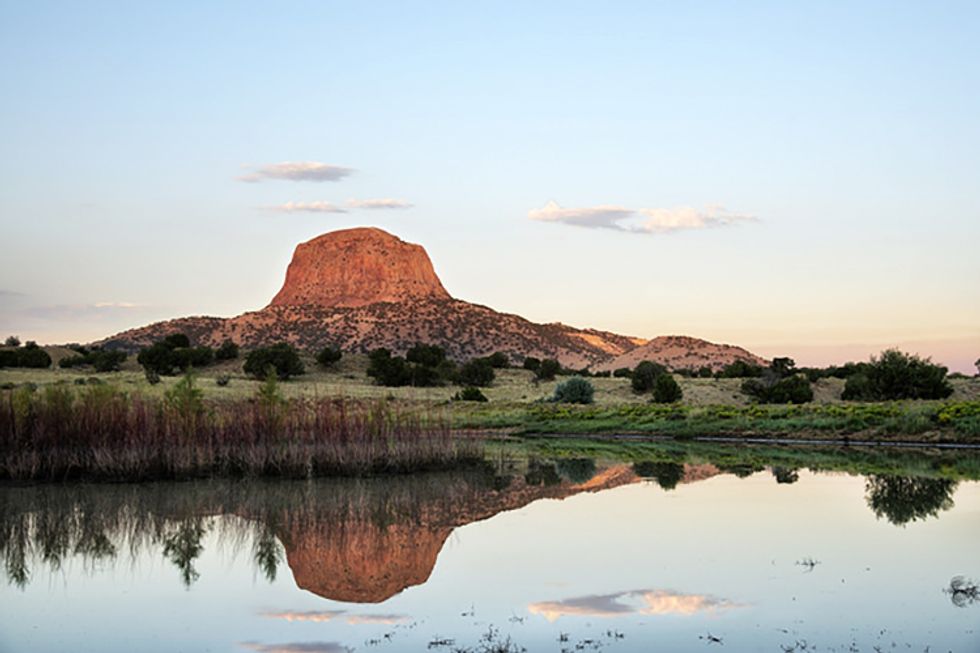 John Fowler
/
CC BY
That's one of the many reasons why I believe the environmental movement needs to focus more resources on issue of environmental justice (EJ). This is particularly true for poor communities of color: urban and rural black and Latinx people, immigrants and Native Americans.
Earlier this year, a non-profit that I sit on the board of, New Mexico Environmental Law Center (NMELC), filed an appeal to stop a proposed uranium mine on Navajo tribal lands in New Mexico. The appeal was filed on behalf of Eastern Navajo Dine Against Uranium Mining and due to the quick work of the Law Center, the State of New Mexico terminated the permit. It was wonderful, decisive victory—highlighting a small but important piece of the very large problem around the issue of environmental justice that groups like NMELC and their clients fight in the U.S. and around the planet every day.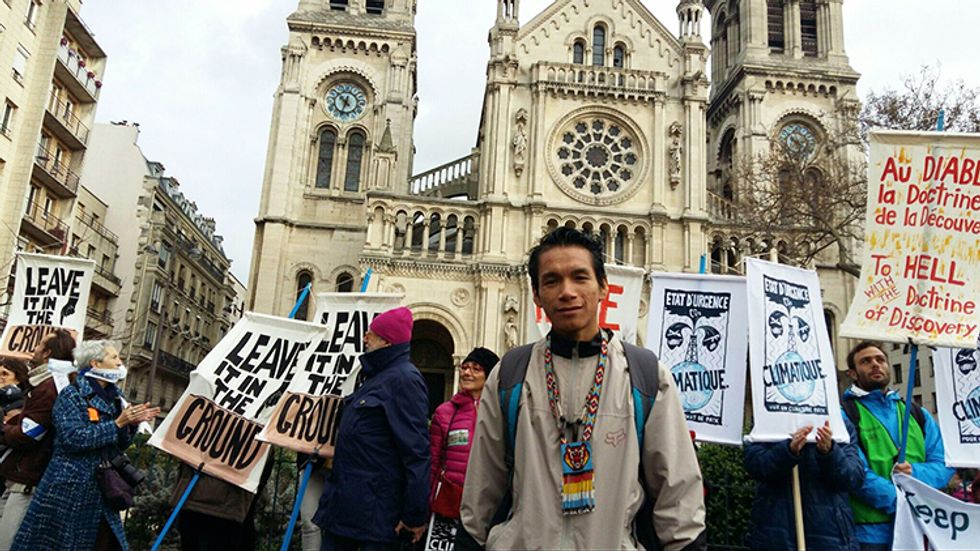 Last week, the U.S. Environmental Protection Agency (EPA) continued to come under scrutiny for its failings to address environmental justice issues. In the state of Washington, facts have emerged indicating that the EPA only follows up on 1 out of 7 environmental complaints that are lodged by minorities; in other states, the EPA's record is as bad or worse.
The Center for Public Integrity issued a research report last week, Decades of Inaction, that documents EPAs failings. At the same time, High Country News published a story highlighting EPA's environmental justice program and "EJ 2020," an effort to insure that other EPA programs pay attention to EJ issues, but which the EPA has so far struggled to implement.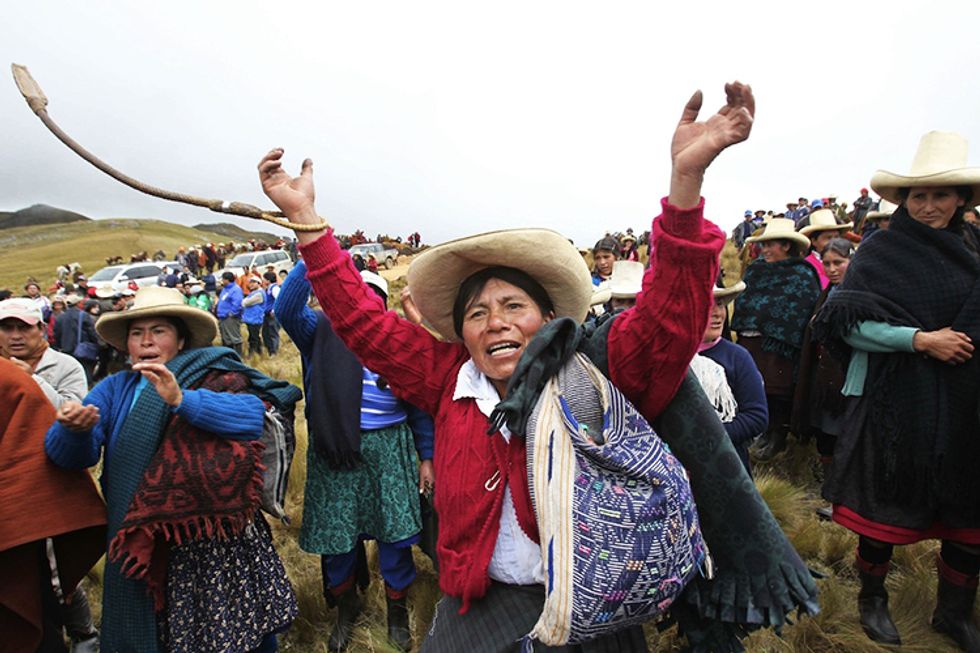 When federal, state or local governments fail to act, groups such as the New Mexico Environmental Law Center are necessary pieces of the enforcement puzzle that can step in and legally force government action. While the NMELC is one program that is addressing environmental justice problems in that state, there are less than 12 similar programs in the U.S. to fight the increasing problems and complaints.
One reason for the lack of non-profit law firms addressing environmental justice problems is the lack of funding. In fact, a 2013 report by the Environmental Grantmakers Association (EGA) indicates that less than 1 percent of the grants reported by its members are directed specifically at environmental justice problems. A broader category of EGA funding called "Health and Justice"—which includes environmental justice, toxics, environmental health and indigenous populations—received less than 5 percent of funding, according to the EGA report.
As difficult as this situation is in the U.S., it is exponentially worse in other parts of the world, especially in developing countries and in the Southern Hemisphere. The organization that I work for and direct, Global Greengrants Fund, works in space of international environmental justice by providing small grants to non-profits that are fighting against environmental and social threats and crimes. In this capacity, we are aware of or work with, most of the international non-profits and funders that are in the same space. Simply put: The environmental justice threats are enormous and the needs are dramatically unmet.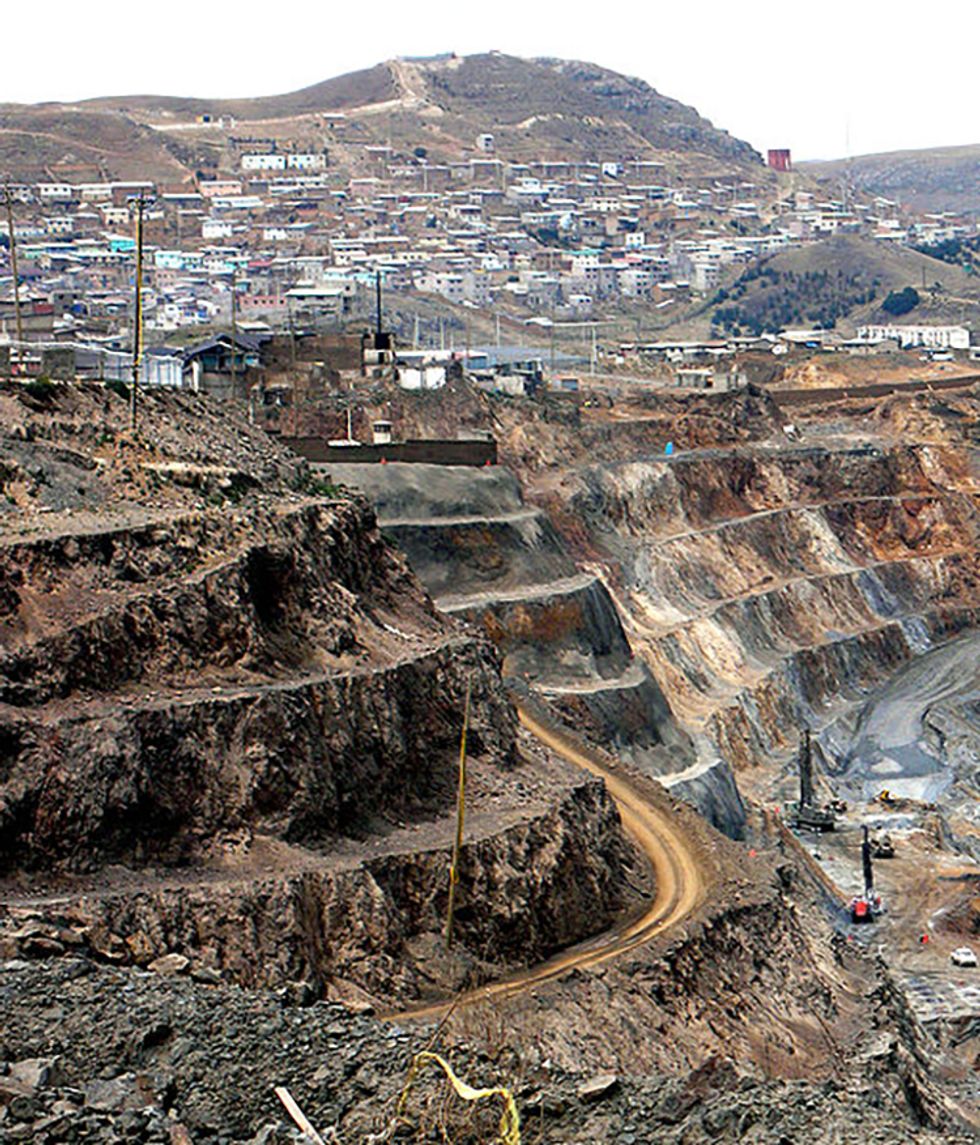 Numerous country-based and international organizations try to fill the void, but a dramatic number of threats go unaddressed and many completely undocumented. The Environmental Justice Atlas offers one small step at documenting cases, providing a pathway to report problems and map them for the public to view. In addition, thousands of staff members and volunteers of international organizations and foundations communicate continuously trying to provide support and services, but the size of the problem dwarfs the resources to address.
In the U.S. and abroad, environmental crime has a face—and that face includes people as well as fish, wetlands and forests. The proposed uranium mine in New Mexico would have been a crime against nature, but it was also a crime against the Navajo people who lived nearby and would have suffered the brunt of impacts to their air, water, health and homelands. By giving a higher priority and funding to environmental justice, we may also protect more of the non-human world as well.
Terry Odendahl, PhD, is president and CEO of Global Greengrants Fund.
YOU MIGHT ALSO LIKE
Obama Visits Yosemite, Warns of Risks From Climate Change
Help Put an End to Coal Mining on Public Lands
5 More U.S. Nukes to Close, Will Diablo Canyon Be Next?
By Paul Brown
Life extensions to nuclear plants in Europe and North America are repeatedly being granted by safety regulators. But, according to nuclear plant owners, 25 percent of parts are now obsolete, so keeping the reactors going is becoming an increasing problem as components wear out.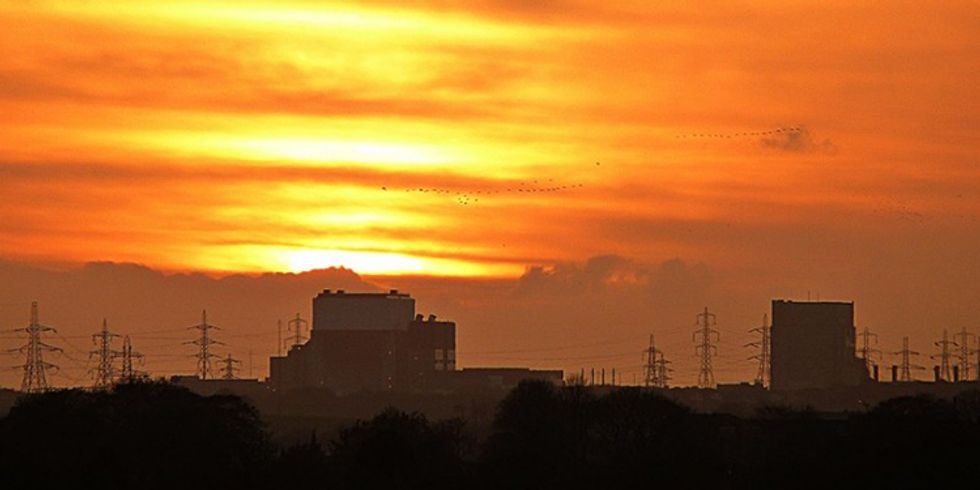 This is the background to the Nuclear Power Plant Optimisation Summit being held in Brussels tomorrow and Wednesday, when 150 of the world's top nuclear executives will share experience on how to keep their stations open.
In theory, it makes economic sense to keep running a nuclear reactor well beyond its original design life, so long as it does not pose safety problems. With the capital cost of building the reactor written off decades earlier, profits can be substantial if the running costs can be kept low.
Life Extensions
In France, where 75 percent of electricity supply comes from 58 reactors, the government announced in February that it was prepared to raise the limit on the life of reactors from 40 to 50 years.
Also in February, two reactors in the UK that began generating in 1983 and are due to close in 2019 had their lives extended to 2024. Two others commissioned in 1988 will now work on until 2030. In all four cases, the owner can apply for further life extensions after that.
But nuclear power plants built across the world in the 1970s and 80s rely on computer technology and components now long out of production. Replacing worn-out parts is becoming a serious problem, causing an increasing number of unplanned and expensive shutdowns while components are updated.
Low prices for electricity have put increasing pressure on nuclear generators to make their operations more efficient and to prevent outages, so that they can still squeeze a profit out of these reactors.
The alternative is to close them down and face the vast cost of decommissioning them—which, in accountancy terms, turns the power station from an asset into a very large liability. This would be enough to make some power companies technically bankrupt.
A survey of those employed in the industry found nine out of 10 people agreeing that the industry needed to improve its efficiency and 86 percent thought the age of the plants was having a moderate or significant effect on efficiency.
Increasingly Critical
Three-quarters of the problems were caused by ageing equipment, partly because buying replacement parts proved impossible. And finding people with the expertise to operate obsolete equipment is a problem as experienced staff retire.
Although some countries, notably China and South Korea, have a nuclear building program and relatively young reactors, the situation elsewhere is increasingly critical for the industry.
In Europe, there is little chance of replacing the obsolescent fleet with new plants. Perhaps the starkest example is France, with its 58 ageing reactors. It is building only one new replacement reactor.
This plant, at Flamanville in Normandy, should already be in operation, but is years late and three times over budget. Plans to build others have been shelved.
Unless France can keep granting life extensions to its existing plants, the country will have to invest in renewables on a vast scale to keep its carbon emissions in check.
YOU MIGHT ALSO LIKE
Oil Train Derails in Columbia River Gorge, Rally Calls for Ban on 'Bomb Trains'
What Will Finally Shut Down Diablo Canyon Nukes? Could a Bernie Win Help?
Chile Producing So Much Solar Energy It's Giving Electricity Away for Free
These Four People Were Sued for $30 Million After Speaking Out Against a Hazardous Waste Dump
By Glynis Board, Ohio Valley ReSource

The energy that lights up, turns on, cools and heats our lives leaves a trail of waste. Natural gas is no exception. The waste from the gas drilling known as "fracking" is often radioactive. The gas industry produces thousands of tons of this "hot" waste and companies and state regulators throughout the Ohio River valley and Marcellus Shale gas region struggle to find safe ways to get rid of it.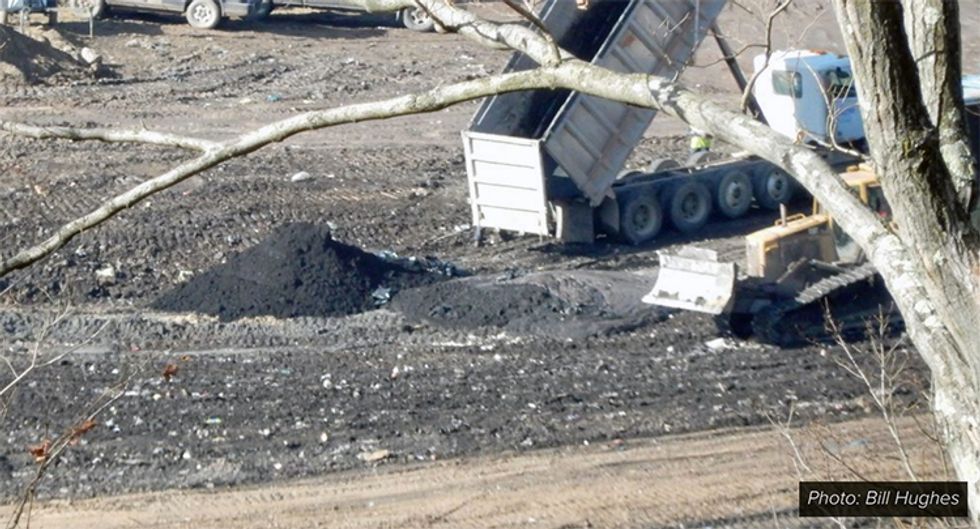 Last August a convoy of trucks carrying a concentrated form of this waste traveled from northern West Virginia to Irvine, Kentucky. The small town in Estill County lies near the Kentucky River, where Appalachian hills give way to rolling farm country.
The trucks were headed for a municipal waste facility called Blue Ridge Landfill. Just across Highway 89 from the landfill is the home where Denny and Vivian Smith live on property where their ancestors have lived since the 1800s.
"This is our home place," Vivian Smith said from her sun porch. "This is roots for us."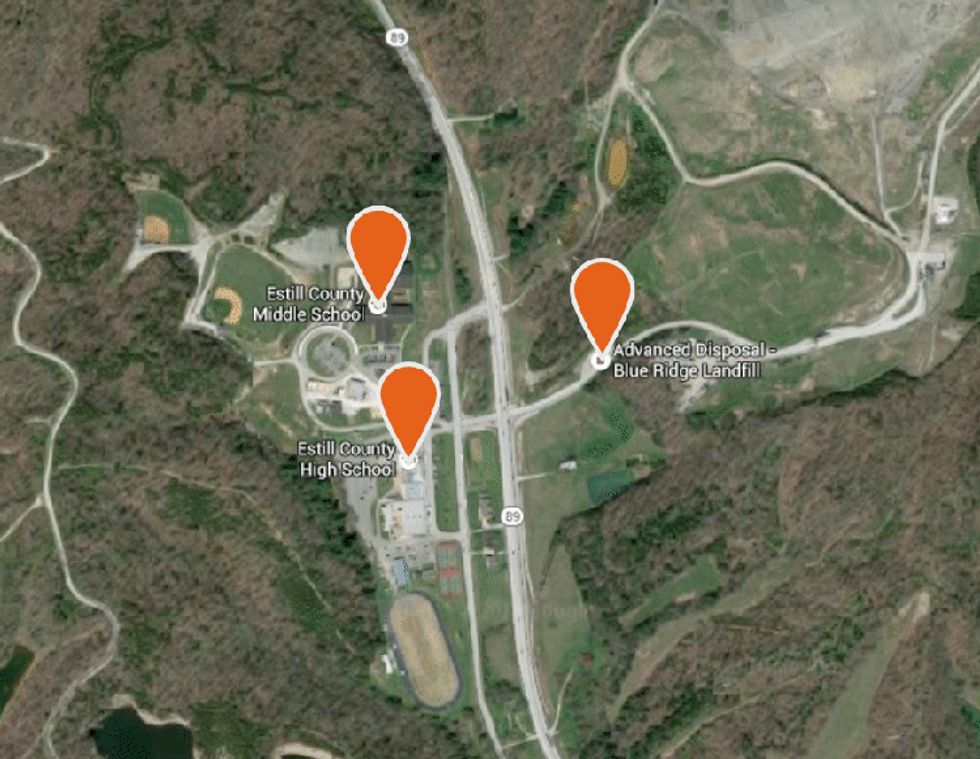 From their sun porch, facing east, the Smiths can see the entrance to Blue Ridge Landfill. From their front door, facing west, they can see Estill County High School and Estill County Middle School, with a combined enrollment of about 1,200 students.
The trucks that arrived in Irvine last summer left more than 400 tons of low-level radioactive waste in a facility that was not engineered or permitted to accept that sort of material. That has left the community, the parents of schoolchildren and especially the Smiths with a lot of questions and concerns.
"We are getting older and we feel like we're kind of vulnerable to illnesses with what's going on at the landfill," Vivian Smith said.
The question now reverberating through Irvine and the state agencies investigating the incident: How did this happen?
The answer, in part, lies in the weak federal oversight and patchwork of state regulations regarding this type of waste.
A report from the Center for Public Integrity calls the radioactive waste stream from horizontal oil and gas operations "orphan waste" because no single government agency is fully managing it. Each state is left to figure out its own plan. Ohio, for example, hasn't formalized waste rules, while New York, which banned fracking, still allows waste disposal "with little oversight," according to the center.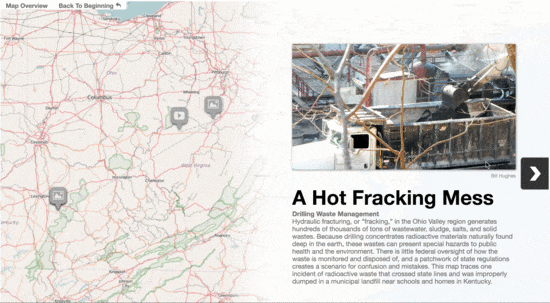 Creating Waste While Creating Energy
Antero Resources petroleum engineer Tom Waltz points to eight, green, 16,000-gallon above-ground storage tanks at the edge of a drilling pad in Doddridge County, West Virginia.
"They hold produced water that the producing wells make," he explained.
Produced water is one form of drilling waste. It's salty water laced with chemicals, metals and naturally occurring radioactive elements that come up thousands of feet along with the gas and oil. Antero is the country's eighth-largest gas drilling company and operates hundreds of sites like this, producing hundreds of thousands of barrels of waste.
The easiest way to get rid of wastewater is to inject it back into the ground, but that can lead to pollution and even earthquakes. One of Antero's lead civil engineers, Conrad Baston, says processing the wastewater—separating it into salt, sludge and water—is becoming more attractive.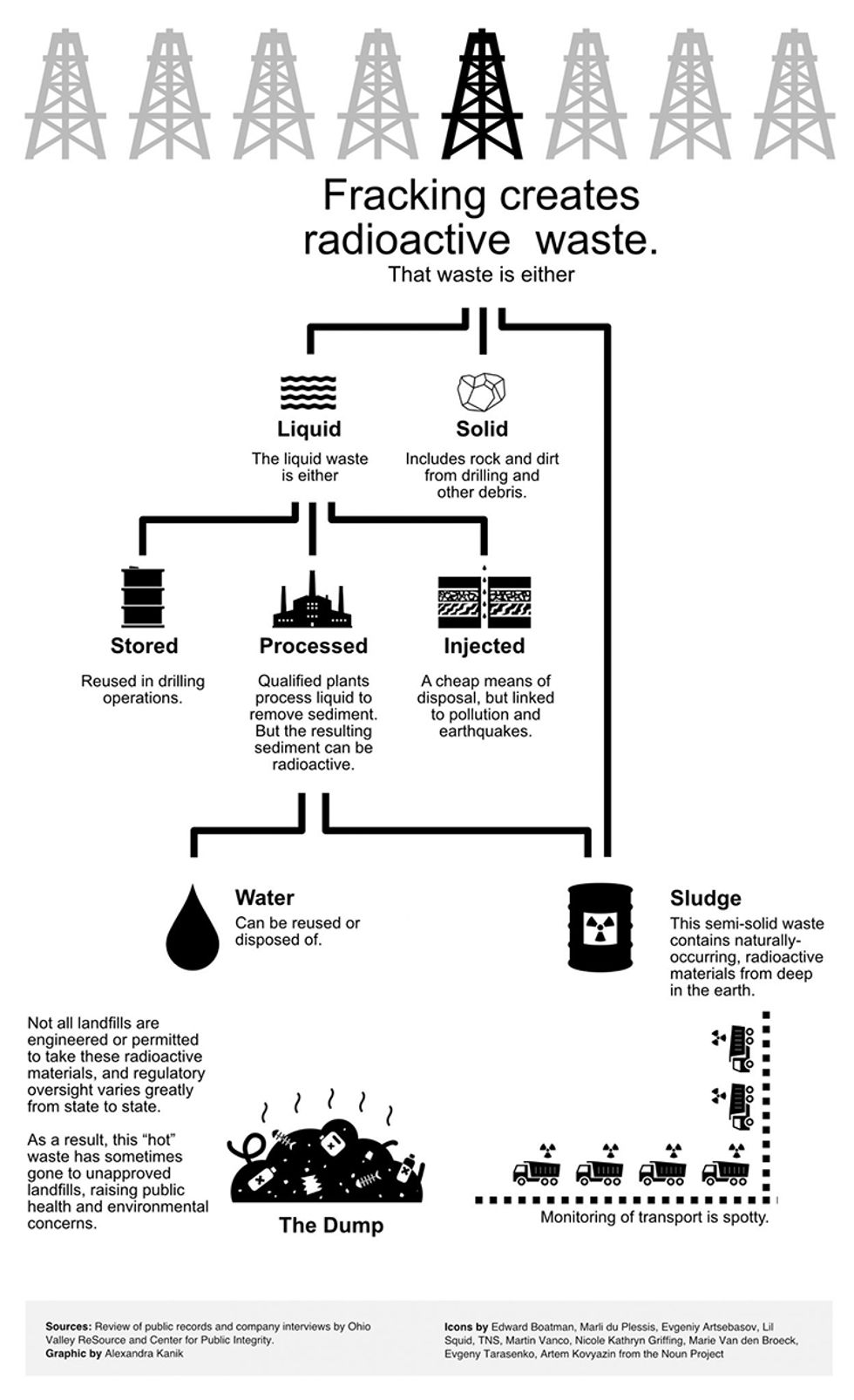 No Easy Solutions
Antero is spending $275 million to construct a wastewater facility in West Virginia which is scheduled to begin operation in September, 2017. At its peak, the facility could see up to 600 trucks a day, processing 60,000 barrels of wastewater.
A filtering system would recover about two-thirds of the water, which could be reused in drilling. But that filtration system leaves behind thousands of tons of salt and hundreds of tons of sludge from the sediment, which concentrates the radioactive materials. Baston said that sludge—as much as 180 tons a day—will be disposed of elsewhere.
"Given some of the flux in the regulatory environment with regard to those sludges," he said, "we've elected to take those sludges to a landfill that's currently licensed to accept it."
Baston couldn't say which facilities or where, but he said Antero is exploring options across the country. West Virginia's Department of Environmental Protection said no approved facilities exist in the state. That would mean the waste will have to cross state lines. An Antero spokesperson said waste from their facility will go only to approved and vetted landfills.
The Center for Public Integrity report shows that regulators acknowledge that this waste is effectively being "shopped around" by companies hoping for affordable disposal. Antero officials maintain that industry has no other choice.
Records filed with the West Virginia Bureau for Public Health show that a company Antero had contracted with to process its wastewater, Fairmont Brine, was the source of the waste that wound up in Blue Ridge Landfill in Irvine, Kentucky. Antero officials said their company is not responsible for how that waste was disposed of. Officials at Fairmont Brine did not respond to requests to comment for this story.
Waiting for Answers
Since reporters at the Louisville Courier-Journal first reported on the improper dumping of fracking waste in Kentucky, community leaders in Irvine have been asking for answers. The landfill is under investigation by multiple state agencies for accepting the waste.
"Knowing that there was nothing going on to protect us," Vivian Smith said, "I think it's like the henhouse was not guarded and the fox got in."
The Smiths have had their share of illnesses and they wonder what effect the radioactive waste might have on them or on the children who attend school nearby. This low-level radioactive waste is not as hazardous as the wastes from nuclear power. But according the the Environmental Protection Agency, the radioactive materials in drilling waste do present risks. Radioactive dust is potentially harmful and it would be bad if the radioactive leachate or liquid that oozes out from the landfill, were to contaminate groundwater over time. Radioactive waste can last centuries—far longer than the engineered lifespan of the liners in many landfills.
Officials with Blue Ridge Landfill's parent company, Advanced Disposal, declined to comment while under investigation. The Smiths hope that investigation will shed light on any risks they might be living with because of the hot mess left next door.
This piece was produced in partnership with the Center for Public Integrity, a nonpartisan, nonprofit investigative news organization.
YOU MIGHT ALSO LIKE
Breaking: Diablo Canyon Nuclear Reactors to Be Replaced With 100% Renewable Energy
Methane Emissions From Onshore Oil and Gas Equivalent to 14 Coal Plants Powered for One Year
Help Put an End to Coal Mining on Public Lands
Early this morning on a hillside above Seneca Lake, actors James Cromwell and John "J.G." Hertzler of Star Trek fame joined 17 area residents in an act of civil disobedience that is part of an ongoing citizen campaign against salt cavern gas storage.
While blockading the main entrance to the Crestwood compressor station, the two actors urged Gov. Cuomo to stand up to the Federal Energy Regulatory Commission (FERC) for green-lighting an expansion of this fracked gas infrastructure project against overwhelming local opposition and for undermining the governor's own stated commitment to a rapid transition to renewable energy.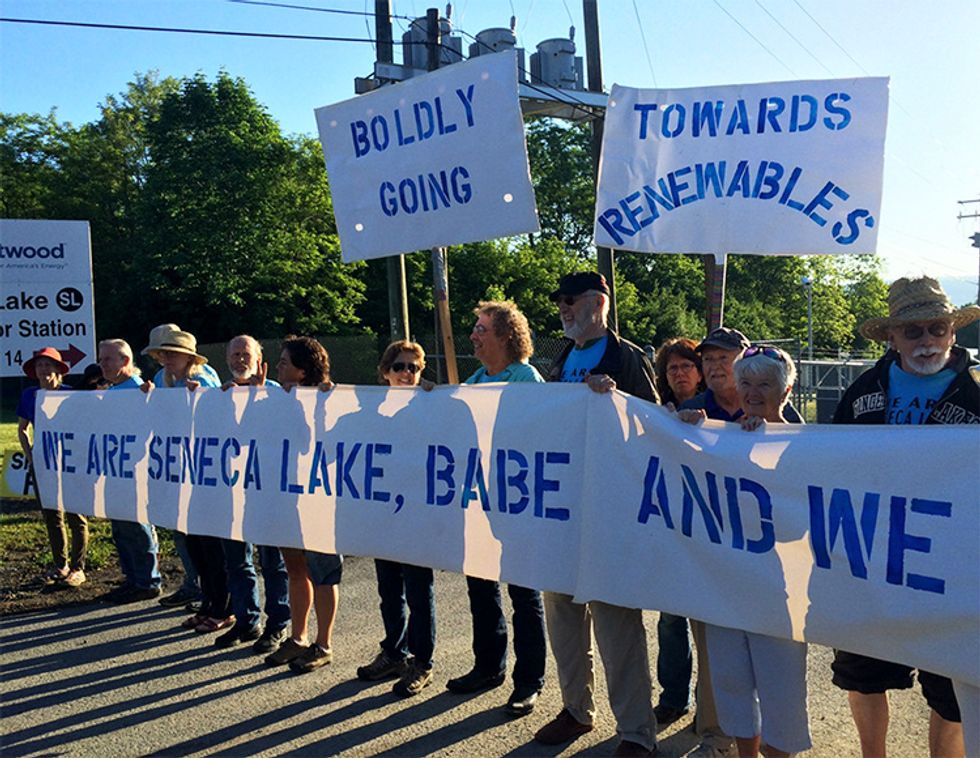 Starting at 6:45 a.m. and continuing until their arrests by Schuyler County deputies shortly before 7:30 a.m., the protesters blocked all traffic from leaving and entering the facility, including two Crestwood tanker trucks. All 19 were transported to the Schuyler County sheriff's department, charged with disorderly conduct, ticketed and released.
"The prettiest place I've ever seen is right here: the Finger Lakes region of New York … Governor Cuomo, we, the people, do not want to see these pristine lakes turned into cheap, contaminated, industrialized storage facilities for Crestwood and Con Ed. Stand with us, Governor!," John Hertzler, 66, who played Klingon General Martok on Star Trek: Deep Space Nine, said.
"Defend your own program for getting New York State off of fossil fuels and transitioned to renewable energy. FERC—the Federal Energy Regulatory Commission—seeks to keep us chained to the energy of the past and, in so doing, threatens our water, our lands, our safety and the very climate of this, our planet. Boldly go with us, Governor Cuomo, into a renewable energy future."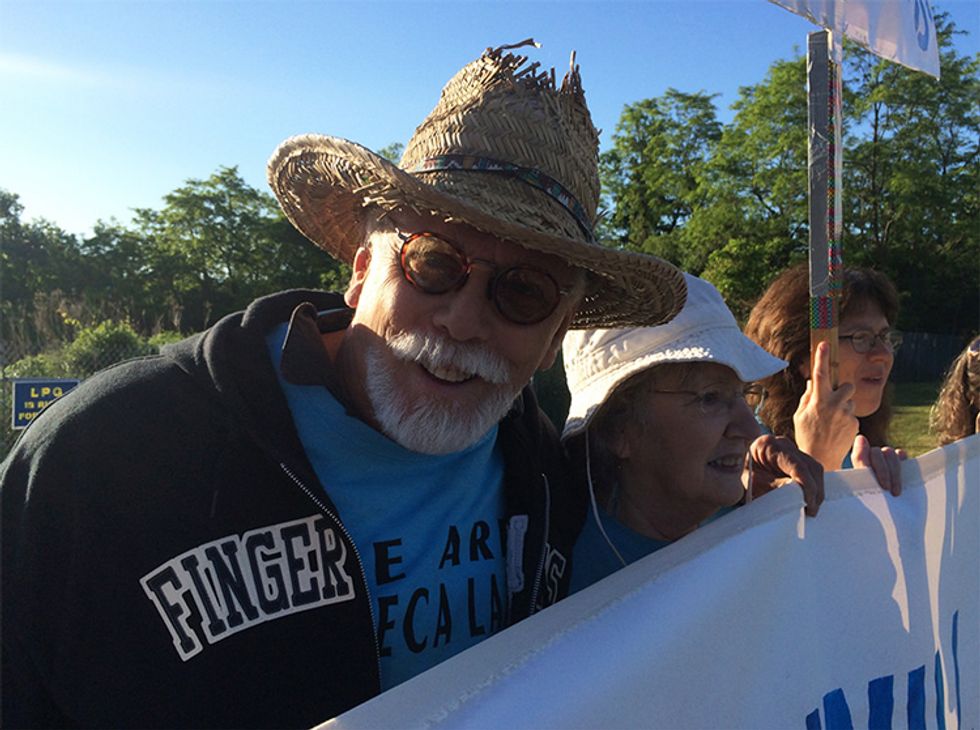 Hertzler lives in the Finger Lakes region with his family in the town of Ulysses where he serves on the town board.
James Cromwell, 76, who played Zefram Cochrane in Star Trek: First Contact and who was nominated for an Academy Award for his role as Farmer Arthur Hoggett in Babe, called on New Yorkers to join the We Are Seneca Lake movement.
"FERC-approved fracked gas infrastructure projects are taking over our entire state—from the crumbly salt caverns of Seneca Lake, where the gas will be stored, to the pipelines and compressor stations that devastate our farmlands, wetlands and maple groves, all the way to the burner tips of the natural gas-fired power plants that are planned for downstate," he said. "With all of New York under attack by the fossil fuel industry and by the rogue agency called FERC, all New Yorkers now need to stand up, stand together and say no."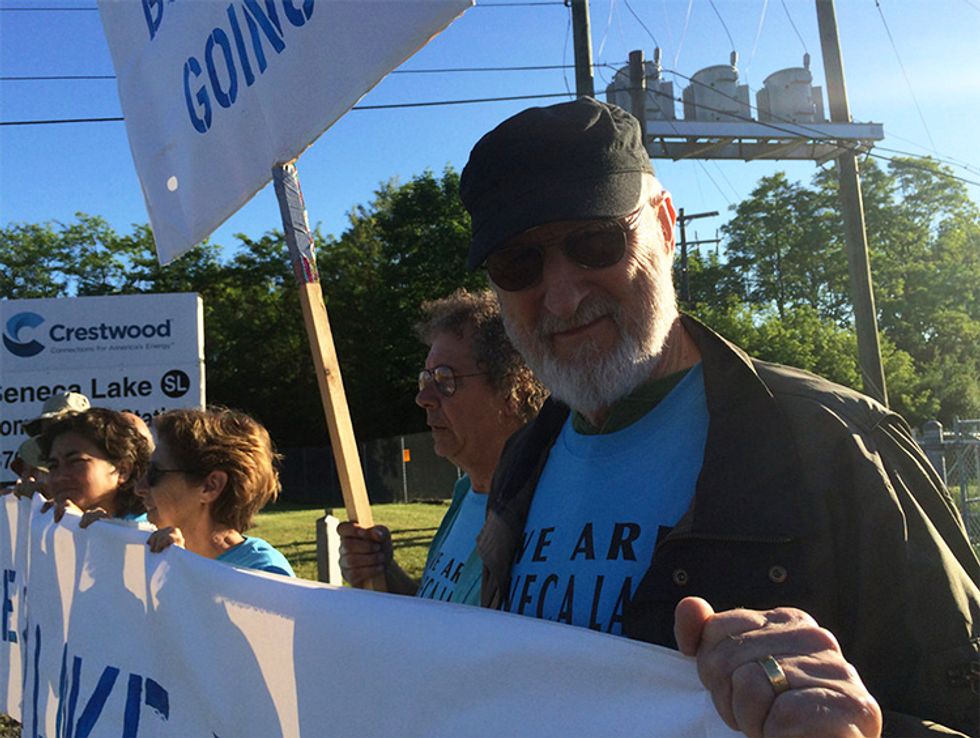 Referencing the films in which the two have appeared, protesters held banners and signs that read, "We Are Seneca Lake, Babe/And We Will Not Be FERC-ed" and "Trekkies Against Crestwood-Con Ed Boldly Going Toward Renewables."
The total number of arrests in the 20-month-old We Are Seneca Lake civil disobedience campaign now stands at 604.
Crestwood's methane gas storage expansion project was originally approved by FERC in October 2014 in the face of broad public opposition and unresolved questions about geological instabilities, fault lines and possible salinization of Seneca Lake, which serves as a source of drinking water for 100,000 people. In spite of near-unanimous citizen opposition, FERC's last-minute permit extension on May 16 gave Crestwood's Arlington subsidiary another two years to build out its natural gas storage facility.
Salt cavern storage accounts for only seven percent of total underground storage of natural gas in the U.S. but, since 1972, is responsible for 100 percent of the catastrophic accidents that has resulted in loss of life.
Crestwood also seeks to store two other products of fracking in Seneca Lake salt caverns—propane and butane (so-called Liquefied Petroleum Gases, LPG)—for which it is awaiting a decision by Gov. Cuomo's Department of Environmental Conservation.
Watch today's action here:
YOU MIGHT ALSO LIKE
Nuclear Industry Worldwide Faces Escalating Battle to Keep Aging Reactors Running
What Will Finally Shut Down Diablo Canyon Nukes? Could a Bernie Win Help?
Oil Train Derails in Columbia River Gorge, Rally Calls for Ban on 'Bomb Trains'
These Four People Were Sued for $30 Million After Speaking Out Against a Hazardous Waste Dump
By Steve Clemmer
As a certified energy geek, I always look forward to this time of year. On July 11 and July 12, the Energy Information Administration (EIA) holds their annual conference to discuss current energy technology, market and policy issues and presents results from their new Annual Energy Outlook (AEO) 2016 report.
Under EIA's reference case with the federal tax credits and Clean Power Plan, U.S. wind capacity nearly doubles by 2022, reaching 144 gigawatts.
One of the headlines this year is EIA's new projections for renewable energy, which under their reference case is expected to surpass nuclear power by 2020 and coal by 2028 to become the second largest source of U.S. electricity generation after natural gas (see Figure 1 below).
Here are seven key takeaways from the AEO 2016 that explain why EIA is projecting such a large increase in renewable energy this year:
1. Federal Tax Credits and Clean Power Plan Drive Growth in Renewables
EIA's reference case includes the recent five-year extension of the federal production and investment tax credits for wind and solar passed by Congress in December 2015 and implementation of EPA's Clean Power Plan (CPP). While the U.S. Supreme Court put a temporary hold on the rule in February 2016 until the merits of the case are decided, EIA decided to include the CPP in the reference case because the rule has not been overturned.

The federal tax credits, state renewable electricity standards (RESs) and continued cost reductions for wind and solar will drive significant growth in renewables though 2021 (Figure 1). During this time, EIA actually projects natural gas generation to decline slightly as wind and solar are more cost-effective with the tax credits.
After the CPP targets kick in 2022, EIA projects both renewables and natural gas to grow as the two most cost-effective ways (along with a modest increase in energy efficiency) for states to replace coal and comply with the CPP. These results are consistent with recent analyses by the Union of Concerned Scientists (UCS), NREL and the Rhodium Group.
Figure 1. Renewables surpass nuclear power by 2020 and coal by 2028. Renewables include wind, solar, geothermal, biomass, and hydropower. EIA, Annual Energy Outlook 2016.
2. Wind and Solar Lead Growth in Renewables
The renewable energy (including wind, solar, geothermal, biomass and hydropower) share of U.S. electricity generation grows from 13 percent in 2015 to 24 percent in 2030 and 27 percent in 2040, with almost all of the growth from wind and solar PV (Figure 2).
This is because continued cost reductions are projected for these technologies beyond the 60-70 percent cost reductions already achieved since 2009. Under EIA's reference case with the federal tax credits and CPP, U.S. wind capacity nearly doubles by 2022, reaching 144 gigawatts, while U.S. solar capacity grows five-fold by 2030, reaching 125 gigawatts. Geothermal increases a significant amount in California and the Southwest, but provides a relatively small share of U.S. electricity generation.
EIA also projects virtually no growth in hydro or biopower. Despite EIA's inaccurate assumption that all biomass feedstocks are carbon neutral, biopower is still not economically competitive with wind, solar and natural gas. The lack of growth in hydro and biomass is consistent with recent analyses by UCS, NREL and Rhodium Group that include the federal tax credit extension and CPP.
Figure 2. Renewable electricity generation by fuel. Geothermal = red, biomass = gray.EIA, Annual Energy Outlook 2016.
3. Renewable Generation Increases in all Regions of the Country by 2030

The biggest increases occur in the West and Plains, which have abundant, low cost wind, solar and geothermal (Figure 3). The Southeast also sees a big increase in solar as costs continue to fall. The Northeast and Mid-Atlantic see a smaller increase in renewables and a bigger increase in natural gas.
The Southeast also sees a modest increase in nuclear generation due to five new reactors currently under construction or operating in Georgia, South Carolina and Tennessee. This growth offsets a modest reduction in nuclear generation in Mid-Atlantic and Northeast states where EIA assumes a small number of existing plants will retire before their current operating licenses expire. (Note that the retirement of Diablo Canyon in California is not included as the announcement was made after EIA completed its modeling). The Midwest/Mid-Atlantic states also see the greatest reduction in coal generation and the largest increase in natural gas.
Figure 3. Renewables increase in all regions under the Clean Power Plan.EIA, Annual Energy Outlook 2016
4. Renewables Generation Varies Under different Clean Power Plan Implementation Scenarios

EIA projects renewable generation to increase the most if states chose rate-based rather than mass-based targets as part of their CPP compliance strategies. Broader regional trading with mass-based targets also results in more renewables, less natural gas and less reduction in coal than the more limited trading assumed in the reference case.
Not surprisingly, in their "extended case" EIA found that continuing to increase the CPP emission reduction targets through 2040 (the current program only goes through 2030) would result in more renewables and natural gas and less coal than the reference case.
Figure 4. Cumulative difference in generation in the CPP vs. the no CPP case. Renewables = green, natural gas =blue, and coal = black.EIA, Annual Energy Outlook 2016.
5. Increasing Renewable Energy is Affordable
EIA projects that average retail electricity rates would be 3 percent higher between 2025-2030 in the reference case (with the CPP) than in the no CPP case. However, total U.S. electricity expenditures would only be 1.3 percent higher in the CPP case over the same period because EIA assumes a modest increase in energy efficiency investments to comply the CPP.
A recent analysis by UCS found that energy efficiency could make a much larger contribution to state compliance with the CPP that would result in cumulative net savings to consumers of $30.5 billion between 2016 and 2030.
6. Renewables are Competitive Despite Lower Natural Gas Prices
While EIA's natural gas price projection is lower in AEO 2016 than it was in AEO 2015 (Figure 5), large amounts of wind and solar are still competitive due to continued cost reductions and the federal tax credit extension.
EIA projects natural gas prices to double by 2025, due primarily to an increase in LNG exports and greater natural gas use in the electricity and industrial sectors. The competition from renewables helps avoid greater reliance on natural gas that could increase natural gas prices even further.
Figure 5. Average Henry Hub spot prices for natural gas (2015 dollars per million Btu).
7. EIA is Finally Using More Realistic Cost Sssumptions for Renewable Energy
UCS has been an outspoken critic of EIA's pessimistic renewable energy projections and assumptions for many years. We have written several blog posts on the topic and provided input directly to EIA on a few of their analyses and as a participant on several EIA modeling working groups. We also use a modified version of EIA's National Energy Modeling System (NEMS) in-house to show how renewables could make a larger contribution to the U.S. electricity mix at a much lower cost when using more realistic assumptions.
One of the main reasons why EIA's projections have fallen short is because they have consistently overestimated the cost of renewable energy technologies like wind and solar. They often lag a few years behind what's happening on the ground. However, this year is different. For AEO 2016, EIA finally lowered their costs for wind and solar to be more in-line with cost data from a large sample of recent projects, as documented by DOE's national labs and the national wind and solar trade associations.
In EIA's defense, their reference case for each AEO only reflects state and federal energy policies that were enacted at the time they do their projections, as discussed extensively in a recent EIA report. With Congress allowing federal renewable energy tax credits to lapse several times before extending them for relatively short periods, and states adopting and increasing renewable electricity standards (RES) many times over the past two decades years, it is somewhat understandable that EIA's projections of renewable energy development have fallen short of reality.
While future EIA conferences and AEOs may highlight different topics, I'll remember 2016 as the year EIA turned the corner to show a bright future for renewables.