Students and environmental activists participate in a climate strike in Los Angeles, California on May 24. Ronen Tivony / SOPA Images / LightRocket via Getty Images
By Jeremiah Lowery
The climate crisis is comprised of many issues, which require many solutions. Now is the time for presidential candidates to discuss all these issues facing U.S. citizens and our international community.
When I was growing up in the Washington, DC area, many members of my community struggled with not only unemployment, but also with our drinking water containing so much lead it caused Congress to open an investigation.

We had trouble with a myriad of other issues as well, from poor air quality (largely due to the industrial factories in the city) to finding adequate public transportation options to get to the grocery store.
To paraphrase the author and poet Audre Lorde, our collective struggles were not singularly focused, therefore we did not live single-issue lives.
A woman stands at the window of her home looking out at Shell refinery just a couple of yards away, in an area dubbed "Cancer Alley" in Louisiana.
This is the reason I am in the climate movement.
I believe that by building a broad and all-encompassing climate movement, we will be able to tackle many of the issues that members of my community faced.
Addressing our climate crisis means addressing our lack of good paying, sustainable jobs, it means children having clean water to drink, it means reliable public transportation run on renewable energy, and so many other solutions.
Which is why I was very disappointed to read that Tom Perez, chair of the Democratic National Committee, declined to hold a climate debate for the 2020 Democratic presidential candidates because he stated climate is a "single-issue" and debates should cover a broader range of issues besides just climate.
People ride in the back of military trucks as they are evacuated through the flooded streets of Houston after Hurricane Harvey caused record flooding in southeast Texas.
The issues faced by my community clearly show that our climate movement is not a single-issue movement. If you look at other parts of the country you will see communities are facing similar issues because their leaders have not fully grasped or embraced the solutions. Solutions which can be found within the climate movement.
Cities like Flint, Michigan are struggling with the issue of clean water. Yuma County, Arizona is struggling with the issue of high unemployment. Bakersfield, California is struggling with the issue of air pollution. And year after year, communities like those on the coast of Texas are destroyed by hurricanes and flooding.
A woman holds a jar of water from her well, which was contaminated after hydraulic fracturing drilling began near her Washington County farm.
Our climate movement also encompasses international issues as well. Our climate crisis will have a devastating effects on trade, cause massive famine in countries such as Sudan due to flooding of farmland, and overall causes global instability.
We need to know whether or not the next leader of the United States understands the potential that lies within our climate movement to solve many of the pressuring issues facing our world today.
Now is the time for Presidential candidates to discuss all these issues facing U.S. citizens and our international community.
And an effective platform through which citizens can learn about their candidates' foreign and domestic plans for all these issues is a climate debate.
Tom Perez needs to reconsider his position and the DNC needs to step up to the plate and host a climate debate, because the multiple issues within our climate crisis can no longer be pushed aside. These issues must be addressed if we care about the future stability of our nation.
The issues we are facing are great but our potential is greater. If you believe we need a climate debate now, for all the issues facing our communities, take action and demand it.
From Your Site Articles
Related Articles Around the Web
EcoWatch Daily Newsletter
Tom Perez, chairman of the Democratic National Committee.
Gage Skidmore / Flickr / CC BY-SA 2.0
That was fast. Just two months after the Democratic National Committee (DNC) unanimously prohibited donations from fossil fuel companies, the DNC voted 30-2 on Friday on a resolution that critics say effectively reverses the ban, The Huffington Post reported.
The resolution, introduced by DNC Chair Tom Perez, allows the committee to accept donations from "workers, including those in energy and related industries, who organize and donate to Democratic candidates individually or through their unions' or employers' political action committees" or PACs.
It conflicts with the original resolution that called on the committee to "reject corporate PAC contributions from the fossil fuel industry that conflict with our DNC Platform."
In a conference call after the vote, Perez said that members of the labor community considered the original resolution passed in June "an attack on the working people in these industries," per The Hill.
He insisted that the DNC is still committed to the Democratic Party platform, "which states unequivocally our support for combating climate change."
DNC executive committee member Christine Pelosi, co-author of the original resolution and the daughter of House Democratic leader Nancy Pelosi, tweeted Friday that the committee "NEVER consulted me on language to reverse my resolution banning corporate fossil fuel PAC money."
To be clear —> @DNC staff and officers NEVER consulted me on language to reverse my resolution banning corporate fo… https://t.co/FMSVgZdCX2

— Christine Pelosi (@Christine Pelosi)1533939442.0
Pelosi proposed an amendment Friday that would remove the words "employers' political action committees" but the motion failed 4-28.
A DNC spokeswoman disputed accusations that the committee is backtracking on its earlier resolution, telling HuffPo it's "not a reversal" and that "any review of our current donations reflects" the Democrats' "commitment" to no longer take money from the fossil fuel industry. The spokeswoman offered no further comment.
Jerald Lentini, deputy director of the Democratic fundraising group It Starts Today, explained to HuffPo that the new proposal may only apply to Democratic campaigns, meaning it does not fully annul the first resolution. However, as Lentini noted, it would still "repudiate the spirit" of it.
As @jrlentini pointed out to me, it could be that this proposal only applies to Democratic campaigns ― in which cas… https://t.co/AcNw0oJZV5

— Alexander Kaufman (@Alexander Kaufman)1533935806.0
Environmentalists and progressive Democrats decried the DNC's move.
"Why in the age of Trump, wildfires, and eminent domain for private gain are we using land gauge and stances of the GOP? Many of us will fight this at DNC meeting in August," Bold Nebraska founder and Nebraska Democratic Party Chair Jane Fleming Kleeb tweeted.
New York gubernatorial candidate Cynthia Nixon, who has sworn off any corporate donations and has joined hundreds of politicians that have signed the No Fossil Fuel Money Pledge, had a similar sentiment: "You can't do right when you're getting donations from companies that do wrong."
You can't do right when you're getting donations from companies that do wrong. https://t.co/OOa1WMQazt

— Cynthia Nixon (@Cynthia Nixon)1533933221.0
"Honestly, these people are bound and determined to deflate and demobilize their base," tweeted author and activist Naomi Klein.
What's more, the text of the new resolution embraces an "all-of-the-above energy economy" that includes clean and low-emissions energy technology, "from renewables to carbon capture and storage to advanced nuclear technology."
350.org co-founder Bill McKibben criticized the measure and noted that the "new DNC proposal would support an 'all of the above' energy policy which the last party platform explicitly rejects. This is a bad idea, on both scientific and political grounds."
In 2016, the Democratic National Committee axed its support for an "all-of-the-above" energy policy and calls for having the nation run "entirely on clean energy by midcentury."
Taxpayers Still Shelling Out Billions Annually in Fossil Fuel Subsidies https://t.co/TY5gpcctOv @GoFossilFree @350

— EcoWatch (@EcoWatch)1528147505.0
From Your Site Articles
Related Articles Around the Web
Vithun Khamsong / Moment / Getty Images
While rooftop solar systems have become increasingly popular among U.S. homeowners, commercial solar panel installations can be even more effective at generating low-cost renewable energy. Solar energy has a great deal to offer businesses due to the scale at which they can invest, the simplicity of most installations and the high energy costs associated with running a growing organization.
Most business' buildings have wide, flat roofs that can fit a large number of solar panels. Commercial solar panel installations are eligible for two of the largest solar incentives: the federal solar tax credit and net metering programs. Plus, the more solar panels you install, the lower your cost per watt will be. Altogether, this means commercial solar owners get a great bang for their buck.
What Does a Commercial Solar Panel Installation Look Like?
Commercial solar energy systems vary much more in size and scope than their residential counterparts. Most commercial solar arrays are significantly larger, and they aren't always confined to roofs. Some organizations opt for solar carports, while others install ground-mounted solar panels. Larger commercial operations may even feature a "power tower," an array of mirrors that focus the sun's rays onto the photovoltaic panels below them.
Commercial systems are usually installed on a flat surface and must be built on racks tilted toward the sun at the best angle for the solar panels to capture the most energy during the day. Some systems even include features that synchronize the panels' angles (or azimuth) with the changing height of the sun.
Keeping the cost per panel as low as possible is key to securing the quickest return on investment (ROI) for larger commercial installations. For this reason, we recommend selecting the most efficient solar panels available. The less space, products and planning needed, the lower the aggregate costs of the installation will be. More efficient solar panels also tend to last longer, ensuring a reliable investment.
Solar offers commercial property owners a growing number of solutions to offset a large chunk, or even all, of a business's electricity bills. A commercial solar system is a sizable investment, but solar incentives, tax breaks and new technologies make it a very attractive one. The ideal way to get a good understanding of the best solar installation for your business is to consult with a local installer near you and get a quote, which you can do for free below.
Commercial Solar Costs

Given the size of commercial solar projects, customers can usually expect a larger figure than the cost of most residential systems. No two businesses are the same, and though some small organizations may find great value in a commercial system costing around $50,000, large industrial facilities or solar farms can cost over $1 million to install. The good news is that as the scale of the system increases, so does the speed at which you can recoup your investment.
Several tax credits, rebates and incentives still exist for commercial solar panel systems as they do for residential systems.
Incentive
Benefit for Commercial Solar Panel Installations

Federal solar tax credit

The federal solar investment tax credit (ITC) allows a deduction of 26% of the cost of the system for any commercial solar installation.

Bonus depreciation through MACRS

The Modified Accelerated Cost Recovery System (MACRS) allows a tax deduction for the depreciation of qualifying solar equipment. This solar tax incentive for commercial installations allows companies to recover their investments over an accelerated amount of time. For solar, this is five years. Bonus depreciation was introduced into MACRS after 2008 and allows you to allocate 100% of the depreciable value in just one year.

In other words, MACRS allows businesses to effectively accelerate their ROI through tax deductions.

Net metering

Commercial properties generating energy via solar panels are eligible for net energy metering (NEM). In the same way that a residential customer would feed excess solar energy back to the grid, commercial installations can exchange their surplus energy for credits from their utility company. These credits can be used to pull energy from the grid overnight or during rainy weather at no cost.

Statewide and local incentives

We encourage our readers to research statewide incentives or local incentives that may be available in their area. Depending on the area, a commercial solar installation could be eligible for solar rebates, renewable energy credits or zero-interest solar loans.
Benefits of Commercial Solar Installations
Commercial solar installations provide all the same benefits that residential solar installations do, only at a much larger scale. As most commercial solar installations can be well over 50 kW (the average residential is between 5 to 10 kW), some commercial solar installations can have over 10 times the environmental and economic impact of your average residential installation.
Environmental Benefits of Commercial Solar Panels
Commercial solar installations have the potential to offset hundreds, if not thousands, of the metric tons of carbon dioxide emitted by conventional energy generation. For example, a 50-kW commercial system will produce an estimated 65,000 kWh of clean energy per year. This would lower a business's carbon footprint by 1,000 metric tons over the course of a commercial solar power system's lifetime (the equivalent of not burning just over 1 million pounds of coal).
As a growing number of consumers are choosing to support businesses with responsible environmental practices, solar presents businesses with a golden opportunity to reflect their commitment to sustainability while still turning a profit.
Financial Benefits of Commercial Solar Panels
Energy costs are routinely one of the highest costs to businesses. Energy Star reports that the nation's small businesses spend over $60 billion on energy per year, and utility rates are only projected to increase over time.
Utility rates also fluctuate with frequent supply disruptions, so investing in solar allows businesses to offset their energy costs in a predictable, fixed manner. The average lifetime of a solar panel is around 25 years, so with the right warranty, a business can reliably budget its energy costs decades in advance. By offsetting the majority (or sometimes all) of their energy costs, businesses can reinvest huge sums of money back into their organizations, raising their bottom line.
FAQ: Commercial Solar Panel Installations
Are commercial solar panel installations worth it?
Installing solar panels is one of the best financial investments a business can make. Assuming they have the proper space and climate for solar panels, businesses can offset huge chunks of their energy costs while fostering an ethical image. With a good number of soon-to-expire commercial incentives on the market today, there has never been a better time for businesses to invest in solar.
How long does it take to install commercial solar panels?
Commercial solar installations are typically much larger than residential installations, so they can have a more intensive install process. Depending on the size of the system, commercial solar panel installations can take anywhere from weeks to months to complete. The best way to learn how long an installation would take for your business is to connect with a local solar installer near you.
How many solar panels do I need for a commercial installation?
The number of solar panels necessary for an installation will depend mainly on the goals of the installation and how much space is available for panels. Though some commercial solar operations like solar farms exist to generate and sell energy for profit, most businesses only aim to offset their own energy costs. That means they won't need to buy as many panels as they can fit, but only the amount necessary to meet their energy needs. The best method to determine exactly how many panels you'd need to meet your energy needs is to contact a local solar installer for a free proposal.
Can solar panels be used for commercial and industrial purposes?
Absolutely. Commercial and industrial solar installations can sometimes offer even more value than residential solar panels. Due to the scale of most commercial installations, price-per-watt is cheaper, giving customers much more bang for their buck. Commercial installations still maintain eligibility for the solar tax credit, net metering and certain tax deductions, making it a savvy investment for business owners.
The Democratic National Committee (DNC) voted unanimously over the weekend to no longer accept campaign contributions from fossil fuel companies, Huffington Post reported.
The proposal was reportedly introduced by Christine Pelosi, a member of the DNC and the daughter of House Democratic leader Nancy Pelosi.
"Climate change caused by the burning of fossil fuels represents an existential threat to civilization," the text states, "and Democrats committed in our 2016 Platform to curbing the effects of climate change, protecting America's natural resources, and ensuring the quality of our air, water, and land for current and future generations."
The resolution cites President Obama's ban on all corporate PAC donations to the DNC as well as his Farewell Address, in which he called on efforts to "reduce the corrosive influence of money in our politics, and insist on the principles of transparency and ethics in public service."
The fossil fuel industry contributed a record $100 million into the last presidential campaign and the vast majority was spent on Republicans, according to filings compiled by Greenpeace. Fossil fuel funds comprised 57 percent of Texas Senator Ted Cruz's Super PAC. Chris Christie, Jeb Bush and Marco Rubio also received significant fossil fuel contributions.
Republicans received about $53.7 million from oil and gas companies during the 2016 election cycle, but Democrats also received about $7.6 million. Democratic presidential candidate Hillary Clinton received 7 percent of her Super PAC money from oil and gas interests, Greenpeace revealed.
The resolution urges the DNC to encourage grassroots donors and "reject corporate PAC contributions from the fossil fuel industry that conflict with our DNC Platform" in order for Democrats "to walk our talk in harmony with our stated beliefs and convictions."
Very good to see the Democrats decide not to take money from the fossil fuel companies. The social license of big o… https://t.co/JslfMA3Kav

— Bill McKibben (@Bill McKibben)1528854192.0
The DNC will also consider banning contributions of over $200 from donors employed by the fossil fuel industry, according to HuffPost. That vote will take place at a board meeting in Chicago in August.
"So if Eddie Exxon is your college buddy and a frat-boy friend of yours and he's employed at an Exxon gas station and wishes to donate $25 to have a barbecue and a beer with you, fine," RL Miller, president of the super PAC Climate Hawks Vote Political Action and a co-author of the resolution explained to the website. "But if Edward J. Exxon in Exxon's middle management thinks you're worth contributing $2,700 to out of his own salary, that is much more concerning to us."
The vote was cheered by environmentalists who have pushed progressive lawmakers to affirm their commitment to the climate crisis and swear off contributions from fossil fuel companies.
"Wow. This is a big step AND it's serious proof that our pressure is working," the Sunrise Movement, a youth-led climate action network, tweeted. "Now, the DNC must step up further and refuse all donations over $200 from fossil fuel execs to prove they value young people's futures over oil and gas profits."
The Rise of Big Oil in American Politics https://t.co/JVxh0vSGNK @DeSmogBlog @billmckibben @350 @sierraclub @foe_us @ClimateReality

— EcoWatch (@EcoWatch)1484069996.0
From Your Site Articles
Related Articles Around the Web
Ilhan Omar, who could become the first Somali-American in Congress after her primary win, took the No Fossil Fuel Money pledge.
Lorie Shaull / Flickr / CC BY-SA 2.0
With the Democratic National Committee's sudden reversal on fossil fuel contributions last week, environmental advocates were relieved to see a number of climate champions emerge from Tuesday's midterm primaries.
A number of high-profile winners even signed the No Fossil Fuel Money pledge—an initiative of the young climate activist group Sunrise Movement—which demands politicians and their campaigns to not accept contributions over $200 from the PACs, executives or front groups of oil, gas or coal companies.
Here are some of the signatories who won last night:
Ilhan Omar, who is poised to be one of the first Muslim women elected to Congress after winning the Democratic primary in Minnesota's Fifth Congressional District;
Randy "IronStache" Bryce, who is seeking to fill House Speaker Paul Ryan's Wisconsin district seat;
Vermont Democrat Christine Hallquist, a former energy company executive, became the first transgender candidate to be nominated for a governorship;
U.S. Rep. Keith Ellison, the deputy chairman of the Democratic National Committee, who won the Democratic nomination for Minnesota attorney general;
Independent U.S. Sen. Bernie Sanders, who won Vermont's Democratic Senate primary.
Minnesota state Rep. Omar, who was also endorsed by the Sierra Club North Star Chapter, promises "bold action, and a transformation of our political and economic systems to combat climate change" and opposes projects such as the controversial Line 3 Replacement Pipeline.
The Sunrise Movement celebrated her groundbreaking victory.
"She's pledged to protect our land & water from pipelines like Line 3 and support a just transition to a clean energy economy, creating good-paying jobs in the process," the group tweeted about Omar's nomination. "Our country will only change for the better because of candidates like you."
The Sunrise Movement also commended Bryce's "tremendous victory" and noted that he "pledged early in his campaign to refuse contributions from fossil fuel CEOs."
The populist union ironworker touts A Green New Deal that supports policies such as a massive investment in green infrastructure, a path to 100 percent renewable energy by 2035 and ending fossil fuel subsidies.
There is no such thing as a safe pipeline. We need renewable energy alternatives now. #NoDAPL https://t.co/ZeVKa3pNwN

— Randy Bryce (@Randy Bryce)1510874396.0
Hallquist, as the former CEO of Vermont Electric Cooperative for 13 years, helped transform the company into a leader in using renewable sources of electricity production to combat climate change.
She also supports a plan for the state to reach a 90 percent renewable energy supply by 2050, protecting its natural environment and waterways and encourages more environmentally friendly mass transportation options.
Congrats to @christineforvt on a resounding victory – she's a climate champ, signed the #NoFossilFuelMoney pledge,… https://t.co/889wVKjN8V

— Oil Change U.S. (@Oil Change U.S.)1534297621.0
Last night's winners are among the some 200 candidates in the November general election who have signed the No Fossil Fuel Money pledge. The Sunrise Movement is petitioning other lawmakers to join their campaign.
Climate policy has emerged as a divisive issue between the Democratic Party's progressive wing, which is urging a speedy transition to 100 percent renewable energy, versus those in the party who are sympathetic to labor groups.
Two months after the Democratic National Committee unanimously prohibited donations from fossil fuel companies, the committee voted 30-2 on Friday on a resolution that critics say effectively reverses the ban.
The resolution, introduced by DNC Chair Tom Perez, allows the committee to accept donations from "workers, including those in energy and related industries, who organize and donate to Democratic candidates individually or through their unions' or employers' political action committees" or PACs.
After the vote, Perez said that members of the labor community considered the original resolution passed in June "an attack on the working people in these industries," per The Hill.
He insisted that the DNC is still committed to the Democratic Party platform, "which states unequivocally our support for combating climate change."
#DNC Will Take #FossilFuel Money After All https://t.co/tohxmJ36fQ @DeSmogBlog @350 @billmckibben

— EcoWatch (@EcoWatch)1534196105.0
From Your Site Articles
Related Articles Around the Web
Minnesota candidate Ilhan Omar is poised to become the first Somali-American elected to Congress. Sunrise Movement / Facebook
With record-breaking hurricanes, furious wildfires and an ominous report from the United Nations that forecasts catastrophic climate change, it's more important than ever to vote for leaders who are defenders of the environment.
Thankfully, we have candidates running for all levels of government who will take a stand on these critical issues and are promising ambitious climate policies if elected.
In fact, more than 1,200 elected officials and candidates running in local, state and federal elections are standing up to Big Oil and Gas and have taken the No Fossil Fuel Money Pledge.
A number of high-profile candidates and incumbent lawmakers have joined the movement. This includes Sen. Bernie Sanders of Vermont; Rep. Beto O'Rourke—Ted Cruz's foe for Senate in Texas; New York's Alexandria Ocasio-Cortez, who is on track become the youngest ever woman elected to Congress; Florida gubernatorial candidate Andrew Gillum; and Randy "Ironstache" Bryce, of House Speaker Paul Ryan's Wisconsin district, who is trying to flip the seat blue.
The list also includes candidates who lost their bids, i.e. Cynthia Nixon, who ran for governor of New York.
[email protected]

, Alexandria Ocasio-Cortez, candidate for Congress in NY-14, just signed the #NoFossilFuelMoney pledge!… https://t.co/L6bivRnF0f

— No Fossil Fuel Money (@No Fossil Fuel Money)1502817323.0
"Taking the pledge means that a politician and their campaign will adopt a policy to not knowingly accept any contributions over $200 from the PACs, executives, or front groups of fossil fuel companies—companies whose primary business is the extraction, processing, distribution, or sale of oil, gas, or coal," the pledge website touts.
The No Fossil Fuel Money Pledge is a pointed effort against the Democratic National Committee, which decided in August to reverse a ban on fossil fuel donations.
You can use this search tool to see if your election candidates have taken the pledge.

Thank you, Charles Gallia, in race 4 OR State Senate, for joining 1200 other candidates in US pledging to take NO m… https://t.co/YHIPv7rCcO

— Daphne Wysham (@Daphne Wysham)1540520582.0
The Sunrise Movement, a politically-minded organization of young people uniting to stop the climate crisis, has endorsed a full slate of candidates who have rejected fossil fuel cash and promise to fight climate change.
For instance, they've united behind Minnesota candidate Ilhan Omar, who is poised to become the first Somali-American elected to Congress.
"Ilhan has fiercely backed a moratorium on new oil and gas infrastructure, especially when it comes to the Line 3 pipeline. She's promised to stop tax loopholes and giveaways to fossil fuel executives, if elected to office and will support legislation to create good-paying, union jobs in the clean energy sector instead," the group writes.
There are other tools that environmental voters can use before heading to the polls. As Vox reported, Vote Climate US PAC has created a climate change voter's guide for House and Senate races that's based on what incumbents and challengers have said they'll do to address Earth's rising temperatures, from a carbon tax and their stated position on climate change.

You'll be unsurprised to find that the vast majority of the so-called "climate heroes" in the guide are Democrats.
"We all know that there are differences between Republicans and Democrats on the issue, but to me what was stunning was the extent of the divide between the parties," Karyn Strickler, president of Vote Climate US PAC, told Vox. "What this demonstrates is that climate politics are overwhelmingly driven by party."
The Sierra Club has also issued a voter guide and made endorsements for candidates and ballot measures. The environmental group has even created a personalized ballot based on your address.
There are many reasons to head to the polls on or before Nov. 6. Saving the environment should be one of them.
There's never been a better time to be a #ClimateVoter and fight for a brighter future. Are you in? https://t.co/GhtDYWCEBj

— NRDC Action Fund (@NRDC Action Fund)1540405621.0
From Your Site Articles
Related Articles Around the Web
James Cameron's Star-Studded Film Slams Donald Trump's Climate Denial
Popular
Climate change took center stage at the Democratic National Convention last night thanks to a short film by James Cameron and remarks by multiple prominent politicians on the issue.
The film, Not Reality TV, knocks Donald Trump's climate denial and tells the stories of Americans affected by climate change.
Watch here:
"As Americans, we face challenges head-on," presidential nominee Hillary Clinton says in a voiceover in the film that also features Republican former California Gov. Arnold Schwarzenegger and a string of other celebrities and politicians.
President Obama also touched on the issue multiple times in his speech while California Gov. Jerry Brown and former Maryland Gov. Martin O'Malley praised Clinton for her leadership on climate action and denounced Donald Trump for his climate denial.
James Cameron calls Donald Trump a 'madman' over climate change denial https://t.co/y5FHjyI10b

— The Guardian (@The Guardian)1469704942.0
Cameron film: Politico, Guardian, Mashable, AP, Pacific Standard, Entertainment Weekly, USA Today, Variety, LA Times, The Hill, Washington Examiner, Huffington Post, Hollywood Reporter, OPB, The Atlantic, Boston Globe, Vulture

Political Speeches: LA Times, KPBS, Grist, UPI, The Hill, Politico, Climate Home
Commentary: New York Times, Naomi Oreskes op-ed; Grist, Katie Herzog column; Bustle, Chris Tognotti column; Inverse, James Crosbie column; Daily Beast, Asawin Suebsaeng column

For more climate change and clean energy news, you can follow Climate Nexus on Twitter and Facebook, and sign up for daily Hot News.

By Ryan Schleeter

Monday marked the beginning of the Democratic National Convention (DNC), where the party will—in theory—come together around what it's calling the "most progressive platform in party history." And if that platform is any indication, climate change will figure heavily in the discussion this week.
Hillary Clinton poses with a supporter at a campaign rally in Manchester, New Hampshire earlier this year.Andrew Lichtenstein / Greenpeace
The Dems have come a long way since embracing a deeply flawed "all of the above" energy strategy in 2012.
Their new platform places renewable energy at the center of economic growth and job creation. It recognizes the intersections of social and environmental justice, with specific references to the Flint water crisis and the impacts of climate change on communities of color and indigenous populations. And it empowers the Department of Justice to investigate fossil fuel companies for their role in spreading climate denial.
This places them in stark contrast to Republicans, who groaned at the mere mention of climate change at their convention last week.
This week should tell us even more about the direction the Dems are heading on climate change, including how they'll address some of the platform's shortcomings. Here's what to watch for:
1. Where Does the Party Stand on Fracking and Natural Gas?
Well, it's complicated.
Fracking has no place in the platform of a party that wants to "lead the fight against climate change around the world." By not advocating a national ban on fracking, the Dems are falling short of the action we need to avoid its catastrophic health, climate and public safety impacts.
Your chances of asthma attacks are higher if you live near a fracking site https://t.co/sRnGLi0pzU https://t.co/swmAhE7JsH

— ThinkProgress (@ThinkProgress)1469041879.0
Instead, they're shirking responsibility by stating that fracking "should not take place where states and local communities oppose it." Translation: everyday people will have to go head to head with the fossil fuel industry to keep their communities frack-free. For an indication of just how difficult that is, look at Colorado right now.
#Fracking Fight Continues in #Colorado https://t.co/A893go0buT @MarkRuffalo @joshfoxfilm @RobertKennedyJr @billmckibben @LeoDiCaprio

— EcoWatch (@EcoWatch)1468686748.0
On top of tepid regulations, the party leadership's problematic history with fracking is cause for concern. Both presumptive presidential candidate Hillary Clinton and her vice presidential pick Tim Kaine have a long record of supporting fracking and pushing the false narrative of natural gas as a "bridge fuel."
As the Democrats try to position themselves as climate leaders, pay particular attention to how how this presumptive Democratic ticket talks about fracking or if they choose to skirt the issue.
2. Will Support for the Trans-Pacific Partnership (TPP) Erode?
The Dems have chosen not to oppose the TPP, the secretly negotiated trade deal that would open the door to increased corporate influence over environmental decision-making.
It's a curious decision, as President Obama is the only high profile Democrat left in favor of the deal. Both Clinton and Bernie Sanders have opposed it since last year, citing concerns over how it would outsource jobs overseas.
Hillary's statement on the Trans-Pacific Partnership: http://t.co/dL3f5cCvFP

— Hillary Clinton (@Hillary Clinton)1444255756.0
But that's not all that the TPP would do. It also makes it easier for fossil fuel companies to export natural gas with little to no environmental review, creating economic incentive for even more fracking (see above for why that's a terrible idea).
Look to see which side of the aisle party leaders fall on this week and if there any notable changes in position, like Kaine coming out in opposition earlier this week after voting in favor earlier this year.
3. When Can We Expect Some Actual Commitments to Keep Fossil Fuels in the Ground?
Unlike people across the country, the Democrats have yet to fully embrace the keep it in the ground movement, but they seem to be inching closer.
Their platform would protect the Arctic and Atlantic Oceans from offshore drilling, but not the Gulf of Mexico. It calls for "reform[ing] fossil fuel leasing on public lands" and "phas[ing] down extraction," but gives little detail as to what that actually means. And of course, fracking.
The Dems should listen to communities calling for an end to new fossil fuel infrastructure, like those organizing against oil exploitation in the Gulf South and those protesting fossil fuel leasing in the Mountain West. And they won't have to look far for cues—thousands joined a march for clean energy and an end to the fossil fuel era in downtown Philadelphia on Sunday.
Happening now: Thousands march for clean energy in Philadelphia #DNCinPHL #CleanEnergyMarch https://t.co/MLAZFgtf3U

— Democracy Now! (@Democracy Now!)1469383026.0
This week, keep an eye on how far progressive members of the party—like Keep It in the Ground Act authors Jeff Merkley (Senate) and Jared Huffman (House)—are able to push their more moderate colleagues on fossil fuel extraction.
And now for some perspective.
At this point, it's also worth a friendly reminder that the official Republican energy platform is literally terrible, Donald Trump thinks climate change is a "myth" (ever the ticket of nuance, his running mate Mike Pence prefers "hoax") and the GOP is the only conservative party in the world to deny the science of climate change.
The concept of global warming was created by and for the Chinese in order to make U.S. manufacturing non-competitive.

— Donald J. Trump (@Donald J. Trump)1352229352.0
That just feels relevant right now.
Accepting her nomination for president on Thursday, Hillary Clinton said she is "proud" of the Paris agreement and promised to hold every country accountable to their commitments to climate action, including the U.S.
@HillaryClinton
She also hit at Donald Trump for his climate denial. "I believe in science," she said with a laugh to thunderous applause from the audience. "I believe that climate change is real and that we can save our planet while creating millions of good-paying clean energy jobs."

Clinton promised the biggest investment in "new, good paying jobs" since World War II, including jobs in clean energy and other sectors such as manufacturing and infrastructure.
"I believe in science. I believe that #climatechange is real…" –@HillaryClinton The time is now. Vote.

— Leonardo DiCaprio (@Leonardo DiCaprio)1469808062.0
"Clinton has proposed in-depth and thought-out plans to combat the climate crisis, protect our public lands and put an end to racial injustice," Michael Brune, executive director of the Sierra Club, said.
"She not only wants to complete America's transition to 100 percent clean energy, she recognizes the massive job growth opportunity it presents and wants to make America the global leader in the clean energy market. And Clinton opposes unfair trade deals and wants to overturn Citizens United, putting democracy back in the hands of the voters.
"Demagogue Donald Trump has sought to divide America in every possible way—including climate change. He has called it a hoax, a concept created by the Chinese, and wants to tear up the Paris Climate Agreement, among other outrageous and dangerous claims. In fact, if elected, Trump will be the only world leader who refutes the existence of climate change."
For a deeper dive:
News: Grist, Climate Home, The Hill, GeekWire
Commentary: Baltimore Sun editorial; Gizmodo, Carli Velocci column
For more climate change and clean energy news, you can follow Climate Nexus on Twitter and Facebook, and sign up for daily Hot News.
By Lukas Ross, Friends of the Earth Action

The same day TransCanada sued the U.S. government for $15 billion, the Democratic Party's platform drafting committee met in Missouri. Between the two, there is a lesson to be learned about free trade and the climate crisis.
The lawsuit was the anticipated result of President Obama rejecting the Keystone XL pipeline.Using a notorious provision in the North America Free Trade Agreement (NAFTA), the Canadian oil giant is hoping to claim $15 billion in lost future profits by dragging the U.S. before an international tribunal. These sorts of extra-judicial forums, where corporations can sue governments for enforcing their own laws, are a hallmark of established free trade deals like NAFTA and looming ones like the Trans Pacific Partnership (TPP).
Forty environmental groups signed a letter urging Congress to reject the TransPacific Partnership. Dylan Petrohilos / Think Progress
The meeting in Missouri was to finalize a draft of the 2016 Democratic Party platform, a usually sleepy and symbolic process that this year has exploded into a proxy fight between presumptive nominee Hillary Clinton and Sen. Bernie Sanders. Pipelines like Keystone XL and free trade writ large were both on the agenda—and the votes cast reflect a growing divide between the party establishment and the grassroots.

Within hours of TransCanada filing its lawsuit under NAFTA, the platform committee had the chance to officially oppose the proposed Trans Pacific Partnership, a Pacific Rim trade deal that would allow hundreds of new fossil fuel companies access to provisions similar to those used by TransCanada. The motion was rejected. Despite both candidates being on record opposing the current TPP, the motion was rejected in a 10-5 vote. It was supported by appointees from Sanders and opposed by appointees from Clinton and the Democratic National Committee. Compromise language was offered instead, calling for trade deals that protect workers and the environment without mentioning the TPP by name.
Talking about responsible trade but refusing to be clear about the TPP isn't a good look, for the DNC or anyone else. If the TPP and its European counterpart, the Transatlantic Trade and Investment Partnership, were both enacted, it would radically expand the power of fossil fuel companies to sue the U.S. for laws and regulations that hurt their expected future profits. The power to launch lawsuits like TransCanada's would be put on steroids and everything fromlocal fracking bans to renewable energy mandates could be litigated in trade tribunals run overwhelmingly by corporate lawyers.
Besides missing the boat on trade, the committee managed a few other favors for the TransCanadas of the world. Jane Kleeb, the founder of Bold Nebraska and the newly elected Chair of Nebraska Democrats, supported a motion calling for ending the use of eminent domain in support of fossil fuel projects. It was unceremoniously voted down. Another rejected motion was an endorsement of the so-called "climate test," the principle that infrastructure and other projects shouldn't be approved if they worsen carbon emissions. Applying this standard was what led President Obama to reject Keystone XL in the first place.
In fact, Friday turned out to be a bad night for serious climate policy all around. Motions pushed by Sanders's appointee Bill McKibben supporting a carbon tax and a national frackingban were both rejected. So too was a motion to keep fossil fuels in the ground by ending new leasing on our public lands and waters.
Even the ambitious energy target supported by both Clinton and Sanders—100 percent clean energy by 2050—wasn't an unqualified success. The language is vague enough that it could include everything from wind and solar to dangerous false solutions like biomass, carbon capture and sequestration and nukes.
The concern about what exactly counts as clean energy isn't unfounded. If Bill McKibben was chosen by Sanders as a progressive voice on climate, his alter ego appointed by Clinton is Carol Browner, a one-time Environmental Protection Agency administrator who splits her time these days between professional lobbying and pro-nuclear advocacy.
The good news is that Missouri isn't the end. The platform still needs to be approved by the full platform committee next month in Orlando and after that by the full convention in Philadelphia. When it comes to pushing back on trade and climate, there are still two more shots.
As philosopher Dr. Cornel West, another Sen. Sanders appointee, said as he abstained from the final vote, "Take it to the next stage."
YOU MIGHT ALSO LIKE
Oakland Bans Coal Exports, Huge Win for Local Residents
Kochs Dump Trump to Fund Climate-Denying Senators in Ohio and Nevada
'Three Amigos' Vow to Get Half Their Electricity From Clean Power by 2025
DNC Platform Calls for Fossil Fuel Investigations, 100% Renewable Energy
By Alyssa Figueroa, Breast Cancer Action
With all eyes on the presidential candidates during election season, the inaction of thousands of elected officials across the country on crucial issues like protecting public health can easily get lost amidst the spotlight. That's why the organization I work for, Breast Cancer Action, will soon join thousands of others in the streets before the Democratic National Convention to grab some of that light and shine it on one of the most critical issues of our time: the harmful health impacts from fracking and other forms of dangerous drilling.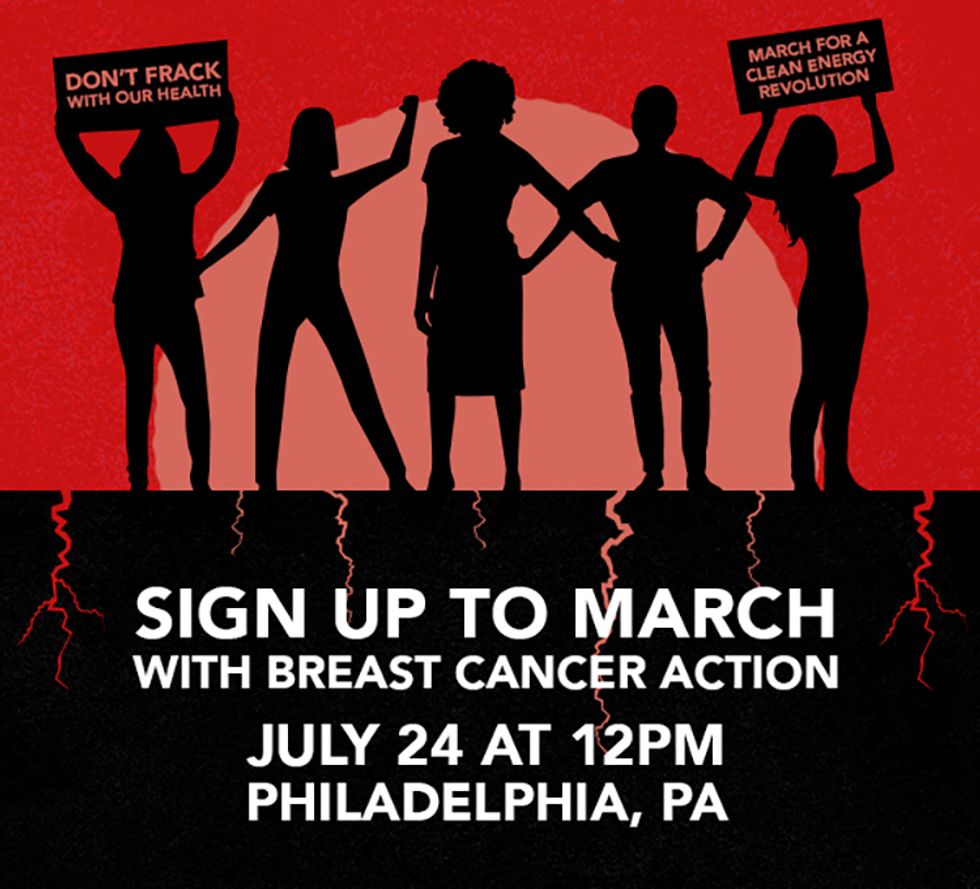 From coast to coast, too many of our elected officials are failing to protect people from these toxic processes. Take Pennsylvania Gov. Tom Wolf for example. Despite hundreds of confirmed cases of water contamination from fracking and studies finding residents who live near fracking wells have higher rates of health problems and hospitalizations, Wolf hasn't taken any meaningful steps to protect people's health.
Across the country in California, so-called climate leader Gov. Jerry Brown is no better. Even after the recent gas leak in Porter Ranch, California— the largest in U.S. history—left hundreds sick, Brown failed to call for an end to fracking and dangerous drilling in the state, let alone the shutdown of the storage facility in the city that was responsible for leaking the fracked gas.
This is despite the fact that fracking and other forms of extreme extraction use hundreds of chemicals that are linked to a host of severe health problems. Twenty-five percent of fracking chemicals cause cancer (including breast cancer), more than 30 percent affect the endocrine system, 40-50 percent cause nervous, immune and cardiovascular problems and more than 75 percent affect the skin, eyes and other sensory organs and the respiratory and gastrointestinal systems. And that's just an assessment of the chemicals we know of. Because of industry loopholes throughout the country, the oil and gas industry is not required to list all the chemicals and mixtures they use.
Yet, the oil and gas industry and the elected officials in their pockets, still claim that there's not enough scientific evidence that shows that these chemicals used in their processes actually end up endangering people's health. But the truth is that the science is very much in: these toxic chemicals leach into our drinking water, poison our air and ultimately harm our health.
A recent 2016 peer-reviewed scientific paper on more than 650 peer-reviewed studies on drilling and fracking from 2009-2015 illustrates the scale of the risk. Its analysis showed that 64 percent of all the studies found potential and actual cases of water contamination, while 87 percent found elevated air pollutant emissions. The paper also analyzed the studies that specifically researched health impacts and found that 84 percent contained "findings that indicate public health hazards, elevated risks or adverse health outcomes."
Sadly, it is not just the science that's illustrating the health risks—people are experiencing health harms from these toxic processes every day. Low income-communities and communities of color often bear a disproportionate burden of these health harms. In fact, fracking executives were recently caught saying that they targeted low-income communities because they didn't have the money to fight back. Nausea, nosebleeds, migraines, rashes, hair loss and respiratory problems are just some of the short-term illnesses and effects these communities have to deal with daily. For example, Kern County, California, is a predominantly low-income, Latino county where about 95 percent of the state's fracking takes place. 22 percent of the children who live there have asthma, which is more than three times the national average.
These short-term health problems can be early signs of long-term illnesses, like breast cancer, to come. In fact, a new report on air pollution from the oil and gas industry found that 238 counties in 21 states face a cancer risk that exceeds the Environmental Protection Agency's threshold level of concern. The report states that these counties "are generally located in states with the greatest amount of oil and gas infrastructure."
This growing scientific evidence of harm is what led New York State to ban fracking. Now, the rest of the nation needs to not only follow suit by banning fracking, but also by banning other related extraction techniques that harm health.
The time for our elected officials to put public health before oil and gas industry profit is now. But they clearly won't do that on their own. We have to demand it. That's why we will be marching this July 24 in Philadelphia, where the Democratic National Convention is set to take place the next day, to tell all of our leaders to enact a nationwide ban on fracking and dangerous drilling.
U know u want to march w/ me & @karunajaggar in Philly this July women's health! Here's how: https://t.co/PhFAAubMBG https://t.co/knKqmotgHb

— Breast Cancer Action (@Breast Cancer Action)1465833940.0
We'll be joined by health professionals and other health organizations in this March for a Clean Energy Revolution calling for an end to these dirty energy sources that harm our health. Join us at the march and stand together with Breast Cancer Action in demanding a healthier, less toxic future—where no one has to worry that the water they drink and air they breathe will make them sick.
YOU MIGHT ALSO LIKE
Pennsylvania Declares Victory on Oil and Gas Regs While Failing to Protect Residents Health
Will This Grandmother Go to Prison for Peaceful Resistance Against Fracking?
Passage of the Chemical Safety Bill Is a Murky Milestone for Children's Health
Pipeline Ruptures Spilling 29,000 Gallons of Oil, Just Hours After Obama Signs PIPES Act
The committee drafting the Democratic Party platform unanimously voted to include a call for the Justice Department to investigate fossil fuel companies for misleading the public on climate change.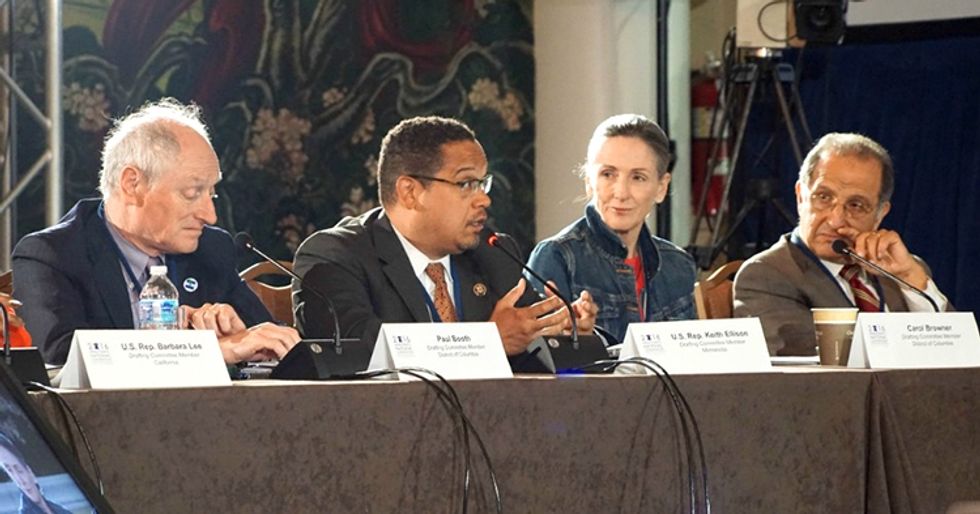 Members of the Democratic party Platform Committee, including (from left to right) American Federation of State, County, and Muncipal Employees executive assistant to the president, Paul Booth, U.S. Rep. Keith Ellison (D-Minn.), former White House Energy and Climate Change Policy director Carol Browner, and Palestinian rights academic James Zogby. Photo credit: DNCC
"All corporations owe it to their shareholders to fully analyze and disclose risks they face including climate risks. Those who fail to do so should be held accountable," the committee declared.
The committee also included the goal of producing 100 percent of electricity from renewable sources by 2050, though they declined to support policies such as a ban on fracking and a carbon tax.
Watch the platform's authors discuss the motion to investigate fossil fuel companies:
For a deeper dive: InsideClimate News, Washington Post
For more climate change and clean energy news, you can follow Climate Nexus on Twitter and Facebook, and sign up for daily Hot News.
YOU MIGHT ALSO LIKE
March for a Clean Energy Revolution at the DNC With Breast Cancer Action
4 States Struggling to Manage Radioactive Fracking Waste
TransCanada Files NAFTA Suit Demanding More Than $15 Billion for Keystone XL Rejection
Pennsylvania Declares Victory on Oil and Gas Regs While Failing to Protect Residents Health
The Democratic and Republican conventions are history and the epochal 2016 election is now before us. My general theory is less talk and more action, so I hope you'll join me in taking this climate pledge, one that will power our efforts into the fall.
People's Climate March in New York City, Sept. 21, 2014.
But since I've got the microphone, maybe I'll say a few more words.
One is, Trump is truly bad news. His insistence that global warming is a Chinese manufactured hoax and his declaration that he will abrogate the Paris treaty mean that he's as much a nihilist on climate change as he is on anything else. In fact, no major party candidate since the start of the global warming era has been as bad on this issue, not even close. He's also terrifying for many other obvious reasons.
Second is, it was a little hard for me to watch Bernie's bittersweet speech to the Democratic convention. He's my Vermont neighbor (where 350.org was born) and he was my candidate and he talked about climate change as no presidential candidate ever has before, declaring forthrightly that it was the greatest problem the planet faced. I wish he'd won.
But his powerful showing meant, among other things, that he had a significant hand in writing the Democratic party platform for 2016. (In fact, he named me as one of 15 platform writers. Did I say we were neighbors?) And though it's far from perfect it is by far the strongest party platform on climate issues Americans have ever seen.
This is my third thought. In four years we've gone from an "all of the above" energy strategy to one that explicitly favors sun and wind over natural gas. The platform promises a Keystone-style test for all federal policy: If it makes global warming worse, it won't be built. And it calls for an emergency climate summit in the first hundred days of the new administration. All those changes are the direct result of your work, showing up to demand action over many months and years.
Thursday night Hillary Clinton pledged to enact that platform and she said "we have to hold every country accountable to their commitments, including ourselves."
"Accountability" is the right word. Will this platform mean anything more than words? That actually depends on you. If we vote as climate voters this fall—and if we then show up to demand that those promises are kept—this could turn out to be a ground-breaking political season. That's why we need you signed on to this pledge and lined up to get out the vote and do the other chores of an election.
But remember: election day is just one day in the political calendar. The other 364 count just as much.
Our job is not to elect a savior. Our job is to elect someone we can effectively pressure. And as tough as the work of this election will be—the real work starts on Wednesday, Nov. 9.
That's how it seems to me, anyway. There's plenty to be scared of this election season and plenty to hope for. And most of all there's plenty of work to be done.