Pexels
Each year, almost 1.2 billion people travel abroad, making travel and tourism one of the largest industries in the world. Representing a whopping 10 percent of the global economy, it supplies millions of jobs and benefits countless communities.
Yet while travel has many positive impacts, it can also take a heavy toll on the environment, from putting increased strain on fragile ecosystems and culturally significant sites to contributing to rising fossil fuel emissions. But that doesn't mean you have to drop your suitcase and cancel your reservations, says WWF's travel experts. These simple actions can help you significantly reduce the footprint of your next trip and leave a positive impact on local communities.
1. Do Your Homework
Before you book, research destinations that prioritize sustainability and that are investing in preserving their natural and cultural heritage. Some countries, such as Namibia and Bhutan, have environmental protection written into their constitution. Others demonstrate an ongoing commitment to conservation by creating and taking care of their national parks, marine reserves, and wildlife refuges. According to Jim Sano, WWF's Vice President of Travel and Conservation, "Selecting a destination that achieves a balance of protecting natural and cultural resources, providing for sustainable livelihoods, and creating a high-quality traveler experience is challenging. Green Destinations has started to compile a list of sustainable destinations against the Global Sustainable Tourism Council's Destination Criteria—a recognized set of criteria to assess a destination's management policies and practices. Two-hundred destinations have been selected to date."
2. Getting There
One of the best ways to travel more sustainably is to be thoughtful about your modes of travel. Are there environmentally-friendly ways to reach your destination? If you must fly, you can reduce your carbon footprint by selecting direct flights and by choosing a more energy-efficient aircraft, both of which lead to less jet fuel being burned. Travelers can also offset their travel emissions by purchasing reputable, accredited carbon credits from an offset platform like MyClimate.
3. Find Eco-Friendly Lodging
Seek out eco-conscious hotels and accommodations that support sustainable development and have minimal impact on the surrounding environment. Specifically, look for places to stay that use renewable energy, have effective waste management systems, recycle, or were built using renewable materials. With the Global Sustainable Tourism Council, you can easily find certified sustainable lodging to fit your requirements.
4. Choose Tours Wisely
When scheduling tours or sight-seeing trips, book through companies that adhere to environmentally-friendly policies, including protecting wildlife, supporting indigenous peoples, and employing local guides who are familiar with regional laws and customs. Thankfully, there's an abundance of reputable companies that can help globetrotters find adventures that aren't damaging to nature or communities.
5. Support Local Economies
Try to visit regions where local people are empowered to manage their land and natural resources—such as wildlife, parks and marine protected areas—meaning that tourism dollars directly benefit the local economy and can influence positive change.
6. Shop Carefully
Tempted by an "antique" carved ivory tusk? Or a black coral bracelet? Think twice. Just because an item is for sale doesn't mean it's legal to purchase. Some products, such as snake wine, tortoiseshell accessories, shells and coral jewelry, ivory, or furs are made from protected plants or endangered species and can be illegal to export or import. They can also be the products of poaching or mislabeled to entice tourists. Before you spend, be sure to ask questions. What is the item made of? Where did it come from? By making informed choices—or just saying no—you could dodge a serious fine at customs or help reduce the market demand for trafficked, at-risk species. For a list of items to avoid, check out WWF's Buyer Beware Guide.
7. Be Smart About Plastics
Each year, more than 8 million tons of plastics wind up in our ocean, where they disrupt delicate ecosystems and endanger marine wildlife. Much of this harmful waste comes from single-use plastics like throw-away water bottles, take-out packaging, and plastic shopping bags not recovered by waste management. Minimize the amount of plastic waste you produce when you travel by carrying a re-usable water bottle, opting for locally filtered water where possible, and bringing your own tote bags for shopping.
8. Look, Don't Touch
No matter where you go, you should never touch, feed, taunt, or play with the wild animals you encounter, which could spell trouble for both you and the animal. Also keep away from tourist attractions where you're allowed to have hands-on experiences with animals or where wild animals are exploited. These are often harmful to the animals and fuel the illicit trade in exotic pets or endangered animal parts.
9. Pick Your Products
Some common sunscreens and soaps contain harmful chemicals that can be absorbed by the ocean's fragile coral reefs systems and contribute to coral bleaching. Before you dive in, make sure to use reef-friendly products, such as biodegradable or mineral-based sunscreens, shampoo and soaps. Or think about switching to protective clothing, like rash guards and wet suits, which dermatologists say are just as effective as sunscreen.
10. Enjoy Sustainable Activities
As you explore new places, opt for recreational activities that don't pollute or use energy, such as kayaking, biking or hiking. Not only will you create zero carbon emissions, you'll likely discover unique sights and experiences away from the beaten path.
From Your Site Articles
Related Articles Around the Web
EcoWatch Daily Newsletter
Christy Williams / WWF
It's been a big year for conservation.
Together we assured the world that the U.S. is still an ally in the fight against climate change through the We Are Still In movement, a coalition of more than 2,500 American leaders outside of the federal government who are still committed to meeting climate goals. WWF's activists met with legislators to voice their support for international conservation funding. And we ensured that Bhutan's vast and wildlife-rich areas remain protected forever through long-term funding.
As 2017 comes to a close, we're taking a moment to highlight some of our biggest conservation successes of the year. And we couldn't have done it without your support.
RoschetzkyProductions / Shutterstock
State, local, and business leaders continue to support U.S. climate action to meet the Paris agreement.
Leaders across the U.S. economy reaffirmed their commitment to climate action despite the Trump administration's decision to pull out of an unprecedented and essential international agreement to curb climate change.
Mexico committed to critical measures to save the vaquita.
The government of Mexico announced a permanent ban on gillnets in the Upper Gulf of California—a fantastic and encouraging step forward on the path to save the vaquita.
Supporters helped WWF launch an emergency plan to stop Myanmar's elephant poaching crisis.
Amid a dire poaching crisis, wild Asian elephants in Myanmar received swift and essential aid from thousands of WWF supporters committed to protecting this iconic species. More than 3,000 people donated $263,211 in less than four weeks to fund an emergency action plan to train rangers and get boots on the ground to fight wildlife crime.
WWF-US / Keith Arnold
WWF staff and supporters stood up for conservation at the People's Climate March.
More than 1,000 WWF activists—including more than 200 staff—joined 200,000 marchers in Washington, DC, to show they support strong action on climate change. WWF Panda Ambassadors and staff held sister marches across the country in cities including Dallas, Long Beach, Seattle, Portsmouth, Chicago and San Diego.
WWF activists made their mark on Capitol Hill by engaging leaders on conservation issues.
Through more than 60 face-to-face meetings on Lobby Day 2017, our activists shared with key legislators their concerns and hopes on topics ranging from stopping wildlife trafficking to tackling climate change.
WWF and Walmart embarked on a new effort to cut carbon pollution.
WWF and Walmart are working together to cut carbon pollution and curb some of the worst impacts of climate change to protect people and wildlife at risk with Project Gigaton.
Day's Edge / WWF-US
WWF supporters raised more than $250,000 to help bison in Badlands National Park.
In early March, nearly 2,500 people donated a total of $256,512 to extend bison habitat at the park from 57,640 acres to 80,193 acres. This will allow the park to achieve and sustain a herd of more than 1,000 bison, and will allow more park visitors to see and learn about the U.S. national mammal.
WWF and Apple are working together to protect China's forests.
In July, Forest Stewardship Council (FSC) certificates were awarded for more than 320,000 acres of forest land in southern China. Nearly two-thirds of the land is owned and managed by one private company, Maoyuan Company. The remainder is owned and managed by Guangxi Qinlian Forestry Company, a state government entity. The land includes semi-natural forests and forest plantations.
WWF teamed up with hotels to reduce their food waste.
WWF began working with the American Hotel & Lodging Association and its member hotels to reduce food waste. Starting with 10 hotel properties, WWF and AHLA tested waste-reduction strategies, including low-waste menu planning, staff training and education, and customer engagement. Overall, participating properties reduced food waste by at least 10 percent, and lowered food costs by three to five percent.
Emmanuel Rondeau / WWF-UK
Creating a future of forests in Bhutan.
Bhutan is one of the most important players in the global fight against climate change. Bhutan's ranking in this regard is due to it being the only country in the world to commit to remaining carbon neutral, meaning it absorbs as much carbon dioxide as it emits into the atmosphere. And now Bhutan has a great means for bringing that commitment to life—long-term funding to ensure its protected areas, which cover half of the country, are properly managed forever. It is the first initiative of its kind in Asia and one of only a few in the world.
For the first time ever, WWF and partners tagged Amazon river dolphins to boost conservation efforts.
WWF and research partners are now tracking river dolphins in the Amazon using satellite technology after scientists successfully tagged dolphins in Brazil, Colombia and Bolivia. The small transmitters safely attached to the dolphins will provide new insights into the animals' movements and behavior, along with the growing threats they face.
Jaime Rojo/WWF-US
Some of the world's largest food companies announced they'll help halt deforestation in the Cerrado.
For more than 30 years, the Amazon has been the poster-forest for the environmental movement. And deforestation in the Amazon is largely slowing down. Unfortunately, however, the Cerrado continues to lose ground to expanding beef and soy production, plus other commodities and infrastructure. In fact, losses in the Cerrado have been greater than those in the Amazon for the past decade.
The Global Mangrove Alliance united to conserve and restore valuable coastal forests.
WWF teamed up with Conservation International, the International Union for Conservation of Nature, and the Nature Conservancy to form the Global Mangrove Alliance. The alliance is an initiative to reverse the loss of critically important mangrove habitats worldwide. The target is ambitious: to expand the global extent of mangrove habitat 20 percent by the year 2030.
andresr / E+ / Getty Images
From bamboo utensils to bamboo toothbrushes, household products made from bamboo are becoming more popular every year. If you have allergies, neck pain or wake up constantly to flip your pillow to the cold side, bamboo pillows have the potential to help you sleep peacefully through the night.
In this article, we'll explain the benefits of bamboo pillows and how they can help you on your journey to better sleep. We'll also recommend a few of the best pillows on the market so you can choose new bedding that's right for you.
Our Picks for the Top Bamboo Pillows
Each product featured here has been independently selected by the writer. Learn more about our review methodology here. If you make a purchase using the links included, we may earn a commission.
Why Switch to Bamboo Pillows?
Bamboo may be thought of as a tree-like structure because of its resilience, but it's actually classified as grass, which can be spun and woven in a soft, spongy material much like cotton. The pillows are made with a bamboo-based outer sleeve and stuffed with foam pieces in order to mold to your head position. Bamboo is considered naturally hypoallergenic and doesn't attract pests, bacterias or other fungi like most other plants.
Bedding materials such as cotton and silk don't have the concise cellulose structure that bamboo does. The material's cell structure allows more oxygen circulation, which keeps it lightweight and breathable so your pillow stays cooler longer.
Other than the sleeping benefits of the pillows, bamboo is considered an extremely sustainable material through production. The adaptable plant works as a great renewable resource, as it can thrive in any soil type and it is considered one of the fastest-growing plants in the world. As the bamboo is grown, it produces more oxygen than its calculated carbon emissions. And the cultivation of bamboo doesn't require fertilizer or pesticides, so ecosystems around the bamboo farms can be left unharmed.
Although bamboo itself is a completely natural and sustainable material, it has to undergo a strong chemical process in order to become a textile. Bamboo viscose, which is a type of rayon, is controversial among environmentalists because of this process, but overall, bamboo derivatives still produce lower carbon emissions than traditional polyester bedding. New bamboo textile processes are also being developed to be much more eco-friendly.
Full Reviews of Our Top Picks
When choosing our top recommended bamboo pillows, we looked at factors including:
Comfort: Quality comes first when choosing bedding. The bamboo pillows chosen contain soft and snug adjustable filling to adapt to your preferred firmness.
Materials: Most traditional pillows are stuffed with synthetic foam that contains VOCs, also known as volatile organic compounds. We ensure both the bamboo fabric and foam used in our picks are toxin-free.
Cost: Bamboo pillows are usually a little more expensive than regular polyester or feather pillows because of their superior comfort and eco-friendly properties. It's important that the product you spend your money on is worth the cost and will hold up long-term.
Customer reviews: We look at real and verified reviews in order to make sure each product is genuinely beneficial to customers' sleep.
Pexels
By Michael B. Commons
In my collaboration with Terra Genesis International, I have been given space and support to investigate what we may call "Regenerative Pathways," looking at real life examples of functional farming systems that we can identify as being on the "Regenerative Agriculture Pathway."
While these farms/farming systems might be called "Regenerative Farms," we see regeneration more as a long term process and continuum that we can evaluate through indicators such as soil health, water retention, biodiversity, community health and more.
Of particular interest for us is to look at farms/systems that are producing "key economic crops" as so much of our land area is now dominated by "economic crops" and these crops' link to larger trade systems. With such a link there is the possibility to develop collaborative relationships to support regenerative practices and systems between farmers, consumers and intermediaries.
My wife and I, for many years, have been active members of the Thai Wanakaset (Agroforestry and Self-Reliance) network, which has a number of farmer members who live at the edges of natural forest reserves with wild elephant populations. For most Thais in this situation, as well as farmers with whom I have spoken from Sri Lanka and Bhutan, this relationship and interaction is much more confrontational.
Generally, forest and wild areas are being reduced and transformed into farming monocultures, while the Thai wild elephant population is actually increasing 7 percent a year, according to a recent Thai PBS article. From my own observations living in this area around the Eastern Forest of Thailand, most all of the small marginal wild areas that served many species of wildlife have been removed in the last decade (converted to farmland or other uses). Therefore, the elephants are increasingly going out of the preserves and national parks to farms for food.
From what I have learned talking with those who live in and around the elephants, these four-legged beings are incredibly intelligent and adept learners, so they have learned and adapted to eat many new foods, like pineapples, corn and rice. My colleagues have told me that elephants can choose to politely harvest from fields rather than to destroy them. Yet for most Thai farmers, they don't accept any such sharing of their harvest. Thus, the greater focus has been on converting to crops that elephants don't like to eat, or using measures to prevent their entry or scare them away.
Kanya shows banana trees next to her home that they have planted for the elephants. If the elephants are courageous to show themselves so close they can enjoy the banana stalks—which is what usually happens.Michael B. Commons
The Wanakaset members of Pawa subdistrict, Chantaburi, have taken a very different path. They have developed diverse forest garden systems that allow space and place for wild elephants. Their farm environments have many different plants that the elephants can eat without needing to take or destroy the family's key crops. The stories these farmers tell are also quite amazing and inspiring. It seems that the elephants are completely aware of what the forest gardeners are doing and the lands they manage. They hold this coexistence in regard, coming regularly into these shared spaces and largely respecting the crops the humans ask to be left alone, while they enjoy other crops and places provided for them.
In my deeper vision of "Regeneration," I believe we need to heal the divide between humans and non-humans, and that humans can be stewards of lush gardens that provide valuable yields for humans and food and habitat for other living beings. As elephants are such a key species with great power, including the power to destroy, that we can find examples of a peaceful, balanced co-existence gives much hope. Thus I decided to embark on a journey to learn more from my farmer colleague, Ms. Kanya Duchita, to understand and share with others.

Kanya Duchita and her parents are students of Pooyai Viboon and practitioners of "Wanakaset," the philosophy and system of organic agroforestry and self-reliance that he taught. Wanakaset, like permaculture, is a design system that reflects the land, situation, needs, skills and interests of the people involved. The process should arrive at some form of an integrated forest garden system that meets the needs and interests of the farmer/gardeners who live in it and who guide its evolution. The land and climate of Pawa are favorable for wet tropical fruits (durian, mangosteen, langsat, rambutan) and rubber. Kanya's family land sits very close to Khao Chamao National Park, a healthy forest with a large number of resident wild elephants.
Michael Commons (MC): "Kanya you once told me that you practice Wanakaset because you are a lazy person. Can you really be lazy and practice Wanakaset (forest gardening)?
Kanya Duchita (KD): "The work of Wanakaset is light work all of the time, compared to conventional farmers who need to work very hard in periods, having to rush to complete their work. As forest gardeners we just need to do some light work and observation all of the time."
"As we work a bit all of the time, you might say we are not lazy, and we can choose to do more management and get better yields and returns, but at the same time our trees take care of themselves. If we just leave them alone they will be fine and we will still be able to harvest from them."
"We also have many diverse resources in our forest gardens during the whole year. Herbs such as bamboo grass (for heavy metal detoxification), Chamuang leaf (Garcinia cowa for heart disease and weight loss), we can harvest and process any time. That is, if we want to spend the time to harvest and process them. Even with fruits which are seasonal, we can sell fresh, but also process them for more value."
A Mapram (Garcinia species) growing to the right of a productive rubber tree. This medicinal fruit tree came naturally once this rubber plantation was allowed to become a rubber forest. Michael B. Commons
MC: "As I see most tropical fruit orchards are integrated and have durian, mangosteen, langsat and rambutan, how does your garden differ?"
KD: "As forest gardens we integrate more, like fiddle head ferns, pak wan pa (Melientha suavis)and different types of gingers and herbs that can live under the shade of these trees. We also plant pepper vines (black and long pepper) to directly climb up our trees. Most farmers would plant these separately, but we just let them grow up our trees and don't provide any other care. This is methodology derived from laziness."
"Most fruit gardeners don't like to have other trees around their durian trees as it can make harvesting (catching) the durian difficult. But we have observed that with this mix the soil quality is better and holds moisture much longer—meaning in dry season we need to water much less than conventional farmers, and when tropical windstorms come through we don't lose branches from our durian trees."
"Wild elephants are a big part of the reason we choose to practice forest gardening, if we only grow fruits (that we harvest and sell), then the elephants often come and eat this fruit and damage the trees. But in our very integrated system, we have many other trees with foods that elephants also enjoy to eat at the edges of our land, like bamboo and fishtail palms, which we do not mind at all if they eat. We have learned a lot from experience what is the best way to garden that can work for us and the elephants who are our neighbors and also come into our gardens."
MC: "You grow rubber as well, which we normally see only as a monoculture, but you have it in a very integrated garden system—does this affect yields?"
KD: "The yield (in rubber) per tree is not really different than in chemical plantations, but very different in terms of costs (much lower). In transitioning (to organic) we used manure for four or five years but since then did not need any fertilizer at all. Many older wild plants and trees came back after we stopped using herbicide. This includes wild vegetables, wild fruits, herbs and hardwoods. These produce valuable yields for us on top of the rubber. Now we are expanding our focus and cultivation of Mapram—a wild forest fruit related to mangosteen—which does very well in the shade of the rubber and is increasingly valued (probably Garcinia hombroniana)."
"So in some cases we have allowed the forest to come back under our rubber plantations—now rubber forests—but we also have planted rubber along with other species in integration from the start: sator beans (Parkia speciosa), boon nak, jantana (wood used for incense), dipterocarpus and ginger species, in between the rows of rubbers. In this case the rubber production is good for the whole year except for a break in the driest months, and then we have other valuable yields, such as sator-tree beans. My older brother also harvests many seeds for propagation as seedling trees to sell. The rubber yield is as good as others obtain with no use at all of fertilizer (including organic fertilizers beyond the first years). This rubber forest is still organized in rows and easy to enter and harvest."
A section of rubber integrated into a fruit and herb forest.Michael B. Commons
MC: "How about native biodiversity and wildlife?"
KD: "All three of our gardens have good edible mushrooms growing with them, mycorrhizal and termite mushrooms. There are many birds everywhere and of many different species. These birds also help us in propagation—they have seeded rattan and pak wan (a delicious edible perennial vegetable) all around and brought some unusual varieties to our garden from afar. We also have many squirrels who do eat and sometimes damage our fruits. While many other gardeners shoot squirrels, we just leave damaged and unattractive fruit for them on the trees."
MC: "What about snakes as I have heard many rubber growers say that snakes are a threat harvesting in the very early morning?"
KD: "While snakes can be scary, I don't really feel we have more snakes, and maybe even less problem as it seems they have their own space to live and be apart from humans (in our garden) and don't bother us."
With Kanya, we see three garden types showing three different pathways to integration.
Fruit forest, with rubber and herbs: This was their existing tropical fruit orchard—still with strong valuable productive fruit trees like durian. In some areas, they then added rubber trees into this mix as well bringing in and allowing many smaller herbs, vines and more to be under, on and around the trees. While there is ample space for access (and even to allow elephants through) the rubber is not at all in rows and the feel is like a mature forest.
Rubber forest: Let the rubber plantation evolve into a rubber forest—allow herbs, wild fruits and trees to come back. This seems like the easiest path towards regeneration, allowing Mother Nature and her helpers to take to the task. It is clear from what Kanya explained that there are seed and root reserves under and around always, so just by stopping the use of herbicide and allowing the forest to come back, it will. Birds also clearly play a key role in propagation. Then the gardener just manages to allow and support what comes, and removes what is not convenient or of particular interest or ready to be harvested.
Strip intercropping: Plant rubber trees in rows (7-8 meters between rows—according to best practices such a distance is needed for good production in any case—being closer creates too much competition between the rubber trees and less yields) and in between plant a row of different forest and fruit trees that do well in a garden forest environment and provide yields that the farmer/gardener knows how to use. This seems like the best path if starting fresh. However, Kanya and her family have developed a lot of knowledge and experience both in what grows well together, and in the different uses of many different species of trees, fruits and herbs. While the Duchita family shares their knowledge freely and encourages others to practice forest gardening, even someone without such contacts and with little experience can try and plant different trees and herbs that are interesting and may do well, but then observe, learn and evolve (with) his/ her forest garden over time.
From an economic basis, this system wins on many levels: less cost, less work, no less yield in the key economic crops (rubber and tropical fruits), and far greater diversity of total yields. While there are many other indicators, just the peaceful co-existence of the wild elephants in these forest gardens is proof of their ecological success. Most farmers do not appear to be prepared to accept living in and around diverse forest systems with wildlife; adoption is quite low. However, the third method explained above could be easier to accept and adopt for someone who wants an organized and orderly system.
Another Wanakaset farmer who lives not too far away, Ms. Kamolpatara Kasikrom, explained to me more about elephant behavior. She said that resident elephants are territorial and spread out to different areas to feed. For a given territory, about one to three elephants will manage and eat from it. It seems clear that the forest gardens are considered by the elephants to be part of their managed territory, whereas most all farms where humans try to keep elephants out are not part of their territory. The greatest damage from elephants can come when a large herd transmigrates. Resident elephants will protect their territories from such herds and the damage they can bring. No such protection is offered to an unfriendly parcel. While elephants are exceptionally intelligent beings, I believe this may touch to the very core of both our problem and the solution. Here we see that if we consider our land not to be exclusively ours, but also to belong to the many other lifeforms, and we manage it accordingly, these other beings will come to hold the same vision and practice, also working to manage the land for sustainable health and productivity.
From Your Site Articles
Related Articles Around the Web
A plastic bag ban went into effect this month in Morocco, the second-largest plastic bag consumer after the U.S. But, officials say, its going to take some time for shops and retailers to get used to the new law.
Morocco bans the use of plastic bags https://t.co/S9512Yf1lU https://t.co/RWjTu61oLo

— The Ocean Project (@The Ocean Project)1468696212.0
Morocco's ban on the production and use of plastic bags went into effect July 1 after the plastic ban bill was passed by parliament in October 2015. As the July 1 deadline approached, shop owners scrambled to find and collect reusable bags. Green campaigners, AlJazeera reported, say consumers may need years to fully comply with the ban.
"It's a big cultural shift with that type of broader law," Jennie Romer, a New York-based lawyer," told AlJazeera. "As long as the government has the motivation to really enforce that. There is a lot of potential. The government entity that is implementing it has to be completely on board in order to make that really happen in practice."
Morocco uses about 3 billion plastic bags a year, according to the Moroccan Industry Ministry. The U.S. uses about 100 billion a year, according to the Earth Policy Institute, and 1 trillion are used globally per year.
Morocco is currently using 3 billion plastic bags a year. That's soon to be over, as Morocco is joining countries... https://t.co/G6tJF3OE5W

— GEI (@GEI)1468683725.0
The North African country has been working on banning plastic bags for years. A ban of the production and use of black plastic bags was put in place in 2009, but the bags were still being produced.
This time around, officials hope to prevent that situation by providing alternate solutions. Moulay Hafid Elalamy, industry minister and initiator of the bill, tweeted that bags made of paper and fabric will be made widely available.
Yassine Zegzouti, president of Mawarid, said changing consumer habits will be the toughest part.
"The formal sector will need four to five years to comply with the new law," Zegzouti said. "But the use of plastic bags is anchored in [consumer] habit. All actors need to change these habits to not have any damage in the future."
Morocco is ranked one of the world's greenest countries, along with Costa Rica, Bhutan and Ethiopia. The country's biggest achievements come in cracking down on carbon emissions and production of solar power. It is considered a green leader among developing nations.
Discovery Communications and World Wildlife Fund (WWF) announced Wednesday a partnership to conserve nearly 1 million acres of critical tiger habitat in India and Bhutan in hopes of doubling the world's population of tigers by 2022.
The big cats are known to have once roamed much of Asia. Poaching and habitat loss slashed the 100,000 tigers that existed just 100 years ago by 96 percent and led to the extinction of four subspecies. As top predators, they are crucial to the ecosystems where they live. The current tiger population is estimated at under 4,000.
"Not on our watch will we let these beautiful animals disappear from the world," David Zaslav, president and CEO of Discovery Communications, said when making the announcement.

The effort, dubbed Project C.A.T. (Conserving Acres for Tigers), will improve security measures for this protected habitat and maintain land corridors for better wildlife movement. To reduce conflict between tigers and people, the project will provide community education and engagement. More camera-trap installations will increase tiger monitoring and assessment.
Just recently, a camera trap in the Bumdeling Wildlife Sanctuary of Bhutan recorded a tiger in a forest where they have not been seen for almost two decades. "Tiger populations are rising for the first time in a century," said Carter Roberts, president and CEO of WWF. "We need even more of a movement to accomplish these goals."
WWF and Leonardo DiCaprio: Wild Tiger Populations Increase for First Time in 100 Years - EcoWatch https://t.co/Gab2UuIZBR

— BigCats.com (@BigCats.com)1460398930.0
Discovery plans to use its worldwide media platforms to reach 3 billion cumulative viewers. The network has put into development a new documentary on tigers from the Academy Award nominated producers of Virunga. The documentary is set to air globally in 2018. Discovery will also produce public service announcements and in-program content tied to Project C.A.T.
In a Facebook Live presentation hosted on Dr. Jane Goodall's Facebook page, John Hoffman, Discovery Channel's EVP of documentaries and specials, said, "In our core, we understand that we are not apart from our fellow species. I think that at the end of the day we as humans will do the right thing."

Discovery and WWF will also provide ways for viewers and those who care about tigers to get involved. Discovery's Saving Species page enables people to show their support for legislation to combat illegal wildlife trafficking, and WWF's Adopt a Tiger program accepts donations in support of the organization's work.
"The global movement to protect tigers just got 1 million acres stronger," said Zaslav.
By Alexandra Rosenmann
Did you know that American companies are legally permitted to manufacture dangerous pesticides for export—even after the chemicals have been banned in the U.S.? There are policies that create a "circle of poison"; toxic chemicals traveling around the world, ironically imported back to the U.S. through foodstuffs we eat.
Circle of Poison, a groundbreaking documentary by Nick Capezzera, Evan Mascagni and Shannon Post, unveils the unrelenting corruption of this cycle. The film features interviews with Jimmy Carter, Vandana Shiva, Noam Chomsky, Patrick Leahy and the Dalai Lama, as well as footage from India, Mexico, Argentina, Bhutan and the U.S., in order to illustrate the global impact of the pesticide trade and how communities are fighting back.
"A standard argument against a healthy environment and other regulations in the country or for export is that it's harmful to business, which of course it is," Noam Chomsky said in the film. "If business can kill people freely, it's a lot more profitable than if you have to pay attention to what you're producing and look at the effects on people and so on."
Watch: Exclusive clip from Circle of Poison:
"Major industries in this country ... lead, asbestos, tobacco, have often succeeded for decades poisoning people quite consciously. They knew perfectly well that children are going to die of lead poisoning, but 'you gotta make profit,'" Chomsky continued.
"And they're right. It's a system where you're supposed to make profit ... Like a CEO of a corporation is actually required by law to increase profit so they're doing exactly what they have to do and, well, if the population suffers, that's the cost of doing business. Although, by the time you get to export ... the domestic population has become organized enough and active enough so they're saying 'you can't kill us,'" Chomsky said.
"We sought out to take on a political issue that people from all walks of life, regardless of political affiliation, could agree was an important one and that needs to be addressed," Director Evan Mascagni told AlterNet. "I was blown away by the fact that we would allow companies to continue to manufacture and export products that those companies could not safely and legally sell to customers within the United States."
Circle of Poison will be available for streaming and download this fall.
This article was reposted with permission from our media associate AlterNet.
From Your Site Articles
Related Articles Around the Web
On July 17, 130 million cubic yards of ice and rock suddenly let go from a glacier in Tibet, hurtling down six-tenths of a mile and killing nine herders along with 350 sheep and 110 yaks. Scientists were baffled. Now, by examining satellite images before and after the event, they think it is an example of a rare glacial surge, when a glacier moves at 10 to 100 times its normal speed. Some researchers believe that climate change at high elevations can trigger such surges.
NASA
"It doesn't make sense," said Tian Lide, a glaciologist at the Chinese Academy of Sciences' Institute of Tibetan Plateau Research (ITPR) in Beijing, who runs a research station in Rutog. Most avalanches occur on slopes of 25 to 45 degrees, but the Rutog avalanche, as this event is known, started from a flat area some 17,000 to 20,000 feet above sea level. When it came to rest, it covered an area of nearly 3.8 square miles to a depth of almost 100 feet. The only other event of comparable size was the 2002 collapse of the Kolka Glacier in the Caucasus. That avalanche killed 140 people.

An entire tongue of the Rutog glacier in Northwest Tibet collapsed at once. Lide noted that the glacier came down with such force that it widened the gully it came to rest in. Two different satellites captured before-and-after pictures of the area. NASA's Operational Land Imager acquired an image on June 24, just about a month before the avalanche. The European Space Agency's Sentinel-2 satellite captured an image of the debris field on July 21, days after. The pre-collapse imagery revealed that the glacier was already showing signs of change.
Glacial surges can be caused by meltwater at the base of the glacier, which essentially lubricates the surface it flows over. These types of surges can have a sudden onset and a very high flow rate. Many surge-type glaciers are found in Western Tibet.
Researchers from Moscow State University and the University Center for Engineering Geodynamics and Monitoring in Moscow have investigated the Kolka avalanche on the ground. Glacial surges are not new there; events dating back to at least 1902 are known. They found striations in the moraine rocks, which they'd never seen before.
"Moraine rocks are not scraped by the glacier because they move with it," Dmitry Petrakov, a geologist at Moscow State University, said. "But at Kolka, the collapse happened so fast that the ice mass must have simply flown over the moraine, producing striations several millimeters deep in minutes."
They found that the avalanche moved with tremendous speed, perhaps up to 112 miles per hour. They concluded that it was a surge event.
A year after the Kolka collapse, the researchers still found the area unstable. In the days following the Rutog avalanche, cracks occurred in nearby glaciers. Temperatures in the Tibetan plateau have risen 0.4 degrees Celsius per decade, twice the global average. One-tenth of the permafrost has melted in just the past decade. Rapidly melting glaciers have added to the number of lakes by 14 percent since 1970 and 80 percent of existing lakes have grown, flooding towns and pastures. In addition, precipitation in the area has increased 12 percent since 1960.

EcoWatch reported Aug. 26 on the issues facing this area, known as the "Third Pole." The Himalayas and Tibetan Plateau hold the largest mass of ice on Earth after the polar regions. The loss of these glaciers threatens the water supply for 1 billion people in China, India and Tibet, Nepal, Bhutan and Southeast Asia.
Mount Everest climbers may one day climb ice-free https://t.co/8rTp6XI25o via @EcoWatch #climatechange https://t.co/sMCOeuDREu

— Climate Council (@Climate Council)1472691961.0
In response to the Rutog avalanche, China Radio International reported, "Experts believed that the icefall is a result of global warming, which has caused melting and cracking of the glaciers."
Those killed in the Rutog avalanche were residents of Dungru village in Rutog county in Southwest China's Tibet autonomous region.
A team of bird-watchers stumbled upon a bird that hasn't been seen in eastern Nepal for almost 200 years.
The red-faced liocichla (Liocichla phoenicea) hasn't been spotted for 178 years and was thought to be locally extinct, according to Australian Geographic. A group of ornithologists spotted the bird on a 10-day bird watching tour.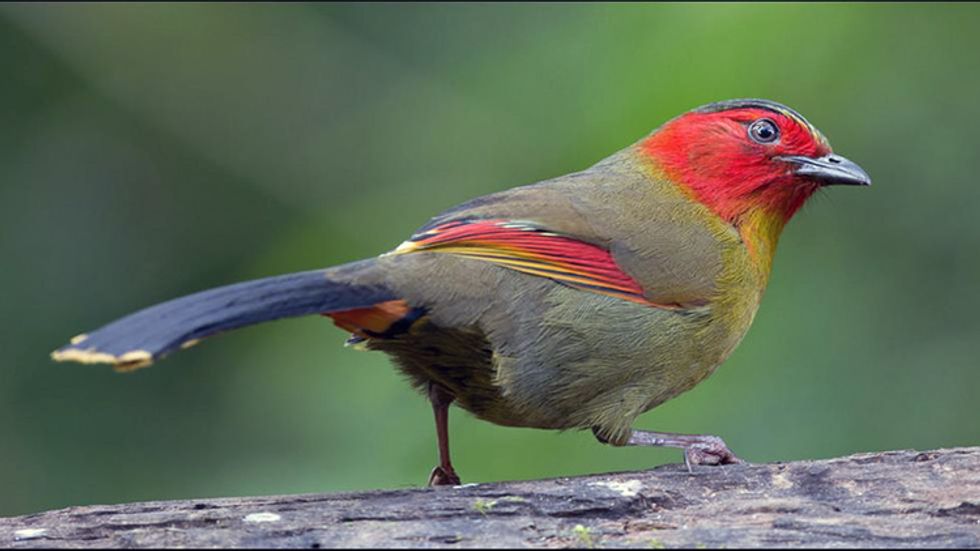 Photo credit: Paulo Coteriano, Flickr
"We were excited when we first spotted a pair of red-faced liocichla in the forest," Hem Sagar Baral, of the Zoological Society London and leader of the tour, told the Kathmandu Post. "The sighting of the bird after more than a century and a half has raised hopes of finding more such species that have not been sighted for a very long time."
The bird-watching group originally saw just two red-faced liocichlas, but when they returned to the spot the next day, they saw eight birds, including a male-female pair, Australian Geographic reported.
"When we confirmed it was the red-faced liocichla we all felt so happy—we were so excited," Tikaram Giri, a senior field ornithologist, said. "We never thought and never expected to see it so easily."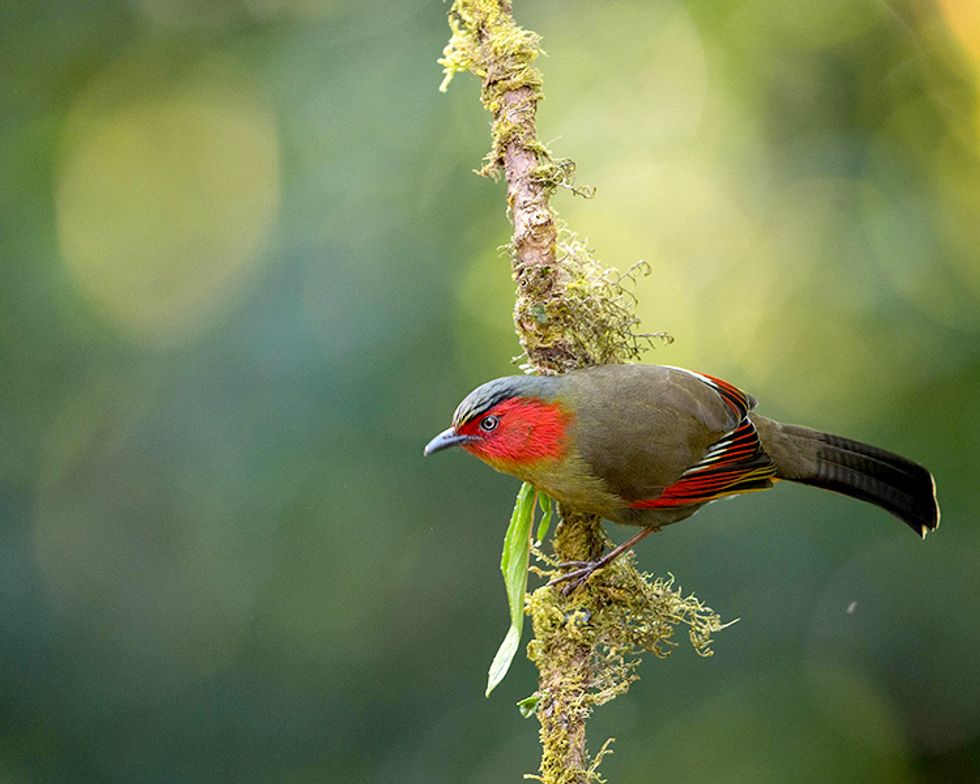 Photo credit: Jason Thompson, Flickr
The red-faced liocichla is widely distributed throughout Vietnam, Bhutan, Laos, Myanmar and Bangladesh.
Discoveries of species previously thought to be extinct are not uncommon, Australian Geographic said. Several species of birds, mammals, insects, reptiles and plants have been rediscovered after years of no sightings.
Diana Fisher, University of Queensland fellow, said about a third of all mammals ever feared to be extinct have been rediscovered.
"There are large numbers of poorly known species around the world only known from a single museum specimen as well," Fisher told Australia Geographic. "So it is hard to know anything much about them or where they exist."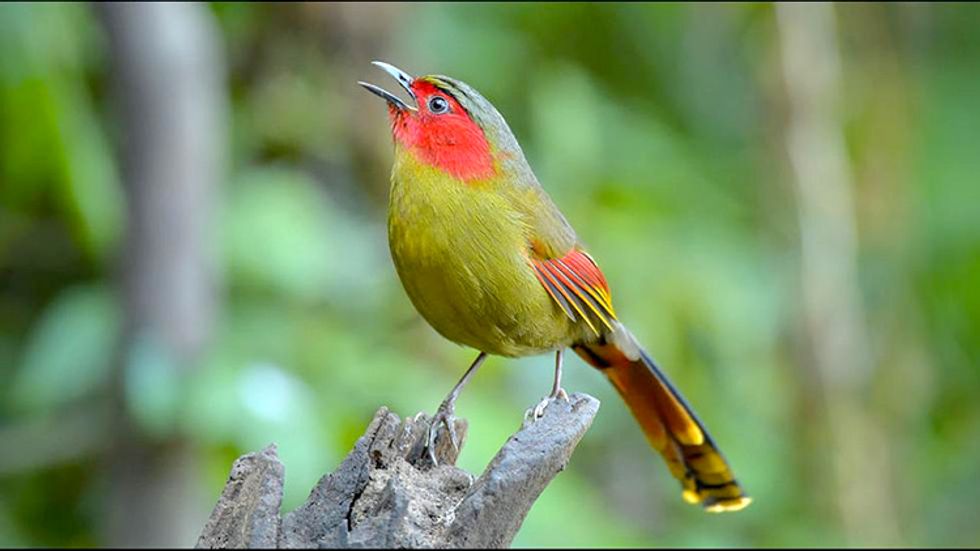 Photo credit: Bob Du, Flickr
But there is still reason for the bird-watching group in Nepal to celebrate.
Nepal is home to 878 species of birds, 8 percent of the world's known birds. Even with the abundance, a lot of the species are close to being labeled as threatened.
"Nearly 20 percent of Nepal's birds (167 species) are threatened with extinction in the country including 37 species which are threatened on a global scale," the Zoological Society London wrote.
Another 62 species are closing in on having a threatened status, the Weather Channel reported. Nine species are believed to be extinct in Nepal because they have not been spotted since the 19th century.
YOU MIGHT ALSO LIKE:
First Mammal Goes Extinct Due to Human-Caused Climate Change
World's First 'Spotty Dog' and Cow-Like Sheep Created Using Gene Editing
Is it Too Soon to Consider Removing Giant Pandas From the Endangered Species List?
Bhutan is often overlooked by the international community. The small nation lies deep within the Himalayas between China and India, two of the most populated countries in the world.
But the country of about 750,000 people has set some impressive environmental benchmarks. As we've written about in the past, Bhutan is not merely carbon neutral, it's also a carbon sink—making it one of the few countries in the world to have negative carbon emissions.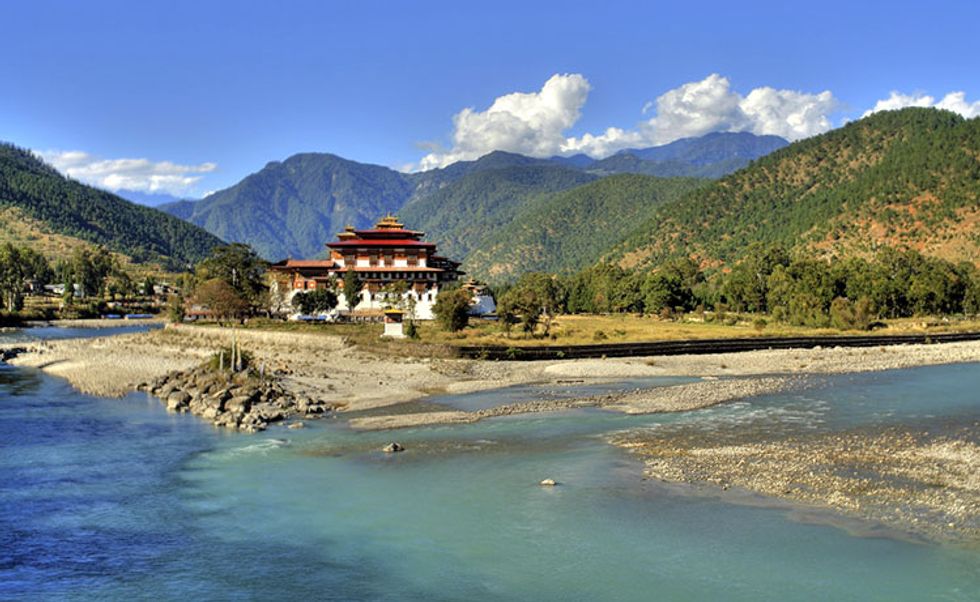 This means the country's carbon sinks, such as its forests, absorb more carbon dioxide each year than its sources of pollution, such as factories, emit.
"According to recent figures, the country emits around 1.5 million tonnes of carbon annually, while its forests absorb over 6 million tonnes," Proudly Carbon Neutral said.
To boot, Bhutan is aiming for zero net greenhouse gas emissions, zero-waste by 2030 and to grow 100 percent organic food by 2020. The Himalayan nation is currently 72 percent forested and the constitution requires that no less than 60 percent of it remains forested. It has even banned export logging.
Trees hold special value in Buddhism, the nation's dominant religion. Last June, a team of 100 volunteers set a world record for planting 49,672 trees in just one hour. And earlier this month, to celebrate the birth of the first child of King Khesar and Queen Jetson, all 82,000 households in Bhutan planted a tree, while volunteers planted another 26,000 in various districts around the country, for a total of 108,000 trees.
Planting trees with thousands of volunteers to celebrate the birth of HRH, our Gyalsey. Well done Tendrel Initiative https://t.co/i0hxFF9EHa

— Tshering Tobgay (@Tshering Tobgay)1457258802.0
Bhutan also refuses to judge its success on Gross Domestic Product, instead using an index that measures Gross National Happiness.
Many have credited its Gross National Happiness index as part of the reason for the country's strong commitment to environmental stewardship. Rather than focusing solely on economic indicators, the index measures prosperity by giving equal importance to non-economic aspects of well being.
"Bhutan's Gross National Happiness index gives the natural world a central place in the making of public policy, and environmental protection is a core guiding principle in Bhutan's constitution," the Santa Cruz Sentinel reported.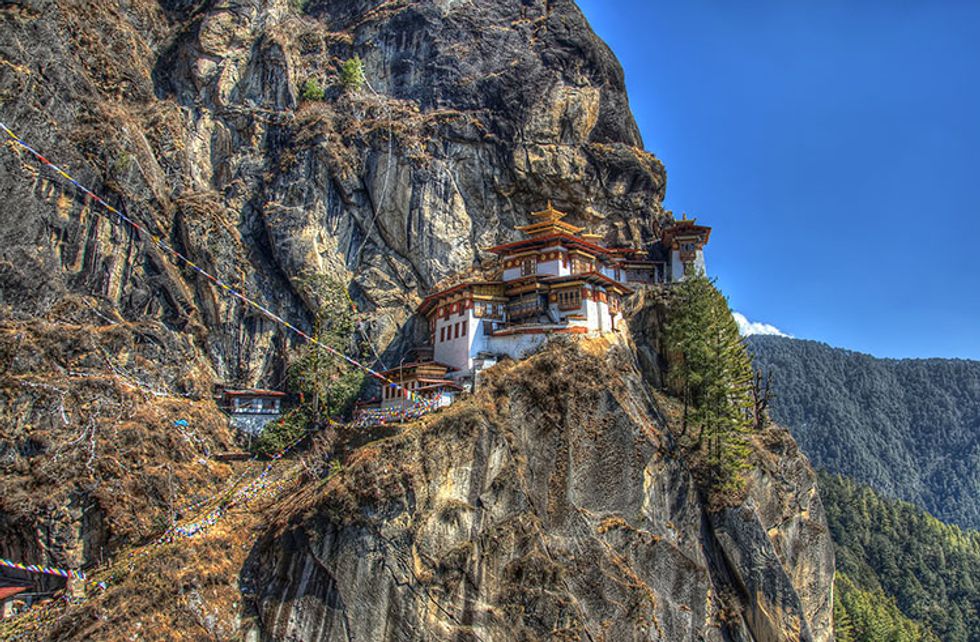 The country would also like to increase its share of renewables, while decreasing its reliance on hydropower and electricity imports in the winter. So, it's currently exploring wind, biogas and solar.
And the Bhutanese government has formed a partnership with Nissan to provide hundreds of electric cars to the country—with the promise of thousands soon after. Bhutan's Prime Minister Tshering Tobgay wants to eventually convert all of the country's vehicles to electric power.
The nation is not without its problems of course, as Tobgay readily admitted in a TED Talk he gave last month. But the country is no doubt unique in a world that has too often valued economic growth above all else, often at the expense of the environment.
For more on how Bhutan emerged as an environmental leader, watch Tobgay share his country's mission to put happiness before economic growth and set a world standard for environmental preservation in his TED Talk:
YOU MIGHT ALSO LIKE
Bhutan Celebrates Birth of Prince by Planting 108,000 Trees
The Nature Conservancy and Leonardo DiCaprio Foundation Unite to Create Second Largest Marine Protected Area in West Indian Ocean
Federal Court to Decide if Kids Can Sue Government for Failing to Act on Climate Change
Portland Becomes 7th City to Sue Monsanto Over PCB Contamination
Conservationists are celebrating the birth of a Sumatran rhino, which has raised hope that this critically endangered species may yet recover.
The calf, who has yet to be named, was born at the Sumatran Rhino Sanctuary in Indonesia's Way Kambas National Park Thursday morning and is the second baby for her 14-year-old mother Ratu.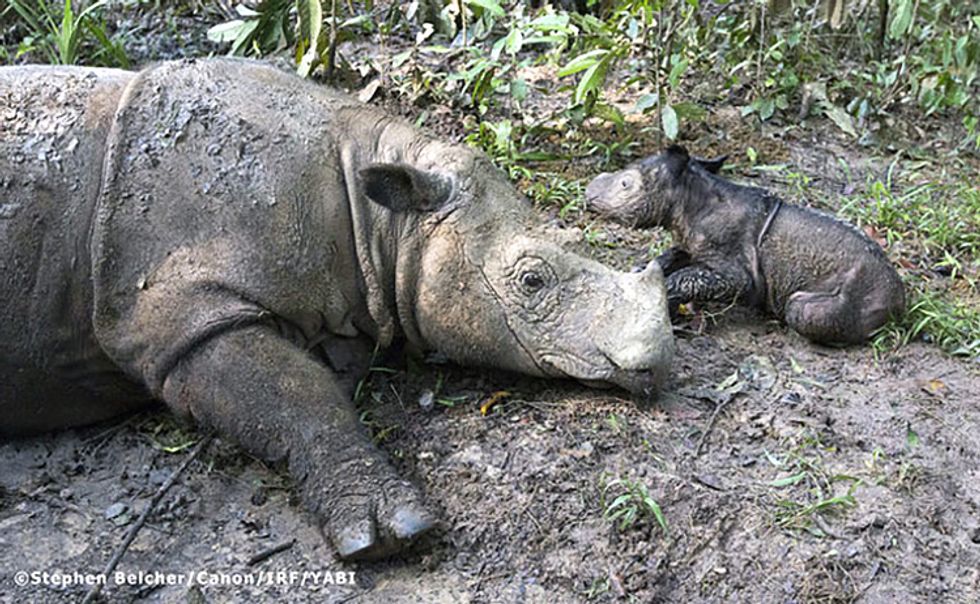 According to the International Rhino Foundation (IRF), the precious newcomer is healthy and active and began nursing shortly after she was born.
"Once again, Ratu is showing us that she is a very good mother," Dr. Zulfi Arsan, head veterinarian at the sanctuary, said.
With fewer than 100 Sumatran rhinos left in the world, the birth is a huge deal. Unfortunately, they've continued to face the ongoing threats of poaching and habitat loss, which have pushed them into small, fragmented populations that are on the brink of extinction.
According to the International Union for the Conservation of Nature, these rhinos have already disappeared from Bangladesh, Bhutan, Brunei Darussalam, Cambodia, India, Lao PDR, Myanmar, Thailand and Vietnam.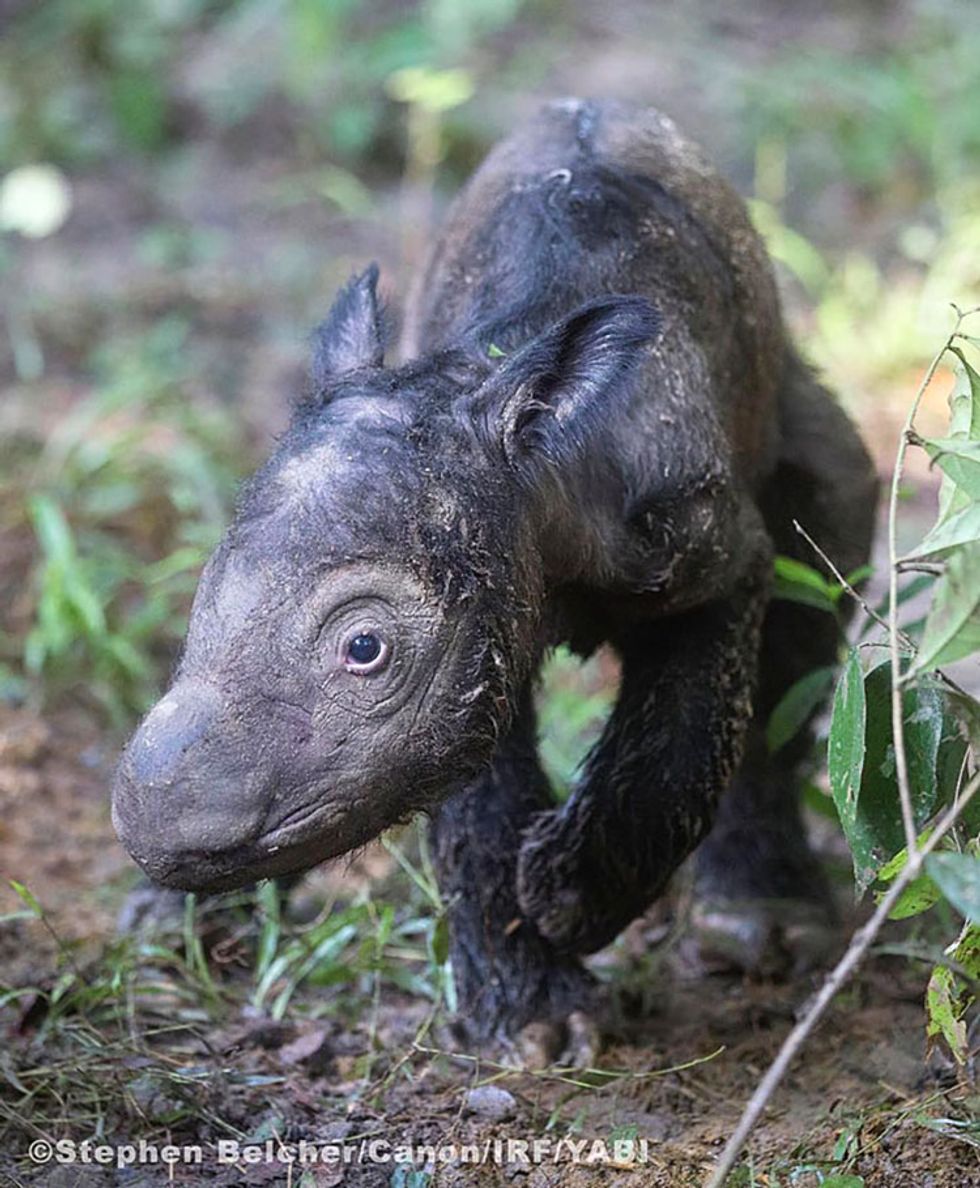 Last year they were declared extinct in Malaysia and scientists warned that the remaining few would likely disappear forever if immediate action wasn't taken.
Conservation efforts at the sanctuary and elsewhere are underway to help them make a comeback and the latest arrival has things looking up.
"We are overjoyed that Ratu delivered a healthy calf and are cautiously optimistic that the calf will continue to thrive," Dr. Susie Ellis, executive director of the IRF, said. "She's absolutely adorable and we haven't stopped smiling since the moment we were sure she was alive and healthy. While one birth does not save the species, it's one more Sumatran rhino on Earth."
The father of the new calf is believed to be Andalas, who was the first Sumatran rhino born in captivity in 112 years. He was born at the Cincinnati Zoo in 2001 and was moved to the Sumatran Rhino Sanctuary in 2007, where it was hoped he would breed and he has. So far he has successfully produced two calves with Ratu.
His brother, Harapan, also followed him from the Cincinnati Zoo to Indonesia last year in an effort to bring the last of these rhinos together. Hopefully he will also find a mate and more babies will be on their way. Meanwhile, we can cheer for this little baby girl who is bonding with her mother and getting her bearings.
Watch here:
YOU MIGHT ALSO LIKE
Will One of the World's Most Endangered Whales Be Saved Before It's Too Late?
5 Incredible Species That Glow in the Dark
Huge Win for the Oregon Spotted Frog
Jane Goodall Among 58 Scientists Urging Government to Halt Grizzly De-Listing
Due to years of illegal poaching and loss of habitat, tigers are now "functionally extinct" in Cambodia, conservationists conceded for the first time Wednesday.
RT if you want to see Cambodia increase its commitment to wild tigers! → https://t.co/WOkYuad3n3 🐯 x 🐯 #doubletigers https://t.co/bq2nSk93RG

— WWF Tigers (@WWF Tigers)1459842853.0
According to World Wildlife Fund (WWF)-Cambodia, the last tiger seen in Cambodia's wild was in 2007 from a hidden camera set up in the Eastern Plains Dry Forest Landscape in Mondulkiri Protected Forest.
"Today, there are no longer any breeding populations of tigers left in Cambodia, and they are therefore considered functionally extinct," the conservation group said in a statement.
The AFP reported that Cambodia's dry forests used to be home to scores of Indochinese tigers, but intensive poaching of both tigers and their prey has devastated the population.
But in a major effort to save the iconic species, on March 23 the Cambodian government approved its "Cambodia Tiger Action Plan" that would import tigers from abroad and introduce them to the Mondulkiri Protected Forest.
Keo Omaliss, a government official in charge of wildlife, told the Associated Press that Cambodia is considering negotiating with the governments of India, Malaysia and Thailand to bring at least seven to eight tigers to live in the forest to breed and repopulate.
"This would be the world's first transnational tiger reintroduction and will be based on best practices developed from successful tiger reintroductions within India," WWF-Cambodia said.
Un Chakrey, communications manager for WWF-Cambodia, told the New York Times that the tigers could be introduced as soon as 2020.
The AFP reported that the new habitat will be protected against poachers by strong law enforcement and action to protect the tigers' prey. The entire project is estimated to cost $20-50 million.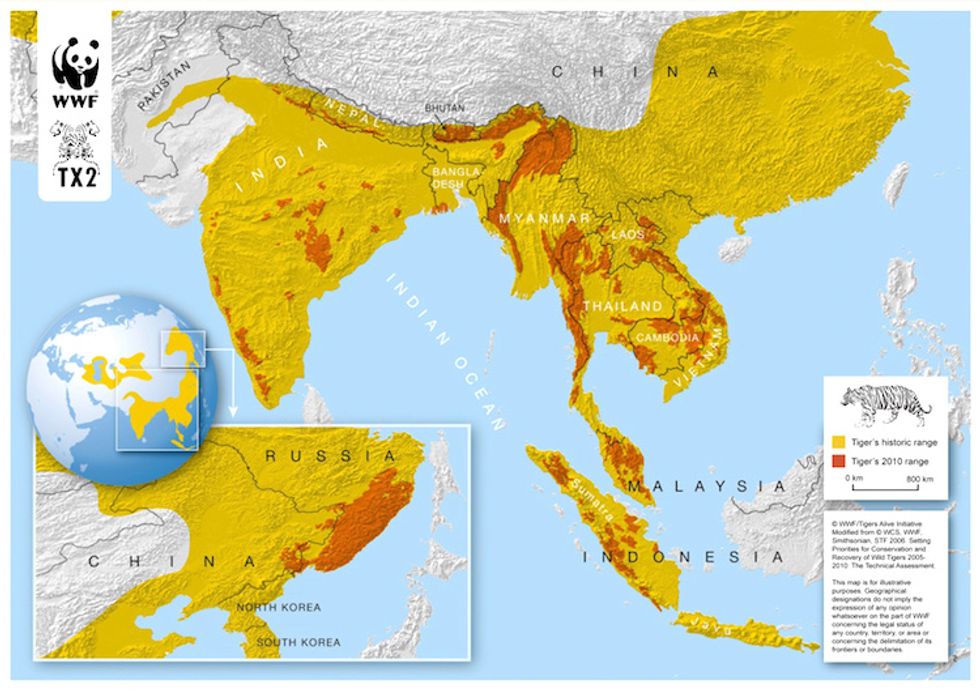 The Cambodia Tiger Action Plan also follows the objective of 13 tiger range countries to double the number of wild tigers in the world to more than 6,000 by 2022, which is the next Year of the Tiger. The global aim is also known as "Tx2."
The 13 Tx2 countries are: Bangladesh, Bhutan, China, Cambodia, India, Indonesia, Laos, Malaysia, Myanmar, Nepal, Russia, Thailand and Vietnam.
Representatives from these countries will meet at the 3rd Asia Ministerial Conference on Tiger Conservation in New Delhi next week to discuss the Tx2 plan.
"This conference comes at the critical halfway point in the Tx2 goal," the WWF says. "There have been great successes so far, with tiger numbers increasing in Nepal, India, Russia and Bhutan, however Southeast Asia is facing a tiger crisis with poaching at unprecedented levels. It is feared that some countries could lose their tigers if immediate action isn't taken. With only six years left, decisions made at this meeting will determine whether the Tx2 goal of 6000+ tigers by 2022 is met."
The current global population of wild tigers is estimated to be less than 3,200, meaning they are nearly extinct worldwide.
Tigers are currently on the International Union for Conservation of Nature and Natural Resources (IUCN's) Red List. According to the IUCN, the animals currently inhabit less than 6 percent of their historic range with a 42 percent decline since 2006.
YOU MIGHT ALSO LIKE
Family of Wolves Shot Dead in Oregon
Researchers Celebrate First Live Encounter With Sumatran Rhino in Borneo for 40+ Years
Leonardo DiCaprio Faces Deportation Threat After Criticizing Indonesia's Palm Oil Industry
3 Vaquitas Found Dead: The Most Endangered Marine Mammal in the World
Desalinating seawater has been hailed as the solution to addressing freshwater scarcity, but the technology has yet to be scaled. Big Think, which bills itself as a "knowledge forum," hosts a series, Tuesdays With Bill Nye, where viewers ask Nye questions about a range of popular topics. This Tuesday, Nye answered a question from a young girl in Minnesota who wanted to know if we can desalinate water for human consumption on a massive scale.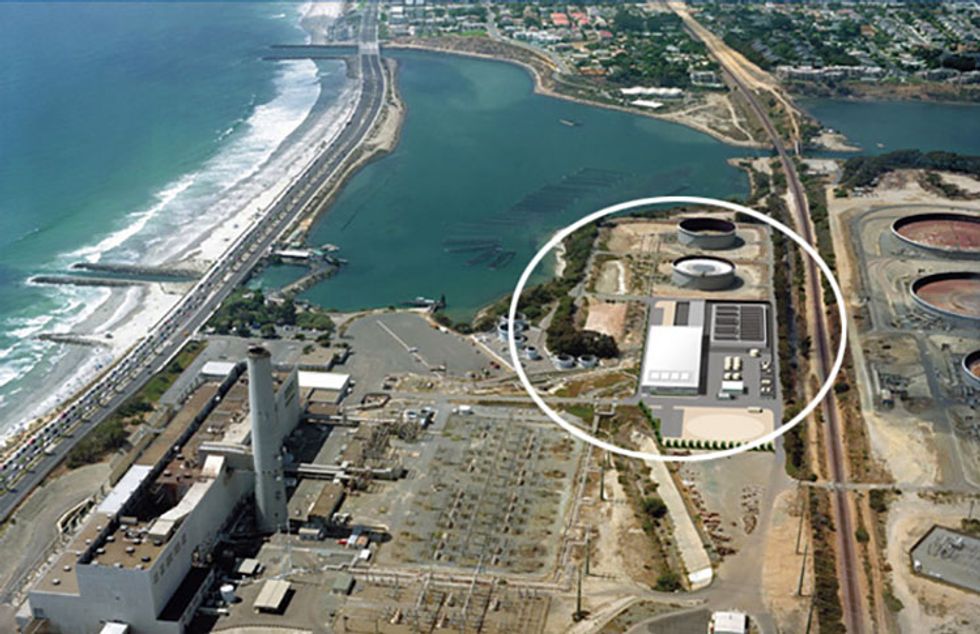 "Desalination of water could be the key to the future for so many of us humans," Nye said, explaining how desalination plants utilize reverse osmosis to remove salt from seawater. Researchers are in the process of developing new technologies right now, he continued.
Many places around the world already use the technology, Nye noted. "This is done all the time. It's done in Australia at several industrial-scale, citywide installations ... Carlsbad, California has one. And cruise chips and I guess the U.S. Navy exploit this technology all the time," Nye said.
So, he's very optimistic that we "are living at a time where this breakthrough may be made on an industrial scale," and he believes it could even be powered by renewables.
"We could have all the clean water we wanted for everybody all over the world and we would power the pumps with solar power, regular old photovoltaic solar cells, and when the sun is not shining you don't pump the water," Nye explained.
"So you pump the water when the sun is shining and and you fill up reservoirs all over the world. And so humankind could—if this stuff works out—it could have access to clean water for the billions of us that need it."
Critics argue the technology is too expensive and too energy-intensive to be adopted on a massive scale. Take, for example, the Carlsbad, California desalination plant that Nye mentioned. The plant, which came online at the end of last year, is the largest in the Western Hemisphere.
But the water from the plant "costs 80 percent more than San Diego pays for water outside the county, and even though the plant is huge, it can only meet 10 percent of San Diego's needs," Julian Huguet from Discovery News explained. "And it will use a lot energy ... making it more a small puzzle piece than the ultimate solution to California's drought."
Still, California and other water-stressed regions of the world, particularly the Gulf region, are rushing to develop energy-efficient desalination plants. About a dozen desalination plants are being proposed in California.
Worldwide, there are already an estimated 15,000–20,000 desalination plants producing more than 20,000 cubic meters of water per day. Places as varied as Aruba, Chile and Algeria all use desalination.
Israel already supplies 40 percent of its drinking water from desalination. That number is projected to climb to 70 percent by 2050.
Forward-thinking companies are working on solar-powered desalination plants. French engineering company Mascara is developing a desalination plant that is powered by off-grid, rooftop solar in Abu Dhabi in the United Arab Emirates.
The plant is the fifth desalination demonstration project from Masdar, which is currently running a pilot program to test renewably powered desalination plants in the United Arab Emirates. The group hopes to have a facility at commercial scale by 2020.
Developers in Saudi Arabia are currently building the world's first utility scale, solar-powered desalination plant, which is projected to be online by early 2017. And Monsson Group announced last week it will launch a fully automated and remote controlled desalination plant powered by renewables in Qatar.
Watch the Big Think video of Tuesdays With Bill Nye here:
YOU MIGHT ALSO LIKE
Leonardo DiCaprio: 'This Is the Video Future Generations Will Be Wishing Everyone Watched Today'
Portland Becomes 7th City to Sue Monsanto Over PCB Contamination
Ice Shelf Twice the Size of Manhattan Is About to Break Off From Antarctica