Discovery Communications and World Wildlife Fund (WWF) announced Wednesday a partnership to conserve nearly 1 million acres of critical tiger habitat in India and Bhutan in hopes of doubling the world's population of tigers by 2022.
The big cats are known to have once roamed much of Asia. Poaching and habitat loss slashed the 100,000 tigers that existed just 100 years ago by 96 percent and led to the extinction of four subspecies. As top predators, they are crucial to the ecosystems where they live. The current tiger population is estimated at under 4,000.
"Not on our watch will we let these beautiful animals disappear from the world," David Zaslav, president and CEO of Discovery Communications, said when making the announcement.

The effort, dubbed Project C.A.T. (Conserving Acres for Tigers), will improve security measures for this protected habitat and maintain land corridors for better wildlife movement. To reduce conflict between tigers and people, the project will provide community education and engagement. More camera-trap installations will increase tiger monitoring and assessment.
Just recently, a camera trap in the Bumdeling Wildlife Sanctuary of Bhutan recorded a tiger in a forest where they have not been seen for almost two decades. "Tiger populations are rising for the first time in a century," said Carter Roberts, president and CEO of WWF. "We need even more of a movement to accomplish these goals."
WWF and Leonardo DiCaprio: Wild Tiger Populations Increase for First Time in 100 Years - EcoWatch https://t.co/Gab2UuIZBR

— BigCats.com (@BigCats.com)1460398930.0
Discovery plans to use its worldwide media platforms to reach 3 billion cumulative viewers. The network has put into development a new documentary on tigers from the Academy Award nominated producers of Virunga. The documentary is set to air globally in 2018. Discovery will also produce public service announcements and in-program content tied to Project C.A.T.
In a Facebook Live presentation hosted on Dr. Jane Goodall's Facebook page, John Hoffman, Discovery Channel's EVP of documentaries and specials, said, "In our core, we understand that we are not apart from our fellow species. I think that at the end of the day we as humans will do the right thing."

Discovery and WWF will also provide ways for viewers and those who care about tigers to get involved. Discovery's Saving Species page enables people to show their support for legislation to combat illegal wildlife trafficking, and WWF's Adopt a Tiger program accepts donations in support of the organization's work.
"The global movement to protect tigers just got 1 million acres stronger," said Zaslav.
EcoWatch Daily Newsletter
By Alexandra Rosenmann
Did you know that American companies are legally permitted to manufacture dangerous pesticides for export—even after the chemicals have been banned in the U.S.? There are policies that create a "circle of poison"; toxic chemicals traveling around the world, ironically imported back to the U.S. through foodstuffs we eat.
Circle of Poison, a groundbreaking documentary by Nick Capezzera, Evan Mascagni and Shannon Post, unveils the unrelenting corruption of this cycle. The film features interviews with Jimmy Carter, Vandana Shiva, Noam Chomsky, Patrick Leahy and the Dalai Lama, as well as footage from India, Mexico, Argentina, Bhutan and the U.S., in order to illustrate the global impact of the pesticide trade and how communities are fighting back.
"A standard argument against a healthy environment and other regulations in the country or for export is that it's harmful to business, which of course it is," Noam Chomsky said in the film. "If business can kill people freely, it's a lot more profitable than if you have to pay attention to what you're producing and look at the effects on people and so on."
Watch: Exclusive clip from Circle of Poison:
"Major industries in this country ... lead, asbestos, tobacco, have often succeeded for decades poisoning people quite consciously. They knew perfectly well that children are going to die of lead poisoning, but 'you gotta make profit,'" Chomsky continued.
"And they're right. It's a system where you're supposed to make profit ... Like a CEO of a corporation is actually required by law to increase profit so they're doing exactly what they have to do and, well, if the population suffers, that's the cost of doing business. Although, by the time you get to export ... the domestic population has become organized enough and active enough so they're saying 'you can't kill us,'" Chomsky said.
"We sought out to take on a political issue that people from all walks of life, regardless of political affiliation, could agree was an important one and that needs to be addressed," Director Evan Mascagni told AlterNet. "I was blown away by the fact that we would allow companies to continue to manufacture and export products that those companies could not safely and legally sell to customers within the United States."
Circle of Poison will be available for streaming and download this fall.
This article was reposted with permission from our media associate AlterNet.
On July 17, 130 million cubic yards of ice and rock suddenly let go from a glacier in Tibet, hurtling down six-tenths of a mile and killing nine herders along with 350 sheep and 110 yaks. Scientists were baffled. Now, by examining satellite images before and after the event, they think it is an example of a rare glacial surge, when a glacier moves at 10 to 100 times its normal speed. Some researchers believe that climate change at high elevations can trigger such surges.
NASA
"It doesn't make sense," said Tian Lide, a glaciologist at the Chinese Academy of Sciences' Institute of Tibetan Plateau Research (ITPR) in Beijing, who runs a research station in Rutog. Most avalanches occur on slopes of 25 to 45 degrees, but the Rutog avalanche, as this event is known, started from a flat area some 17,000 to 20,000 feet above sea level. When it came to rest, it covered an area of nearly 3.8 square miles to a depth of almost 100 feet. The only other event of comparable size was the 2002 collapse of the Kolka Glacier in the Caucasus. That avalanche killed 140 people.

An entire tongue of the Rutog glacier in Northwest Tibet collapsed at once. Lide noted that the glacier came down with such force that it widened the gully it came to rest in. Two different satellites captured before-and-after pictures of the area. NASA's Operational Land Imager acquired an image on June 24, just about a month before the avalanche. The European Space Agency's Sentinel-2 satellite captured an image of the debris field on July 21, days after. The pre-collapse imagery revealed that the glacier was already showing signs of change.
Glacial surges can be caused by meltwater at the base of the glacier, which essentially lubricates the surface it flows over. These types of surges can have a sudden onset and a very high flow rate. Many surge-type glaciers are found in Western Tibet.
Researchers from Moscow State University and the University Center for Engineering Geodynamics and Monitoring in Moscow have investigated the Kolka avalanche on the ground. Glacial surges are not new there; events dating back to at least 1902 are known. They found striations in the moraine rocks, which they'd never seen before.
"Moraine rocks are not scraped by the glacier because they move with it," Dmitry Petrakov, a geologist at Moscow State University, said. "But at Kolka, the collapse happened so fast that the ice mass must have simply flown over the moraine, producing striations several millimeters deep in minutes."
They found that the avalanche moved with tremendous speed, perhaps up to 112 miles per hour. They concluded that it was a surge event.
A year after the Kolka collapse, the researchers still found the area unstable. In the days following the Rutog avalanche, cracks occurred in nearby glaciers. Temperatures in the Tibetan plateau have risen 0.4 degrees Celsius per decade, twice the global average. One-tenth of the permafrost has melted in just the past decade. Rapidly melting glaciers have added to the number of lakes by 14 percent since 1970 and 80 percent of existing lakes have grown, flooding towns and pastures. In addition, precipitation in the area has increased 12 percent since 1960.

EcoWatch reported Aug. 26 on the issues facing this area, known as the "Third Pole." The Himalayas and Tibetan Plateau hold the largest mass of ice on Earth after the polar regions. The loss of these glaciers threatens the water supply for 1 billion people in China, India and Tibet, Nepal, Bhutan and Southeast Asia.
Mount Everest climbers may one day climb ice-free https://t.co/8rTp6XI25o via @EcoWatch #climatechange https://t.co/sMCOeuDREu

— Climate Council (@Climate Council)1472691961.0
In response to the Rutog avalanche, China Radio International reported, "Experts believed that the icefall is a result of global warming, which has caused melting and cracking of the glaciers."
Those killed in the Rutog avalanche were residents of Dungru village in Rutog county in Southwest China's Tibet autonomous region.
A team of bird-watchers stumbled upon a bird that hasn't been seen in eastern Nepal for almost 200 years.
The red-faced liocichla (Liocichla phoenicea) hasn't been spotted for 178 years and was thought to be locally extinct, according to Australian Geographic. A group of ornithologists spotted the bird on a 10-day bird watching tour.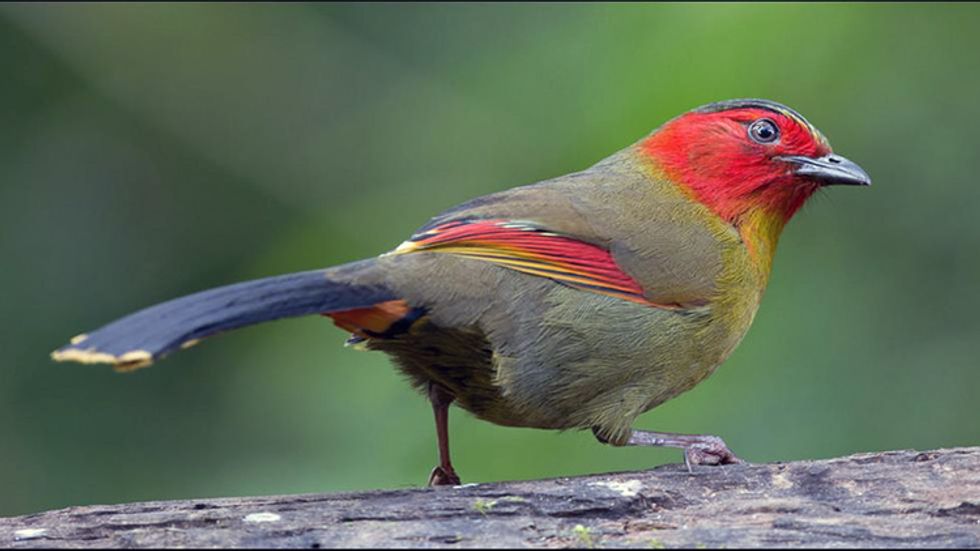 Photo credit: Paulo Coteriano, Flickr
"We were excited when we first spotted a pair of red-faced liocichla in the forest," Hem Sagar Baral, of the Zoological Society London and leader of the tour, told the Kathmandu Post. "The sighting of the bird after more than a century and a half has raised hopes of finding more such species that have not been sighted for a very long time."
The bird-watching group originally saw just two red-faced liocichlas, but when they returned to the spot the next day, they saw eight birds, including a male-female pair, Australian Geographic reported.
"When we confirmed it was the red-faced liocichla we all felt so happy—we were so excited," Tikaram Giri, a senior field ornithologist, said. "We never thought and never expected to see it so easily."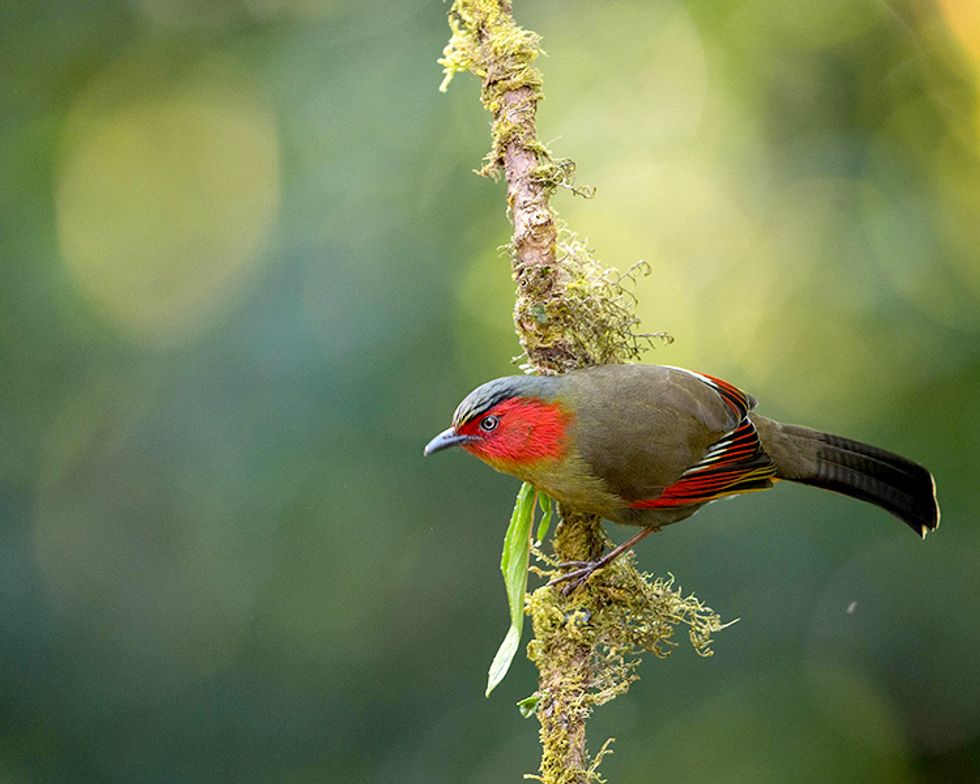 Photo credit: Jason Thompson, Flickr
The red-faced liocichla is widely distributed throughout Vietnam, Bhutan, Laos, Myanmar and Bangladesh.
Discoveries of species previously thought to be extinct are not uncommon, Australian Geographic said. Several species of birds, mammals, insects, reptiles and plants have been rediscovered after years of no sightings.
Diana Fisher, University of Queensland fellow, said about a third of all mammals ever feared to be extinct have been rediscovered.
"There are large numbers of poorly known species around the world only known from a single museum specimen as well," Fisher told Australia Geographic. "So it is hard to know anything much about them or where they exist."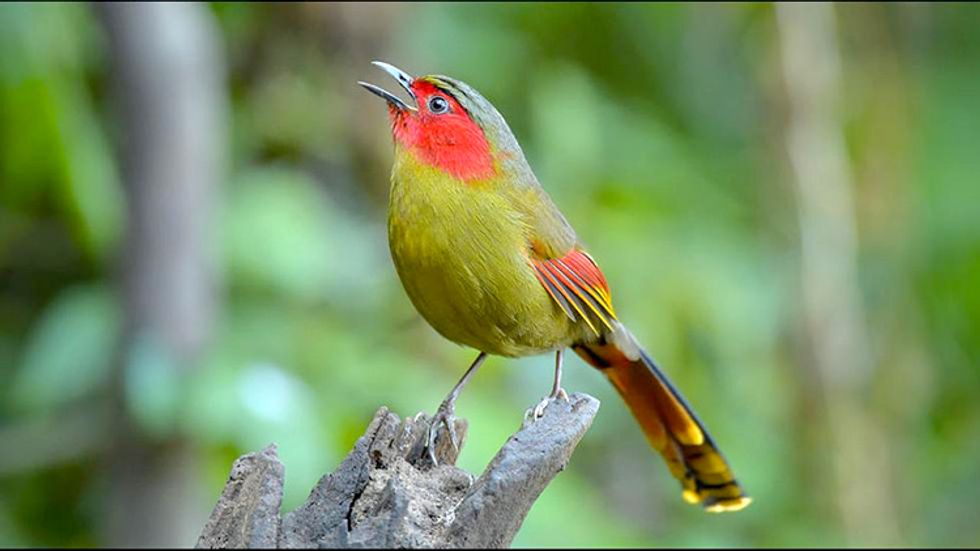 Photo credit: Bob Du, Flickr
But there is still reason for the bird-watching group in Nepal to celebrate.
Nepal is home to 878 species of birds, 8 percent of the world's known birds. Even with the abundance, a lot of the species are close to being labeled as threatened.
"Nearly 20 percent of Nepal's birds (167 species) are threatened with extinction in the country including 37 species which are threatened on a global scale," the Zoological Society London wrote.
Another 62 species are closing in on having a threatened status, the Weather Channel reported. Nine species are believed to be extinct in Nepal because they have not been spotted since the 19th century.
YOU MIGHT ALSO LIKE:
First Mammal Goes Extinct Due to Human-Caused Climate Change
World's First 'Spotty Dog' and Cow-Like Sheep Created Using Gene Editing
Is it Too Soon to Consider Removing Giant Pandas From the Endangered Species List?
Bhutan is often overlooked by the international community. The small nation lies deep within the Himalayas between China and India, two of the most populated countries in the world.
But the country of about 750,000 people has set some impressive environmental benchmarks. As we've written about in the past, Bhutan is not merely carbon neutral, it's also a carbon sink—making it one of the few countries in the world to have negative carbon emissions.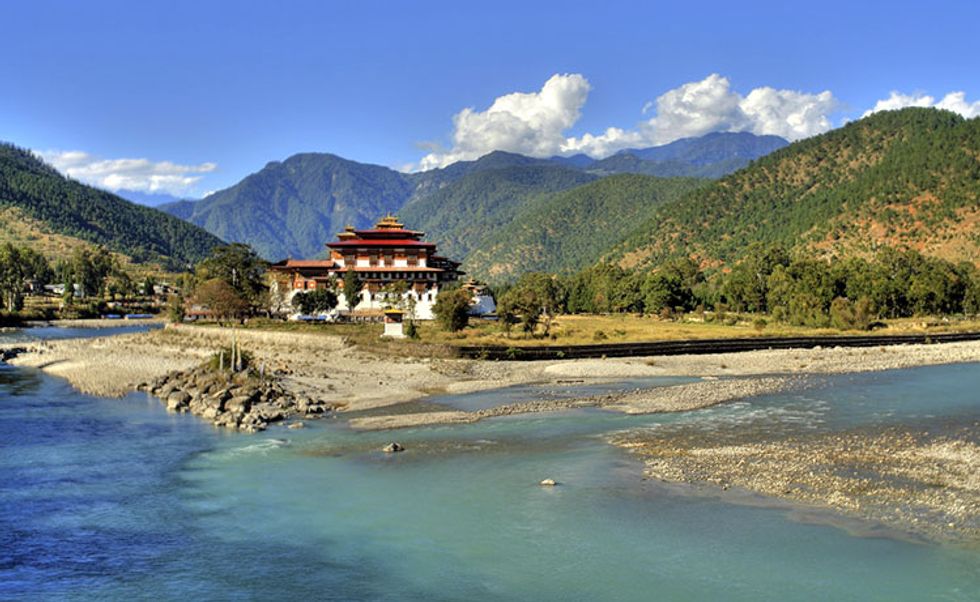 This means the country's carbon sinks, such as its forests, absorb more carbon dioxide each year than its sources of pollution, such as factories, emit.
"According to recent figures, the country emits around 1.5 million tonnes of carbon annually, while its forests absorb over 6 million tonnes," Proudly Carbon Neutral said.
To boot, Bhutan is aiming for zero net greenhouse gas emissions, zero-waste by 2030 and to grow 100 percent organic food by 2020. The Himalayan nation is currently 72 percent forested and the constitution requires that no less than 60 percent of it remains forested. It has even banned export logging.
Trees hold special value in Buddhism, the nation's dominant religion. Last June, a team of 100 volunteers set a world record for planting 49,672 trees in just one hour. And earlier this month, to celebrate the birth of the first child of King Khesar and Queen Jetson, all 82,000 households in Bhutan planted a tree, while volunteers planted another 26,000 in various districts around the country, for a total of 108,000 trees.
Planting trees with thousands of volunteers to celebrate the birth of HRH, our Gyalsey. Well done Tendrel Initiative https://t.co/i0hxFF9EHa

— Tshering Tobgay (@Tshering Tobgay)1457258802.0
Bhutan also refuses to judge its success on Gross Domestic Product, instead using an index that measures Gross National Happiness.
Many have credited its Gross National Happiness index as part of the reason for the country's strong commitment to environmental stewardship. Rather than focusing solely on economic indicators, the index measures prosperity by giving equal importance to non-economic aspects of well being.
"Bhutan's Gross National Happiness index gives the natural world a central place in the making of public policy, and environmental protection is a core guiding principle in Bhutan's constitution," the Santa Cruz Sentinel reported.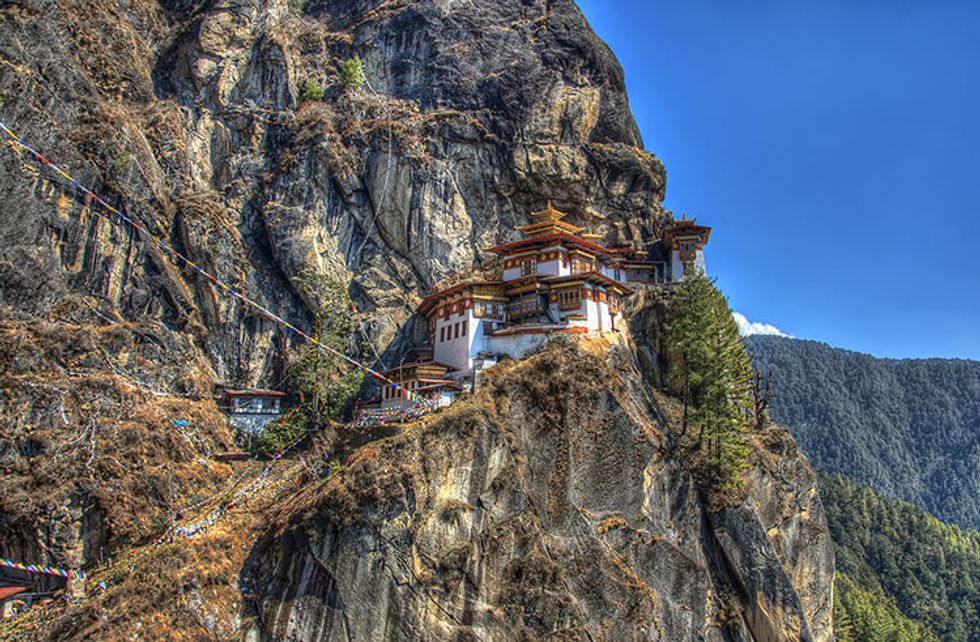 The country would also like to increase its share of renewables, while decreasing its reliance on hydropower and electricity imports in the winter. So, it's currently exploring wind, biogas and solar.
And the Bhutanese government has formed a partnership with Nissan to provide hundreds of electric cars to the country—with the promise of thousands soon after. Bhutan's Prime Minister Tshering Tobgay wants to eventually convert all of the country's vehicles to electric power.
The nation is not without its problems of course, as Tobgay readily admitted in a TED Talk he gave last month. But the country is no doubt unique in a world that has too often valued economic growth above all else, often at the expense of the environment.
For more on how Bhutan emerged as an environmental leader, watch Tobgay share his country's mission to put happiness before economic growth and set a world standard for environmental preservation in his TED Talk:
YOU MIGHT ALSO LIKE
Bhutan Celebrates Birth of Prince by Planting 108,000 Trees
The Nature Conservancy and Leonardo DiCaprio Foundation Unite to Create Second Largest Marine Protected Area in West Indian Ocean
Federal Court to Decide if Kids Can Sue Government for Failing to Act on Climate Change
Portland Becomes 7th City to Sue Monsanto Over PCB Contamination
Conservationists are celebrating the birth of a Sumatran rhino, which has raised hope that this critically endangered species may yet recover.
The calf, who has yet to be named, was born at the Sumatran Rhino Sanctuary in Indonesia's Way Kambas National Park Thursday morning and is the second baby for her 14-year-old mother Ratu.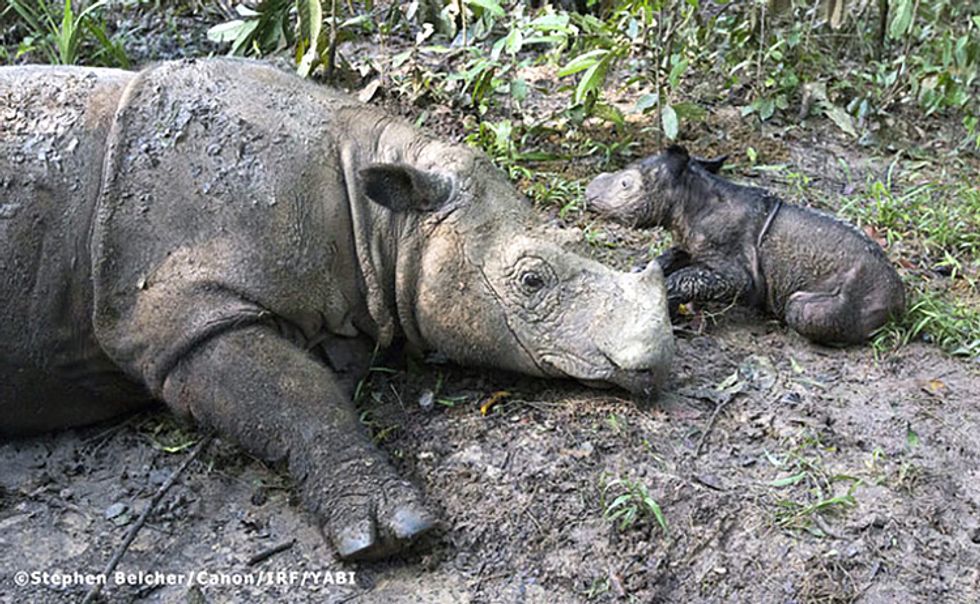 According to the International Rhino Foundation (IRF), the precious newcomer is healthy and active and began nursing shortly after she was born.
"Once again, Ratu is showing us that she is a very good mother," Dr. Zulfi Arsan, head veterinarian at the sanctuary, said.
With fewer than 100 Sumatran rhinos left in the world, the birth is a huge deal. Unfortunately, they've continued to face the ongoing threats of poaching and habitat loss, which have pushed them into small, fragmented populations that are on the brink of extinction.
According to the International Union for the Conservation of Nature, these rhinos have already disappeared from Bangladesh, Bhutan, Brunei Darussalam, Cambodia, India, Lao PDR, Myanmar, Thailand and Vietnam.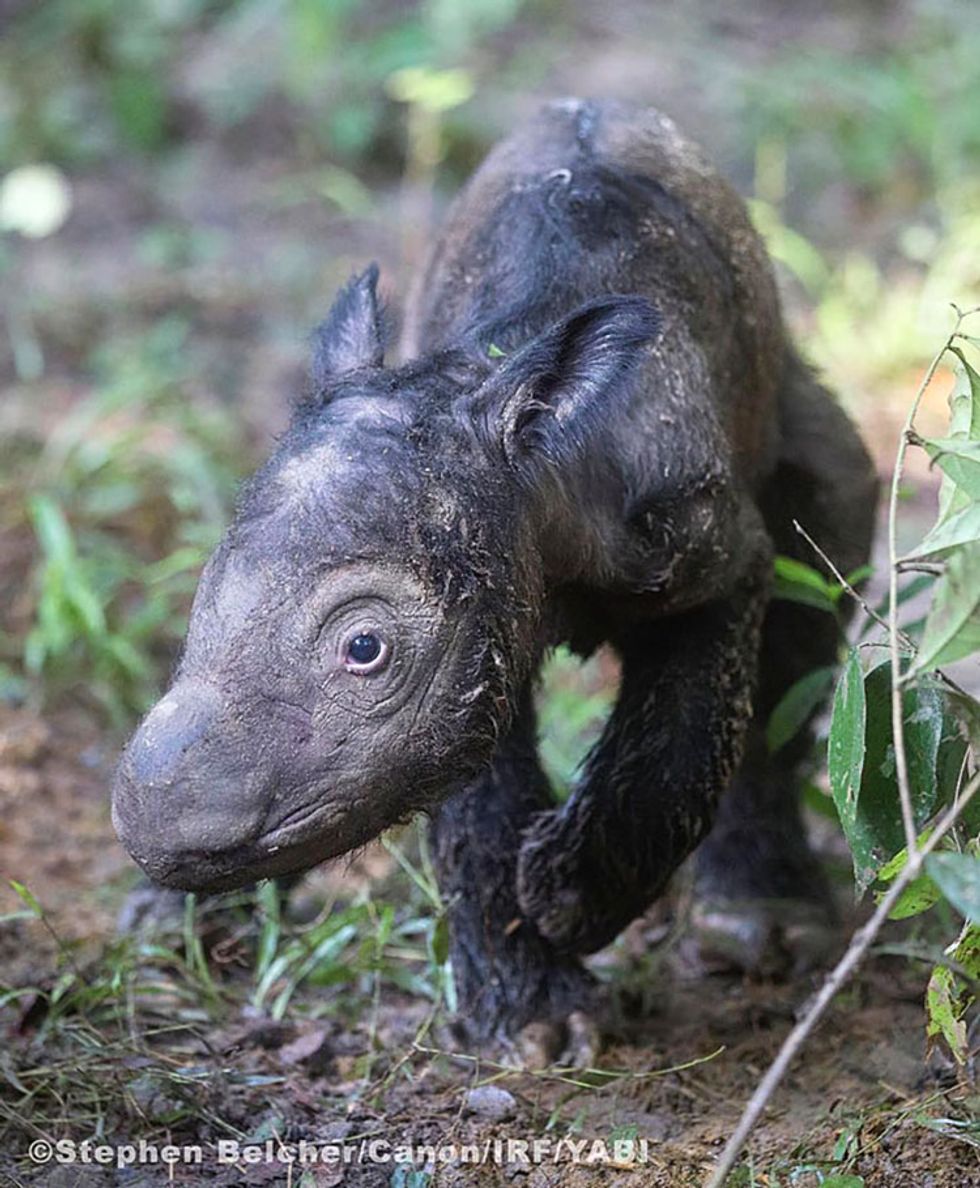 Last year they were declared extinct in Malaysia and scientists warned that the remaining few would likely disappear forever if immediate action wasn't taken.
Conservation efforts at the sanctuary and elsewhere are underway to help them make a comeback and the latest arrival has things looking up.
"We are overjoyed that Ratu delivered a healthy calf and are cautiously optimistic that the calf will continue to thrive," Dr. Susie Ellis, executive director of the IRF, said. "She's absolutely adorable and we haven't stopped smiling since the moment we were sure she was alive and healthy. While one birth does not save the species, it's one more Sumatran rhino on Earth."
The father of the new calf is believed to be Andalas, who was the first Sumatran rhino born in captivity in 112 years. He was born at the Cincinnati Zoo in 2001 and was moved to the Sumatran Rhino Sanctuary in 2007, where it was hoped he would breed and he has. So far he has successfully produced two calves with Ratu.
His brother, Harapan, also followed him from the Cincinnati Zoo to Indonesia last year in an effort to bring the last of these rhinos together. Hopefully he will also find a mate and more babies will be on their way. Meanwhile, we can cheer for this little baby girl who is bonding with her mother and getting her bearings.
Watch here:
YOU MIGHT ALSO LIKE
Will One of the World's Most Endangered Whales Be Saved Before It's Too Late?
5 Incredible Species That Glow in the Dark
Huge Win for the Oregon Spotted Frog
Jane Goodall Among 58 Scientists Urging Government to Halt Grizzly De-Listing
Due to years of illegal poaching and loss of habitat, tigers are now "functionally extinct" in Cambodia, conservationists conceded for the first time Wednesday.
RT if you want to see Cambodia increase its commitment to wild tigers! → https://t.co/WOkYuad3n3 🐯 x 🐯 #doubletigers https://t.co/bq2nSk93RG

— WWF Tigers (@WWF Tigers)1459842853.0
According to World Wildlife Fund (WWF)-Cambodia, the last tiger seen in Cambodia's wild was in 2007 from a hidden camera set up in the Eastern Plains Dry Forest Landscape in Mondulkiri Protected Forest.
"Today, there are no longer any breeding populations of tigers left in Cambodia, and they are therefore considered functionally extinct," the conservation group said in a statement.
The AFP reported that Cambodia's dry forests used to be home to scores of Indochinese tigers, but intensive poaching of both tigers and their prey has devastated the population.
But in a major effort to save the iconic species, on March 23 the Cambodian government approved its "Cambodia Tiger Action Plan" that would import tigers from abroad and introduce them to the Mondulkiri Protected Forest.
Keo Omaliss, a government official in charge of wildlife, told the Associated Press that Cambodia is considering negotiating with the governments of India, Malaysia and Thailand to bring at least seven to eight tigers to live in the forest to breed and repopulate.
"This would be the world's first transnational tiger reintroduction and will be based on best practices developed from successful tiger reintroductions within India," WWF-Cambodia said.
Un Chakrey, communications manager for WWF-Cambodia, told the New York Times that the tigers could be introduced as soon as 2020.
The AFP reported that the new habitat will be protected against poachers by strong law enforcement and action to protect the tigers' prey. The entire project is estimated to cost $20-50 million.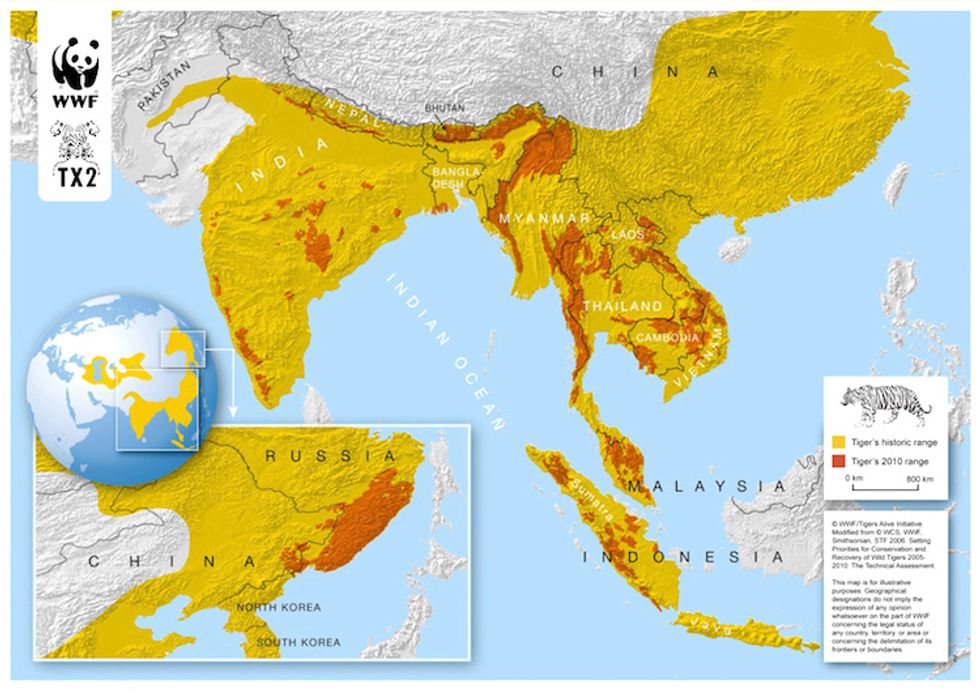 The Cambodia Tiger Action Plan also follows the objective of 13 tiger range countries to double the number of wild tigers in the world to more than 6,000 by 2022, which is the next Year of the Tiger. The global aim is also known as "Tx2."
The 13 Tx2 countries are: Bangladesh, Bhutan, China, Cambodia, India, Indonesia, Laos, Malaysia, Myanmar, Nepal, Russia, Thailand and Vietnam.
Representatives from these countries will meet at the 3rd Asia Ministerial Conference on Tiger Conservation in New Delhi next week to discuss the Tx2 plan.
"This conference comes at the critical halfway point in the Tx2 goal," the WWF says. "There have been great successes so far, with tiger numbers increasing in Nepal, India, Russia and Bhutan, however Southeast Asia is facing a tiger crisis with poaching at unprecedented levels. It is feared that some countries could lose their tigers if immediate action isn't taken. With only six years left, decisions made at this meeting will determine whether the Tx2 goal of 6000+ tigers by 2022 is met."
The current global population of wild tigers is estimated to be less than 3,200, meaning they are nearly extinct worldwide.
Tigers are currently on the International Union for Conservation of Nature and Natural Resources (IUCN's) Red List. According to the IUCN, the animals currently inhabit less than 6 percent of their historic range with a 42 percent decline since 2006.
YOU MIGHT ALSO LIKE
Family of Wolves Shot Dead in Oregon
Researchers Celebrate First Live Encounter With Sumatran Rhino in Borneo for 40+ Years
Leonardo DiCaprio Faces Deportation Threat After Criticizing Indonesia's Palm Oil Industry
3 Vaquitas Found Dead: The Most Endangered Marine Mammal in the World
Desalinating seawater has been hailed as the solution to addressing freshwater scarcity, but the technology has yet to be scaled. Big Think, which bills itself as a "knowledge forum," hosts a series, Tuesdays With Bill Nye, where viewers ask Nye questions about a range of popular topics. This Tuesday, Nye answered a question from a young girl in Minnesota who wanted to know if we can desalinate water for human consumption on a massive scale.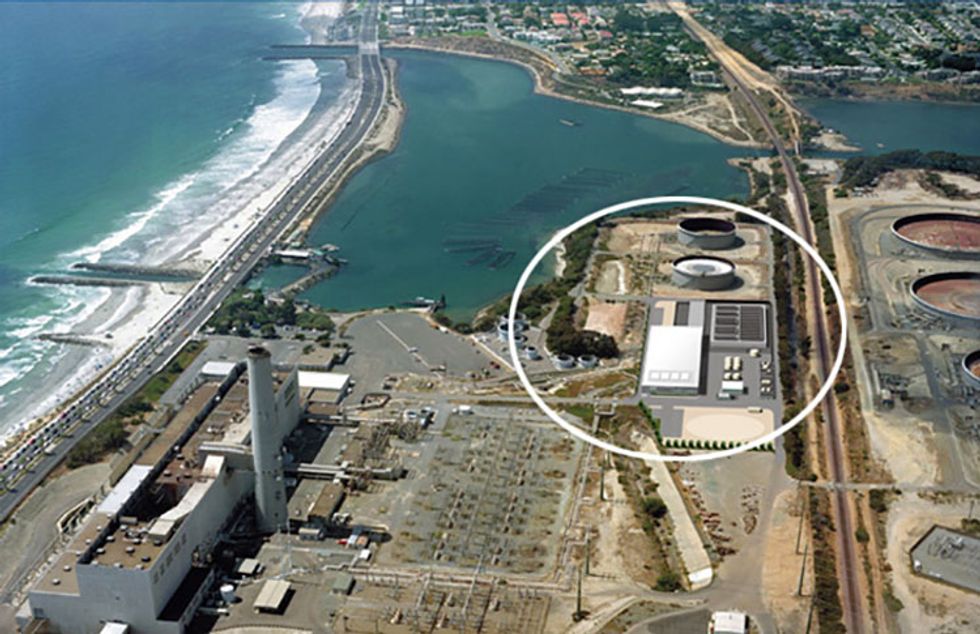 "Desalination of water could be the key to the future for so many of us humans," Nye said, explaining how desalination plants utilize reverse osmosis to remove salt from seawater. Researchers are in the process of developing new technologies right now, he continued.
Many places around the world already use the technology, Nye noted. "This is done all the time. It's done in Australia at several industrial-scale, citywide installations ... Carlsbad, California has one. And cruise chips and I guess the U.S. Navy exploit this technology all the time," Nye said.
So, he's very optimistic that we "are living at a time where this breakthrough may be made on an industrial scale," and he believes it could even be powered by renewables.
"We could have all the clean water we wanted for everybody all over the world and we would power the pumps with solar power, regular old photovoltaic solar cells, and when the sun is not shining you don't pump the water," Nye explained.
"So you pump the water when the sun is shining and and you fill up reservoirs all over the world. And so humankind could—if this stuff works out—it could have access to clean water for the billions of us that need it."
Critics argue the technology is too expensive and too energy-intensive to be adopted on a massive scale. Take, for example, the Carlsbad, California desalination plant that Nye mentioned. The plant, which came online at the end of last year, is the largest in the Western Hemisphere.
But the water from the plant "costs 80 percent more than San Diego pays for water outside the county, and even though the plant is huge, it can only meet 10 percent of San Diego's needs," Julian Huguet from Discovery News explained. "And it will use a lot energy ... making it more a small puzzle piece than the ultimate solution to California's drought."
Still, California and other water-stressed regions of the world, particularly the Gulf region, are rushing to develop energy-efficient desalination plants. About a dozen desalination plants are being proposed in California.
Worldwide, there are already an estimated 15,000–20,000 desalination plants producing more than 20,000 cubic meters of water per day. Places as varied as Aruba, Chile and Algeria all use desalination.
Israel already supplies 40 percent of its drinking water from desalination. That number is projected to climb to 70 percent by 2050.
Forward-thinking companies are working on solar-powered desalination plants. French engineering company Mascara is developing a desalination plant that is powered by off-grid, rooftop solar in Abu Dhabi in the United Arab Emirates.
The plant is the fifth desalination demonstration project from Masdar, which is currently running a pilot program to test renewably powered desalination plants in the United Arab Emirates. The group hopes to have a facility at commercial scale by 2020.
Developers in Saudi Arabia are currently building the world's first utility scale, solar-powered desalination plant, which is projected to be online by early 2017. And Monsson Group announced last week it will launch a fully automated and remote controlled desalination plant powered by renewables in Qatar.
Watch the Big Think video of Tuesdays With Bill Nye here:
YOU MIGHT ALSO LIKE
Leonardo DiCaprio: 'This Is the Video Future Generations Will Be Wishing Everyone Watched Today'
Portland Becomes 7th City to Sue Monsanto Over PCB Contamination
Ice Shelf Twice the Size of Manhattan Is About to Break Off From Antarctica
Danish consumers are the most pro-organic consumers in the world, according to Organic Denmark, an association of companies, organic farmers and consumers. Nearly 8 percent of all food sold in Denmark is organic, the highest percentage in Europe. And Danish organic export has risen by more than 200 percent since 2007.
The Danish government is working on drastically increasing the nation's supply of organic food. Last year, The Ministry of Food, Agriculture and Fisheries released an ambitious plan to double the area under organic cultivation by 2020 from 2007 levels.
The government has committed a total of 400 million kroner ($60.8 million) to its action plan, The Local Denmark reported. The country aims to achieve a 60 percent goal for organic food served in public institutions—schools, day care centers, hospitals, etc.—which serve some 800,000 meals per day.
Denmark is on its way to becoming the world's first 100% organic country https://t.co/V5vDdZnO5q https://t.co/0JmpzNicDV

— Food Revolution Network (@Food Revolution Network)1454001096.0
"In order to achieve our goals, which are the most ambitious in the West, the public sector needs to lead the way," Food and Agriculture Minister Dan Jørgensen told The Local Denmark. "With Økologiplan Danmark [Organic Denmark], we will strengthen cooperation between municipalities, regions and ministries with a long line of new initiatives. We will commit ourselves to, among other things, have more organic items on the menu in canteens, hospitals and daycare institutions."
To achieve its goals, the Ministry of Food, Agriculture and Fisheries is:
Allocating more than 3.3 million Euros for sales promotion on the domestic market over the next few years
Simplifying the country's organic regulations
Requiring organic farming on public lands and subsidizing farmers transitioning to organic
Allocating nearly 8 million Euros to help public institutions use more organic products
Other governmental agencies are taking part, too:
The Defense Department is serving more organic food in its cafeterias
The Ministry of the Environment is converting more areas it manages into organic farms
The Ministry of Education is incorporating more lessons about organic farming and its nutritional benefits into the curriculum
Denmark wants to go completely organic "as soon as possible," LifeGate reported. But at least one country has an even more ambitious plan than Denmark. Five years ago, Bhutan pledged to go 100 percent organic by 2020. To be fair though, Bhutan's population (754,000) is dwarfed by Denmark's (5.6 million). Still, Bhutan has some impressive claims. It's not only carbon neutral, it's also a carbon sink—making it one of the few countries in the world to have negative carbon emissions.
YOU MIGHT ALSO LIKE
Michael Moore: 'Do Not Send Us Bottles of Water. Instead, Join Us in a Revolt'
Seattle Sues Monsanto Over PCB Contamination, Becomes 6th City to Do So
Slaughter of Up to 900 Wild Bison at Yellowstone Park Sparks Federal Lawsuit to Protect First Amendment Rights
Monsanto Files Lawsuit to Stop California From Listing Glyphosate as Known Carcinogen
The wild tiger population has increased for the first time after more than a century of constant decline.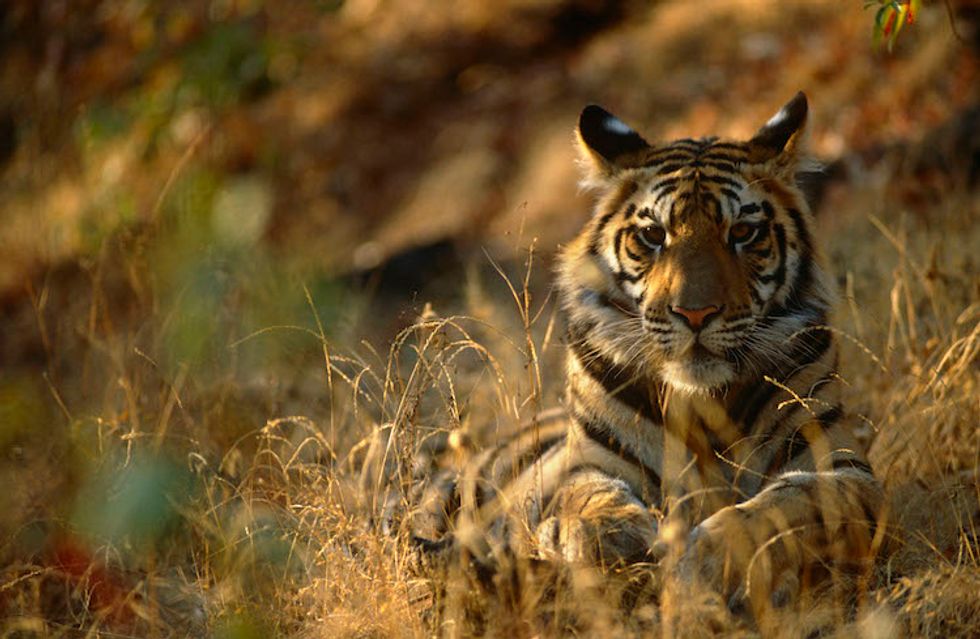 A Bengal tiger resting in Bandhavgarh National Park, Madhya Pradesh, India. There are more than 2,500 Bengal tigers left in the wild, making them the most numerous tiger subspecies. Photo credit: Staffan Widstrand / WWF
The World Wildlife Fund (WWF) and Global Tiger Forum (GTF) said there are now 3,890 tigers according to the latest global data. In 2010, the tiger population dipped to only 3,200 compared to 100,000 in 1900.
The increase in numbers can be attributed to multiple factors including increases in tiger populations in India, Russia, Nepal and Bhutan, improved surveys and enhanced protection, the WWF said.
Actor and noted animal conservationist Leonardo DiCaprio—whose philanthropic organization has donated more than $6.2 million to the WWF since 2010 to help boost tiger numbers—said he was "proud" of the work being done to save the iconic species.
"Tigers are some of the most vital and beloved animals on Earth," the chairman of the Leonardo DiCaprio Foundation and WWF board member said a statement. "With our partners at WWF, my Foundation has supported major efforts to double the number of tigers in the wild."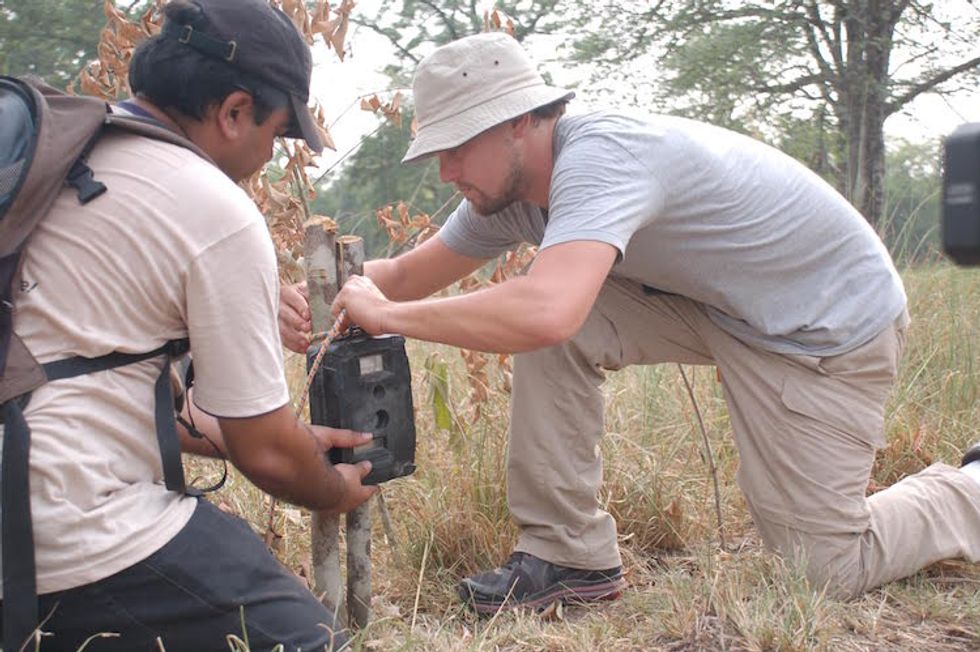 Leonardo DiCaprio setting up a tiger camera trap in Bardia National Park in Nepal in 2010. Photo Credit: WWF
"In Nepal, our efforts have produced one of the greatest areas of progress in tiger conservation, which is helping drive this global increase in population," DiCaprio continued. "I am so proud that our collective efforts have begun to make progress toward our goal, but there is still so much to be done."
"I am optimistic about what can be achieved when governments, communities, conservationists and private foundations like ours come together to tackle global challenges."
Marco Lambertini, director general of WWF International, said the latest figures "offers us great hope and shows that we can save species and their habitats when governments, local communities and conservationists work together."
DiCaprio, the WWF and other animal conservation groups and all 13 tiger range countries have pledged to double the number of wild tigers in the world to more than 6,000 by 2022, which is the next Year of the Tiger. The global aim is also known as "Tx2."
BREAKING NEWS: Wild tiger numbers have increased for the first time globally → https://t.co/yfUzNvl1qT #doubletigers https://t.co/ezXPIbhZFB

— WWF Tigers (@WWF Tigers)1460313303.0
According to the WWF, the newest tiger figures were released ahead of the 3rd Asia Ministerial Conference on Tiger Conservation in New Delhi this week. Over the course of the three-day summit, countries will report on their progress toward the Tx2 goal and commit to next steps.
India's Prime Minister Narendra Modi will open the conference on the essential role tigers play as a symbol of a country's ecological well-being. The BBC noted that India alone has more than half the world's tigers, with an estimated 2,226 tigers.
"This is a critical meeting taking place at the halfway point in the Tx2 goal," Dr Rajesh Gopal, secretary general of the GTF, said in a statement. "Tiger governments will decide the next steps towards achieving this goal and ensuring wild tigers have a place in Asia's future."
Due to years of illegal poaching and loss of habitat, tigers are now nearly extinct worldwide. In Indonesia, the world's insatiable demand for cheap palm oil—another DiCaprio pet cause—has destroyed forests and depleted wildlife populations.
Tigers Declared Extinct in Cambodia https://t.co/RKeZor17zS @WWFScotland @RSPBScotland

— EcoWatch (@EcoWatch)1460063725.0
Last week, Cambodian conservationists conceded for the first time that tigers were "functionally extinct" in the country. Cambodia's dry forests used to be home to scores of Indochinese tigers, but intensive poaching of both tigers and their prey has devastated the population, the AFP reported.
But in a major effort to save the iconic species, on March 23 the Cambodian government approved its "Cambodia Tiger Action Plan" that would import tigers from abroad and introduce them to the Mondulkiri Protected Forest.
Tigers are currently on the International Union for Conservation of Nature and Natural Resources (IUCN's) Red List. According to the IUCN, the animals currently inhabit less than 6 percent of their historic range with a 42 percent decline since 2006.
"A strong action plan for the next six years is vital," Michael Baltzer, leader of WWF Tx2 Tiger Initiative, said in a statement. "The global decline has been halted but there is still no safe place for tigers. Southeast Asia, in particular, is at imminent risk of losing its tigers if these governments do not take action immediately."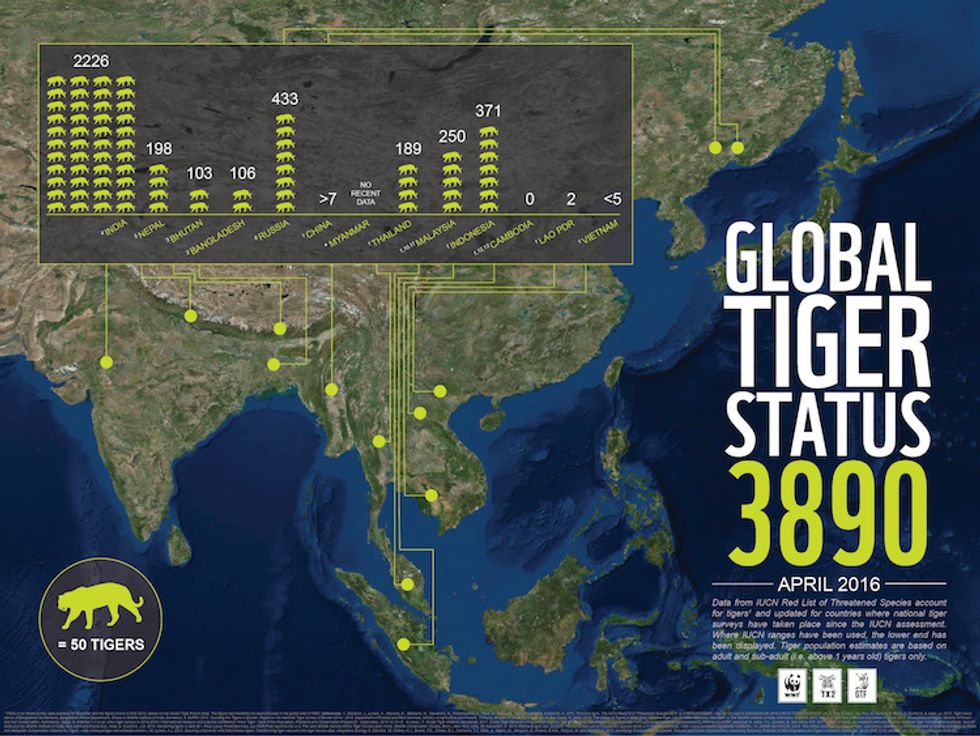 YOU MIGHT ALSO LIKE
97% of Endangered Species Threatened by 3 Common Pesticides
Tigers Declared Extinct in Cambodia
Family of Wolves Shot Dead in Oregon
Leonardo DiCaprio Faces Deportation Threat After Criticizing Indonesia's Palm Oil Industry
By Valerie Schloredt
A great swath of primeval forest runs 250 miles up the coast of British Columbia, from the northern tip of Vancouver Island to the southern tip of Alaska. The area includes a rare and endangered ecosystem of cedars, spruce and Douglas fir, a habitat for salmon, wolves, cougars, grizzlies and the rare white Spirit Bear. It is also home, livelihood and sacred place to 27 First Nations, the indigenous people whose ancestors have lived there for 10,000 years.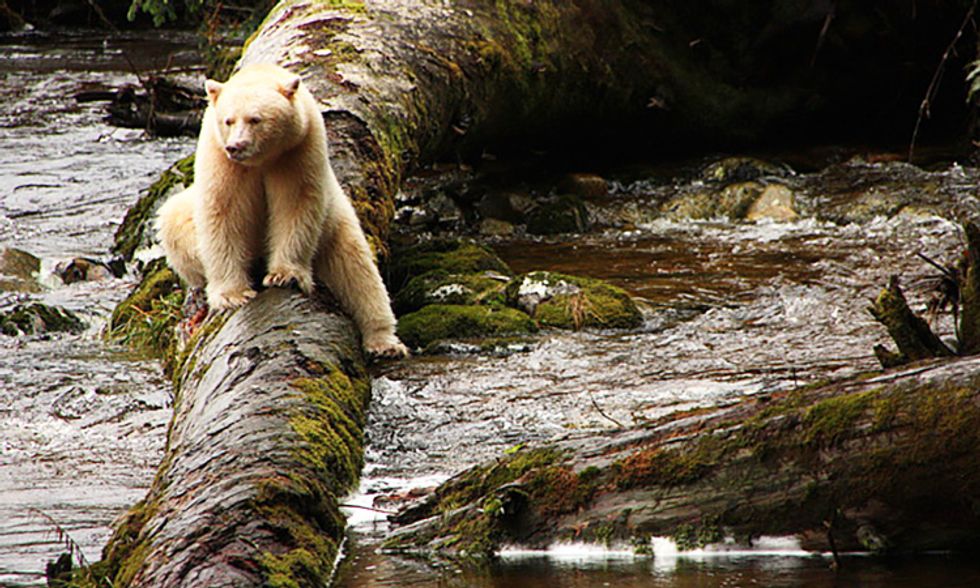 This is the Great Bear Rainforest (GBR), recently protected under what has been widely hailed by environmentalists as a model agreement to conserve 85 percent of old growth in the world's largest intact temperate rainforest.
It has taken 20 years, intensely dedicated work and worldwide support to forge the agreement, an impressive achievement that looked highly unlikely when efforts to save the GBR began in the mid-1990s. Back then, less than 10 percent of the rainforest was protected from logging and it was common practice to saw magnificent cedars into decking planks and pulp ancient timber for newsprint.
Jody Holmes of the Rainforest Solutions Project is a scientist by training who spent much of the past 20 years at the table negotiating for the protection of Great Bear. Lately, she's been reflecting on the many changes that contributed to reaching the final agreement and why it took two decades.
"It took quite a long time­­—even with environmentalists creating big splashy stories in the New York Times and elsewhere­­—to wake people up to the fact that there was a global treasure here," she said. But bringing environmental groups, forest industry companies, 27 First Nations and the government to a land-use agreement that would allow a logging industry while protecting enough old growth forest on 6.4 million hectares of land was no simple task.
The Market Campaign
The process started in 1993 with efforts to save old growth forest on Vancouver Island's Clayoquot Sound—soon to be dubbed the "War in the Woods." Environmentalists and members of First Nations chained themselves to bulldozers and blocked roads in an effort to stop logging of a unique and pristine ecosystem. The protests and direct actions resulted in a record number of arrests and generated media images that caught the world's attention, but the logging industry attempted to carry on as usual. There appeared to be no areas for compromise.
When conservation efforts moved on to Great Bear in 1995, the conflict between loggers and environmentalists seemed ready to boil over. Then Greenpeace launched a worldwide campaign to boycott products made from GBR old-growth timber.
"It became controversial to invest in companies operating in the Great Bear or to buy products coming out of it," said Eduardo Sousa, a forest campaigner for Greenpeace, "to the degree that $600 million worth of paper contracts with a German publishing company were almost cancelled. Because the companies themselves were global, the issue and campaign went global and everything escalated up a few notches."
Under pressure from consumers and public opinion, the forest industry launched its own media and PR counterstrategies. But the protests were having an impact and the boycott created market uncertainty.
Patrick Armstrong, a solutions consultant for the forestry industry who was in the thick of Great Bear negotiations, sounds weary when he describes those years. "It became clear that industry needed a different approach," he said, "and it began to engage with the environmental community. At the same time, I think the environmental community realized that they needed to engage with industry."
Great Bear Rainforest turns into an unprecedented environmental and human rights agreement https://t.co/5wn7NUooH7 https://t.co/VWHclp1Tsc

— Mongabay (@Mongabay)1456536635.0
In 2000, that realization resulted in the Joint Solutions Project, an initiative to use conflict resolution and a multi-interest approach in GBR negotiations. It was sealed with a deal that environmental groups would halt the market campaign if companies agreed not to log in 100 pristine valleys. The interested parties also agreed to use scientific evidence to determine if and how logging could continue while conserving the forest—a system known as ecosystem-based management (EBM), which analyzes land-use proposals to minimize impact, preserve habitat and repair damage.
"Twenty years ago, nobody thought twice about just going into a valley and clear-cutting forest up to the top of a mountain and scooping the whole thing out," Holmes said. In contrast, the final GBR agreement boasts the strictest standards for controlled logging in North America. What that will look like on the ground, said Holmes, will vary according to area and a list of priorities.
"Some of the logging will be lighter touch and some heavier touch," she said, going on to describe how, in the southern region, which has already been heavily impacted, there will be a reserve network to restore old-growth characteristics—a long-term effort. An exceptionally light touch will be used on the north coast, with buffers along the major river systems and protections for grizzly bear trails. Patches of harvesting will occur higher up, with protections for the monumental cedars and anything of cultural significance to First Nations. "You'll also see little tiny streams and things like goshawk nests protected," Holmes said.
Harvests will occur and some areas will appear to be clear-cut, she said, but there will be fewer of them and they will be built around key ecological features in the landscape. Overall there will be a slowing of the amount of harvest on the landscape over time.
Read page 1
First Nations Decide
When the GBR agreement was announced in Vancouver on Feb. 1, it marked a major accomplishment for indigenous land rights. First Nations leaders, environmentalists, timber CEOs and BC Premier Christy Clark walked down a passage lined with totem poles, in a ceremony that included traditional regalia, drumming and song.
Premier Clark announces landmark Great Bear Rainforest agreement on @NatObserver https://t.co/2rg6w53J8j https://t.co/2L9pvXZGta

— Ken Schaefer (@Ken Schaefer)1454431352.0
The years of the GBR negotiations were also a period of land rights activism in general for First Nations in BC. The Canadian Supreme Court made several rulings in favor of aboriginal title, which contributed to a process of rebalancing power. In the final stages of the agreements, First Nations and the provincial government of BC were joint decision-makers. Industry and environmental groups acted as stakeholders, recommending solutions to the "government-to-government" decision-makers.
"It wasn't always like that," Sousa said. "There should have been a lot more First Nations engagement throughout the entire solutions-making process." That lack of direct engagement, he said, was a historical issue related to colonialism. Environmentalists and industry had more power early in the process. However, "It is now enshrined in various mechanisms through the government-to-government process that First Nations can no longer be marginalized."
Marilyn Slett, chief councillor of the Heiltsuk Tribal Council, is one of the First Nation leaders who was present to usher in the GBR agreement. She reflects on the days when the BC government granted logging tenures in First Nation traditional territories "Without our consent—without our knowledge, there were no consultations. All of this led to a lot of frustration among the communities that make up the Great Bear. We were tired of being excluded from decision-making processes that directly impacted our traditional territories."
Slett attributes major progress to the organizing efforts of Coastal First Nations, an alliance of communities along BC's coast, to develop a sustainable economy while preserving the cultural and ecological diversity of the GBR.
"I do think having our communities be able to demonstrate that we are organized, that we have our own stewardship principles, made a difference. For us it's about taking care of our land, having proper stewardship over our land," Slett said.
Douglass Neasloss remembers how logging companies started putting roads through his Kitasoo/Xai'xais community when he was in high school. The province had issued industry permits without consulting the people who lived there, he said. Now, as resource stewardship director for the Kitasoo/Xai'xais Integrated Resource Stewardship Authority, he said that decision-making authority for First Nations resulted in a GBR plan that protects culturally important areas and jobs.
"Provincial government and environmental groups needed to understand that there are people still living here, who have always lived here, who need livelihoods," he said. "And when the enviros came up with recommendations for areas to protect for the 2007 agreement, the First Nations saw that there were many culturally important areas left out—so there was a lot of back and forth to make sure those areas were included."
That back and forth is not quite over, according to Neasloss. "We think the agreement is a huge step in the right direction. But my community has always said the agreement is only as good as governance and enforcement for environmental protection. We're in some fairly remote areas that need monitoring, where a lot of illegal activities were going on back in the day, so every First Nations community along the coast from Haida Gwaii to the north of Vancouver Island has its own Guardian Watchmen to monitor and protect their lands and waters."
Currently, GBR is managed by the BC parks system, but it's severely underfunded, Neasloss said. "I run a six-person Watchmen program on $210,000. BC's Central Parks manages an area the size of Switzerland on $20,000."
A Model Agreement?
Appropriately for the unique ecosystem it protects, the GBR agreement has been described as something special, a new standard for comprehensive land-use plans. That's significant at a time when multiparty agreements are critically important to save not just endangered ecosystems but our imperiled atmosphere.
Old-growth forests like Great Bear sequester enormous amounts of carbon, a significant factor for slowing global warming. The agreement's most recent conservation measures alone will lock up an additional 640,000 metric tons of carbon pollution per year.
This month, a delegation from the Cree First Nation of Waswanipi in Quebec, which wants to protect the forests of its traditional lands, traveled to BC to learn more about the Great Bear Forest Carbon Project, the offset program established through GBR negotiations. And the Great Bear agreement is being noted even further afield. Slett has already received an invitation to speak to Maori colleagues in New Zealand about eco-based land management through Great Bear.
Every region faces its own cultural, economic and political challenges, but environmentalists are cautiously optimistic that Great Bear can provide a model and hope, for other environmental struggles, especially those where indigenous land rights are a factor.
"There was no blueprint for this," Sousa said of the two decades of efforts to conserve Great Bear. "We're in a different era now in terms of climate change, First Nations and indigenous land rights than we were 20 years ago. If anything else like this was to be attempted here now, it probably go much quicker."
YOU MIGHT ALSO LIKE
Love Wildlife? Check Out These 11 Stunning Photos From Yellowstone National Park
20 Stunning Photos of the World's Most Beautiful Trees
SeaWorld to End Captive Breeding of Killer Whales
Bhutan has been hailed as one of the greenest countries on Earth. Currently, the country's carbon emissions rate is a negligible 0.8 metric tons per capita, according to the World Bank. Not only is Bhutan carbon neutral, it's also a carbon sink—making it one of the few countries in the world to have negative carbon emissions.
"According to recent figures, the country emits around 1.5 million tonnes of carbon annually, while its forests absorb over 6 million tonnes," says Proudly Carbon Neutral. Despite this, it still wants to go even further to zero net greenhouse gas emissions by 2020, while also going 100 percent organic by 2020 and zero-waste by 2030.
#Bhutan to become first country in the world to have 100% #organic #farming http://t.co/PibZhINDcD http://t.co/JKF1XGc1yj

— Rivers and Ridges (@Rivers and Ridges)1431374429.0
In 2011, the government launched the National Organic Program in order to help the country meet its goal of 100 percent organic by 2020. Reuters reports on the success of the program so far:
By teaching farmers good organic farming practices and how to earn more money by growing organic produce, and by providing financial support, Bhutan hopes to reduce waste, decrease the country's dependence on imported food, and ensure it remains climate-neutral, producing no more climate-changing emissions each year than its forests absorb.
Already praised by environmentalists for its low carbon emissions and heavy use of hydropower, Bhutan hopes to become even greener by showing that environmentally friendly farming can also make money.
The government is offering free training programs in organic farming to turn Bhutan's subsistence farmers barely eking out a living into successful entrepreneurs. The switch to organic is also helping this Himalayan mountain kingdom achieve its zero waste goal, as well.
"Now, from leaves to cow dung to chicken poop, everything is used," a new organic farmer told Reuters. "I have no trash, only compost."
Hurdles remain, however. The country is still highly dependent on imported food. "According to a 2014 study on food security by the Royal Bhutan College of Thimphu, less than four percent of Bhutan's total land is under food cultivation, which is why almost 50 percent of the country's rice is imported from India and Thailand," says Reuters. One farmer complains that the government needs to help widen the market for organic produce. Many people still opt for imported foods over local ones because they are cheaper.
Still, Bhutan is light years ahead of most countries. The country has an entire section of its constitution devoted to the environment that opens with:
Every Bhutanese is a trustee of the Kingdom's natural resources and environment for the benefit of the present and future generations and it is the fundamental duty of every citizen to contribute to the protection of the natural environment, conservation of the rich biodiversity of Bhutan and prevention of all forms of ecological degradation including noise, visual and physical pollution through the adoption and support of environment friendly practices and policies.
Bhutan is currently 72 percent forested and the constitution requires that no less than 60 percent of the country remains forested. The Buddhist nation also refuses to judge its success on Gross Domestic Product, instead using an index that measures Gross National Happiness.
Though Bhutan is not powered by 100 percent renewable energy, it aims to be in the near future. It has an abundant supply of hydroelectricity—so much that it exports 75 percent of its power to India. Its current renewable energy share is 60 percent. And a partnership announced last year with Nissan could help ensure that the country doesn't increase its fossil fuel use or its carbon emissions. Nissan partnered with the Bhutanese government to provide hundreds of electric cars to the country—with the promise of thousands soon after. Bhutan's Prime Minister Tshering Tobgay wants to eventually convert all of Bhutan's vehicles to electric power.
But more than a year after the launch, only about 50 electric Nissan vehicles were on the roads, though at least 22 more had been ordered as of June. That's about a tenth of a percent of the total cars on the road in Bhutan. CEO of Thunder Motors (the local partner of Nissan) told Reuters purchases of electric vehicles are underwhelming because of a lack of government support for "developing more charging infrastructure and land for building charging stations."
YOU MIGHT ALSO LIKE
Shell Abandons Arctic Drilling Following 'Disappointing' Results
​Sweden to Become One of World's First Fossil Fuel-Free Nation​
IKEA: Going 100% Renewable by 2020 Makes Good Business Sense
9 Fortune 500 Companies Pledge to Go 100% Renewable
Uruguay has made some impressive strides in the last decade on the environmental front. The South American country of 3.4 million has drastically reduced its carbon footprint in less than 10 years "without government subsidies or higher consumer costs," the country's National Director of Energy Ramón Méndez told The Guardian.
Uruguay Makes Dramatic Shift to Nearly 95% Electricity From #CleanEnergy https://t.co/e9OJTn3ThY #renewables #COP21 https://t.co/g7qQGIU4vj

— Ignacio Mesalles (@Ignacio Mesalles)1449169923.0
Through energy efficiency measures and a vast expansion in renewables, the country has truly set itself apart. According to Méndez, renewables provide 94.5 percent of the nation's electricity, and wind, solar, biomass and hydropower now comprise 55 percent of the country's overall energy mix (including transport fuel).
The transportation sector remains a challenge for the country in switching completely to renewables. To address this, the capital city Montevideo is looking into buying autonomous electric cars for its fleet of municipal vehicles.
"What we've learned is that renewables is just a financial business," Méndez says. "The construction and maintenance costs are low, so as long as you give investors a secure environment, it is a very attractive."
Though the country only generates 0.06 percent of global emissions, Uruguay hopes to be carbon neutral by 2030. Méndez is in Paris at COP21 offering one of the world's most ambitious climate pledges: "88 percent cut in carbon emissions by 2017 compared with the average for 2009-13," according to The Guardian.
The country has no nuclear power and has not built a new hydropower project in more than two decades. That sets it apart from other small countries with high proportions of renewable energy (think: Paraguay, Bhutan and Lesotho), which are largely dependent on hydropower. Gary Wockner of Save the Colorado argues that hydropower is actually "one of the biggest environmental problems our planet faces" and a "false solution" for addressing climate change.
While not every country has Uruguay's small population and favorable natural resources, Uruguay has proven "renewables can reduce generation costs, can meet well over 90 percent of electricity demand without the back-up of coal or nuclear power plants, and the public and private sectors can work together effectively in this field," said Méndez. Other Paris delegates should take note.
YOU MIGHT ALSO LIKE
Solar Powered 'Farm from a Box': Everything You Need to Run an Off-Grid Farm
Couple Builds Greenhouse Around Home to Grow Food and Keep Warm
100% Clean Energy is 100% Possible
Morocco's Giant Solar Plant to Bring Energy to 1 Million People