This website uses cookies to ensure you get the best experience while browsing it. By clicking 'Got It' you're accepting these terms.


The best of EcoWatch, right in your inbox. Sign up for our email newsletter!
By John Gibler
Midday on Friday, Mar. 2, as family and colleagues marked the second anniversary of the murder of Berta Cáceres, Honduran federal police arrested Roberto David Castillo Mejía at the San Pedro Sula International Airport as he tried to leave the country.
www.youtube.com
We look at shocking revelations released Tuesday that link the assassination of renowned Honduran indigenous environmental leader Berta Cáceres to the highest levels of the company whose hydroelectric dam project she and her indigenous Lenca community were protesting.
EcoWatch Daily Newsletter
By Jenni Monet
At the height of the movement at Standing Rock, Indigenous teens half a world away in Norway were tattooing their young bodies with an image of a black snake. Derived from Lakota prophecy, the creature had come to represent the controversial Dakota Access pipeline for the thousands of water protectors determined to try to stop it.
By Salvador Edgardo Zuniga Cáceres
It has been four months since the murder of environmental and Indigenous rights activist Berta Cáceres and her killers have still not been brought to justice. Instead, the violence continues—on July 7, another activist from Berta Cáceres' organization was abducted and killed.
Berta Cáceres in 2015.Goldman Environmental Prize / Tim Russo
In March, my mother Berta Cáceres was murdered in her own home. Her death pains me in a way I cannot describe with words.

She was killed for defending life, for safeguarding our common goods and those of nature, which are sacred. She was killed for defending the rivers that are sources of our people's life, ancestral strength and spirituality.
My mother became a woman of resistance, of struggle, so that our deep connection with nature is not destroyed; so that the life of our peoples—the Lenca Indigenous People of Honduras—is respected. Her killers tried to silence her with bullets, but she is a seed, a seed that is reborn in all men and women. She is a seed that will be reborn in the people that follow her path of resistance.
To achieve justice for her death, I need your help.
Please join me in asking the Honduran President Juan Orlando Hernández to launch an independent investigation into my mother's murder.
Berta with her four children.
Honduras is one of the most dangerous countries in the world for environmental activists—more than 100 were murdered between 2010 and 2014.

These figures make me shiver. These activists lost their lives defending what belongs to us all and my mother was no exception. She had been threatened and persecuted many times for safeguarding our people's territory.
Even before my mother's murder, two of my sisters had to leave the country. But our mother did not stop fighting against the Agua Zarca mega-dam project. If built, the Agua Zarca would lead to the displacement of our people and the privatization and destruction of our territories. It has already led to the murder of those who have the determination and the clarity to understand that life is not a commodity.
But the dam builders could not stop my mother. With her people beside her, she became invincible. So murderers broke into her house and opened fire against her chest. We are outraged not only because of the bullets that murdered her, but because her killers have walked away with impunity.
Berta Cáceres in the Rio Blanco region of Honduras.Tim Russo / Goldman Environmental Prize.
Berta used to say: "Defending human rights is a crime in Honduras."

She knew that what she put her and her loved ones at risk, but she didn't care. Along with the Civic Council of Popular and Indigenous Organizations of Honduras—an organization my mother co-founded—she defended Indigenous communities and gave her life. Today, our family, the Lenca people and thousands of Hondurans are demanding justice.
We will only succeed if we press my country's president into accepting that the Inter American Commission on Human Rights investigates the murder. We cannot trust the Honduran justice system.
"You have the bullet … I have the word. The bullet dies when detonated, the word lives when spread." —Berta Cáceres
Today, we must be that word. My mother gave her life defending humanity and the planet. Now it's up to us to seek justice on her behalf.
Salvador Edgardo Zuniga Cáceres is the son of award-winning Honduran activist Berta Cáceres, who was murdered in her home in March 2016.
By Friends of the Earth International
Berta Cáceres, 2015 Goldman Environmental Prize winner, was murdered last night in her home. Reportedly, her assassins waited until well after dark before breaking into the house where she slept. Her brother was also injured in the attack.
Another member of Berta Cáceres' Indigenous rights group was brutally murdered by unidentified assailants on Tuesday, following a violent eviction of Indigenous people from their land.
Nelson Garcia, a father of five and community leader, was shot four times in the face—"gunned down in his home," the Nation reported. His assassination occurred less than two weeks after Cáceres', and only days following her funeral.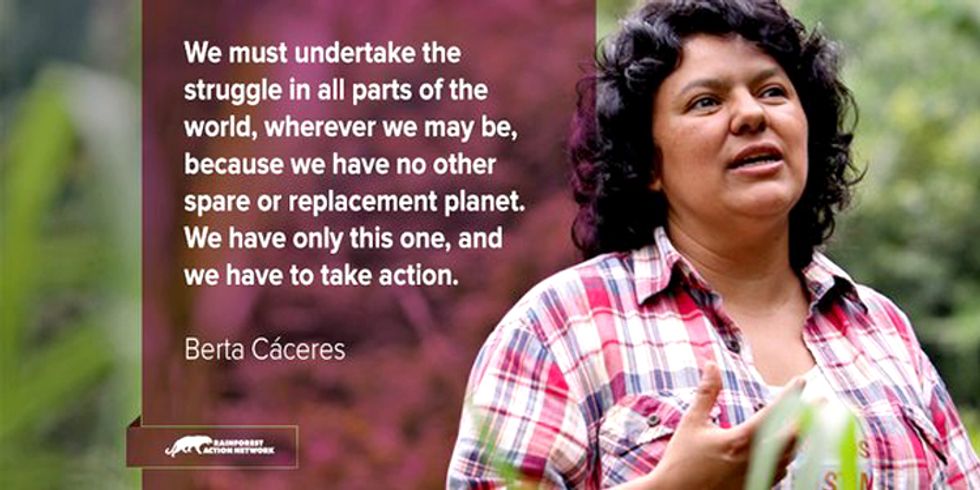 Local reports say that his death occurred shortly after the Honduran government's dispatching of riot police and bulldozers to evict 150 Indigenous people from their homes in Rio Chiquito, where they had occupied ancestral land for two years in protest of the Agua Zarca megadam project.
TeleSUR reported:
"They said that they would be peaceful and they were not going to throw anyone out of their houses, but at midday they started to tear down the houses, they destroyed the maize, the banana trees and the yuca plantations," said Tomas Gomez, a COPINH coordinator.
"When they finished the eviction, our companion Nelson Garcia went to eat in his house, they were waiting in the zone that the commission of COPINH pass, but it was diverted. Garcia arrived first and they killed him," he added.
Garcia was a leader in the Rio Chiquito community, all of whom were members of the Civic Council of Popular and Indigenous organizations of Honduras (COPINH), the Indigenous rights group formed by Cáceres. COPINH has been instrumental in preventing the construction of the Agua Zarca megadam.
The megadam is to be built on the Gualcarque River, ancestral territory of the Lenca tribe—of which Cáceres was a member—and a critical water source for the Indigenous people.
Cáceres' daughter, Bertha Cáceres, only yesterday told the Guardian in an interview that her mother's death "is not the first assassination, but one of a series of assassinations of human rights defenders."
"I don't want another human rights defender to be assassinated," Bertha said.
Garcia's death "brings to 14 the number of COPINH members who have been murdered since the group was founded in 1993," observed fellow activist Beverly Bell.
A witness to Cáceres' murder and fellow Indigenous activist Gustavo Castro was blocked by the Honduran government from returning to Mexico last week and he is currently still being held by the Mexican Embassy in Tegucigalpa despite international pleas for the government to allow him to safely leave the country, DemocracyNow reported.
Honduras is suffering under a brutal regime put in place by a U.S.-backed coup supported by Hillary Clinton during her tenure as secretary of state. Since the coup, the country has maintained the highest murder rate in the world and many environmental and Indigenous rights activists have been killed under the military junta's rule.
After news of Garcia's murder broke, the Europe-based development banks FMO and Finnfund announced that because of the violence and killings they would end their operations in Honduras entirely, which will mean pulling their funding for the Agua Zarca megadam.
TeleSUR reported that the U.S. Agency for International Development, on the other hand, is continuing to fund Agua Zarca in defiance of activists' protests at the agency's headquarters in Washington, DC earlier this week and despite the continued violence and murders of environmentalists and Indigenous activists in Honduras.
YOU MIGHT ALSO LIKE
1 in 4 Deaths Worldwide Caused by Preventable Environmental Factors
What Garland's Supreme Court Nomination Could Mean for the Climate
Science and Politics Clash as Humanity Nears Climate Change Tipping Point
WARNING … This Video Will Break Your Heart: 150 Wild Buffalo Captured at Yellowstone
By Jason Mark
Christmas has come and gone, New Year's is right around the corner. That must mean it's time for my annual roundup of the most important environmental stories of the past year.
Over the last two years, I've written four articles about the massive problem with methane emissions from hydropower dams and reservoirs. Finally, the mainstream media covered this story Thursday after an international team of scientists released a new study that synthesizes more than 100 scholarly articles on the topic.
'Wake up, humanity! Time is running out!'
Popular
At high Noon Sunday, with temperatures heading toward 95 degrees, I'm confident I was not the only one preparing to march through the streets of downtown Philadelphia who recalled that old elementary-school story about the wig-wearing drafters of the Declaration of Independence huddled inside of Independence Hall on a sweltering July day.
The past week has seen a barrage of opinion pieces carrying water for the fossil fuel industry, defending against the ongoing fraud investigations. The Washington Post had two pieces, Newsweek had one and the Financial Times had an editorial, in addition to op-eds in a couple of other conservative outlets. Of those six, half were penned by groups funded at least in part by fossil fuel companies.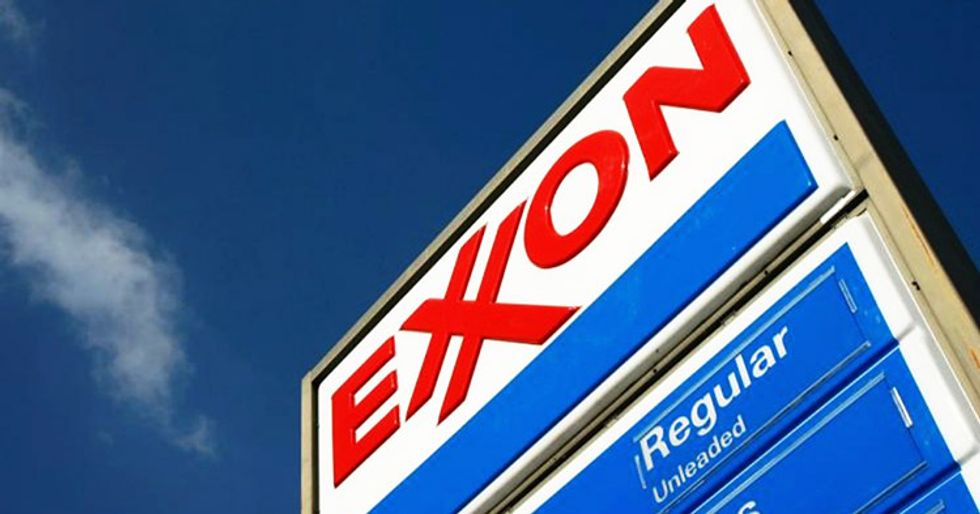 The arguments are all by and large the same, claiming that the investigations infringe on fossil fuels companies' right to free speech while steadfastly ignoring the fact that ExxonMobil funded climate denial to protect their business model. Only the Financial Times editorial actually acknowledges the "misleading claims from fossil fuel interests and their allies" but concludes that it is "because the stakes [of the debate] are so high that all arguments must be heard." While that sounds fair at first Glantz, it quickly sounds silly when applied to a recent example: the tobacco industry's denial of the fact that its carcinogenic product is addictive.
All but one of the pieces similarly ignored the tobacco industry precedent and the only person who mentioned it was one of the few voices not plugged into the professional denial apparatus.
As for the pros, Newsweek ran a blog post from the Hoover Institution, which rambled on about climate science that's supposedly still uncertain, lamenting that fair debate is impossible if one side can bring the other to court. Not mentioned is how a fair debate can be possible if one side launches multi-million dollar PR campaigns to mislead the public about the science.
Heritage's Hans von Spakovsky's piece in the Washington Times misses the tobacco precedent, but went all the way back to the Spanish Inquisition for his First Amendment fear mongering. George Will used his column in the Washington Post to offer a lesson on how this campaign is part of a larger progressive strategy to shut down debate. But apparently it's Will that needs a history lesson, as he uses as evidence a story about a 2013 IRS investigation accusing the agency of targeting conservatives. But that investigation "found no evidence" that the IRS actions were politically motivated. No doubt his column is similarly bereft of evidence.
The Washington Post also gave space to the Competitive Enterprise Institute (CEI) to defend itself by pretending it is being investigated for political dissent, not its years of Exxon funding for climate denial. Worth noting CEI's careful phrasing about its relationship with Exxon, which CEI says "publicly ended its support for us after 2005." With Donors Trust and others making it possible to anonymize giving, the key word is "publicly."
Ironically, despite the admission that its Exxon funding is a perfectly legitimate reason to look into its communications, CEI considers its subpoena to be a fishing expedition. Meanwhile, CEI's own coal-funded Chris Horner continues to engage in nuisance FOIAs for climate scientists.
Exxon's defense is a hot topic in denierland, as it advances the narrative that the fossil fuel industry is an embattled population facing government persecution. But here's a reality check: Before Honduran activist Berta Cáceres was murdered on March 2, she reported receiving 33 death threats after years of intimidation. Instead of investigating a man who had previously bragged about his plans to murder her, authorities claim the prime suspects are two of her fellow activists.
Looks like the fossil fuel industry isn't the one facing persecution after all.
YOU MIGHT ALSO LIKE
Clinton Snubs Koch Endorsement
Gov. Cuomo Rejects the Constitution Pipeline, Huge Win for the Anti-Fracking Movement
Federal Offshore Drilling Plan: From Injury to Insult
A petite woman from Peru has been honored with a huge award, the 2016 Goldman Environmental Prize, for years of principled resistance to the Colorado-based gold-seeking conglomerate Newmont Mining Company.
"During my struggle I felt very sad, like I was alone, but now I know I am not alone," Máxima Acuña de Chaupe told a small group at a pre-ceremony reception Saturday night in San Francisco's historic Mission District. Nearby her grandson Maximo squealed and chased a miniature soccer ball in happy ignorance of the seriousness of the subject.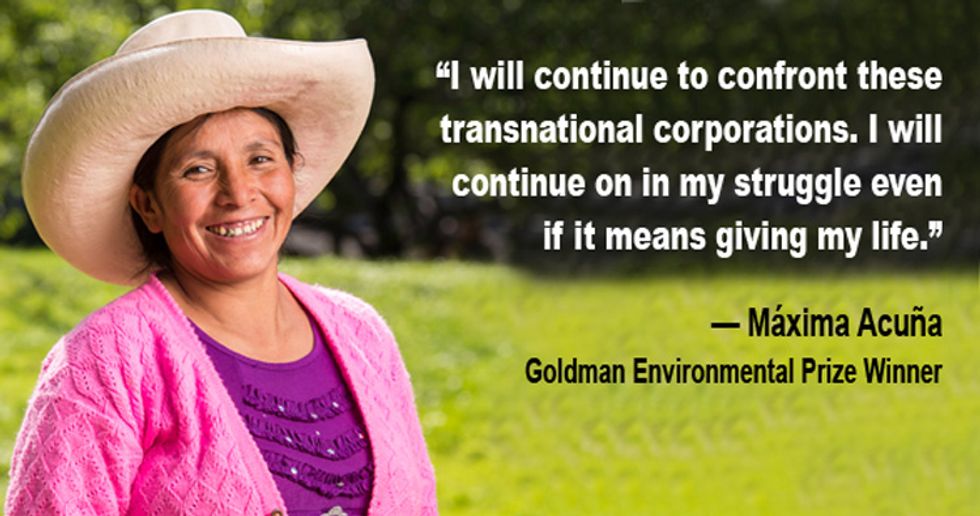 Clearly emotional and a bit overwhelmed by the attention of so many people in a bustling city thousands of miles from her highland home, upon which Newmont has staked a claim on a very large gold deposit, her tone hardened as she finished her thought: "People are becoming aware and understand what I'm fighting for: the land, water and life, not only my own, but the population in general."
Celebrated globally for her courageous refusal to sell or cede the land her family uses to raise animals and vegetables to Newmont for its proposed Conga gold mine, Acuña de Chaupe and her family have survived lawsuits filed by the company and endured harassment and beatings at the hands of a security force alleged to be on the company payroll.
Adam Shapiro of Ireland-based human rights NGO Front Line Defenders has been following and documenting these events and said this week that when he was visiting the area recently, there was another incident. "The security company hired by the mine operator arranged for locals from nearby villages to come and tear up vegetables that had been planted by Máxima's son. This was part of a pattern of such attacks against the family," he said. "The security company maintains a presence allowing for 24 hour surveillance of the home and the farm and there are always guards watching as well as controlling traffic on the road."
Under such circumstances, Máxima is not alone. In the short time that Shapiro was there, he reported that a land rights defender in a nearby town received death threats.
This pattern is playing out across South and Central America, where environmentalists and land rights defenders challenging mining companies and other megaprojects put themselves at risk. The example foremost in conversations at the Saturday reception was 2015 Goldman Prize winner Berta Cáceres, murdered last month apparently for opposing a dam project in Honduras.
Another NGO that has been tracking developments in Peru closely is Earthworks, whose Mining Program Director, Payal Sampat, stated that the award is further proof that this lamentable state of affairs is finally changing. "Mining companies cannot ride roughshod over community wishes—such bad behavior may have been standard operating practice 20 years ago, but is not something that communities will tolerate or that shareholders will turn a blind eye to," she said. "Trampling community wishes comes with consequences to the bottom line."
For evidence, Sampat pointed to the idling of the Conga proposal for years due to the resistance of Acuña de Chaupe and her community and the fact that Newmont appears to have now taken it off their list of current assets, as outlined in a press release her group just released: "The world's second largest gold mining company, Denver-based Newmont's 2016 10-K SEC filing declared: "Under the current social and political environment, the company does not anticipate being able to develop Conga for the foreseeable future." Newmont will hold its annual shareholders' meeting in Delaware on April 20."
While a spokesman for the company, Omar Jabara, countered that that the Goldman Prize "does not have balanced or complete information about the land dispute," despite Newmont losing in court three times, including the country's Supreme Court according to Acuña de Chaupe's lawyer, Mirtha Vasquez, he confirmed the company's recent statement about the project's idle status, which in light of this week's news will probably be a topic of conversation when the company's investors meet again soon.
For her part, Máxima says that she does not know what to expect when she returns to Peru, but that she remains steadfast in her stance and knows the world will be watching. So as the sun set over San Francisco this past weekend, she closed her statements by saying, "I will continue to confront these transnational corporations. I will continue on in my struggle even if it means giving my life."
YOU MIGHT ALSO LIKE
Meet the 2016 Goldman Environmental Prize Winners
300+ Arrested in Mass Civil Disobedience Protests at the Nation's Capitol
Dalai Lama, Archbishop Tutu Among 250 Faith Leaders Urging Immediate Action on Climate Change
Danger, Will Robinson: Oil Industry Knew CO2-Climate Link in '68
This website uses cookies to ensure you get the best experience while browsing it. By clicking 'Got It' you're accepting these terms.


The best of EcoWatch, right in your inbox. Sign up for our email newsletter!
As I write this, corporate interests are holding our democracy hostage. Voter suppression—targeting communities of color, students and low-income Americans—is running rampant, fossil fuel money is warping our electoral process and now, leaders in Congress are even blocking the fair consideration of a Supreme Court nominee.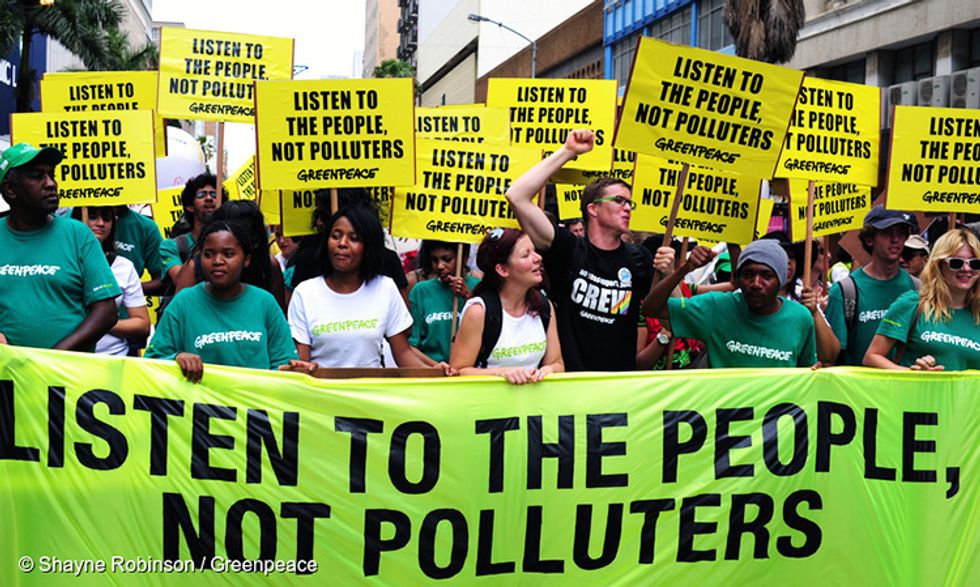 Democracy is one of the best tools we have to protect the environment, but our system has been polluted by big money. We deserve a democracy that represents all of us, not just a wealthy few. A democracy that allows us to take swift action on today's most urgent issues, like stopping runaway climate change and preventing environmental health disasters like the Flint water crisis.
Right now—as we prepare to elect our next president and members of Congress—we have a chance to make it happen.
Democracy Awakening is a movement of thousands working for a system in which everyone can participate and every voice is heard. With your help, it can be a movement of millions.
Here's what we're fighting for.
Restore Voting Rights
Casting our votes one of the most important political cards many of us have to play—and it's been hard won by many seeking enfranchisement. But in this election, the right to vote is more at risk that at any time since the passage of the Voting Rights Act 50 years ago. Thanks to a 2013 Supreme Court ruling, we've seen state after state pass laws that restrict the right to vote, almost all of them targeting low-income groups, people of color and students.
And you better believe that matters for environmental justice.
These groups are by far the most likely to suffer environmental harms—like industrial waste sites in their backyards and lead in their water—and have the fewest means to counteract these injustices. Blocking the right to vote only makes it worse.
Instead of restricting rights, it's time we start knocking down barriers and propping up the right to vote.
Get Money Out
There's a pretty straightforward reason that the same lawmakers standing in the way of a people-powered democracy are the ones denying the science of climate change and blocking environmental action: money. Fossil fuel money, to be exact.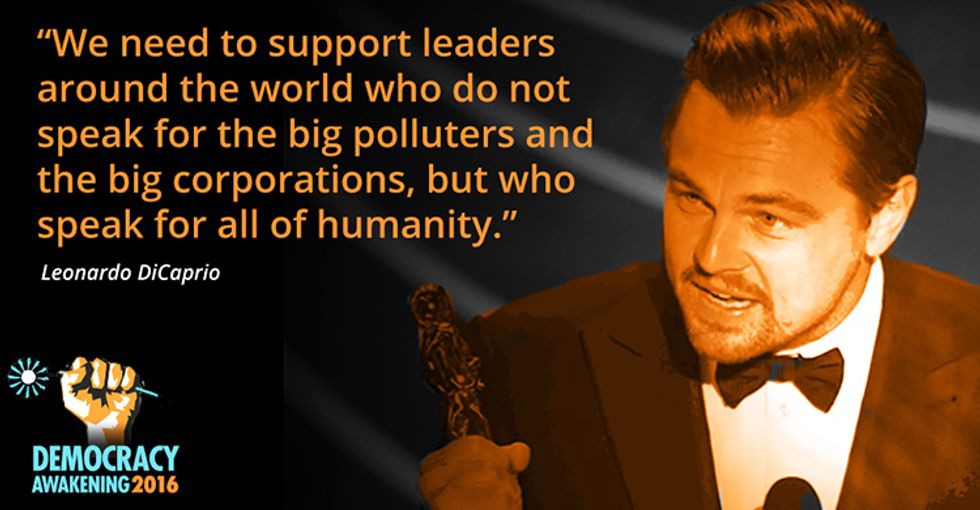 Too many of our politicians are acting in the interests of coal and oil barons instead of the people they're supposed to represent. Texas Senator and GOP presidential candidate Ted Cruz, for example, has taken the most money from fossil fuel lobbyists in this election. He's also one of the most egregious climate deniers in office or maybe even in existence.
There's also a pretty straightforward fix to this issue: get big money out of politics. Campaign finance reform, transparency and overturning Citizens United aren't just solutions for fixing democracy. When it comes to fossil fuel money, they're the stepping stones we need to make real progress on environmental issues.
When It Comes to Democracy, It's About All of Us
Democracy Awakening is not just about the environment. It's about groups from labor, students, racial justice, civil rights and more coming together as a united pro-democracy movement. Because if we're going to make our democracy work for all of us and win on the issues that matter most, we need as many voices as possible on our side.
That's why I'm confident we'll succeed. Together, we can build a democracy in which money doesn't buy access to power and where everyone has an equal say in our shared future.
With every person that joins us, we're that much closer to awakening a democracy that works for us—not corporate powers. Join the Democracy Awakening movement today!
YOU MIGHT ALSO LIKE
Worldwide Shift to Renewable Energy Played 'Critical Role' in Stalling Carbon Emissions
Indigenous Activist Murdered in Honduras Just Two Weeks After Berta Cáceres Was Killed
What Garland's Supreme Court Nomination Could Mean for the Climate
Ice Shelf Twice the Size of Manhattan Is About to Break Off From Antarctica