Cali Nurseries/Facebook
An ornamental plant farm in Barranquitas, Puerto Rico that was wrecked by Hurricane Maria is slowly rebuilding thanks to solar panels that power the 40-acre nursery.
Cali Nurseries grower Hector Santiago told Reuters that his $300,000 investment on 244 solar panels six years ago has allowed him to continue working.
Meanwhile, only 5.4 percent of citizens on the U.S. territory have electricity after the Category 4 storm destroyed the island's electricity grid, the Department of Defense said Wednesday.
"Everybody told me I was crazy because it was so expensive. Now I have power and they don't," Santiago explained.
He added to Reuters that 25 percent of the panels were damaged by flying debris but the remaining panels were enough to power the facility and water pumping from his two wells.
The nursery also did not "have to worry about trees falling on the power lines" during the Sept. 20 hurricane, he pointed out.
Santiago, who sells his flowers at places like Costco in the Caribbean, told ABC News last week that he was determined to rebuild and get back into business despite estimated losses of $1.5 million.
Officials estimate that some areas of the Puerto Rico, which is almost entirely powered by fossil fuels, will not see their electricity restored for months.
At the same time, energy experts and business leaders have discussed the potential of renewables and building microgrids to help the hurricane-ravaged Caribbean restore power in the interim and the future.
As Bloomberg reported:
"Growing demand for more resilient power supplies will spur $22.3 billion of global investment in battery-backed local energy systems over the next decade, according to Navigant Research.
Villages and homes in far-flung places will drive the expansion of microgrids, small-scale solar systems with batteries that can retain power until it's needed. Navigant expects 14.9 gigawatts to be in operation in 2026, up from 238 megawatts this year, according to a report Tuesday."
Last week, Tesla made headlines after sending "hundreds" of its Powerwall battery packs to be paired with solar panels to Puerto Rico ever since the storm cleared.
Virgin Group's Richard Branson, who faced two damaging hurricanes in a row from his home in the British Virgin Islands, has met with government representatives from Britain and the U.S. to set up a green fund to rebuild the Caribbean.
"As part of that fund we want to make sure that the Caribbean moves from dirty energy to clean energy," Branson told Thomson Reuters Foundation.
EcoWatch Daily Newsletter
www.youtube.com
Tesla is sending its Powerwall system to Puerto Rico as the island deals with widespread power loss in the wake of Hurricane Maria.
According to Electrek, the company has been quietly shipping hundreds of battery packs to be paired with solar panels to Puerto Rico ever since the storm cleared.
Fortune reported that Tesla employees are currently on the U.S. territory installing the batteries and repairing solar systems, as well as coordinating efforts with local organizations.
Much of the island's 3.4 million American citizens are currently without power and disconnected from modes of communication. Officials estimate that some areas will not see their power restored for months. As Climate Nexus pointed out, "the future of the island's bankrupt and corrupt utility and its fossil-fuel-heavy colonial legacy are now top of mind as experts and officials begin to tackle the best way to restore power and rebuild the island's power grid."
While there is still a long way to go rebuild, Tesla's batteries will help enable the island's generation of clean and renewable solar energy in the interim and in the future.
The company previously made headlines for helping Model S and Model X owners in Florida escape Hurricane Irma by extending the battery range of its cars.
Tesla CEO Elon Musk has also personally donated $250,000 to the relief effort, Electrek noted.
A number of companies and business leaders have contributed to hurricane relief efforts. Fellow billionaire mogul Richard Branson, who faced two damaging hurricanes in a row from his home in the British Virgin Islands, has met with government representatives from Britain and the U.S. to set up a green fund to rebuild the hurricane-wrecked Caribbean.
"As part of that fund we want to make sure that the Caribbean moves from dirty energy to clean energy," Branson also told Thomson Reuters Foundation.
"If all that money could be invested in clean energy, in powering the world by the sun and by the wind, where we won't have to suffer these awful events in the future, how much better than having to patch up people's houses after they've been destroyed?" the Virgin Group founder said.
Medically reviewed by Anna H. Chacon, M.D.
Reviews
fizkes / iStock / Getty Images
From eating foods for healthy skin to switching up your morning and routines, taking care of the largest organ in the body can get overwhelming. Recently, vitamin C has grown in popularity in the skincare world — but do the best vitamin C serums live up to the hype?
Vitamin C is not only an essential supplement for your immune system and overall health, but it's also a great skincare ingredient that can help limit inflammation, brighten skin, dull fine lines and wrinkles, fight free radicals, and reduce discoloration and dark spots.
Adding vitamin C to your skincare routine seems like a no-brainer, but before you start shopping for a serum, it's important to be aware that vitamin C is an unstable ingredient. Dermatologists say it's important to find legit and properly formulated vitamin C serums to capitalize on the benefits of the antioxidant. In this article, we'll help you find the right dermatologist-approved vitamin C serum to add to your routine.
Our Picks for the Best Vitamin C Serums of 2021
Each product featured here has been independently selected by the writer. You can learn more about our review methodology here. If you make a purchase using the links included, we may earn commission.
Skincare Benefits of Vitamin C
Also known as ascorbic acid or L-ascorbic acid, vitamin C is an antioxidant that is present in the formation of collagen and that protects against aging, according to Dr. Anna Chacon, a board-certified dermatologist with MyPsoriasisTeam. A vitamin C serum may be a solid addition to your skincare routine because it has a great safety profile, and it's safe for most skin types.
"Vitamin C serum restores and neutralizes environmental stressors that accelerate signs of aging and can be used morning and evening," Dr. Chacon says. However, she warns, "it does not come with sun protection, so additional use of sunscreen is recommended."
As an antioxidant, vitamin C protects skin cells from being damaged by free radicals from things like UV exposure, vehicle exhaust and cigarette smoke. It also hampers melanin production, which can help to lighten hyperpigmentation and brown spots and even out your skin tone.
6 Best Vitamin C Serums
Based on dermatologist recommendations and our market research, the following products are the best vitamin C serums available today.
FAQ: Best Vitamin C Serums
What vitamin C serum is the most effective?
Our top recommended vitamin C serum is the ZO Skin Health 10% Vitamin C Self-Activating serum. It is a dermatologist-approved antioxidant powerhouse, yet it is gentle, non-irritating and leaves you with glowing skin.
Should you use vitamin C serum every day?
Dermatologists recommend using vitamin C serum either every day or every other day. After you cleanse and tone your face, use your vitamin c product before applying moisturizer and reef-safe sunscreen with at least SPF 30.
Does vitamin C serum really work?
According to dermatologists, the best vitamin C serums work to protect against skin aging. However, if you do not purchase a doctor-recommended product, you run the risk of wasting your money on a low-concentration serum that won't give you any benefits.
What are the drawbacks of vitamin C serums?
Many vitamin C serums on the market, especially cheaper products, have nearly immeasurable concentrations of antioxidants, which makes them ineffective. Additionally, as with any skincare product, some individuals may have reactions to vitamin C serums including itchiness and redness.
Anna H. Chacon, M.D. is a dermatologist and author originally from Miami, Florida. She has authored over a dozen peer-reviewed articles, book chapters and has been published in JAAD, Archives of Dermatology, British Journal of Dermatology, Cosmetic Dermatology and Cutis.
www.youtube.com
By Andrew Amelinckx
Lab-grown meat goes by many names—clean meat, cultured protein, animal-free meat, and so on—and all the various producers, of which there are eight around the world, use the same basic premise. At its most elementary, the process involves taking stem cells from a living animal, say, a chicken, then feeding those cells various nutrients until enough tissue is produced for the desired outcome: a burger, fried chicken or duck a l'orange.

According to boosters of this technology, there are fewer environmental problems with clean meat than the traditional method of raising and slaughtering animals. Producing meat without actually growing and feeding an animal requires fewer resources—a tenth of the land and water, and less than half of the energy conventional meat needs, according to Uma Valeti, the CEO of Memphis Meats, whom Modern Farmer interviewed earlier this year.
This seems to be China's main reason for their interest. The Chinese government has been steadily trying to reduce greenhouse gas emissions, especially in the face of a growing middle class that's consuming more meat. According to the United Nations' Food and Agriculture Organization, about 14.5 percent of all greenhouse gasses comes from the livestock sector. Among China's efforts was a recent move to implement more sustainable agricultural practices, like organic growing methods.
"The Chinese market for meat is still growing while fighting climate change, pollution and food safety issues are high on the agenda of the Chinese leadership," Peter Verstrate, CEO of the Dutch company Mosa Meat, told Modern Farmer. "There's no better way to combine the two than by developing and scaling clean meat."
Mosa Meat was born in the lab of Mark Post of Maastricht University in the Netherlands, where the first clean hamburger (their nomenclature of choice? "tissue-cultured" meat) debuted in 2013. Verstrate's company wouldn't see any direct advantages from the China-Israel deal nonetheless sees it as a positive. The Chinese investment in clean tech, including clean meat, is "even more validation of the fact that this is a field worth exploring and developing," he says.
The biggest winners from the deal will likely be the three Israeli clean meat companies, SuperMeat, Meat the Future, and Future Meat Technologies, since it would allow them to break into the potentially lucrative Chinese market. Shir Friedman, co-founder and CCO of SuperMeat said the company's "very excited to see the global and mutual interest in clean technology."
Bruce Friedrich, head of the The Good Food Institute, a Washington, DC-based nonprofit that lobbies on behalf of the alternative meat industry, called China's interest in clean meat "a colossal market opportunity" for everyone involved in the burgeoning field. "This could put [lab-grown] meat onto the radar of Chinese officials who have the capacity to steer billions of dollars into this technology," Friedrich recently told Quartz.
China isn't alone in their interest in clean meat. Billionaires Bill Gates and Richard Branson, and the agricultural giant Cargill, have all this year invested in the Bay Area startup Memphis Meats as part of their $17 million Series A funding round. "Something similar might happen in Europe too," said Verstrate.
All these clean meat startups, which are mostly based in Silicon Valley and Israel, are vying to be the first to get their products to market, whether it be beef, chicken, pork or duck. (Some, like Memphis Meats, have done prototypes, but there's not yet a product you can buy at your local grocery store.)
The problem is how to scale in a way that gets lab-grown meat to a reasonable price point, and production costs are coming down quickly. Back in 2013, it cost a whopping $330,000 to produce the first patty-sized hunk of lab-grown beef. At the time, Post said he believed lab-grown meat wouldn't be in grocery stores for another 10 to 20 years. But now, the price of producing that size burger is already down to $11.36. Quite a difference.
"The biggest impediment in moving clean meat forward is mass production and scale," says SuperMeat's Friedman, whose company hopes to reach the market in about five years.
Four to five years seems to be the general goal to get lab-meat on retail shelves, although Mosa Meat is aiming for a "small scale and premium market introduction" in two to three years, according to Verstrate. From there they would "continue to improve and scale the product" and be ready for a full rollout "a few years" later.
Reposted with permission from our media associate Modern Farmer.
Professor Stephen Hawking could one day realize his dream of space travel thanks to Virgin founder and space-enthusiast Richard Branson.
"I have already completed a zero gravity flight which allowed me to float weightless, but my ultimate ambition is to fly into space," Hawking told host Piers Morgan of "Good Morning Britain" on Monday. "I thought no one would take me but Richard Branson has offered me a seat on Virgin Galactic and I said yes immediately."
Branson's spaceflight company aims to provide suborbital spaceflights to space tourists. However, the venture has faced a number of delays, including a fatal explosion in 2007 during a ground test and test flight crash in 2014. (Might I suggest that if Branson cannot offer the stars to Hawking, maybe Elon Musk's SpaceX can?)
"My three children have brought me great joy—and I can tell you what will make me happy, to travel in space," Hawking said.
FULL INTERVIEW: Prof Stephen Hawking on Trump, climate change, feminism, Brexit, robots, space travel & Marilyn. https://t.co/sSQamLgrae

— Piers Morgan (@Piers Morgan)1490013444.0
The 75-year-old theoretical physicist and cosmologist was diagnosed with amyotrophic lateral sclerosis lateral sclerosis (ALS) when he was 21.
Hawking actually wrote about Branson's offer in a 2016 article published in the Guardian:
"I believe in the possibility of commercial space travel—for exploration and for the preservation of humanity. I believe that life on Earth is at an ever-increasing risk of being wiped out by a disaster, such as a sudden nuclear war, a genetically engineered virus, or other dangers. I think the human race has no future if it doesn't go to space. We need to inspire the next generation to become engaged in space and in science in general, to ask questions: What will we find when we go to space? Is there alien life, or are we alone? What will a sunset on Mars look like?"
Also in the interview, Hawking discussed President Donald Trump and climate change.
Stephen Hawking: One Thing Threatens Us More Than Donald Trump ... Climate Change https://t.co/SDpsKZL3MH @tcktcktck @globalgreen

— EcoWatch (@EcoWatch)1464732310.0
The renowned scientist said that Trump's promise of the controversial border wall and the sanctioning of the Keystone XL and Dakota Access pipelines are designed to "satisfy [Trump's] electorate, who are neither liberal nor that well-informed."

Not only that, Hawking said that Trump should replace Scott Pruitt as the head of the U.S. Environment Protection Agency because he is "a man who does not believe that carbon dioxide causes climate change."
"Climate change is one of the great dangers we face, and it's one we can prevent," Hawking said. "It affects America badly, so tackling it should win votes for [Trump's] second term—God forbid."
EPA Chief Denies CO2 as Primary Driver of Climate Change https://t.co/gHj2KJDrQm @tcktcktck @OneWorld_News

— EcoWatch (@EcoWatch)1489186508.0
Hawking commented that the current administration's seemingly anti-science agenda has made him feel unwelcome.
"I have many friends and colleagues [in the U.S.] and it is still a place I like and admire in many ways," he said, "but I fear that I may not be welcome."
Hawking has said similar remarks before. He called then-candidate Trump a "demagogue, who seems to appeal to the lowest common denominator."
And during a lecture last year, he predicted that humanity has only 1,000 years left on Earth and we must find another planet to live on.
"[W]e must ... continue to go into space for the future of humanity," professor Hawking said. "I don't think we will survive another 1,000 years without escaping beyond our fragile planet."
Scalloped hammerhead shark. Kevin Lino / NOAA / Flickr
On his trip to Asia, President Trump ate shark fin soup in Vietnam. While this meal is considered a status symbol, delicacy and a sign of wealth in Asian culture (it can sell for over $100 a serving in restaurants), the continued consumption of shark fin soup has a devastating effect on shark populations around the world.
Shark fin soup is believed by some to have medicinal healing properties and its proponents view its consumption as a cultural right. Sharks rely heavily on international and regional treaties for protections and management measures, and in some countries domestic regulations have been adopted.

Sharks are amazing ocean predators, and they're some of the most powerful creatures in the sea. But 25 percent of shark species are currently listed as endangered, threatened or near threatened by extinction. Because sharks are generally slow to reproduce, the constant onslaught of threats that include shark finning, bycatch and threats to the ocean ecosystem are causing a severe decline in populations that are already hard to monitor.
While it is impossible to know how many sharks are killed yearly due to illegal and unrecorded catch, it is estimated that up to 73 million sharks are killed annually by "finning" alone—a brutal practice that involves cutting off a shark's fins, usually while it is still alive, and throwing the body back overboard where it bleeds to death, drowns or is eaten. This is clearly a cruel practice, and the fact that millions of sharks are being killed is also a main issue for wildlife conservation.

The U.S., overall a low market for shark fin soup compared to countries in Asia, still has some ways to go before it is completely removed from the shark fin trade. Especially when the president dines on shark fin soup and previously served it at his failed Trump Taj Mahal casino in Atlantic City, New Jersey. In response to someone saying they would not visit the restaurant until shark fin soup was removed from the menu, Trump tweeted:
Sharks are last on my list - other than perhaps the losers and haters of the World!

— Donald J. Trump (@Donald J. Trump)1372948130.0
In 2000, the Shark Finning Prohibition Act was signed into law by President Bill Clinton. It banned the possession on U.S. ships of shark fins without the carcass and made it illegal to partake in shark finning within the U.S. Exclusive Economic Zone.
In 2007, after five years of working with Mexico's government, Defenders of Wildlife helped pass legislation that outlawed shark finning in Mexico's waters.
In 2010, President Barack Obama signed into law the Shark Conservation Act of 2010, which forbade the purchase of shark fins from other vessels, to close a loophole in the Shark Finning Prohibition Act.
In 2011, Defenders of Wildlife, along with a coalition of 12 other environmental organizations, began a campaign to pass a law banning the possession, trade, sale and distribution of shark fins in California. As a result of these efforts, on Oct. 7, 2011, Governor Jerry Brown signed AB376 into law.
In June 2016, Congress introduced the bipartisan Shark Fin Trade Elimination Act. The bill would ban the buying and selling of shark fins in the U.S. altogether and impose fines of up to $100,000 for participating in the shark fin trade.
Just last month at the Conference of the Parties to the Conference of Migratory Species of Wild Animals in Manila, Philippines, Defenders of Wildlife successfully advocated for six species of sharks to gain international collaboration for conservation—the whale shark, dusky shark, blue shark, angelshark, guitarfish and white spotted wedgefish. This week, Defenders of Wildlife is at the International Commission for the Conservation of Atlantic Tunas in Marrakesh, Morocco, where we are advocating for fins attached to sharks as well as promoting prohibition of retention measures for mako sharks that are severely overfished.
In order to stop shark finning, we must work to reduce the demand for the fins—which means publicly denouncing the practice and showing support for conservation efforts. Former NBA star Yao Ming has led the charge to gain visibility for this issue along with Leonardo DiCaprio, Jackie Chan, Rosario Dawson, Edward Norton, James Cameron, Richard Branson and Jackson Browne. Chefs Wolfgang Puck, Mario Batali, Gordon Ramsey and others have pledged never to serve shark fin soup in their restaurants.
And yet President Trump imprudently, obtusely and very publicly dines on a dish causing appalling harm to our already fragile ocean ecosystem.
As President-elect Donald Trump's climate-skeptic/pro-fossil fuels cabinet takes shape, Microsoft co-founder Bill Gates, Amazon chief Jeff Bezos, Alibaba founder Jack Ma and other very wealthy and very influential individuals have launched a $1 billion fund dedicated to clean energy innovation.

Launching $1 billion investment fund for next generation energy technologies https://t.co/eWGZrcflaZ @btenergy… https://t.co/2ktjMKByvG

— Richard Branson (@Richard Branson)1481555720.0
"Our goal is to build companies that will help deliver the next generation of reliable, affordable and emissions-free energy to the world," Gates said in a statement.
The Breakthrough Energy Ventures Fund (BEV) will focus on five key areas that are the biggest contributors to global greenhouse gas emissions: electricity, transportation, agriculture, manufacturing and buildings.
"Anything that leads to cheap, clean, reliable energy we're open-minded to," Gates, who serves as BEV chairman, told Quartz.
I discuss with @qz a major announcement for @btenergy and our vision for the future... https://t.co/VJMZypx0X3

— Bill Gates (@Bill Gates)1481504460.0
The fund, which has a 20-year duration, seeks to answer some of the most pressing questions facing our warming planet:

How can we deliver reliable, affordable zero-carbon electricity to the world?
How can we get around our communities and the world without emitting carbon?
How can we feed the planet without contributing to climate change?
How can we make everything we use without emitting greenhouse gases?
How can we eliminate emissions from our homes, offices, hospitals, and schools?
Gates and his BEV co-directors—Alibaba's Ma, Reliance Industries chairman Mukesh Ambani, venture capitalists John Doerr and Vinod Khosla, former energy hedge fund manager John Arnold and SAP cofounder Hasso Plattner—have a combined net worth of nearly $170 billion, according to estimates from Bloomberg and Forbes.
"Too often, we let what we think we know limit what is possible," Ma said in a statement. "When it comes to energy, people say you cannot make money, meet demand and also benefit the environment. But we can and we will."
Other BEV investors are some of the world's richest and most powerful, such as Richard Branson of Virgin Group Ltd., billionaire natural gas trader John Arnold, Prince Alwaleed Bin Talal of Kingdom Holding, Ray Dalio of Bridgewater Associates, Patrice Motsepe of African Rainbow Minerals, Xavier Niel of Iliad Group, Masayoshi Son of SoftBank, and Zhang Xin and Pan Shiyi of SOHO China.
"The launch of the fund, a year after the signing of the Paris Climate Agreement, comes at an important time as we try to accelerate the uptake of clean energy throughout the world," Virgin's Branson wrote in a company blog post. "The sustainable energy revolution is well underway, but we need new tools and solutions to help us reduce our carbon output and continue moving in the right direction."
"Breakthrough Energy Ventures is a wonderful way to expand this effort," Branson added.
Quartz writes that the BEV will likely expand its war chest as more like-minded backers hop onboard:
"The fund, which won't charge investors management fees beyond its operating costs, will likely start with a temporary office in the heart of the US venture capital industry on Sand Hill Road in Menlo Park, California. It's expected that the size of the initial fund will increase, with more investors coming on board, and it's possible that Breakthrough Energy Ventures eventually launches additional funds."
BEV will likely focus on energy storage technology for the first wave of investments, since improvements in renewable energy storage, such as batteries, expedite a transition to sustainable energy.
Gates first announced his intention to launch the fund at the Paris climate talks last year. The world's richest man and renowned philanthropist told Quartz that he is surprised that clean-energy innovation is not often mentioned as an option to fight climate change.
"All of that takes place just as a normal market mechanism as you replace energy sources with other ways to do it," Gates explained.
This week, a group of top tech executives from Alphabet, Amazon, Apple, Facebook, Microsoft and more will reportedly meet with the president-elect at the so-called " tech summit."
"The dialogue with the new administration as it comes in about how they see energy research will be important," Gates told Quartz. "The general idea that research is a good deal fortunately is not a partisan thing."
Watch Gates talk about the importance of energy innovation and investment here:
In legal tiger farms across China, some 6,000 caged cats are kept in filthy conditions and will be killed for dubious medicinal uses and as home decor for the country's newly-rich elite. The sordid business is mostly legal, but hides behind carefully-worded agreements and pretensions of conservation. The issue is expected to be addressed at this week's Convention on International Trade in Endangered Species (CITES) meeting in Johannesburg.
Tiger breeding cages at Guilin Tiger Farm in China.Belinda Wright / Wildlife Protection Society of India
It is estimated that 60 percent of China's 1.4 billion people use so-called traditional medicines made from tiger bones, rhinoceros horn, bear gall bladder and other exotic animal parts. As China has grown in recent decades, creating a larger middle class and many newly rich entrepreneurs, demand for tiger parts has grown.
[email protected]

Speaks Out Against #Rhino Horn Trade https://t.co/wBuIuaGk7q @WildAid @Virgin @WWF @pamfoundation https://t.co/xNvkSkjS6u

— EcoWatch (@EcoWatch)1452804120.0
"The use of endangered tiger products and their medicines is seen as a symbol of high status and wealth," states Tigers in Crisis.
China signed on to CITES, but maintains about 200 tiger farms, where tigers are bred to serve this growing market. Claiming that these tiger parts are for domestic consumption, and therefore not subject to the treaty on international trade, China also defends the tiger farms as a captive breeding program that actually helps the species.
However, in 1993, China banned trading in tiger bone, and a 1988 wildlife law that purports to protect endangered species sets forth a policy of "actively domesticating and breeding the species of wildlife."
"What we didn't understand until very recently is that ban in 1993 did not supersede China's wildlife protection law, which was crafted in the 1980s and actually mandates the farming and consumption of tigers and other endangered species," author and wildlife activist Judith Mills told Yale Environment 360 in an interview last year.
Small pens house tigers.Environmental Investigation Agency
Among the luxury products made from these farmed animals is tiger bone wine, which can sell for $257 per 500 ml (about 17 ounces). But almost every part of the tiger is alleged to have some medical use: the brain, whiskers, eyeballs, nose, penis, tail and feet. Tiger skins and whole stuffed tigers are a status symbol in wealthy Chinese homes.

Far from saving the species, tiger farms promote demand for these body parts that makes poaching wild tigers even more lucrative.
"The problem with tiger farming is that it stimulates demand for tiger products, which stimulates poaching of wild tigers because products from wild tigers are considered superior, more prestigious and they're exponentially more valuable," Mills said.
The World Wildlife Federation (WWF) counts the number of tigers in the wild at 3,890.
Historic and current range of tigers in Asia.World Wildlife Federation
A February 2013 report by the Environmental Investigation Agency concludes that "wild Asian cats are being poached to supply the market demand stimulated by China's legal domestic trade in skins of captive-bred tigers at a time when the international community has agreed that demand reduction is essential to save wild tigers."
The report also notes that tiger farming and trade has spread to other Southeast Asia countries including Thailand, Laos and Vietnam. Recently, Laos announced its intention to phase out tiger farms.
In July, the Environmental Investigation Agency called on CITES to adopt concrete measures to end tiger farms. Even if adopted, it remains to be seen if China will abide by the regulations or find another loophole. The Guardian reports that a farm in northeast China is cross-breeding tigers with lions, thus creating a "liger" that the Chinese say is not covered by its own 1993 law.

A shark fin worker dries shark fins on the street in Hong Kong. Photo credit: Gary Stokes / Sea Shepherd Global
Despite a worldwide ban on the transportation of shark fins by major shipping carriers, a three-month investigation by Sea Shepherd Global—as part of their global shark defense campaign Operation Apex Harmony—has verified that large shipments of shark fin are still arriving in Hong Kong on airlines and shipping lines that have made "No Shark Fin" carriage ban commitments.
Sharks are in big trouble around the world, with some populations crashing by more than 90 percent. Some species, such as the hammerhead shark, are facing a very real threat of extinction.
A growing consortium of major shipping lines, airlines and non-governmental organization's met with senior members of Hong Kong Customs and Excise Department and Hong Kong Agriculture, Fisheries and Conservation Department last Friday to brief them on the Sea Shepherd Global investigation findings and discuss matters relating to wildlife crime. Top of the agenda was how to prevent products from the Convention on International Trade in Endangered Species—listed endangered species from being unknowingly shipped. These included many types of vulnerable and endangered shark fin found in the Hong Kong shark fin trade, such as hammerhead shark and oceanic whitetip shark.
[email protected]

Is Not an Enemy of #Sharks by @CaptPaulWatson https://t.co/JQ8a5PWE1D @seashepherd @RichardBranson @acousteau @Surfrider @NRDC

— EcoWatch (@EcoWatch)1488235966.0
A History of the Shark Fin Transport Bans

Since 2010, international wildlife conservation groups have been focusing on the shark fin supply chain by lobbying both airlines and shipping lines to ban the transport of shark fins and shark products. Yet the laundering of fins taken from illegal species of sharks inside consignments of fins from legal yet unsustainably-fished shark species is still rife. To their credit, Maersk, the world's largest shipping line, led the way as the first company to implement a worldwide ban on shark fin carriage in 2010, with 16 of the world's leading container shipping lines soon following their example.
"Maersk Line is committed to enforcing our policy not to carry sharks fin products on our ships. It is frustrating that some traders seemingly mis-declare the cargo they intend to ship with us in order to try to get around the restrictions we have put in place. However, we are grateful to Sea Shepherd for their investigative work to highlight this problem and we are working with Sea Shepherd and other NGOs as well as with HK Customs and other stakeholders to tighten our procedures to ensure the ban we place on carriage of shark fin is effective in the future," said Tim Smith, chairman and chief representative of the North Asia region, Maersk.
A shark fin worker unloading one of the 45 foot Maersk containers in Sheung Wan, Hong Kong.Gary Stokes / Sea Shepherd Global
Around 92 percent of shark fins entering Hong Kong arrive via sea freight, while the remaining 8 percent arrive via air cargo. Having worked with a number of locally and internationally respected conservation specialists since 2010, the Hong Kong-based carrier Cathay Pacific became the first airline to place an initial ban on un-sustainable shark and shark products, including shark's fin, in September 2012, extending to a full ban on shark's fin in June 2016.

"As a signatory to the United for Wildlife Transport Taskforce Buckingham Palace Declaration, Cathay Pacific is committed to not knowingly facilitate or tolerate the carriage of illegal wildlife products. This is an important initiative by Sea Shepherd and we will support it as much as we can to close out any loopholes that affect the effectiveness of our embargo policies," said Evelyn Chan, head of Environmental Affairs at Cathay Pacific Airways.
The airlines campaign was led by Alex Hofford, now of WildAid Hong Kong and supported by around 30 global marine conservation and animal welfare groups, including Sea Shepherd and the World Wildlife Fund.
Evidence the Ban Hasn't Been Working
As with most environmental issues, the first challenge is to change the rules. But the second and much harder challenge is to enforce those rules. Despite recent media claims that the trade is down overall, Sea Shepherd Global began its investigation after seeing evidence of large shipments of shark fins arriving in Hong Kong's Sheung Wan district. "The months leading up to Chinese New Year are always the busiest months for the shark fin traders as they seek to fulfill the demand of the mainland Chinese market during the festive holiday," said Gary Stokes, Sea Shepherd Global's South East Asia director.
Unloading a delivery of shark fins that were carried unknowingly by Maersk who have a "No Shark Fin Ban."Gary Stokes / Sea Shepherd Global

The three-month long investigation documented large shipments arriving by carriers who have pledged to ban the transport of shark fins, including two 45-foot containers full of shark fins from the Middle East which arrived in Maersk containers. An airfreight shipment on Virgin Australia Cargo and Cathay Pacific which had been falsely declared as "fish products" was not identified by customs. The exporter who attempted to transport these goods has now been blacklisted by Virgin Australia Cargo which has a ban on the transportation of shark fins. The problem that companies such as Virgin, Maersk and Cathay Pacific are now facing is that shark fin traders are abusing the system by fraudulently mis-declaring and mis-labeling shark fin under generic categories such as "seafood," "dried seafood," "dried goods" or "dried marine products" to avoid detection.

"It's so sad what the team at Sea Shepherd has managed to discover. Thousands and thousands of sharks slaughtered just for their fins to be turned into bowls of soup. For those people who have knowingly participated they need to hang their heads in shame. For Sea Shepherd and the team led by Gary Stokes, they need to be congratulated for exposing this foul and sometimes illegal trade," said Richard Branson, founder of Virgin Group.
"Well over thirty airlines and just under twenty container shipping lines now operate No Shark Fin cargo bans. Yet some airlines, such and Japan Airlines and All Nippon Airlines, are resisting industry best practice and are still propping up the crime-ridden shark fin trade. WildAid is calling on all passenger airlines, cargo airlines, container shipping lines as well as express parcel carriers such as FedEx and TNT, to act sustainably, ethically—and above all legally—by ruling out dirty shark fin shipments from their cargo holds," said Alex Hofford, of WildAid.
Working Together to Close the Loopholes
Presented with the evidence, Maersk, Cathay Pacific and Virgin are now working in close collaboration with Sea Shepherd Global and WildAid to close all remaining loopholes being exploited by the shark fin trade. "A full review is being undertaken of their booking procedures and alert mechanisms to help them enforce their bans," said Stokes.
Inside a shark fin warehouse in Hong Kong with a large shipment of sharks fins.Gary Stokes / Sea Shepherd Global
All international trade is monitored and facilitated by the World Customs Organization, which maintains a detailed list of Harmonized Shipping Codes (HS Codes). These are 6-digit codes (HK goes one step further by increasing to 8-digits) which can show, at a granular level, the exact contents of a cargo shipment. However HS Codes are right now only being used to track import/export data exclusively for statistical reasons, with trade declarations only being filed after a shipment has arrived. Sea Shepherd Global and WildAid are calling for the switching of Hong Kong's trade documentation filing requirement to be switched from post-shipment to pre-shipment. With the availability of pre-shipment information, Hong Kong Customs and Excise Department will be able to carry out more effective risk-profiling and hence more targeted enforcement work. Mandatory filing of full HS codes prior to port arrival would ensure that airlines and shipping lines can be more certain of the exact contents of cargo shipments. Such a system is already in place in the U.S. as an effective counter-terrorism measure. Spain also operates similar, more stringent, shipping procedures that can give customs the edge over the agile transnational wildlife crime syndicates. The Hong Kong government is also calling on the public and the business sector to support the availability of pre-shipment information to align with international mainstream and best customs practices, yet is facing stiff resistance from the trade.

Sea Shepherd Global has launched a full in-depth investigation into the global shark fin trade and its supply routes to provide a clearer picture to shipping companies for them to best tackle and enforce their commitments to environmentally sustainable shipping policies.
By Richard Branson, Virgin.com
In recent years, few species have faced a greater threat from poaching and the illegal wildlife trade than the magnificent rhino. After wild populations in Africa enjoyed a few years of relative safety, the number of animals brutally murdered for their horns has increased dramatically lately. In 2014, more than 1,200 rhinos were killed in South Africa alone. First estimates for 2015 don't look much better.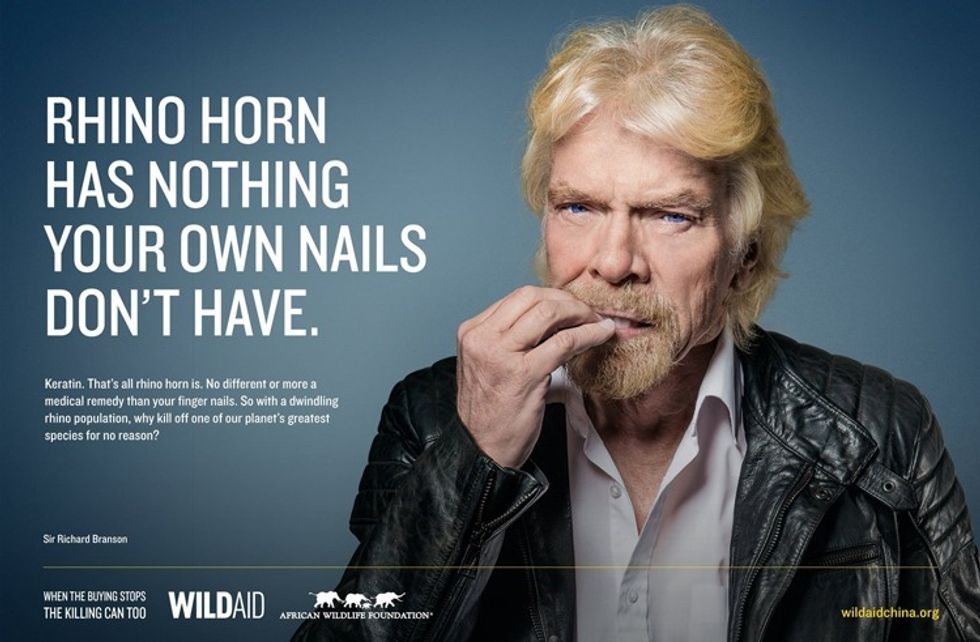 Most of this spike in wildlife crime is driven by increased consumer demand in China and Vietnam, where rhino horn is used primarily as a remedy for all sorts of ailments, even though it has long been shown that it doesn't have any medicinal properties whatsoever. It's a sad story of superstition and misinformation on one end of the chain that is responsible for mass slaughter and suffering on the other.
I've long argued that the illegal wildlife trade must be addressed along the entire supply chain. Strengthening the capabilities of those brave rangers fighting what looks like a losing battle in many of Africa's national parks is part of the solution, and it has to go hand in hand with better governance, greater accountability, and more effective law enforcement. Yet, supply reduction can only work when we tackle demand at the same time. In other words: only when the buying stops, the killing can, too.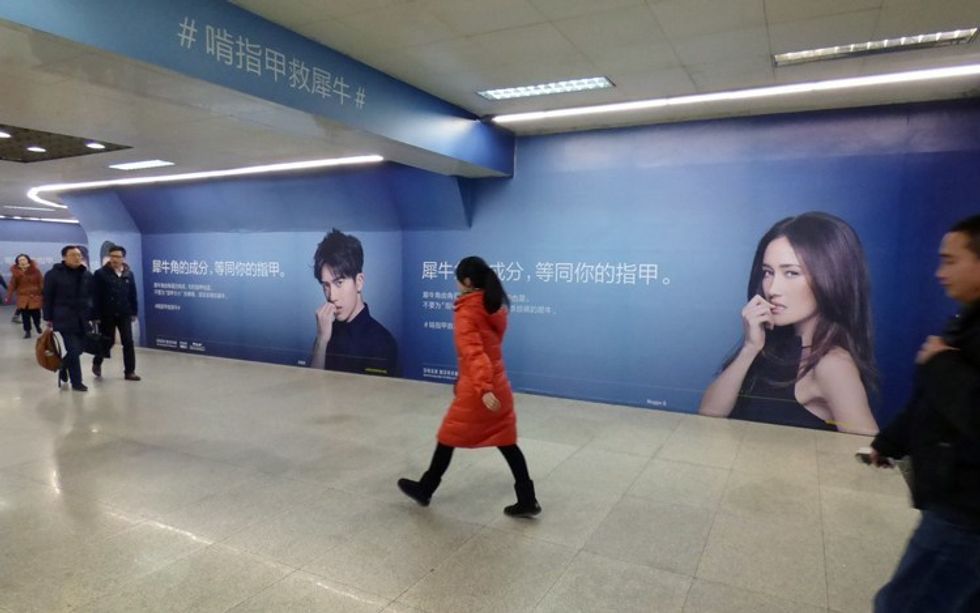 This is one of the reasons I went to visit Vietnam in September last year and met with local business leaders and other stakeholders. Our conversations about wildlife and the role of Vietnamese business in ending this madness were productive and fruitful. Over dinner, several dozen business leaders pledged to start a movement to end the use of rhino horn once and for all.
It's an uphill battle, for sure. But thankfully, people are beginning to understand that rhino horn is in essence nothing more than keratin, the same substance that human hair and nails are made from.
To illustrate the point, I joined forces with actress Maggie Q and a few others to support a new campaign by WildAid. Starting this week, you will see yours truly biting my finger nails on billboards all across East Asia. It's perhaps not the most flattering photo shoot I've ever participated in, but it certainly drives home the message: In other words, if you think that rhino horn is a magical substance that can cure disease, you may as well be chewing your toe nails.
Head over to www.wildaid.org to learn more about rhino horn the campaign to end its use.
Update: Great news from Hong Kong as the government has signaled the end to the domestic ivory trade. Congratulations to Hong Kong for their example to the rest of the world.
YOU MIGHT ALSO LIKE
Huge Victory for Elephants: Hong Kong Bans Ivory Trade
Elon Musk's Tesla Launches All-Vegan Car
Outraged Republican Senator Vows to Block Appointment of FDA Commissioner Over GMO Salmon
Federal Lawsuit Filed Over North Carolina Anti-Whistleblower Law
BlueOrigin.com
"Our vision is millions of people living and working in space and New Glenn is a very important step," said Jeff Bezos, unveiling this week his space travel company Blue Origin's giant rocket named after Astronaut John Glenn.
Of course there is also billionaire entrepreneur extraordinaire Elon Musk's SpaceX, Richard Branson's Virgin Galactic and Paul Allen's Vulcan Aerospace. Dream big, that's the spirit! The final frontier with limitless possibilities. Our boys and their toys. Great fun!
World's First Private Company Gets Approval to Land on the #Moon https://t.co/bCRNBHxzZW @MoonEx @elonmusk @BillNye #SpaceX

— EcoWatch (@EcoWatch)1470322541.0
Most of us sail at a lower orbit of course. Our games, our striving and exploration, our fun, takes place a little closer to Earth. My soul is nourished near and on the sea, so boats are my toys of choice. In my middle age, I have largely traded the competitive sailboat racing of my youth for a desire to "mess around" in relatively small, wooden boats in particular—sail and power—luxuriating in their handcrafted and poetic aesthetic.

As I've documented previously, large, ocean-going yachts are a whole different kettle of fish and pose a particularly grotesque challenge to any sense of a responsible carbon footprint, even if money is no object.
My "boat toy" desires are far more humble. Until a couple weeks ago, my "yachting" consisted of a high performance paddle board with a bamboo deck—sustainable right? In my future, I see a pretty day sailor, handcrafted in Maine out of local wood (I sold my prior sailboat since the kids preoccupied my free time) and a small motorboat to explore harbors (we call this "toodling around") and to make occasional short journeys around the southern New England coast where I live.
This summer, I visited the talented craftsman Doug Hylan and his partner Ellery Brown of Hylan & Associates in Brooklin, Maine to continue a conversation we've had on and off for over a year about building a small "green" powerboat. Same logic as a car or a house—energy, materials, etc. The challenge of making motorboats fuel-efficient is that it takes much more energy to push a boat through the water than to roll a car down a road. And a boat requires an exponential increment of power to push it faster than what's called "hull speed"—in other words to make it rise up and plane.
World's First Boat Powered by 100% #Renewables to Circle Globe https://t.co/f2RIHjy5KG @energy_observer @FuturePowerG @ClimateReality

— EcoWatch (@EcoWatch)1473702495.0
So the design challenge was to find the right shape (long, narrow and light), but stable enough for offshore conditions (wide and heavy is better) and with a highly efficient engine that would go "just fast enough." Doug has done some cutting edge work in this arena, with some updated versions of classic designs and power system innovations. But even with Doug's design ingenuity, latest technology and lightweight building techniques, he hasn't yet come up with a way to overcome those pesky laws of physics. Water is heavy and hydrostatic pressure is a bear.
As we were talking over the concept we had in mind, I sensed a distinct lack of enthusiasm for my vision of the first truly "green" picnic boat, locally crafted, that had the potential to redefine pleasure boating away from the unsustainable fiberglass that ends up on a junk heap and overwhelm Doug with new orders in the process. That's when he turned to me and said, "You know John, if you want to enjoy green, responsible boating, just slow down."
Doug's truth pierced Maine's stark summer beauty as we looked across the cove, silently absorbing the implications that ran far beyond boats. All the latest advances in design and technology couldn't come close to simply riding down the steeply sloped and physics determined energy curves he had showed me (slow down, use exponentially less energy).
I gave up on a new, high tech wooden boat and bought a classic bass boat that has been for sale all summer, built out of wood in 1969 and totally restored in 2009. For a fraction of what a new boat would cost I might add. Reuse, recycle!
And I'll be the guy going slow, at least most of the time. At hull speed (about 10 miles per hour), I'll burn less than a gallon of diesel per hour, a quarter of that when just calmly exploring a shoreline with friends in good conversation, going slow, enjoying the quiet. That's when the experience feeds the soul and relationships deepen, so it's not all sacrifice. Going "fast" when we "need to get somewhere" (about 22 miles per hour is tops in this case), I'll burn 8 gallons per hour with a guilty conscious.
In contrast, a yacht like I wrote about before will burn between 20 and 40 gallons per hour going 10 miles per hour. And a fast offshore fishing boat designed to get out to the shelf for the big fish and back in a day, burns 150 gallons per hour at the high speed necessary to be home for dinner—in other words, a 500 gallon a day toy.
My boat toy fetish makes me complicit, as does the rest of my lifestyle. But it's mostly the flying I do. As many have pointed out, we sustainability workers sure do fly around a lot. Flying kills a carbon budget fast. Physics again. No doubt we Americans have a big adjustment to make with our living. Much less flying and offshore fishing. More fly fishing. And more sailing, sailor. Not so bad.
Which brings us back to space travel. There certainly are real societal benefits from space exploration and some interesting space opportunities only these super-human entrepreneurs could ever dream up. But a little research suggests a frightening energy curve—based on those same pesky laws of physics—that we must confront (hopefully with Doug Hylan's wisdom hovering about).
Aside from the money issue, the amount of fuel for a one day (probably hour or less) zero gravity tourist experience in space you wonder? Well, according to my calculations based on one seemingly reliable source, it's 64,000 gallons of diesel equivalent.
Some fun. Sail on, Sail on, sailor.
Effective and inspirational, the redesign of Indian city Chennai wins the 2015 Sustainia Award, chaired by Arnold Schwarzenegger, for its solution to the city's mounting air pollution and traffic casualties. The city receives the award, while experiencing incessant rainfalls, overflowing rivers and lakes are causing thousands to flee the city, stressing the importance of sustainable solutions and climate adaptation.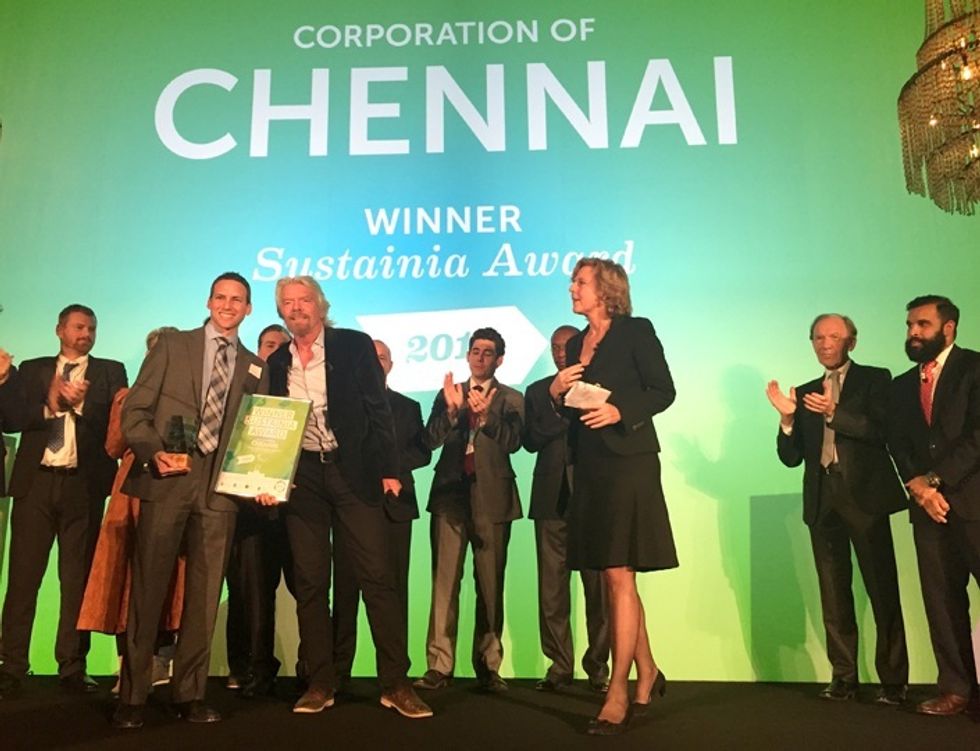 With more than 10,000 traffic crashes reported in Chennai every year—one of the highest rates of road deaths in India—and outdoor pollution as one of the region's top health risks, this year's Sustainia Award Winner addresses climate, transportation and health challenges in one go.
In 2012, the City of Chennai, along with the Institute for Transportation and Development Policy, implemented sweeping changes to give the city's streets back to the people. This policy solution requires that at least 60 percent of the city's transport budget to be allocated to constructing and maintaining infrastructure for non-motorized transit, including expanded footpaths, safe pedestrian crossings, protected cycle tracks, conveniently placed bus stops and clearly designated on-street parking.
So far, Chennai has created wide and continuous footpaths on 26 streets, and work on the next 60 streets is underway. Amazingly, there have been no new cases of any road crash fatalities reported from the streets that have undergone the redesign. The city aims to have safe and continuous footpaths on at least 80 percent of its streets by 2018, and as the expansion process continues, the city is serving as a model for other Indian cities, such as Trichy and Madurai, looking to make similar improvements.
The Chennai solution addresses major challenges linked to rapid urbanization in countries across the globe. In 1990, less than 40 percent of the global population lived in a city. In 2050, the expected number will increase to 70 percent. The World Health Organization warns that urban outdoor air pollution is responsible for 1.3 million premature deaths worldwide per year and by 2050, according to the OECD, air pollution is projected to become the biggest environmental cause of mortality worldwide.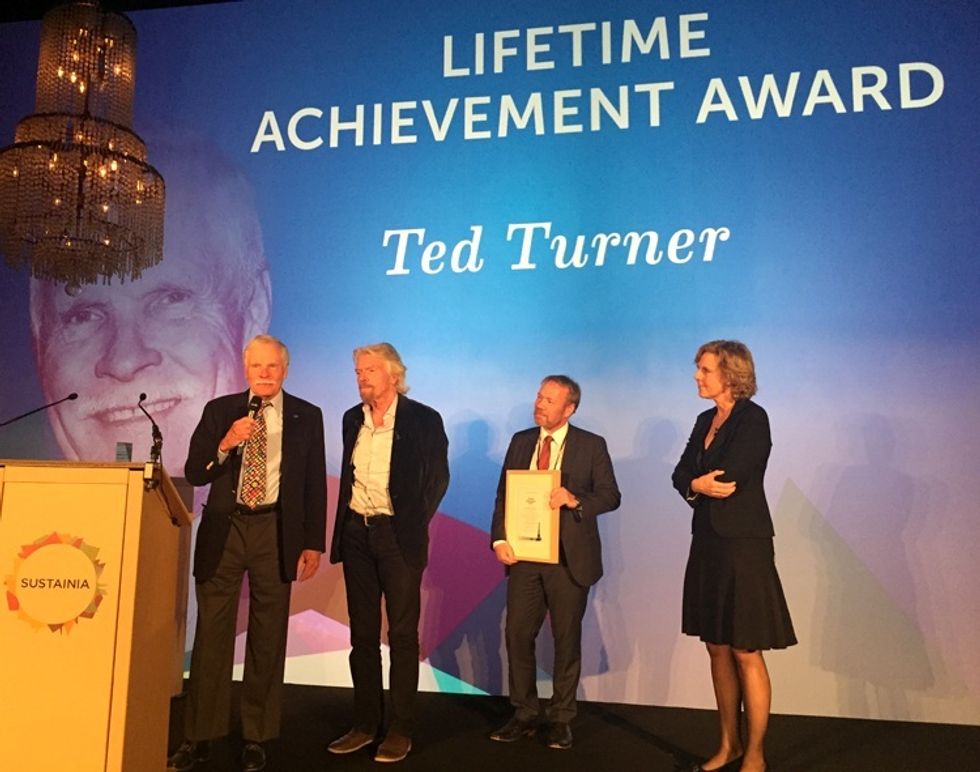 From Chennai to Paris
While our spotlight is on Chennai, another city grabbing the world's attention this week is Paris. Together with nine other leading innovations from nine different countries, the Indian city solution presented their project on stage at the annual Sustainia Award Ceremony, an event celebrating state-of-the-art innovations across 10 sectors such as food, fashion, transportation and buildings in an effort to bridge the gap between the political negotiations and the innovations on the ground.
The award ceremony was held in Paris on Dec. 5 during the UN climate change negotiations, COP21, to send a signal to global leaders that national level policies must be supported by concrete solutions and local action. Chennai's project proves that cities have the power to become healthier, safer and more sustainable places, and that committed local leadership can show national authorities that change is not only possible, it's necessary for a prosperous future.
About the Sustainia Award
Sustainia Award is an annual international award given to a solution, technology or project with a significant potential to help build a more sustainable future. Through a worldwide submissions campaign, the partners behind Sustainia Award each year create a list of 100 readily available innovations to highlight that a sustainable transition is possible and already happening.
YOU MIGHT ALSO LIKE
Leonardo DiCaprio: 'Do Not Wait Another Day' to Move to 100% Renewable Energy
Carl Pope: Cities Can Lead … Cities Want to Lead … So Let them!
Bill McKibben: 'Paris Summit is Missing One of the Great World Leaders on Climate' Because He's in Prison
Climate Change Blamed for Southern India's Worst Flooding in More Than a Century
Solar Impulse 2, a solar-powered airplane, finished its historic trip around the world, which started back in March 2015. The plane landed in Abu Dhabi early Tuesday.
André Borschberg (left) and Bertrand Piccard (right) celebrate after Solar Impulse 2 landed in Abu Dhabi, completing an historic trip around the world.Photo credit: Solar Impulse, Flickr
Solar Impulse traveled around the world, breaking the journey down into 17 legs, spending a total of 23 days in the air. The plane, powered by 17,000 solar cells, traveled 42,000 kilometers (about 26,100 miles) in a little more than a year. Its trip across the Atlantic Ocean from New York City to Seville, Spain, alone took approximately 90 hours to complete, traveling at 140 km/h (about 87 mph). The plane's longest trip was from Japan to Hawaii, which lasted almost five days.

Bertrand Piccard and André Borschberg alternated piloting the solar-powered plane. On the ground, they were helped by a team of 30 engineers, 25 technicians and 22 navigation controllers.
BREAKING: we flew 40'000km without fuel. It's a first for energy, take it further! #futureisclean https://t.co/JCvKTDBVZx

— SOLAR IMPULSE (@SOLAR IMPULSE)1469493867.0
After landing in Abu Dhabi, Piccard called the journey not only an achievement for the history of aviation, but a success for the history of energy. The pilots hope their journey promotes investment in clean energy.
"If we want a good quality of life today, we have to turn to clean technology and renewable energies," Piccard said.

"If governments had the courage to promote clean technologies on a massive scale, our society could simultaneously reduce its dependence on fossil fuels, create jobs and stimulate sustainable growth."

Piccard and Borschberg never had a shortage of views during their trip. Solar Impulse 2 was subject to amazing views, clean energy innovations and some of the world's most challenging problems, including the Great Pacific Garbage Patch.
Relive the best photos from @solarimpulse 2's round-the-world trip https://t.co/eOrWe9vf9t https://t.co/Gaq847kJ98

— Wired UK (@Wired UK)1469531383.0
It took 13 years to achieve Solar Impulse's historic journey, but now the group is moving on to other projects such as establishing the International Committee of Clean Technology (ICCT). Piccard and Borschberg created the ICCT to "continue the legacy Solar Impulse started, promoting concrete energy efficient solutions in order to solve many of the challenges facing society today."
Already 400 organizations have joined forces to help the ICCT achieve its goals. Notable patrons include H.S.H. Prince Albert II of Monaco, Richard Branson and Kofi Annan, who have already dedicated their work to the environment and clean energy sources. Patrons will advise governments and corporations on how to use clean technology.
"The International Committee of Clean Technologies is a fantastic opportunity to bring together a group of experts, with diverse experiences and backgrounds, to speak in one voice and leverage the efforts needed to bring change and influence global decision makers in the areas of clean technologies and renewable energy," Borschberg said.
Solar Impulse successfully lands in Abu Dhabi with Bertrand Piccard at the controls.Photo credit: Solar Impulse, Flickr
On July 11, Borschberg also predicted the world will soon see solar drones in the stratosphere, inspired by Solar Impulse's achievements.
"Solar Impulse is of course very well positioned to contribute to the next generation of unmanned solar airplanes," he said. "When considering technological progress today, these unmanned aircrafts will be able to fly much higher than they can today, avoiding air traffic and bad weather. They will be able to fly in extremely low air density and remain in the air both day and night, essentially taking over the need for satellites in a cheaper and more sustainable way. Parallel to SpaceX and Blue Origin, they could be brought down from the stratosphere to perform repairs and upgrades."

Borschberg mentioned that Solar Impulse may take flight again in different parts of the world to spread its message about clean technology.
The Solar Impulse team in Abu Dhabi after a successful landing, ending an historic trip around the world.Photo credit: Solar Impulse, Flickr
But for now, the pilots can revel in their completion of an historic trip around the world.
Watch here: