This website uses cookies to ensure you get the best experience while browsing it. By clicking 'Got It' you're accepting these terms.
Max Pixel
The world of sport is not immune to the problem of plastic pollution. Stadiums and arenas can become filled with discarded cups, bottles and straws after sporting events. Sailors, swimmers and surfers are competing in oceans and waterways with an ever-growing presence of marine debris.
That's why on Monday the International Olympic Committee (IOC) announced plans to eradicate single-use plastics from the organization and its events around the world. What's more, seven major sporting bodies and representatives from more than 20 National Olympic Committees have joined the UN Environment's Clean Seas campaign to help bring awareness to marine litter and stem the plastic tide.
Photo credit: Photo by dmbaker/iStock.
By Elizabeth Wartenkin
Immense herds of up to 30 million bison once thundered across the plains of North America. Like their American brethren, overhunted Canadian plains bison came dangerously close to extinction in the late 1800s. In an effort to reverse the damage, Parks Canada on Feb. 1 successfully restored 16 healthy bison—transporting them the 280 miles from Elk Island National Park, 30 miles east of Edmonton, Alberta, to their original, rightful home on the eastern slopes of Banff National Park.
EcoWatch Daily Newsletter
In July, a pipeline leak near Maidstone, Saskatchewan, spilled about 250,000 liters of diluted oil sands bitumen into the North Saskatchewan River, killing wildlife and compromising drinking water for nearby communities, including Prince Albert. It was one of 11 spills in the province over the previous year.
In October, a tugboat pulling an empty fuel barge ran aground near Bella Bella on the Great Bear Rainforest coastline, spilling diesel into the water. Stormy weather caused some of the containment booms to break. Shellfish operations and clam beds were put at risk and wildlife contaminated.
Roengrit Kongmuang / Greenpeace
Governments and industry promoting fossil fuel infrastructure often talk about "world class" spill response. It's one of the conditions BC's government has imposed for approval of new oil pipelines. But we're either not there or the term has little meaning. "This 'world-class marine response' did not happen here in Bella Bella," Heiltsuk Chief Councillor Marilyn Slett told Metro News.

If authorities have this much trouble responding to a relatively minor spill from a tugboat, how can they expect to adequately deal with a spill from a pipeline or a tanker full of diluted bitumen? The simple and disturbing truth is that it's impossible to adequately clean up a large oil spill. A 2015 report commissioned by the City of Vancouver and the Tsleil-Waututh and Tsawout First Nations concluded that "collecting and removing oil from the sea surface is a challenging, time-sensitive and often ineffective process, even under the most favorable conditions."
What the oil and gas industry touts as "world class spill response" boils down to four methods: booms, skimmers, burning and chemical dispersants. An article at Smithsonian.com notes, "For small spills these technologies can sometimes make a difference, but only in sheltered waters. None has ever been effective in containing large spills." Booms don't work well in rough or icy waters, as was clear at the Bella Bella spill; skimmers merely clean the surface and often not effectively; burning causes pollution and greenhouse gas emissions; and dispersants just spread contaminants around, when they work at all.
Researchers have also found that cleaning oil-soaked birds rarely if ever increases their chances of survival. A tiny spot of oil can kill a seabird.
After the 1989 Exxon Valdez spill off the Alaska coast, industry only recovered about 14 percent of the oil—which is about average—at a cost of $2 billion. The 2011 BP oil spill in the Gulf of Mexico has cost more than $42 billion so far and has not been overly effective. In that case, industry bombed the area with the dispersant Corexit, which killed bacteria that eat oil! Record numbers of bottlenose dolphins died.
We're not going to stop transporting oil and gas overnight, so improving responses to spills on water and land is absolutely necessary. And increasing the safety of pipelines, tankers and trains that carry these dangerous products is also critical, as is stepping up monitoring and enforcement. With the Saskatchewan spill, the provincial government deemed an environmental assessment of a pipeline expansion connected to the one that leaked as unnecessary because the Environment Ministry did not consider it a "development." University of Regina geography professor Emily Eaton, who has studied oil development, told the National Observer that Saskatchewan "gives a pass" to most pipelines it regulates.
Beyond better response capability and technologies, and increased monitoring and enforcement, we have to stop shipping so much fossil fuel. The mad rush to exploit and sell as much oil, gas and coal as possible before markets dry up in the face of growing scarcity, climate change and ever-increasing and improving renewable energy options has led to a huge spike in the amount of fossil fuels shipped through pipelines, and by train and tanker—often with disastrous consequences, from the Gulf of Mexico BP spill to the tragic 2013 Lac-Mégantic railcar explosion.
Spills and disasters illustrate the immediate negative impacts of our over-reliance on fossil fuels. Climate change shows we can't continue to burn coal, oil and gas, that we have to leave much of it in the ground. If we get on with it, we may still have time to manage the transition without catastrophic consequences. But the longer we delay, the more difficult it will become.
Solar Impulse 2, a solar-powered airplane, finished its historic trip around the world, which started back in March 2015. The plane landed in Abu Dhabi early Tuesday.
André Borschberg (left) and Bertrand Piccard (right) celebrate after Solar Impulse 2 landed in Abu Dhabi, completing an historic trip around the world.Photo credit: Solar Impulse, Flickr
Solar Impulse traveled around the world, breaking the journey down into 17 legs, spending a total of 23 days in the air. The plane, powered by 17,000 solar cells, traveled 42,000 kilometers (about 26,100 miles) in a little more than a year. Its trip across the Atlantic Ocean from New York City to Seville, Spain, alone took approximately 90 hours to complete, traveling at 140 km/h (about 87 mph). The plane's longest trip was from Japan to Hawaii, which lasted almost five days.

Bertrand Piccard and André Borschberg alternated piloting the solar-powered plane. On the ground, they were helped by a team of 30 engineers, 25 technicians and 22 navigation controllers.
After landing in Abu Dhabi, Piccard called the journey not only an achievement for the history of aviation, but a success for the history of energy. The pilots hope their journey promotes investment in clean energy.
"If we want a good quality of life today, we have to turn to clean technology and renewable energies," Piccard said.

"If governments had the courage to promote clean technologies on a massive scale, our society could simultaneously reduce its dependence on fossil fuels, create jobs and stimulate sustainable growth."

Piccard and Borschberg never had a shortage of views during their trip. Solar Impulse 2 was subject to amazing views, clean energy innovations and some of the world's most challenging problems, including the Great Pacific Garbage Patch.
It took 13 years to achieve Solar Impulse's historic journey, but now the group is moving on to other projects such as establishing the International Committee of Clean Technology (ICCT). Piccard and Borschberg created the ICCT to "continue the legacy Solar Impulse started, promoting concrete energy efficient solutions in order to solve many of the challenges facing society today."
Already 400 organizations have joined forces to help the ICCT achieve its goals. Notable patrons include H.S.H. Prince Albert II of Monaco, Richard Branson and Kofi Annan, who have already dedicated their work to the environment and clean energy sources. Patrons will advise governments and corporations on how to use clean technology.
"The International Committee of Clean Technologies is a fantastic opportunity to bring together a group of experts, with diverse experiences and backgrounds, to speak in one voice and leverage the efforts needed to bring change and influence global decision makers in the areas of clean technologies and renewable energy," Borschberg said.
Solar Impulse successfully lands in Abu Dhabi with Bertrand Piccard at the controls.Photo credit: Solar Impulse, Flickr
On July 11, Borschberg also predicted the world will soon see solar drones in the stratosphere, inspired by Solar Impulse's achievements.
"Solar Impulse is of course very well positioned to contribute to the next generation of unmanned solar airplanes," he said. "When considering technological progress today, these unmanned aircrafts will be able to fly much higher than they can today, avoiding air traffic and bad weather. They will be able to fly in extremely low air density and remain in the air both day and night, essentially taking over the need for satellites in a cheaper and more sustainable way. Parallel to SpaceX and Blue Origin, they could be brought down from the stratosphere to perform repairs and upgrades."

Borschberg mentioned that Solar Impulse may take flight again in different parts of the world to spread its message about clean technology.
The Solar Impulse team in Abu Dhabi after a successful landing, ending an historic trip around the world.Photo credit: Solar Impulse, Flickr
But for now, the pilots can revel in their completion of an historic trip around the world.
Watch here:
Third Annual Leonardo DiCaprio Foundation Gala Sets New Fundraising Record, Raised Nearly $45 million
Popular
Leonardo DiCaprio's eponymous foundation held its star-studded third annual fundraising gala in St. Tropez, France last night, setting a new fundraising record.
This year's glittering gala raised nearly $45 million for environmental causes.Getty
Nearly $45 million was raised to support the Leonardo DiCaprio Foundation's mission of preserving the environment and all of Earth's inhabitants.
The event also honored victims and survivors of the Bastille Day attack in Nice, France—a portion of the evening's proceeds went to GiveforFrance.org, with DiCaprio himself and a number of guests making personal donations, according to the organizers.
In a speech kicking off the evening, the Oscar-winning actor and prominent activist urged for solutions to the world's environmental challenges.

"While we are the first generation that has the technology, the scientific knowledge and the global will to build a truly sustainable economic future for all of humanity—we are the last generation that has a chance to stop climate change before it is too late," DiCaprio said.
"We are the last generation that has a chance to stop climate change before it is too late." — Leonardo DiCaprioGetty
DiCaprio listed several environmental conservation achievements from this past year, such as the signing of COP21 agreement in April, where the United Nations Messenger of Peace delivered a speech in front of world dignitaries imploring a shift towards renewable energy.
He also highlighted successful initiatives achieved by his foundation and their partners, including the first native tiger population increase in 100 years and the first moratorium on all new palm oil plantations in Indonesia, a cause that The Revenant star has been particularly involved.
The evening was hosted by DiCaprio as well his foundation's fundraising chairman Milutin Gatsby, CEO Terry Tamminen, executive director Justin Winters and with support of banking group Julius Baer and Swiss watch maker Chopard.
Event chairs included Boris F.J. Collardi, CEO of Julius Baer, Philippe Cousteau, Jonah Hill, Kate Hudson, Tobey Maguire, Edward Norton, Arnold Schwarzenegger, Caroline Scheufele, Kevin Spacey, Cate Blanchett, Marion Cotillard, Penelope Cruz, Robert De Niro, Scarlett Johansson and Charlize Theron.
The gala, of course, included a host of A-list attendees, including Bono, Chris Rock, Mariah Carey, Bradley Cooper and supermodels Naomi Campbell, Constance Jablonski, Joan Smalls, Doutzen Kroes and Lily Donaldson. The Weeknd and Lana Del Rey gave special performances.
H.S.H. Prince Albert II of Monaco awarded with the foundation's first "New World Leadership Award," in recognition of his legacy of environmental conservation.

The soirée's signature silent and live auction featured a slew of unique experiences (my favorite: attending the U.S. Open's men's final with Leo!), luxury collectibles and memorabilia. DiCaprio's collection of fine art on the block included pieces from renowned artists Jeff Koons, Pablo Picasso, Urs Fischer, Olafur Eliasson and Adrian Villar Rojas.
GQ gave a hilarious breakdown of auction's offerings:
The items range from the practical to the insane. For example, you could bid on DiCaprio's Rolex, his diamond cufflinks he wore when he won his Oscar, various pieces of expensive fine art (like the ones in DiCaprio's storied collection), and "A Unique Pair of Luminous Jellyfish Earrings." That last one is a little less Leo, but it is just the right amount of decadent.
You can also go for the Leonardo DiCaprio experience, including a week on set with Martin Scorsese (will he let you call him Marty?), a private game of Texas Hold 'Em with Edward Norton and Jonah Hill, an evening with Mariah Carey, and lunch with Margot Robbie. All for the price of a few years at an Ivy League, but think about it. What better education is there than paying celebrities to hang out with you? That's what I thought. There are also some weirder offerings like a portrait of Leo's eyeball. If you're going to get a portrait of an eyeball, why not have it be Leo DiCaprio's eyeball? It's a good eyeball.
That said, the money raised is going towards worthy causes. The Leonardo DiCaprio Foundation, founded in 1998, has given away more than $59 million to fund environmental projects across the globe. The foundation announced last week $15.6 million in grants, the largest portfolio of environmental grants in the foundation's history, to organizations that are working to preserve and protect the future of the planet. These grants further the foundation's approach to helping tackle some of today's most pressing environmental issues.
"The destruction of our planet continues at a pace we can no longer afford to ignore," DiCaprio said. "I am proud to support these organizations who are working to solve humankind's greatest challenge."
Leonardo DiCaprio Foundation
The Leonardo DiCaprio Foundation announced today its third annual gala at the Domaine Bertaud Belieu vineyard in St. Tropez, France on July 20.
The major charity event raises funds to protect Earth's last wild place, implement solutions that restore balance to threatened ecosystems and ensure the long-term health and wellbeing of all its inhabitants.
Last year's gala at Domaine Bertaud Belieu on July 22, 2015 in Saint-Tropez, France raised $40 million for environmental causes.The Leonardo DiCaprio Foundation
This year's occasion will be co-hosted by the Oscar-winning actor and noted environmentalist Leonardo DiCaprio, the foundation's global chair Milutin Gatsby and chief executive officer Terry Tamminen.
Event chairs include Hollywood A-listers, environmentalists and prominent businessmen and women such as Cate Blanchett, Marion Cotillard, Boris Collardi, Philippe Cousteau, Jr., Penelope Cruz, Robert De Niro, Jonah Hill, Kate Hudson, Scarlett Johansson, Tobey Maguire, Edward Norton, Caroline Scheufele, Arnold Schwarzenegger, Kevin Spacey and Charlize Theron.
This year's event will honor H.S.H. Prince Albert II of Monaco for his legacy of environmental conservation and include performances by The Weeknd, Lana Del Rey and special guest Andrea Bocelli.
DiCaprio's eponymous foundation was founded in 1998 and works in four key areas: protecting biodiversity, oceans conservation, wildlands conservations and climate change. The organization supports more than 70 environmental projects across 40-plus countries and five oceans through close collaborative partnerships with environmental leaders, experts and organizations.
For instance, the philanthropic organization has donated more than $6.2 million to the World Wildlife Fund since 2010 to help boost the global population of wild tigers. The foundation also supports local partners in Sumatra to establish "a mega-fauna sanctuary in the Leuser Ecosystem," which is known as the last place on Earth where Sumatran orangutans, tigers, rhinos and elephants coexist in the wild, and is under threat from industrial development of palm oil. Without protection, these wildlife species are likely to be pushed to extinction.
Last year's star-studded gala raised a staggering $40 million, nearly doubling the $25 million raised in the first year. The 2015 event featured a high-priced live auction that opened with DiCaprio's personal items up for bid: a Rolex Daytona Cosmograph watch, and Andy Warhol and Bansky artworks from his personal collection. DiCaprio's donations raised close to $2 million.

"Tonight's event is about supporting Leonardo DiCaprio Foundation's efforts to protect key species like the tiger, rhino, shark and mountain gorilla by working with governments to conserve the jungles, coral reefs and forests they call home," DiCaprio said in his opening speech at last year's soirée.
"By focusing on protecting these critically-endangered iconic species is almost like setting up a worldwide network of Noahs arks. We've decimated our forests, wildlands, polluted and over fished our rivers and oceans; all the key ecosystems that not only serve as a home to our planet's biodiversity, but also make life here for us possible. I'm incredibly proud to be part of a night that will allow us to do so much to protect the planet."
The Revenant star and his foundation have advocated for a number of worthy causes to help preserve our environment. Last month, following the April signing of the Paris agreement, the Leonardo DiCaprio Foundation announced a $650,000 grant to R20 Regions of Climate Action, a project that aims to rapidly identify renewable energy, energy efficiency and waste management initiatives to bring positive environmental and social benefits to communities across the globe and ultimately reduce carbon emissions.
YOU MIGHT ALSO LIKE

7 Things You Should Do After Watching 'How to Let Go of the World'
Boyan Slat's Ocean Cleanup Project Launches Historic First Prototype at Sea
Drought Kills 66 Million Trees in California, Increasing Risk of Catastrophic Wildfires
It's Not Just Crimes Against Nature, It's Crimes Against People
The Leonardo DiCaprio Foundation (LDF) raised a staggering $40 million to protect endangered species and help preserve the environment at the actor and environmentalist's second annual fundraising gala in St. Tropez, France on Wednesday.
"Tonight's event is about supporting LDF's efforts to protect key species like the tiger, rhino, shark and mountain gorilla by working with governments to conserve the jungles, coral reefs and forests they call home," DiCaprio told his star-studded guests during his opening speech.
"By focusing on protecting these critically-endangered iconic species is almost like setting up a worldwide network of Noahs arks. We've decimated our forests, wildlands, polluted and over fished our rivers and oceans; all the key ecosystems that not only serve as a home to our planet's biodiversity, but also make life here for us possible. I'm incredibly proud to be part of a night that will allow us to do so much to protect the planet," he said.
Guests included Prince Albert II of Monaco, Kate Hudson, Marion Cotillard, Orlando Bloom, Naomi Campbell, Heidi Klum and more. Attendees were also surprised with special performances from Elton John and John Legend.
"Such a honor to share the stage with the incredibly talented John Legend," Elton John wrote in an Instagram post. "And a joy to raise money to help save our planet for the Leonardo DiCaprio Foundation."
The $40 million haul nearly doubled the $25 million raised at last year's LDF gala. According to a release, the event featured a high-priced live auction that opened with Dicaprio's personal items up for bid: a Rolex Daytona Cosmograph watch and Andy Warhol and Bansky artworks from his personal collection. DiCaprio's donations raised close to $2 million.
Here were some of the other jealousy-inducing items on the auction block:
The biggest prize of the night—ownership of an estate home on DiCaprio's eco-resort in Belize—was snapped up by Colony Capital CEO Tom Barrack for $11 million.

Prince Albert II of Monaco donated his company for two exclusive experiences. First, an arctic expedition that sold for more than $1.6 million. Second, a private diving experience at Monaco's protected Larvotto Marine Reserve, which raised $400,000.

A private concert with Elton John sold twice for a total of $3 million.

A limited re-edition of Rodin's "The Thinker," made in connection with the Rodin Museum using iconic sculpture's original cast, sold for nearly $2 million.

Richard Prince's "Untitled (Cowboy)" 2012 sold for more than $2 million.

Movie producer Harvey Weinstein offered his $1.1 million winning bidder the opportunity to be his personal guest to this year's Academy Awards, the Cannes Film Festival, the Met Gala, the White House Correspondents Dinner, as well as visits to the Weinstein Company movie set.

A painting by Rudolf Stingel was sold to Warner Music owner Len Blavatnik for $900,000.
The "Wolf of Wall Street" star is no stranger to environmental causes. His eponymous foundation was founded in 1998 with the goal of protecting the world's remaining wild places, restoring threatened ecosystems and preserving endangered animals.
Just last week, EcoWatch reported that the LDF donated $15 million in grants to more than 30 environmental organizations. The UN Messenger of Peace has also donated millions to protect our oceans and participated in the People's Climate March.
YOU MIGHT ALSO LIKE
NASA Discovers 'Earth's Bigger, Older Cousin'
Breaking‬: Massive Pod of Pilot Whales Slaughtered in the Faroe Islands
This Shark's Liver Had DDT Levels 100 Times the Legal Limit for Humans
Chief Raoni Metuktire, head of the Kayapò indigenous group from the Xingu region, deep in the Amazon rainforest, sits in a packed lecture hall in London. With his jutting lip plate and large feather headdress, the elderly, gently-spoken tribal leader is an imposing presence.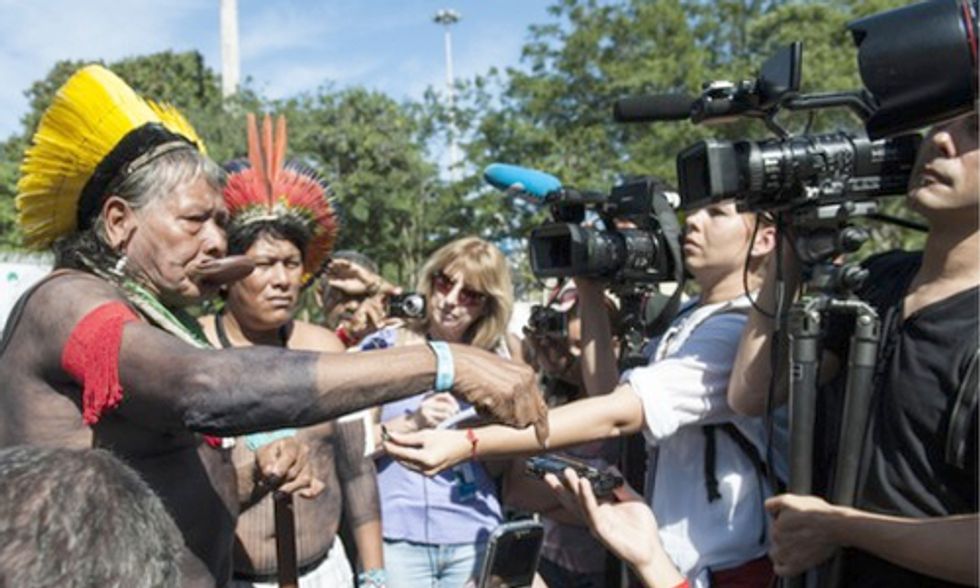 Photo credit: Sue Cunningham/ SCP
"When I'm gone I want my children and grandchildren to live in the forest as I have done," he says. "I ask for your help. In the past, we didn't knock down the trees, destroy the land and build dams, but now all that is happening.
"The climate in the forest is changing: it is a lot hotter than it used to be, and the pattern of the winds is altering."
Lungs of the World
The Amazon rainforest—often referred to as the lungs of the world—has a major influence on the world's climate. Its trees and vegetation act as a vital carbon sink, soaking up carbon dioxide from the atmosphere.
Megaron Txucarramãe, a long-time campaigner for land rights for indigenous tribes in the Amazon region, sits alongside Chief Raoni, his uncle.
"The logging in our region is increasing," he says. "Our lands and those of other indigenous tribes should be properly demarcated, but the Brazilian government is seeking to alter the constitution and undermine our land rights, giving more power to loggers, dam builders and mining companies.
"We went to Brasilia [Brazil's capital] to protest, but we were received with rubber bullets, tear gas and pepper spray. While the government worries about building stadiums for the World Cup, our land is being threatened. I would like to ask the world to pay attention to our problems and help us."
In a tour of European capitals that coincided with the opening of the World Cup, the two tribal leaders met Prince Albert of Monaco and, in London, Prince Charles. They also took their message to the Norwegian royal family.
The Kayapò are by far the largest ethnic group in the Xingu region. After years of campaigning and sometimes violent struggle, the group succeeded in having 19,000 square miles of land demarcated as an indigenous reserve in 1992.
The tribal leaders say the government of President Dilma Rousseff—which faces an election in October—is now threatening the land rights of indigenous groups and the health of the whole Amazon by allowing mining and other projects to go ahead.
In recent years, Brazil has embarked on a wide-ranging dam building program in the Amazon. The Xingu river, a major tributary of the Amazon river, runs through the Kayapò's lands. Despite various court judgements and continuing protests by the Kayapò and other groups, construction of the Belo Monte dam—which will be one of the world's biggest when it is completed—began on the Xingu in 2011.
After years of decline in deforestation rates in the Amazon rainforest, they then increased dramatically by 28 percent over the 2012 to 2013 period, with many blaming controversial reforms to Brazil's forest laws pushed through by a powerful and extremely wealthy land lobby.
Weather Patterns
In recent months, large parts of Brazil have been suffering a drought that is one of the worst on record. Environmentalists say deforestation in the Amazon has disturbed weather patterns and has resulted in less rainfall in many areas.
Patrick Cunningham, who has travelled extensively through the Xingu region, photographing and documenting the lives of the indigenous tribes, is a spokesman for Tribes Alive, a group that highlights indigenous peoples' issues.
Cunningham said: "Chief Metuktire and Megaron are not only asking for an end to the destruction of their lands, they are also campaigning to stop what is a suicidal rush to develop their region.
"Such actions will not only be a setback for them but also for the whole of Brazil as rain patterns alter farther south, in what is the most agriculturally productive region of the country."
This website uses cookies to ensure you get the best experience while browsing it. By clicking 'Got It' you're accepting these terms.