This website uses cookies to ensure you get the best experience while browsing it. By clicking 'Got It' you're accepting these terms.
Sea Shepherd Moves in on Japanese Whaling Fleet in French Antarctic
Jan. 04, 2012 09:00AM EST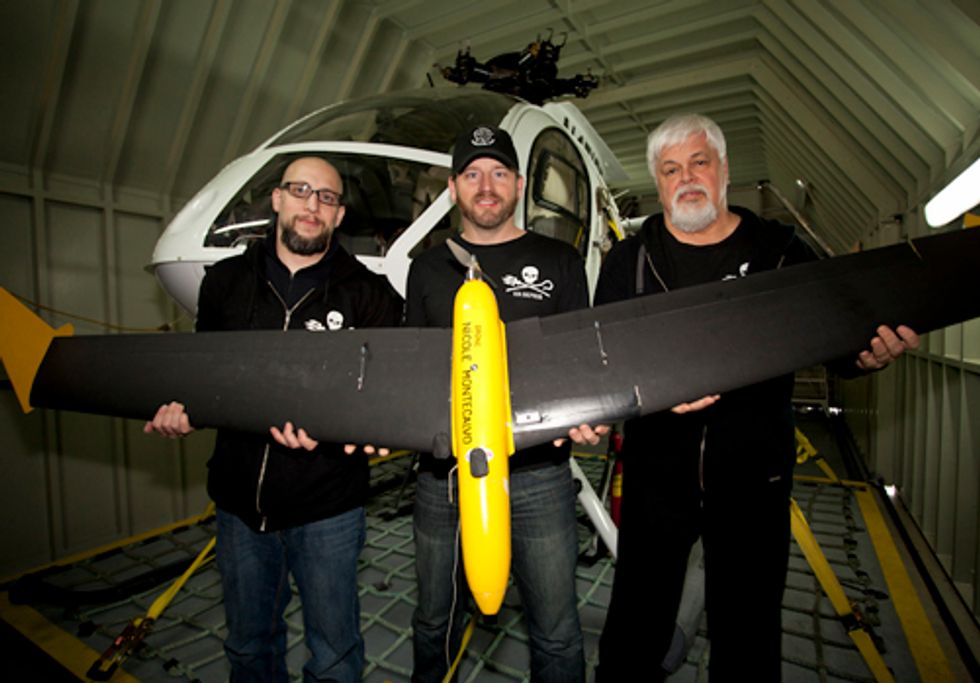 Early morning Jan. 4, Sea Shepherd's vessel the Bob Barker moved in amongst the Japanese whaling fleet 190 miles north of the French Antarctic base of Dumont D'Urville.
While on the look-out for the Japanese factory ship the Nisshin Maru, the Bob Barker ran into one of the three harpoon vessels, the Yushin Maru 3. It appears that the Yushin Maru 3 has not begun whaling activities as its harpoon is still covered.
The whaling fleet has been desperately trying to avoid being caught by Sea Shepherd detection and has fled more than 1,500 miles to the southeast of where they were first detected by a drone reconnaissance deployed by the Steve Irwin.
The Bob Barker continues to travel east in pursuit of the Japanese factory ship, now followed at close range by the Yushin Maru 3. The whaling fleet has left the French Exclusive Economic Zone (EEZ). Sea Shepherd can confirm that the Japanese whaling fleet is now in Australian Antarctic Territorial waters.
The Steve Irwin and the Brigitte Bardot continue to make progress towards Fremantle with the Shonan Maru #2 tailing both vessels. The Shonan Maru #2 is now 65 miles inside the Australian continental EEZ.
Because the Nisshin Maru and the harpoon vessels have been moving continuously since first located by Sea Shepherd, they do not appear to have had any time to kill whales. They know that if they slow down or stop, the Bob Barker will close the gap and will be on them.
The Steve Irwin will quickly refuel in Fremantle and will return to the Southern Ocean to assist the Bob Barker in intervening against the illegal activities of the Japanese whaling fleet in the Southern Ocean Whale Sanctuary, inside Australian Antarctic Territorial waters.
About the Sea Shepherd Drone
Bayshore Recycling Corp's (Bayshore) donated drone Nicole Montecalvo helped the Sea Shepherd Conservation Society (SSCS) catch a Japanese whaling fleet Dec. 25, 2011 before any whales were killed. The drone, released by the Sea Shepherd ship the Steve Irwin, will help track and follow the Japanese factory ship, the Nisshin Maru, which was able to escape the ships' interception on Christmas Day. This drone will also assist in helping protect the fleet, its crew and alert them to potential dangers during the chase.
Bayshore President Valerie Montecalvo and her team are thrilled to hear of the impact their donated drone is making on marine wildlife protection.
"Bayshore Recycling Corp's mission is to help preserve the planet and its precious natural resources through conservation, recycling and maximum use of renewable energy," Montecalvo said. "It is our honor to assist noteworthy organizations such as the Sea Shepherd Conservation Society in their endeavor to save wildlife and endangered habitats for future generations. To quote Steve Irwin, 'I am a wildlife warrior…..my job, my mission and the reason I have been put on this planet, is to save wildlife.' In some small but meaningful way, we hope that our company can help carry on his mission."
To promote and encourage Bayshore's conservation efforts, Bayshore's owners donated the drone Nicole Montecalvo to the SSCS vessel the Steve Irwin in May 2011 to aid and assist in locating Japanese whaling fleets in protected sanctuaries and bluefin tuna poaching operations off the coast of Libya as a part of the Operation Divine Wind campaign to protect the world's oceans.
Bayshore's long-range drone, which is defined as an unmanned aerial vehicle that can fly independently or be operated remotely, is fitted with cameras and detection equipment to support SSCS's mission in marine wildlife conservation. The donated drone was delivered on board by the vessel security officer during transit to Antarctica to search for the Japanese flagship Nisshin Maru, which was found Christmas Day and will be followed by the drone Nicole Montecalvo.
Bayshore stresses the importance of conserving our planet's natural habitats. Whether it is saving natural resources, conserving energy, preserving endangered wildlife or recycling household debris, Bayshore rises to the challenge. Together, Bayshore and the SSCS will continue to fight to save the ocean and its vulnerable inhabitants.
For more information about Bayshore Recycling, click here.
For more information about Sea Shepherd, click here.
—————
Bayshore Recycling Corp (Bayshore) currently operates six different recycling businesses in Woodbridge Township, N.J. making the company one of the most innovative and vertically integrated in the Northeast. A seventh operation to accept and process Class A curbside recyclables is planned for start-up in 2012. For more information, click here.
Sea Shepherd Conservation Society (SSCS) is an international nonprofit, marine wildlife conservation organization. Their mission is to end the destruction of habitat and slaughter of wildlife in the world's oceans in order to conserve and protect ecosystems and species. Sea Shepherd uses innovative direct-action tactics to investigate, document and take action when necessary to expose and confront illegal activities on the high seas. For more information, click here
EcoWatch Daily Newsletter
Tesla co-founder and CEO Elon Musk discusses vehicle dimensions in front of the newly unveiled all-electric battery-powered Tesla Cybertruck at Tesla Design Center in Hawthorne, California on Nov. 21. FREDERIC J. BROWN / AFP via Getty Images
Tesla just unveiled its first electric truck.
CEO Elon Musk showed off the new design at a launch event at the company's Design Studio in Hawthorne, California Thursday.
A video shows a woman rescuing a koala from Australia's wildfires.
VOA News / YouTube screenshot
More than 350 koalas may have died in the wildfires raging near the Australian town of Port Macquarie in New South Wales, but one got a chance at survival after a woman risked her life to carry him to safety.
This study found evidence of illegal hammerhead fins in 46 out of 46 sampling events in Hong Kong. NOAA / Teachers at Sea Program
By Jason Bittel
Authorities in Hong Kong intercepted some questionable cargo three years ago — a rather large shipment of shark fins that had originated in Panama. Shark fins are a hot commodity among some Asian communities for their use in soup, and most species are legally consumed in Hong Kong, but certain species are banned from international trade due to their extinction risk. And wouldn't you know it: this confiscated shipment contained nearly a ton of illegal hammerhead fins.
Heat waves emanate from the exhaust pipe of a city transit bus as it passes an American flag hung on the Los Angeles County Hall of Justice on April 25, 2013. David McNew / Getty Images
Air pollution rules aren't doing enough to protect Americans, finds a major new study that examined the cause of death for 4.5 million veterans, as The Guardian reported.
Coldplay is releasing a new album on Friday, but the release will not be followed by a world tour.