This website uses cookies to ensure you get the best experience while browsing it. By clicking 'Got It' you're accepting these terms.
Sea Shepherd Condemns Japan's Plan to Slaughter 4,000 Minke Whales
Nov. 30, 2015 11:49AM EST
Animals
Environmental activist group Sea Shepherd warned Japan against resuming "research" whaling in the Antarctic in defiance of an international court of justice ruling that it cease the practice and called on the Australian government to intervene.
After a decade of activism by Sea Shepherd and other groups, Japan was forced to abandon its 2014-15 Southern Ocean hunt after the International Court of Justice said the annual expedition was a commercial activity masquerading as research. But on Saturday, Japanese media reported it would start again soon, despite a call by global regulators for more evidence that the expeditions have a scientific purpose. Japan's Yomiuri Shimbun and other media said the Japanese fleet could depart possibly by the end of December.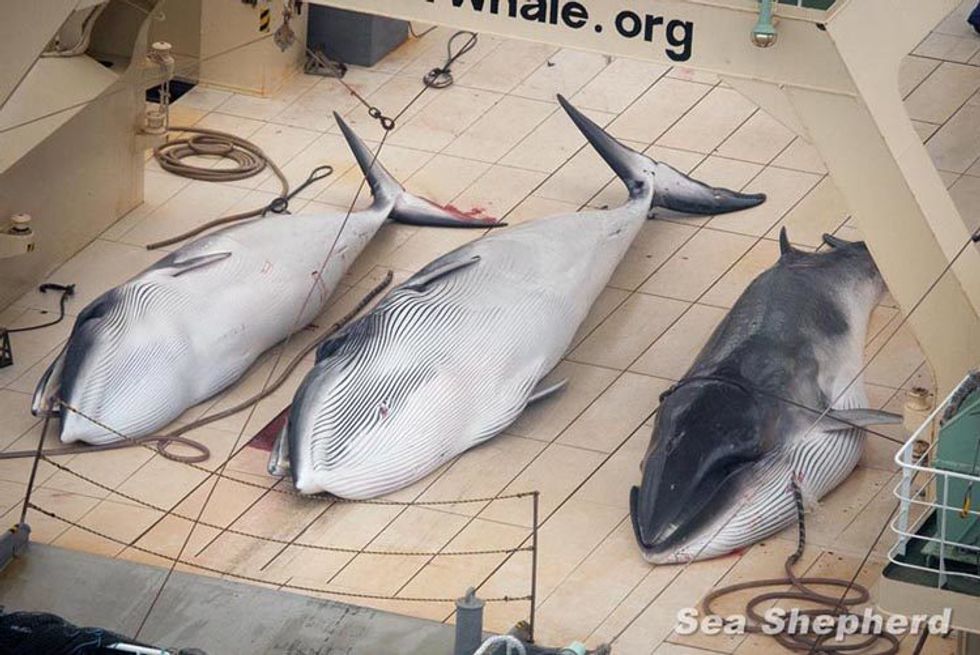 Despite international disapproval, Japan has hunted whales in the Southern Ocean under an exemption in the global whaling moratorium that allows for lethal research.
Japan's fisheries agency has told the International Whaling Commission that it would resume whaling in the Antarctic Ocean by killing 333 minke whales this season and kill almost 4,000 minke whales in the Antarctic over the next 12 years.
CEO of Sea Shepherd Global, Captain Alex Cornelissen, has condemned Japan's plans to return to the Southern Ocean to slaughter whales.
"The pristine waters of the Southern Ocean are once again under threat from poachers," said Cornelissen. "We would like to remind the Japanese government that the whales of the Southern Ocean are protected by international law, by Australian law and by Sea Shepherd. As such, any violation of the sanctity of the Southern Ocean Whale Sanctuary or the Australian Whale Sanctuary will be regarded as a criminal act."
On Saturday, the Japanese Fisheries Agency officially notified the International Whaling Commission (IWC) that it is readying the harpoons of its whaling fleet to return to the waters of Antarctica.
Sea Shepherd has again called on Australian Prime Minister Malcolm Turnbull to intervene to ensure that the whale poachers do not depart from Japan.
"Prime Minister Turnbull has a duty to ensure that the dire matter of Japan's whale poaching operations is at the top of the agenda when he visits Japan in December," said Sea Shepherd Australia Managing Director, Jeff Hansen. "It must be made clear to Japan that whaling in the Australian Whale Sanctuary is a criminal act and that Australia has the international responsibility to intervene and arrest criminals operating in our waters," he continued.
On March 31, 2014, the International Court of Justice (ICJ) declared Japan's whaling program to be commercial and illegal and ordered that it immediately cease.
Initially, the government of Japan said that it would abide by the ruling. However, within months Japan had unveiled its plans for new whaling program titled NEWREP-A, under which a further 4,000 protected Minke whales would be slaughtered over a 12 year period.
The Sea Shepherd ship Steve Irwin, currently docked in Melbourne, Australia, has been undergoing preparations for the organization's second campaign to target illegal toothfish operators in the Southern Ocean.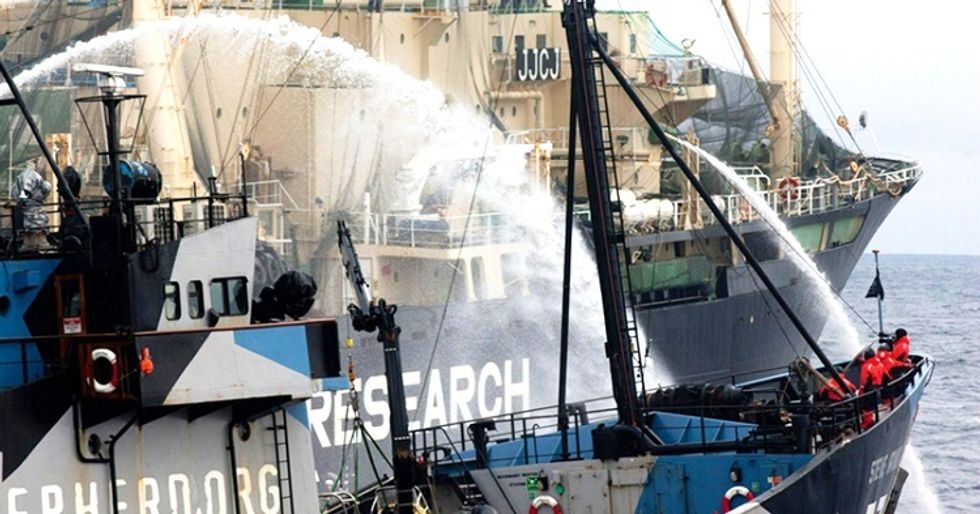 "Sea Shepherd is an anti-poaching organization. We are ready to find, document, report on and where possible intervene against poaching operations that threaten the precious balance of life in the Southern Ocean; whatever form those poachers might take, whatever life they threaten," said Cornelissen. "If Sea Shepherd comes across criminal activity, then our history speaks for itself. We will, as always, directly intervene to prevent that crime from taking place," he concluded.
In April 2013, Japan announced its whaling haul from the Southern Ocean was at a record low because of "unforgivable sabotage" by activists from Sea Shepherd.
YOU MIGHT ALSO LIKE
Extremely Disturbing Video Shows Pilot Whale Being Tied and Drowned by Taiji Hunters
EcoWatch Daily Newsletter
A harbour seal on an ice floe in Glacier Bay, Alaska. A new study shows that the climate crisis has warmed waters, changing ecosystems and crippling sea ice growth. Janette Hill / robertharding / Getty Images Plus
Doctors report that only 1 in 4 children are getting the recommended 60 minutes of physical activity per day. Ronnie Kaufman / DigitalVision / Getty Images
By Dan Gray
Pediatricians are being urged to start writing "exercise prescriptions" for the children they see in their office.
A First Nations protester walks in front of a train blockade in Tyendinaga, near Belleville, Ontario, Canada on Feb. 21, 2020. LARS HAGBERG / AFP via Getty Images
An indigenous rail blockade that snarled train travel in Canada for more than two weeks came to an end Monday when police moved in to clear protesters acting in solidarity with another indigenous community in British Columbia (B.C.), which is fighting to keep a natural gas pipeline off its land.
A rainbow snake, a rare reptile spotted in a Florida county for the first time in more than 50 years, seen here on July 5, 2013.
Kevin Enge / FWC Fish and Wildlife Research Institute / Flickr
A Florida hiker recently stumbled across a slithering surprise — a rare snake that hadn't been spotted in the area for more than 50 years.
We need our government to do everything it can to stop PFAS contamination and exposure from wreaking havoc in communities across the country. LuAnn Hun /
Unsplash
By Genna Reed
The EPA announced last week that it is issuing a preliminary regulatory determination for public comment to set an enforceable drinking water standard to two of the most common and well-studied PFAS, PFOA and PFOS.
This decision is based on three criteria:
PFOA and PFOS have an adverse effect on public health
PFOA and PFOS occur in drinking water often enough and at levels of public health concern;
regulation of PFOA and PFOS is a meaningful opportunity for reducing the health risk to those served by public water systems.