This website uses cookies to ensure you get the best experience while browsing it. By clicking 'Got It' you're accepting these terms.
Sea Shepherd Condemns Japan's Plan to Slaughter 4,000 Minke Whales
Nov. 30, 2015 11:49AM EST
Animals
Environmental activist group Sea Shepherd warned Japan against resuming "research" whaling in the Antarctic in defiance of an international court of justice ruling that it cease the practice and called on the Australian government to intervene.
After a decade of activism by Sea Shepherd and other groups, Japan was forced to abandon its 2014-15 Southern Ocean hunt after the International Court of Justice said the annual expedition was a commercial activity masquerading as research. But on Saturday, Japanese media reported it would start again soon, despite a call by global regulators for more evidence that the expeditions have a scientific purpose. Japan's Yomiuri Shimbun and other media said the Japanese fleet could depart possibly by the end of December.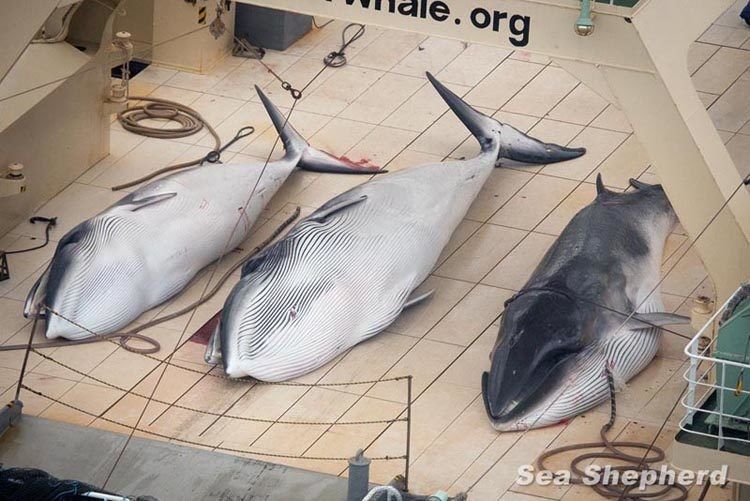 Despite international disapproval, Japan has hunted whales in the Southern Ocean under an exemption in the global whaling moratorium that allows for lethal research.
Japan's fisheries agency has told the International Whaling Commission that it would resume whaling in the Antarctic Ocean by killing 333 minke whales this season and kill almost 4,000 minke whales in the Antarctic over the next 12 years.
CEO of Sea Shepherd Global, Captain Alex Cornelissen, has condemned Japan's plans to return to the Southern Ocean to slaughter whales.
"The pristine waters of the Southern Ocean are once again under threat from poachers," said Cornelissen. "We would like to remind the Japanese government that the whales of the Southern Ocean are protected by international law, by Australian law and by Sea Shepherd. As such, any violation of the sanctity of the Southern Ocean Whale Sanctuary or the Australian Whale Sanctuary will be regarded as a criminal act."
On Saturday, the Japanese Fisheries Agency officially notified the International Whaling Commission (IWC) that it is readying the harpoons of its whaling fleet to return to the waters of Antarctica.
Sea Shepherd has again called on Australian Prime Minister Malcolm Turnbull to intervene to ensure that the whale poachers do not depart from Japan.
"Prime Minister Turnbull has a duty to ensure that the dire matter of Japan's whale poaching operations is at the top of the agenda when he visits Japan in December," said Sea Shepherd Australia Managing Director, Jeff Hansen. "It must be made clear to Japan that whaling in the Australian Whale Sanctuary is a criminal act and that Australia has the international responsibility to intervene and arrest criminals operating in our waters," he continued.
On March 31, 2014, the International Court of Justice (ICJ) declared Japan's whaling program to be commercial and illegal and ordered that it immediately cease.
Initially, the government of Japan said that it would abide by the ruling. However, within months Japan had unveiled its plans for new whaling program titled NEWREP-A, under which a further 4,000 protected Minke whales would be slaughtered over a 12 year period.
The Sea Shepherd ship Steve Irwin, currently docked in Melbourne, Australia, has been undergoing preparations for the organization's second campaign to target illegal toothfish operators in the Southern Ocean.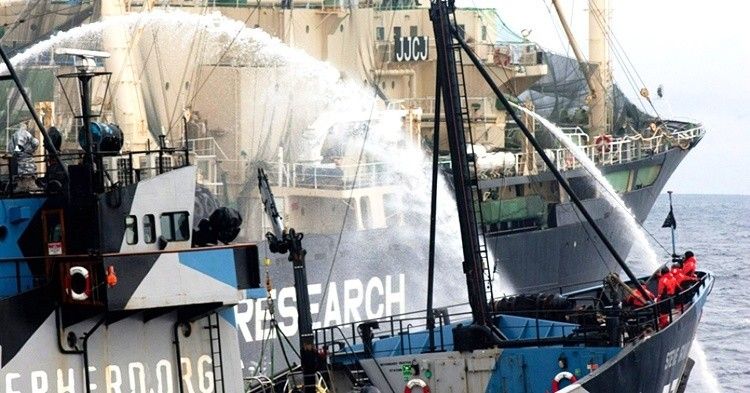 "Sea Shepherd is an anti-poaching organization. We are ready to find, document, report on and where possible intervene against poaching operations that threaten the precious balance of life in the Southern Ocean; whatever form those poachers might take, whatever life they threaten," said Cornelissen. "If Sea Shepherd comes across criminal activity, then our history speaks for itself. We will, as always, directly intervene to prevent that crime from taking place," he concluded.
In April 2013, Japan announced its whaling haul from the Southern Ocean was at a record low because of "unforgivable sabotage" by activists from Sea Shepherd.
YOU MIGHT ALSO LIKE
Extremely Disturbing Video Shows Pilot Whale Being Tied and Drowned by Taiji Hunters
EcoWatch Daily Newsletter
DESIREE MARTIN / AFP / Getty Images
Wildfires raging on Gran Canaria, the second most populous of Spain's Canary Islands, have forced around 9,000 people to evacuate.
Wolves in Mount Rainier, Washington. Ron Reznick / VW Pics / Universal Images Group via Getty Images
The last four members of an embattled wolf pack were killed in Washington State Friday, hours before the court order that could have saved them.
Plateau Creek near De Beque, Colorado, where land has been leased for oil and gas production. Helen H. Richardson / The Denver Post / Getty Images
By Randi Spivak
Slashing two national monuments in Utah may have received the most attention, but Trump's Interior Department and U.S. Forest Service have been quietly, systematically ceding control of America's public lands to fossil fuel, mining, timber and livestock interests since the day he took office.
Aerial view of lava flows from the eruption of volcano Kilauea on Hawaii, May 2018. Frizi / iStock / Getty Images
Hawaii's Kilauea volcano could be gearing up for an eruption after a pond of water was discovered inside its summit crater for the first time in recorded history, according to the AP.
Global SO2 Emission Hotspot Database / Greenpeace
A new report by Greenpeace International pinpointed the world's worst sources of sulfur dioxide pollution, an irritant gas that harms human health. India has seized the top spot from Russia and China, contributing nearly 15 percent of global sulfur dioxide emissions.
The huge surge this year in Amazon deforestation is leading some European countries to think twice about donations to the Amazon Fund. LeoFFreitas / Moment / Getty Images
By Sue Branford and Thais Borges
Ola Elvestrun, Norway's environment minister, announced Thursday that it is freezing its contributions to the Amazon Fund, and will no longer be transferring €300 million ($33.2 million) to Brazil. In a press release, the Norwegian embassy in Brazil stated:
Gina Lopez, the Philippine secretary of the environment, at a meeting with residents affected by a mine tailing disaster. Keith Schneider
Gina Lopez, a former Philippine environment secretary, philanthropist and eco-warrior, died on Aug. 19 from brain cancer. She was 65.
Trump speaks to contractors at the Shell Chemicals Petrochemical Complex on Aug. 13 in Monaca, Pennsylvania. Jeff Swensen / Getty Images
Thousands of union members at a multibillion dollar petrochemical plant outside of Pittsburgh were given a choice last week: Stand and wait for a speech by Donald Trump or take the day off without pay.