This website uses cookies to ensure you get the best experience while browsing it. By clicking 'Got It' you're accepting these terms.
Sea Levels Rising at Fastest Rate in 3,000 Years
Feb. 23, 2016 09:30AM EST
Climate
Sea levels in the 20th century rose faster than at any time in the last 3,000 years. And in the 21st century, the tides will climb ever higher—by at least 28 cms (11 inches) and possibly by as much as 130 cms (51 inches), according to two new studies.
Human activity is implicated in both studies and although neither delivers a new conclusion, each represents a new approach to studies of sea level rise as a consequence of climate change and each is a confirmation of previous research.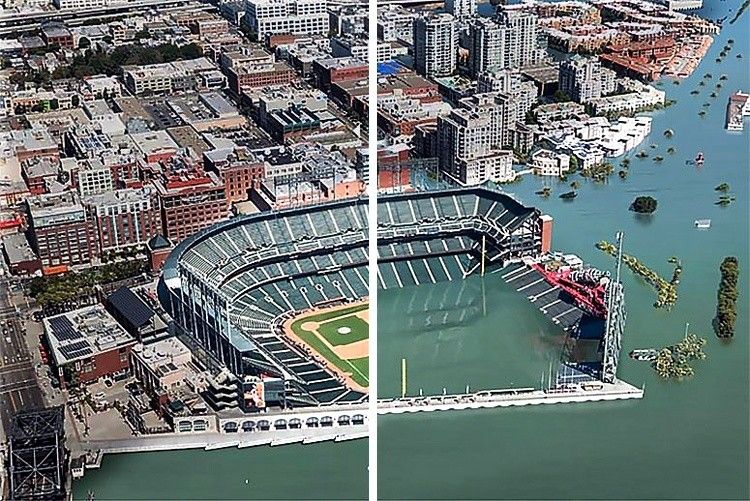 Robert Kopp, a climate scientist and Earth historian at Rutgers University in the U.S. and colleagues reveal in the Proceedings of the National Academy of Sciences that they tried to look at the greenhouse century—the 100 years in which oil, gas and coal combustion began to change the mix of carbon dioxide in the atmosphere and trigger a rise in planetary average temperatures—in the context of the last 27 centuries.
New Approach
They compiled a geological database that stretched back to the Bronze Age, which lasted, with regional variations, from the fourth to the first millennium before the Christian era. And they developed a new statistical approach to examine the sea-level indicators retrieved from marshes, coral atolls and archaeological sites around the world.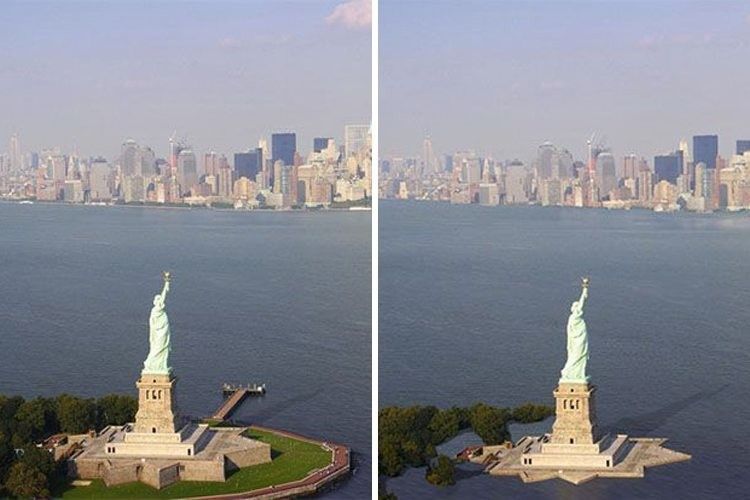 They report that although sea level rise might have happened without human action, it would have been less than half the observed 20th century increase and might even have fallen.
Had humans not piled greenhouse gases into the atmosphere, more than half the 8,000 coastal floods recorded at U.S. tide gauges in the last century might never have happened. On average, sea levels rose 14 cms between 1900 and 2000.
"The 20th century rise was extraordinary in the context of the last three millennia—and the rise over the last two decades has been even faster," Dr. Kopp said.
In the same journal, a team led by Matthias Mengel, a postdoctoral researcher at the Potsdam Institute for Climate Impact Research, Germany, report that they took a new look at what might happen to sea levels before 2100.
They modeled three scenarios for greenhouse gas emissions, incorporated the latest 20th-century data on melting glaciers and warming oceans and played with the mathematical approach in a new way to predict a set of outcomes.
Projected Increase
The most hopeful—based on the agreement by 195 nations last December at the UN climate change conference in Paris—led to a projected increase of between 28 and 56 cms. The most alarming outcome proposed a possible range of sea level rise from 57 to 131 cms.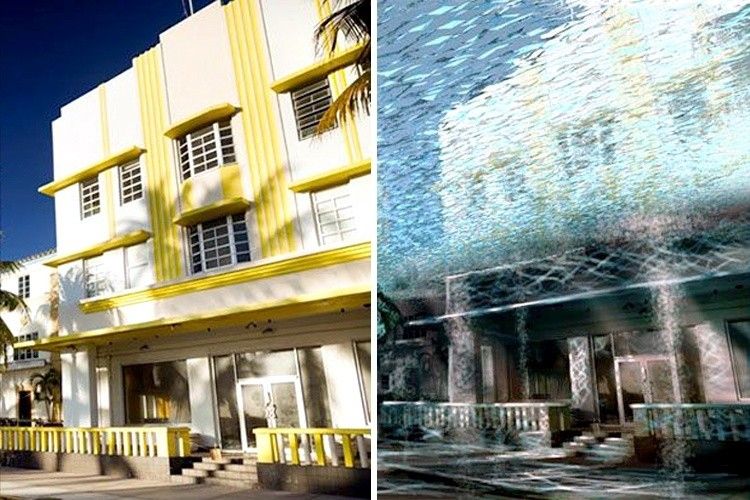 The two studies are designed to give practical information to city authorities and coastal planners.
Even a 60 cm rise means nations will have to think about coastal protection.
"With all the greenhouse gases we have already emitted, we cannot stop the seas from rising altogether, but we can substantially limit the rate of the rise by ending the use of fossil fuels," said Co-Author Anders Levermann, a professor of climate system dynamics who is based both at Potsdam and at Columbia University's Lamont-Doherty Earth Observatory in the U.S.
"This is quite a challenge, but less expensive than adaptation to unabated sea level rise, which in some regions is impossible," Prof. Levermann said. "If the world wants to avoid the greatest losses and damage, it now has to rapidly follow the path laid out by the UN climate summit in Paris a few weeks ago."
YOU MIGHT ALSO LIKE
Climate Experts to American Geophysical Union: Reject Exxon Sponsorship
Strongest Ever Southern Cyclone Crashes Into Fiji
6 Stunning Images Show Sense of Urgency to Act on Climate
EcoWatch Daily Newsletter
A vegan diet can improve your health, but experts say it's important to keep track of nutrients and protein. Getty Images
By Dan Gray
Research shows that 16 weeks of a vegan diet can boost the gut microbiome, helping with weight loss and overall health.
A healthy microbiome is a diverse microbiome. A plant-based diet is the best way to achieve this.
It isn't necessary to opt for a strictly vegan diet, but it's beneficial to limit meat intake.
New research shows that following a vegan diet for about 4 months can boost your gut microbiome. In turn, that can lead to improvements in body weight and blood sugar management.
Students gathered at the National Mall in Washington DC, Sept. 20. NRDC
By Jeff Turrentine
Nearly 20 years have passed since the journalist Malcolm Gladwell popularized the term tipping point, in his best-selling book of the same name. The phrase denotes the moment that a certain idea, behavior, or practice catches on exponentially and gains widespread currency throughout a culture. Having transcended its roots in sociological theory, the tipping point is now part of our everyday vernacular. We use it in scientific contexts to describe, for instance, the climatological point of no return that we'll hit if we allow average global temperatures to rise more than 2 degrees Celsius above preindustrial levels. But we also use it to describe everything from resistance movements to the disenchantment of hockey fans when their team is on a losing streak.
samael334 / iStock / Getty Images
Berries are small, soft, round fruit of various colors — mainly blue, red, or purple.
A glacier is seen in the Kenai Mountains on Sept. 6, near Primrose, Alaska. Scientists from the U.S. Geological Survey have been studying the glaciers in the area since 1966 and their studies show that the warming climate has resulted in sustained glacial mass loss as melting outpaced the accumulation of new snow and ice. Joe Raedle / Getty Images
By Mark Mancini
On Aug. 18, Iceland held a funeral for the first glacier lost to climate change. The deceased party was Okjökull, a historic body of ice that covered 14.6 square miles (38 square kilometers) in the Icelandic Highlands at the turn of the 20th century. But its glory days are long gone. In 2014, having dwindled to less than 1/15 its former size, Okjökull lost its status as an official glacier.
Members of Chicago Democratic Socialists of America table at the Logan Square Farmers Market on Aug. 18. Alex Schwartz
By Alex Schwartz
Among the many vendors at the Logan Square Farmers Market on Aug. 18 sat three young people peddling neither organic vegetables, gourmet cheese nor handmade crafts. Instead, they offered liberation from capitalism.
Hackney primary school students went to the Town Hall on May 24 in London after school to protest about the climate emergency. Jenny Matthews / In Pictures / Getty Images
Bird watching in the U.S. may be a lot harder than it once was, since bird populations are dropping off in droves, according to a new study.