Scottish Parliament Passes Motion in Support of Outright Fracking Ban
Jun. 02, 2016 07:36AM EST
Energy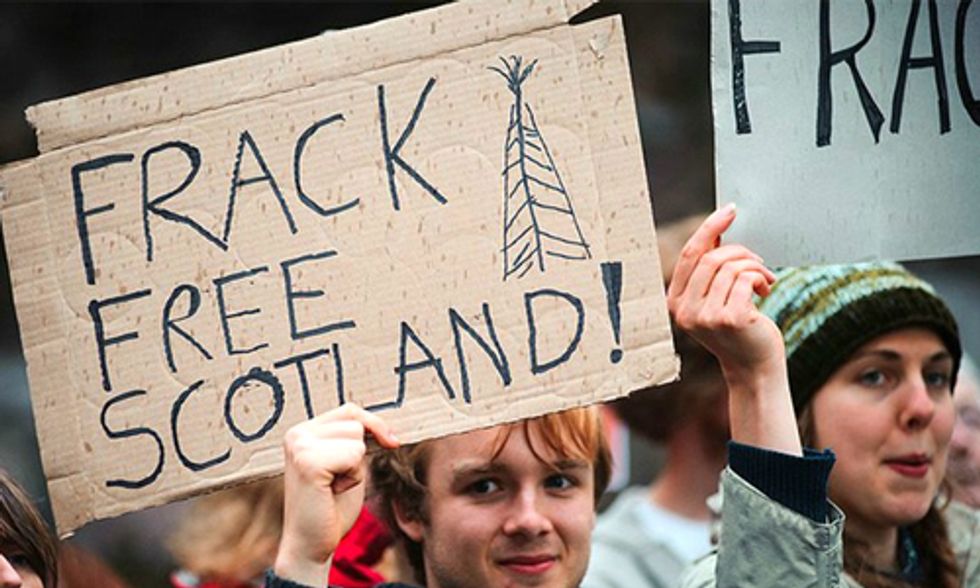 By Deirdre Fulton
The Scottish Parliament on Wednesday narrowly passed a motion in support of an outright fracking ban, setting up a potential showdown over the controversial fossil fuels extraction method.
The motion put forth by Labour stated: "This parliament recognizes that, to meet Scotland's climate change goals and protect the environment, there must be an outright ban on fracking in Scotland."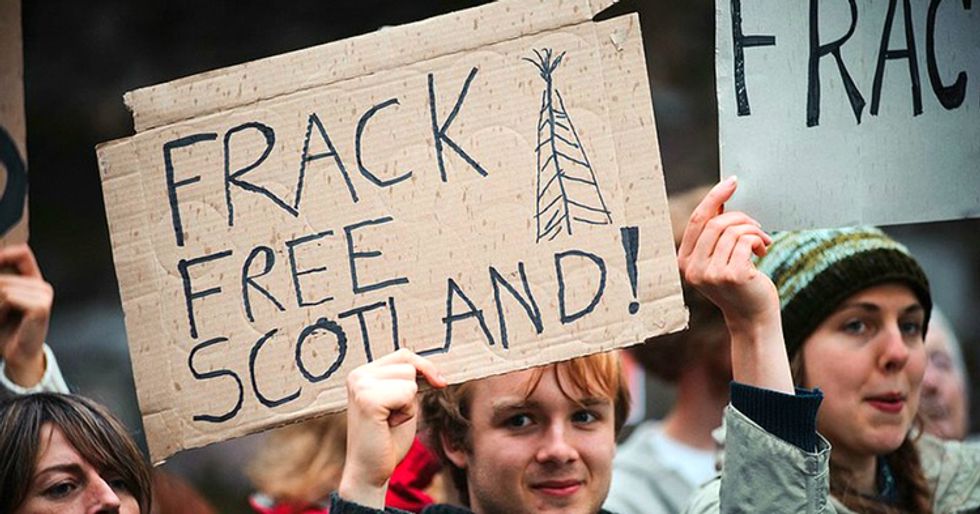 After Scottish National Party (SNP) members abstained, the motion was passed by 32 votes to 29. The SNP announced a moratorium on fracking in Scotland last January, but has stopped short of an outright ban to allow for further research.
The Guardian reports:
Scottish Labour's environment spokesperson, Claudia Beamish, who tabled the amendment, immediately called on the SNP government to clarify its position after the vote, which does not create binding policy, but represents a significant defeat for the SNP so soon into this new parliamentary term.
Beamish said: "The SNP government must now clarify whether or not they will respect the will of parliament and introduce an outright ban on fracking. It would be outrageous for this important vote to be ignored.
"There is no doubt about the science—to meet our climate change goals and protect our environment we need to develop low carbon sources of energy, not another fossil fuel. Labour's position is clear: no ifs, no buts, no fracking."
According to The Scotsman:
Environment Secretary Roseanna Cunningham had earlier stated that public opinion will in Scotland will play key role in the decision by ministers on whether or not impose an outright ban on fracking.
A decision will be taken by energy minister Paul Wheelhouse, but is unlikely to be reached before the of the Summer.
"It's great that the Scottish Parliament has voted to ban fracking and sent this clear message to the government to get on and do it," said Mary Church, head of campaigns for Friends of the Earth Scotland. "It is also clear from today's vote that there is a growing consensus that stopping climate change means we have to say no to new fossil fuels like fracked gas."
She added: "We look forward to greater urgency from the Scottish Government in ending the uncertainty for communities faced with unconventional fossil fuel extraction across Scotland."
YOU MIGHT ALSO LIKE
Renewable Energy Surges to Record-Breaking Levels Around the World
Stephen Hawking: One Thing Threatens Us More Than Donald Trump … Climate Change
Remarkable Forest Hotel Takes Green Architecture to a Whole New Level
EcoWatch Daily Newsletter