This website uses cookies to ensure you get the best experience while browsing it. By clicking 'Got It' you're accepting these terms.
Scientists Work to Solve Mystery of Dying Bees
Jul. 31, 2013 03:40PM EST
Insights + Opinion

When a swarm of bees landed on a tree in their yard a few years ago, a David Suzuki Foundation staffer and her husband became accidental beekeepers. They called an apiarist relative who came over and helped them capture the bees, build hives and round up equipment. Now they're enjoying fresh honey and wax and have developed a fascination for the amazing insects. Staff shared that wonderment when she brought honeycombs and tools to the office for an impromptu lesson on beekeeping and bee behavior.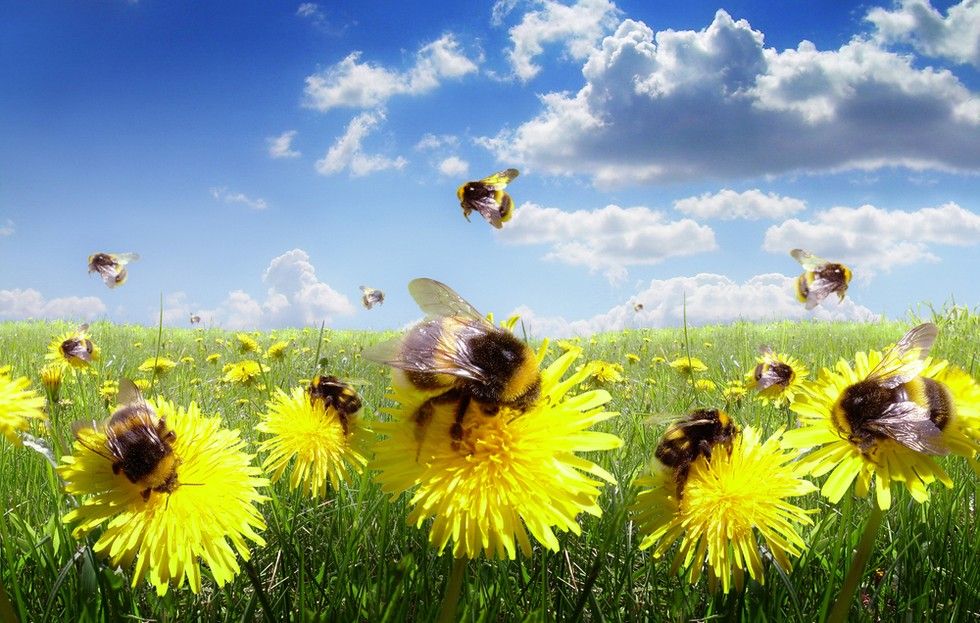 Photo courtesy of Shutterstock
Bees are endlessly intriguing, and incredibly useful to us—and not just for honey and wax. If bees disappeared, it would be difficult, if not impossible, to grow much of what we eat. Bees pollinate crops ranging from apples to zucchini. Blueberries and almonds are almost entirely dependent on them. Some experts say they're responsible for one of every three bites of food we eat. The economic value of pollination services from honeybees alone is estimated at $14 billion in the U.S. and hundreds of millions in Canada.
 
Bees are good pollinators because—unlike some birds and other insects that are after nectar alone—they also seek out pollen, which they use along with nectar to feed the hive. In the process, they transfer pollen from the male part of one flower to the female part of another, fertilizing plants so they can develop seed-carrying fruits. Wild bees and domesticated honeybees are both important pollinators.
 
In fact, research indicates wild bees may be more important for food crop pollination than honeybees. That's in part because a single species, such as honeybees, is vulnerable to mass disease outbreaks. Wild bees also use a wider range of pollination techniques and visit more plants, and so increase chances of cross-pollination, according to an article in the Guardian.
 
Sadly, both wild and domesticated bees are in trouble, and that means we could be, too. Causes of phenomena such as colony collapse disorder and other declines in bee populations are not entirely understood, but scientists are getting closer to knowing why bees are dying. Ironically, much of it relates to agricultural practices. Modern methods of growing food are killing one of our biggest helpers in food production.
 
Wild bees also face threats from climate change and habitat loss. A recent study published in Science found half the wild bee species in the U.S. were wiped out during the 20th century. That's been partly attributed to "an increasing mismatch between when plants flowered and when bees were active, a finding consistent with climate change," according to the Guardian.
 
Causes of honeybee deaths are more complicated. Colony collapse disorder has wiped out millions of hives over the past decade, with pesticide use, parasites and poor nutrition eyed as likely culprits. Scientists from the University of Maryland and U.S. Department of Agriculture recently found pollen collected by honeybees was contaminated with a toxic mix of pesticides and fungicides. It appears the toxins make the bees more vulnerable to a parasite called Nosema ceranae, which is believed to cause colony collapse disorder. Pollen samples contained an average of nine different agricultural pesticides and fungicides, and as many as 21 in one case.
 
The European Union has imposed a two-year ban on three neonicotinoids, a class of pesticides thought to be responsible for the dramatic declines in Europe's bee populations, but only for use on "crops attractive to bees". However, according to the Maryland study's lead author, Dennis vanEngelsdorp, quoted in the online news outlet Quartz, "It's a lot more complicated than just one product, which means of course the solution does not lie in just banning one class of product."
 
We need to get a handle on the toxic chemicals we use to grow food. If our practices kill insects and birds that make it possible to grow crops, we're defeating their purpose and putting ourselves and the rest of nature at risk. As individuals, we can help bees. Stop using pesticides and join the call to ban the worst ones. Plant bee-friendly plants and gardens, make wild bee "houses" and learn more about our fuzzy, buzzing friends. Like our David Suzuki Foundation staffer, you could even adopt a hive.
Visit EcoWatch's BIODIVERSITY page for more related news on this topic.
——–

EcoWatch Daily Newsletter
Sen. Michael Bennet (D-CO) speaks during the North American Building Trades Unions Conference at the Washington Hilton April 10, 2019 in Washington, DC. Zach Gibson / Getty Images
Colorado senator and 2020 hopeful Michael Bennet introduced his plan to combat climate change Monday, in the first major policy rollout of his campaign. Bennet's plan calls for the establishment of a "Climate Bank," using $1 trillion in federal spending to "catalyze" $10 trillion in private spending for the U.S. to transition entirely to net-zero emissions by 2050.
When Trump's Environmental Protection Agency (EPA) announced its replacement for the Obama-era Clean Power Plan in August 2018, its own estimates said the reduced regulations could lead to 1,400 early deaths a year from air pollution by 2030.
Now, the EPA wants to change the way it calculates the risks posed by particulate matter pollution, using a model that would lower the death toll from the new plan, The New York Times reported Monday. Five current or former EPA officials familiar with the plan told The Times that the new method would assume there is no significant health gain by lowering air pollution levels below the legal limit. However, many public health experts say that there is no safe level of particulate matter exposure, which has long been linked to heart and lung disease.
A crate carrying one of the 33 lions rescued from circuses in Peru and Columbia is lifted onto the back of a lorry before being transported to a private reserve on April 30, 2016 in Johannesburg, South Africa. Dan Kitwood / Getty Images
By Andrea Germanos
Animal welfare advocates are praising soon-to-be introduced legislation in the U.S. that would ban the use of wild animals in traveling circuses.
A tornado Monday in Union City, Oklahoma.
TicToc by Bloomberg / YouTube screenshot
A woman walks in front of her water-logged home in Sriwulan village, Sayung sub-district of Demak regency, Central Java, Indonesia on Feb. 2, 2018. Siswono Toyudho / Anadolu Agency /Getty Images
Matt Cardy / Stringer / Getty Images
The Guardian is changing the way it writes about environmental issues.
Blueberry yogurt bark. SEE D JAN / iStock / Getty Images Plus
Having nutritious snacks to eat during the workday can help you stay energized and productive.

A 2017 flood in Elk Grove, California. Florence Low / California Department of Water Resources
By Tara Lohan
It's been the wettest 12 months on record in the continental United States. Parts of the High Plains and Midwest are still reeling from deadly, destructive and expensive spring floods — some of which have lasted for three months.
Mounting bills from natural disasters like these have prompted renewed calls to reform the National Flood Insurance Program, which is managed by Federal Emergency Management Agency and is now $20 billion in debt.