This website uses cookies to ensure you get the best experience while browsing it. By clicking 'Got It' you're accepting these terms.
Scientists Work to Solve Mystery of Dying Bees
Jul. 31, 2013 03:40PM EST
Insights + Opinion

When a swarm of bees landed on a tree in their yard a few years ago, a David Suzuki Foundation staffer and her husband became accidental beekeepers. They called an apiarist relative who came over and helped them capture the bees, build hives and round up equipment. Now they're enjoying fresh honey and wax and have developed a fascination for the amazing insects. Staff shared that wonderment when she brought honeycombs and tools to the office for an impromptu lesson on beekeeping and bee behavior.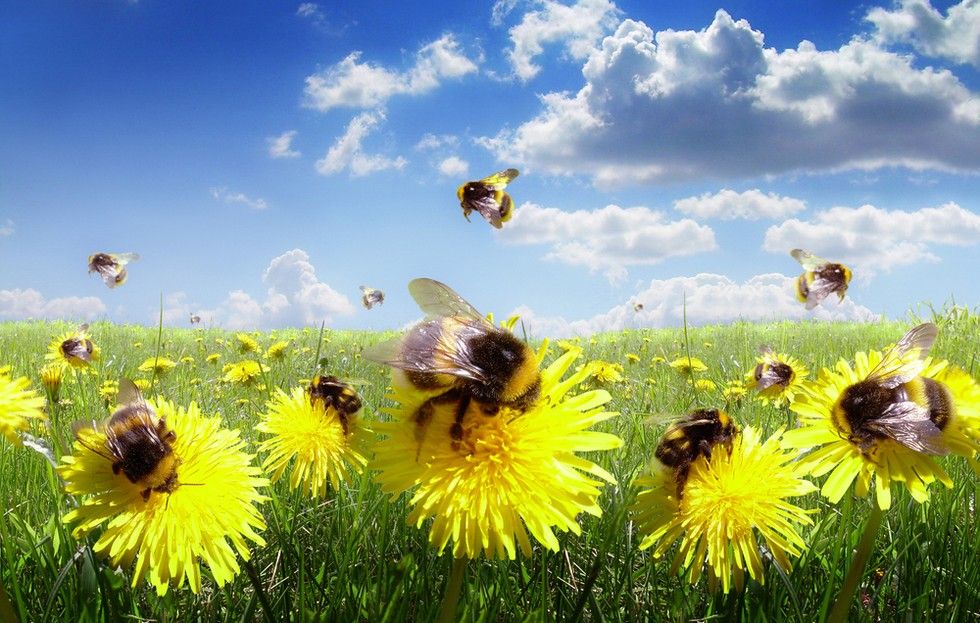 Photo courtesy of Shutterstock
Bees are endlessly intriguing, and incredibly useful to us—and not just for honey and wax. If bees disappeared, it would be difficult, if not impossible, to grow much of what we eat. Bees pollinate crops ranging from apples to zucchini. Blueberries and almonds are almost entirely dependent on them. Some experts say they're responsible for one of every three bites of food we eat. The economic value of pollination services from honeybees alone is estimated at $14 billion in the U.S. and hundreds of millions in Canada.
 
Bees are good pollinators because—unlike some birds and other insects that are after nectar alone—they also seek out pollen, which they use along with nectar to feed the hive. In the process, they transfer pollen from the male part of one flower to the female part of another, fertilizing plants so they can develop seed-carrying fruits. Wild bees and domesticated honeybees are both important pollinators.
 
In fact, research indicates wild bees may be more important for food crop pollination than honeybees. That's in part because a single species, such as honeybees, is vulnerable to mass disease outbreaks. Wild bees also use a wider range of pollination techniques and visit more plants, and so increase chances of cross-pollination, according to an article in the Guardian.
 
Sadly, both wild and domesticated bees are in trouble, and that means we could be, too. Causes of phenomena such as colony collapse disorder and other declines in bee populations are not entirely understood, but scientists are getting closer to knowing why bees are dying. Ironically, much of it relates to agricultural practices. Modern methods of growing food are killing one of our biggest helpers in food production.
 
Wild bees also face threats from climate change and habitat loss. A recent study published in Science found half the wild bee species in the U.S. were wiped out during the 20th century. That's been partly attributed to "an increasing mismatch between when plants flowered and when bees were active, a finding consistent with climate change," according to the Guardian.
 
Causes of honeybee deaths are more complicated. Colony collapse disorder has wiped out millions of hives over the past decade, with pesticide use, parasites and poor nutrition eyed as likely culprits. Scientists from the University of Maryland and U.S. Department of Agriculture recently found pollen collected by honeybees was contaminated with a toxic mix of pesticides and fungicides. It appears the toxins make the bees more vulnerable to a parasite called Nosema ceranae, which is believed to cause colony collapse disorder. Pollen samples contained an average of nine different agricultural pesticides and fungicides, and as many as 21 in one case.
 
The European Union has imposed a two-year ban on three neonicotinoids, a class of pesticides thought to be responsible for the dramatic declines in Europe's bee populations, but only for use on "crops attractive to bees". However, according to the Maryland study's lead author, Dennis vanEngelsdorp, quoted in the online news outlet Quartz, "It's a lot more complicated than just one product, which means of course the solution does not lie in just banning one class of product."
 
We need to get a handle on the toxic chemicals we use to grow food. If our practices kill insects and birds that make it possible to grow crops, we're defeating their purpose and putting ourselves and the rest of nature at risk. As individuals, we can help bees. Stop using pesticides and join the call to ban the worst ones. Plant bee-friendly plants and gardens, make wild bee "houses" and learn more about our fuzzy, buzzing friends. Like our David Suzuki Foundation staffer, you could even adopt a hive.
Visit EcoWatch's BIODIVERSITY page for more related news on this topic.
——–

EcoWatch Daily Newsletter
Extreme weather events supercharged by climate change in 2012 led to nearly 1,000 more deaths, more than 20,000 additional hospitalizations, and cost the U.S. healthcare system $10 billion, a new report finds.
Giant sequoia trees at Sequoia National Park, California. lucky-photographer / iStock / Getty Images Plus
A Bay Area conservation group struck a deal to buy and to protect the world's largest remaining privately owned sequoia forest for $15.6 million. Now it needs to raise the money, according to CNN.
This aerial view shows the Ogasayama Sports Park Ecopa Stadium, one of the venues for 2019 Rugby World Cup. MARTIN BUREAU / AFP / Getty Images
The Rugby World Cup starts Friday in Japan where Pacific Island teams from Samoa, Fiji and Tonga will face off against teams from industrialized nations. However, a new report from a UK-based NGO says that when the teams gather for the opening ceremony on Friday night and listen to the theme song "World In Union," the hypocrisy of climate injustice will take center stage.
Vera_Petrunina / iStock / Getty Images Plus
By Wudan Yan
In June, New York Times journalist Andy Newman wrote an article titled, "If seeing the world helps ruin it, should we stay home?" In it, he raised the question of whether or not travel by plane, boat, or car—all of which contribute to climate change, rising sea levels, and melting glaciers—might pose a moral challenge to the responsibility that each of us has to not exacerbate the already catastrophic consequences of climate change. The premise of Newman's piece rests on his assertion that traveling "somewhere far away… is the biggest single action a private citizen can take to worsen climate change."

Volunteer caucasian woman giving grain to starving African children.
Bartosz Hadyniak / E+ / Getty Images
Food will be scarce, expensive and less nutritious," CNN warns us in its coverage of the UN's new "Climate Change and Land" report. The New York Times announces that "Climate Change Threatens the World's Food Supply."
By Adam Vaughan
Two-thirds of people in the UK think the amount people fly should be reined in to tackle climate change, polling has found.
Climate Week NYC
On Monday, Sept. 23, the Climate Group will kick off its 11th annual Climate Week NYC, a chance for governments, non-profits, businesses, communities and individuals to share possible solutions to the climate crisis while world leaders gather in the city for the UN Climate Action Summit.
By Pam Radtke Russell in New Orleans
Local TV weather forecasters have become foot soldiers in the war against climate misinformation. Over the past decade, a growing number of meteorologists and weathercasters have begun addressing the climate crisis either as part of their weather forecasts, or in separate, independent news reports to help their viewers understand what is happening and why it is important.