Scientists Warn Unabated Climate Change Puts Another Billion at Risk of Water Scarcity
By Paul Brown
Allowing the Earth's temperature to rise by more than two degrees Celsius will see dramatic changes in vegetation across the planet and expose a billion more people to severe water scarcity, according to new research.
So vast are the potential changes that the scientists from the Potsdam Institute for Climate Impact Research (PIK) in Germany comment that they doubt if humans have the capacity to manage the impacts it will have.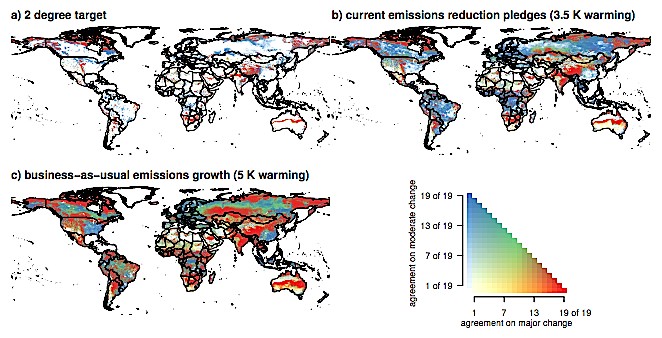 A temperature rise of five degrees Celsius would cause all ice-free land on the planet to experience dramatic changes in its eco-systems—for example, tundra turning to forests and African grasslands to deserts.
In a paper published today in the international scientific journal Earth System Dynamics, the scientists say they are surprised at how much worse the impacts would become once the two degree Celsius threshold is passed. At the moment, they say, the failure of politicians to make commitments to cut emissions means that the temperature is set to reach and pass the danger zone of 3.5 degrees Celsius.
While the scientists spell out what will happen to the vegetation and the water availability, they do not venture into predicting what conflict might arise if a billion people or more whose food supply would collapse embarked on mass migration to avoid starvation.
The "green" areas of the world most affected are the grasslands of Eastern India, shrub lands of the Tibetan Plateau, the forests of Northern Canada and the savannas of Ethiopia and Somalia. The melting permafrost of the Siberian tundra will also be significant, releasing further greenhouse gases.
The changes in vegetation are only part of the story. The report also concentrates on the effect of temperature on water shortages for the human population. Even if global warming is limited to two degrees Celsius above pre-industrial levels, another 500 million people could suffer water scarcity, and this will grow substantially as the temperature rises.
Water Scarcity
Dr. Dieter Gerten, research expert on water scarcity, and lead author of one of the three studies contained in the PIK paper, said mean global warming of two degrees Celsius—the target set by the international community—is projected to expose an additional eight percent of humankind to new or increased water scarcity.
However, a rise of 3.5 degrees—likely to occur if national emissions reductions remain at currently pledged levels—would affect 11 percent of the world population, while a rise of five degrees could increase this to 13 percent.
"If population growth continues, by the end of our century under a business-as-usual scenario these figures would equate to well over one billion lives touched," Gerten says. "And this is on top of the more than one billion people already living in water-scarce regions today."
Parts of Asia, North Africa, the Mediterranean and the Middle East are particularly vulnerable to further water scarcity. The eastern side of the U.S. and northern Mexico, already short of water, will suffer further stress.
Maps published with the paper show the areas most at risk from both water shortages and vegetation changes. One of the worst affected regions is an area that includes Pakistan and the border area of India—which is already suffering from floods, droughts and a subsequent loss of crop production.
Dire Consequences
The scientists use their findings to show that the current world leaders have the key to the fate of the planet. If they reduce emissions now, they could prevent the worst of the temperature rises, but if they fail to do so the consequences will be dire.

The paper says a warming of five degrees Celsius—likely to happen in the next century if climate change goes on unabated—would put nearly all terrestrial natural ecosystems at risk of severe change.
"So despite the uncertainties, the findings clearly demonstrate that there is a large difference in the risk of global ecosystem change under a scenario of no climate change mitigation, compared to one of ambitious mitigation," says geo-ecologist Sebastian Ostberg, lead author of the third section of the study.
While the report does not speculate on the actual effects these changes will have on the ability of the human population to survive, the scientists permit themselves the observation that it is hard to see how humans can adapt to such rapid changes.
Much more irrigation would be needed to grow the same amount of food, the scientists suggest, but this would put even more strain on scarce resources.
Visit EcoWatch's CLIMATE CHANGE page for more related news on this topic.
———

A coalition of conservation groups and others announced Thursday that a historic number of comments and petitions of support have been submitted to the U.S. Department of the Interior in support of Bears Ears National Monument. Despite the entirely inadequate 15-day comment period ending on May 26, more than 685,000 comments in support of Bears Ears National Monument have been collected.
Keep reading...
Show less
Rink Glacier in western Greenland, with a meltwater lake visible center. NASA/OIB
Scientists have had their eyes on Greenland as its iconic glaciers have begun disappearing due to a warming climate. But, what they didn't expect to see was a whole new type of melting.
Keep reading...
Show less
Mountain View Fire
By Lena Moffitt
An oil tanker in Mead, Colorado exploded, killing one and injuring three on Thursday. Authorities are continuing to investigate the cause of the explosion.
Keep reading...
Show less
Banner created by Alliance for Climate Education
Keep reading...
Show less
Twenty-two GOP senators sent a letter Thursday urging Donald Trump to pull out of the Paris agreement. They argued remaining in the deal could "upend" the administration's ability "to fulfill its goal of rescinding the Clean Power Plan."
Keep reading...
Show less
By Cheryl Johncox
The Federal Energy Regulatory Commission (FERC) rejected on Thursday Energy Transfer Partners' request to resume horizontal directional drilling at two sites for its Rover fracked gas pipeline. This rejection comes after numerous leaks into Ohio's wetlands, and Clean Air and Clean Water act violations. FERC has halted the process at only eight locations of the 32 where drilling is taking place under Ohio's wetlands and streams.
Keep reading...
Show less
By Nadia Prupis
A majority of people in eight countries say they are ready to change their lifestyles if it would prevent climate catastrophe, a survey on global threats released Wednesday found.
Keep reading...
Show less
May. 25, 2017 01:55PM EST
Bill Maher is sick of billionaires' obsession with Mars, more like "Mars-a-Lago," he said.
In a new animation produced by ATTN:, the popular talk show host of Real Time, discusses the perils of our planet, including how "climate change is killing us."
Keep reading...
Show less