Scientists Warn Climate Change Affecting Greenland Ice Sheet More Than Previously Thought
Not long into the New Year and already a new warning about climate change and rising sea levels.
A new scientific study, published this week in the journal Nature Climate Change, is warning that climate change may be affecting the vast Greenland ice sheet more seriously than previously thought.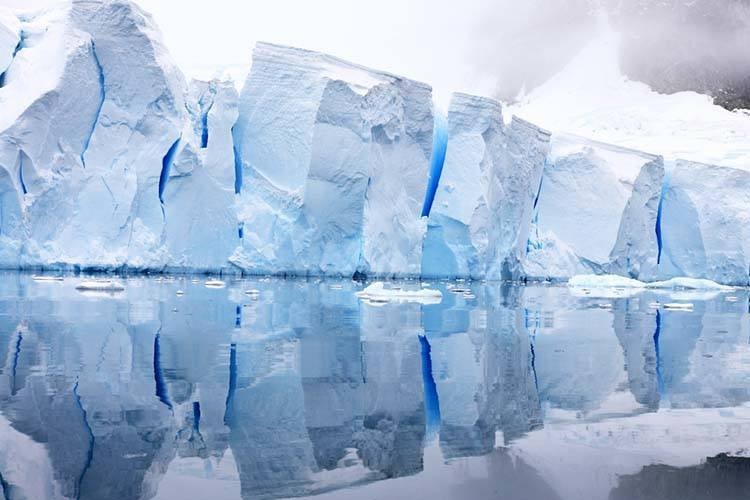 Photo credit: Shutterstock
Traditionally the huge Greenland ice sheet, which NASA estimates is losing an estimated 287 billion tons of ice every year, has also been seen by scientists as a "sponge" for glacier meltwater.
But new research has found that the ice sheet could be losing this ability to act as a sponge.
An international team of scientists have been spent the last few years examining "firn," the porous snow cover which overlays dense glacier ice near the surface. Firn is seen as crucial is capturing melt-water runoff before it enters the ocean adding to sea-level rise. The scientists wanted to see how climate change was affecting the firn layer's ability to hold water.
"As this layer is porous and the pores are connected, theoretically all the pore space in this firn layer can be used to store meltwater percolating into the firn whenever melt occurs at the surface," the new paper's Lead Author, Horst Machguth of the Geological Survey of Denmark and Greenland, told The Washington Post.
Over time, meltwater percolates down through the firn and freezes into the ice layer. This is good news for sea level rise as the fern stops meltwater reaching the sea. But for how much longer?
Another of the scientists, York University Professor William Colgan, said: "The study looked at very recent climate change on the ice sheet, how the last couple of years of melt have really altered the structure of the ice sheet firn and made it behave differently to future melt."
The scientists were shocked by what they found. They discovered that an extreme melt which occurred in 2012 caused a thick layer of ice to form on top of the firn layer. "In subsequent years, meltwater couldn't penetrate vertically through the solid ice layer and instead drained along the ice sheet surface toward the ocean," Colgan said.
This phenomenon had never been seen before.
Because the research "overturned the idea that firn can behave as a nearly bottomless sponge to absorb meltwater," this means that Greenland's projected sea level rise due to meltwater runoff is likely higher than previously predicted.
"I think the most notable result of our study is showing that the firn reacts faster to an atmospheric warming than expected," Machguth added.
What is deeply concerning is that other ice-sheets are also covered in firn too, which also may react adversely to climate change. "Evidence is emerging to show Canadian Arctic firn is also capping off," Colgan said.
YOU MIGHT ALSO LIKE
Mercury-Laden Fog Swirls Over California Coastal Cities
10 Extreme Weather Events in 2015 That Sound the Alarm on Climate Chaos
Meet the World's First Climate Refugees
15 Most Absurd Comments Right-Wing Media Said About Climate Change in 2015
Bill Maher is sick of billionaires' obsession with Mars, more like "Mars-a-Lago," he said.
In a new animation produced by ATTN:, the popular talk show host of Real Time, discusses the perils of our planet, including how "climate change is killing us."
Keep reading...
Show less
Dr. Benjamin D. Santer, research scientist
A group of prominent climate scientists have written a study explicitly refuting statements made by the U.S. Environmental Protection Agency Administrator Scott Pruitt on climate data. During his Senate confirmation hearing, Pruitt claimed in a written response that satellite data shows a "leveling off" of warming over the past two decades.
Keep reading...
Show less
By David Pomerantz
The Nevada Assembly passed a bill Wednesday that would dramatically increase the growth of renewable energy in the state, but Sheldon Adelson, the casino magnate and major donor to Donald Trump, is attempting to prevent the bill from becoming law.
Keep reading...
Show less
Matt Crossick
By Yosola Olorunshola
Whether it's through fashion or protest, Vivienne Westwood is not a woman afraid of making a statement.
On May 23, she rocked up to the residence of the Archbishop of Canterbury in London with a special guest—the Grim Reaper—to issue a strong statement on the Church of England's position on fracking.
Keep reading...
Show less
Military veterans from across Virginia released a letter Thursday opposing two proposed fracked-gas pipelines: Dominion Energy's Atlantic Coast Pipeline and EQT's Mountain Valley Pipeline. These pipelines would cross through pristine areas of Virginia, taking private property by use of eminent domain, removing mountain ridgetops and threatening valuable drinking water resources. The veterans view this as contrary to their service to protect and defend the freedom and security of American citizens.

Keep reading...
Show less
By Paul Brown
The food industry and big agricultural concerns are driving climate change and at the same time threatening to undermine efforts to feed the world's growing population, according to GRAIN, an organization that supports small farmers.
Particularly singled out for criticism are the large chemical fertilizer producers that have gained access to the United Nations talks on climate change. GRAIN accuses them of behaving like the fossil fuel companies did in the 1990s, pushing false information in the hope of delaying real action on climate change.
Keep reading...
Show less
May. 24, 2017 06:55PM EST
By Sydney Robinson
President Trump has no doubt been given a long list of extravagant, elaborate gifts in his lifetime, but the gift given to him today by Pope Francis may not make it on his most favorite list.
Keep reading...
Show less
May. 24, 2017 07:17PM EST
By John Rogers
Maybe it's because I first started working on clean energy while serving in the Peace Corps he founded, or maybe it's my years of working on these issues from his home state. But I can't help thinking about the 100th anniversary of John F. Kennedy's birth, and connecting his stirring rhetoric to the energy challenges of our times.
Here's what our 35th president might have said about the challenges of energy transition and the opportunities in clean energy:
"Change is the law of life. And those who look only to the past or present are certain to miss the future."
Keep reading...
Show less


Get EcoWatch in your inbox