This website uses cookies to ensure you get the best experience while browsing it. By clicking 'Got It' you're accepting these terms.
Scientists Start to Look at Ground Beneath Their Feet for Solution to Climate Change
Apr. 17, 2016 08:50AM EST
Climate
Climate scientists anxious to find ways to limit atmospheric greenhouse gases have started to look at the ground beneath their feet.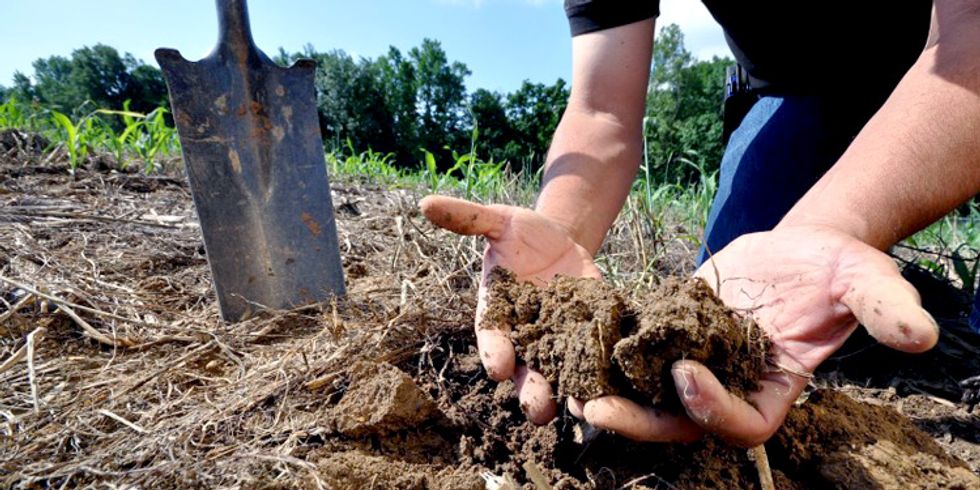 Photo credit: Ron Nichols/NRCS / Flickr
They calculate that although the world's soils already hold 2.4 trillion tonnes of gases in the form of organic carbon, there's room for more.
Scientists from the U.S. and Scotland report in Nature journal that with a few changes to agricultural practice, there would be room for another 8 billion tonnes.
"In our fight to avoid dangerous climate change in the 21st century, we need heavyweight allies," Dave Reay, a geoscientist and specialist in carbon management at Edinburgh University, said. "One of the most powerful is right beneath our feet. Soils are already huge stores of carbon, and improved management can make them even bigger."
Data Availability
"Too long they have been overlooked as a means to tackle climate change," Reay continued. "Too often have problems of accurate measurement and reporting stymied progress towards climate-smart soil management.
"With the surge in availability of big data on soils around the world, alongside rapid improvements in understanding and modeling, the time has come for this big-hitter to enter the ring."
In fact, researchers have been conscious for years that the soils have a powerful role to play. They have identified the agencies that control a soil's capacity for carbon. They have tested climate models to check on emissions from soils. They have experimented with techniques for conserving soil carbon. And they have repeatedly sounded the alarm about the stores of organic carbon in the permafrost.
In addition, they have established that man-made greenhouse gas releases coincide with the spread of global agriculture thousands of years ago. Land use, the scientists now calculate, accounts for perhaps a quarter of all man-made greenhouse gas emissions, and between 10 percent and 14 percent directly from agriculture.
But, they reason, since soils hold three times as much organic carbon as exists in carbon dioxide form in the atmosphere, better management of the terrestrial planet could help reduce emissions too.
So, the trick is: don't degrade healthy ecosystems, because unmanaged forests and grasslands store carbon very efficiently. Wetlands drained for agriculture surrender their soil carbon, but restored wetlands soak the stuff up.
Agricultural Practices
And there is a range of sustainable agricultural practices that can conserve carbon and, at the same time, continue to deliver food to the table.
Farmers could grow crops with deeper root systems, use charcoal-based composts, and exploit a suite of more efficient practices tailored to their crops and terrain. Schemes such as Cool Farm Tool could help farmers measure and manage emissions from their own land.
There would not be one big answer, but a host of varied responses. These range from better crop rotation to low tillage as opposed to deep ploughing, and from land restoration to agroforestry. All of these added together—what the researchers call the "all-of-the-above" approach—could make a big difference.
With help from science, government policymakers and new approaches, ultimately they could help soils retain the equivalent of four-fifths of the emissions released each year by the combustion of fossil fuels, the researchers say.
YOU MIGHT ALSO LIKE
March 2016 Was Hottest on Record by Greatest Margin Yet Seen for Any Month
9 Ways Climate Change Is Making Us Sick
40 Students Arrested Demanding Their Schools Divest From Fossil Fuels
Organic Food, Not Just for Hippies Anymore: How the U.S. Is Dealing With Growing Demand
EcoWatch Daily Newsletter
Aerial view of Ruropolis, Para state, northen Brazil, on Sept. 6, 2019. Tthe world's biggest rainforest is under threat from wildfires and rampant deforestation. JOHANNES MYBURGH / AFP via Getty Images
By Kate Martyr
Deforestation in Brazil's Amazon rainforest last month jumped to the highest level since records began in 2015, according to government data.
A total of 563 square kilometers (217.38 square miles) of the world's largest rainforest was destroyed in November, 103% more than in the same month last year, according to Brazil's space research agency.
From January to November this year an area almost the size of the Caribbean island of Puerto Rico was destroyed — an 83% overall increase in destruction when compared with the same period last year.
The figures were released on Friday by the National Institute for Space Research (INPE), and collected through the DETER database, which uses satellite images to monitor forest fires, forest destruction and other developments affecting the rainforest.
What's Behind the Rise?
Overall, deforestation in 2019 has jumped 30% compared to last year — 9,762 square kilometers (approximately 3769 square miles) have been destroyed, despite deforestation usually slowing during November and December.
Environmental groups, researchers and activists blamed the policies of Brazil's president Jair Bolsonaro for the increase.
They say that Bolosonaro's calls for the Amazon to be developed and his weakening support for Ibama, the government's environmental agency, have led to loggers and ranchers feeling safer and braver in destroying the expansive rainforest.
His government hit back at these claims, pointing out that previous governments also cut budgets to environment agencies such as Ibama.
The report comes as Brazil came to loggerheads with the Association of Small Island States (AOSIS) over climate goals during the UN climate conference in Madrid.
AOSIS blasted Brazil, among other nations, for "a lack of ambition that also undermines ours."
Last month, a group of Brazilian lawyers called for Bolsonaro to be investigated by the International Criminal Court over his environmental policies.
Reposted with permission from DW.
The Carolina parakeet went extinct in 1918. James St. John /
CC BY 2.0
The Carolina parakeet, the only parrot species native to the U.S., went extinct in 1918 when the last bird died at the Cincinnati Zoo. Now, a little more than 100 years later, researchers have determined that humans were entirely to blame.
Pexels
Vitamin C is a very important nutrient that's abundant in many fruits and vegetables.
BLM drill seeders work to restore native grasses after wildfire on the Bowden Hills Wilderness Study Area in southeast Oregon, Dec. 14, 2018. Marcus Johnson / BLM / CC BY 2.0
By Tara Lohan
In 2017 the Thomas fire raged through 281,893 acres in Ventura and Santa Barbara counties, California, leaving in its wake a blackened expanse of land, burned vegetation, and more than 1,000 destroyed buildings.