Scientists Start to Look at Ground Beneath Their Feet for Solution to Climate Change
Apr. 17, 2016 09:50AM EST
Climate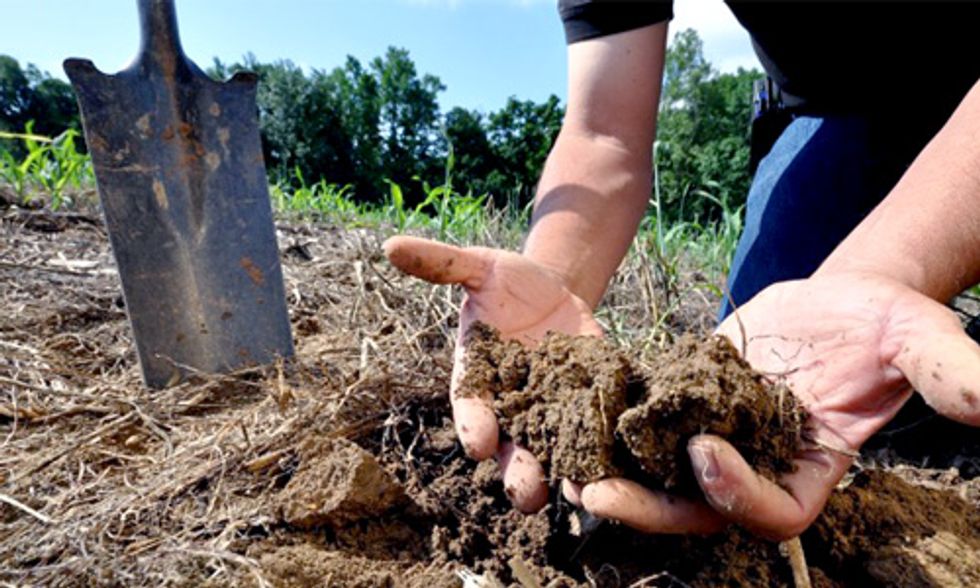 Climate scientists anxious to find ways to limit atmospheric greenhouse gases have started to look at the ground beneath their feet.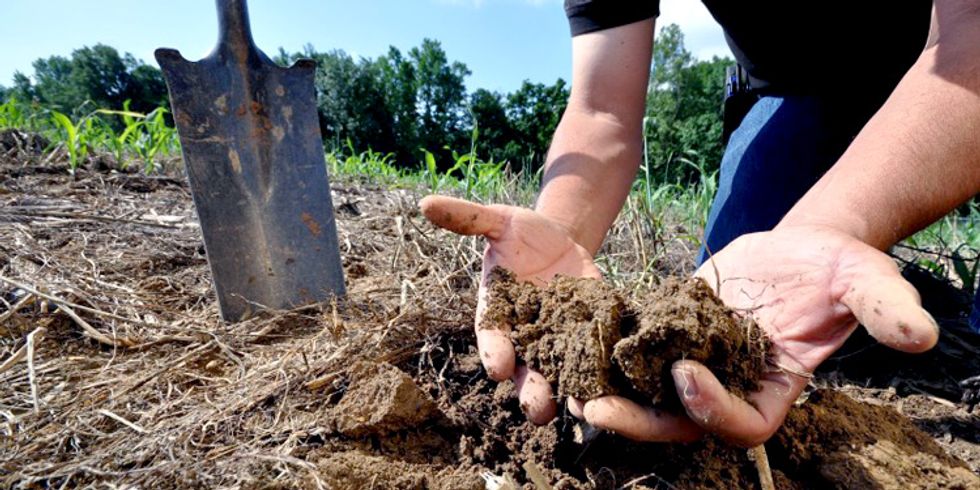 Photo credit: Ron Nichols/NRCS / Flickr
They calculate that although the world's soils already hold 2.4 trillion tonnes of gases in the form of organic carbon, there's room for more.
Scientists from the U.S. and Scotland report in Nature journal that with a few changes to agricultural practice, there would be room for another 8 billion tonnes.
"In our fight to avoid dangerous climate change in the 21st century, we need heavyweight allies," Dave Reay, a geoscientist and specialist in carbon management at Edinburgh University, said. "One of the most powerful is right beneath our feet. Soils are already huge stores of carbon, and improved management can make them even bigger."
Data Availability
"Too long they have been overlooked as a means to tackle climate change," Reay continued. "Too often have problems of accurate measurement and reporting stymied progress towards climate-smart soil management.
"With the surge in availability of big data on soils around the world, alongside rapid improvements in understanding and modeling, the time has come for this big-hitter to enter the ring."
In fact, researchers have been conscious for years that the soils have a powerful role to play. They have identified the agencies that control a soil's capacity for carbon. They have tested climate models to check on emissions from soils. They have experimented with techniques for conserving soil carbon. And they have repeatedly sounded the alarm about the stores of organic carbon in the permafrost.
In addition, they have established that man-made greenhouse gas releases coincide with the spread of global agriculture thousands of years ago. Land use, the scientists now calculate, accounts for perhaps a quarter of all man-made greenhouse gas emissions, and between 10 percent and 14 percent directly from agriculture.
But, they reason, since soils hold three times as much organic carbon as exists in carbon dioxide form in the atmosphere, better management of the terrestrial planet could help reduce emissions too.
So, the trick is: don't degrade healthy ecosystems, because unmanaged forests and grasslands store carbon very efficiently. Wetlands drained for agriculture surrender their soil carbon, but restored wetlands soak the stuff up.
Agricultural Practices
And there is a range of sustainable agricultural practices that can conserve carbon and, at the same time, continue to deliver food to the table.
Farmers could grow crops with deeper root systems, use charcoal-based composts, and exploit a suite of more efficient practices tailored to their crops and terrain. Schemes such as Cool Farm Tool could help farmers measure and manage emissions from their own land.
There would not be one big answer, but a host of varied responses. These range from better crop rotation to low tillage as opposed to deep ploughing, and from land restoration to agroforestry. All of these added together—what the researchers call the "all-of-the-above" approach—could make a big difference.
With help from science, government policymakers and new approaches, ultimately they could help soils retain the equivalent of four-fifths of the emissions released each year by the combustion of fossil fuels, the researchers say.
YOU MIGHT ALSO LIKE
March 2016 Was Hottest on Record by Greatest Margin Yet Seen for Any Month
9 Ways Climate Change Is Making Us Sick
40 Students Arrested Demanding Their Schools Divest From Fossil Fuels
Organic Food, Not Just for Hippies Anymore: How the U.S. Is Dealing With Growing Demand
Scientists are studying barley, the key ingredient in beer. Ridofranz / Getty Images
Researchers at UC-Riverside are investigating how barley, a key ingredient in beer, survives in such a wide variety of climates with hopes of learning what exactly makes it so resilient across climates.
Barley was first grown domestically in Southwest Asia about 10,000 year ago and is grown around the world, from Egypt to Minnesota.
Barley's prime growing regions have shifted northward in recent decades as global temperatures have risen due to climate change caused by human extraction and combustion of fossil fuels.
Chuck Skypeck, technical brewing projects manager for the Brewers Association located in Boulder, Colorado, told E&E climate change's effects are impacting the brewing industry.
"Certainly dynamic growing conditions, water scarcity, extreme weather events, growers' planting decisions can all affect both pricing and availability of brewers' supply of malted barley," he told E&E News.
For a deeper dive:
For more climate change and clean energy news, you can follow Climate Nexus on Twitter and Facebook, sign up for daily Hot News, and visit their news site, Nexus Media News.
EcoWatch Daily Newsletter
Air France airplanes parked at the Charles de Gaulle/Roissy airport on March 24, 2020. SAMSON / AFP via Getty Images
France moved one step closer this weekend to banning short-haul flights in an attempt to fight the climate crisis.
A bill prohibiting regional flights that could be replaced with an existing train journey of less than two and a half hours passed the country's National Assembly late on Saturday, as Reuters reported.
"We know that aviation is a contributor of carbon dioxide and that because of climate change we must reduce emissions," Industry Minister Agnes Pannier-Runacher told Europe 1 radio, according to Reuters.
The measure now has to pass the French Senate, then return to the lower house for a final vote. It would end regional flights between Paris's Orly airport and cities like Nantes and Bordeaux, The Guardian explained. It would not, however, impact connecting flights through Paris's Charles de Gaulle/Roissy airport.
The bill is part of a legislative package which aims to reduce France's emissions by 40 percent of 1990 levels by 2030, Reuters reported. It is a watered-down version of a proposal suggested by France's Citizens' Convention on Climate, BBC News explained. This group, which was formed by President Emmanuel Macron in 2019 and included 150 ordinary citizens, had put forward a ban on flights that could be replaced with an existing train journey of under four hours.
However, the journey length was lowered after protests from KLM-Air France, which had suffered heavy losses due to the coronavirus pandemic, and regions who were concerned about being left out of national transit networks, as The Guardian explained.
"We have chosen two and a half hours because four hours risks isolating landlocked territories including the greater Massif Central, which would be iniquitous," transport minister Jean-Baptiste Djebbari said, as The Guardian reported.
However, some environmental and consumer groups objected to the changes. The organization UFC-Que Choisir compared plane routes with equivalent train journeys of under four hours and found that the plane trips emitted an average of 77 times more carbon dioxide per passenger than the train journeys. At the same time, the train alternatives were cheaper and only as much as 40 minutes longer.
"[T]he government's choice actually aims to empty the measure of its substance," the group said, according to The Guardian.
The new measure also opens the French government to charges of hypocrisy. It bailed out Air France-KLM to the tune of a seven-billion euro loan last year, though it did require the airline to drop some domestic routes as a condition. Then, days before the measure passed, it more than doubled its stake in the airline, BBC News reported. However, Pannier-Runacher insisted to Europe 1 radio that it was possible to balance fighting climate change and supporting struggling businesses.
"Equally, we must support our companies and not let them fall by the wayside," she said, as Reuters reported.
This is not the first time that climate measures and aviation bailouts have coincided in the wake of the coronavirus pandemic. Austrian Airlines replaced its Vienna-Salzburg flight with additional train service after it received government money dependent on cutting greenhouse gas emissions, BBC News reported.
The number of flights worldwide declined almost 42 percent in 2020 when compared with 2019. It is expected that global aviation may not fully recover until 2024, according to Reuters.
A woman looks at a dead gray whale on the beach in the SF Bay area on May 23, 2019; a new spate of gray whales have been turning up dead near San Francisco. Justin Sullivan / Getty Images
Four gray whales have washed up dead near San Francisco within nine days, and at least one cause of death has been attributed to a ship strike.
A small tourist town has borne the brunt of a cyclone which swept across the West Australian coast.
ABC News (Australia) / YouTube
A general view shows the remains of a dam along a river in Tapovan, India, on February 10, 2021, following a flash flood caused by a glacier break on February 7. Sajjad Hussain / AFP / Getty Images
By Rishika Pardikar
Search operations are still underway to find those declared missing following the Uttarakhand disaster on 7 February 2021.
This story originally appeared in Eos and is republished here as part of Covering Climate Now, a global journalism collaboration strengthening coverage of the climate story.