This website uses cookies to ensure you get the best experience while browsing it. By clicking 'Got It' you're accepting these terms.
Scientists Say Small Fracking Earthquakes Could Lead to Major Ones
Feb. 17, 2015 10:09AM EST
Energy
Over the last several years clusters of earthquakes have been occurring in places that rarely saw significant earthquake activity, including Texas, Oklahoma and Ohio. Those earthquakes have been connected to the wastewater injection techniques used in fracking, which researchers say activate hidden fault lines. It's referred to as "induced seismicity."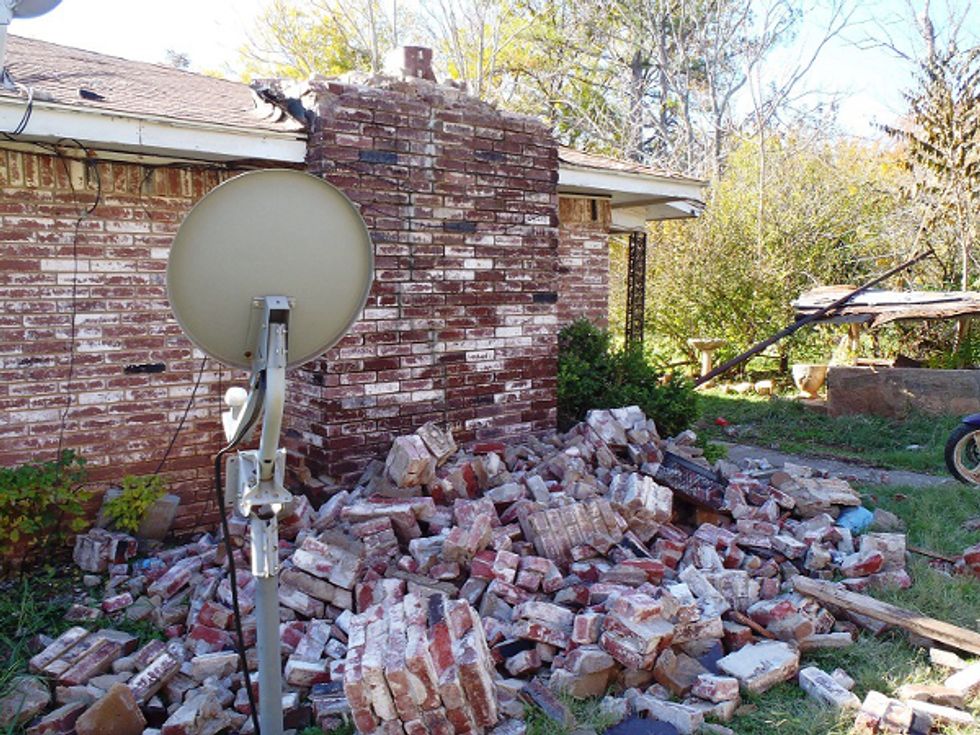 While most of those earthquakes have been minor—in most cases too small to feel and most under magnitude 3 on the Richter Scale—they could be getting much larger according to scientist William Ellsworth of the U.S. Geological Survey (USGS).
"The more small earthquakes we have it just simply increases the odds we're going to have a more damaging event," he said. "To some degree, we've dodged a bullet in Oklahoma."
He added that we shouldn't "expect a large earthquake tomorrow," but that it could happen at any time. Ellsworth presented the still-unpublished research at the American Association for the Advancement of Science.
Ellsworth has been warning about the danger of fracking-induced earthquakes for several years. In a 2013 paper, he wrote, "Human-induced earthquakes have become an important topic of political and scientific discussion, owing to the concern that these events may be responsible for widespread damage and an overall increase in seismicity. Earthquakes caused by injection have become a focal point, as new drilling and well-completion technologies enable the extraction of oil and gas from previously unproductive formations."
It's not controversial to say that this increase in earthquakes is caused by fracking, but the usual justification has been that they are minor, unfelt and not of sufficient magnitude to cause damage. But Oklahoma provides a dramatic example of how quakes have increased size and destructiveness. According to the USGS, the state had just two quakes greater than magnitude 3 between 1978 and 2008. In 2014, it had 145. That includes 20 with a magnitude of more than 4. In November, a series of three quakes, one reaching 4.2 magnitude, caused some structural damage such as cracks in walls. And a 5.7 magnitude earthquake hit Prague, Oklahoma in 2011, destroying 14 homes in the rural area.
"The rate of earthquakes in Oklahoma has increased remarkably since October 2013—by about 50 percent—significantly increasing the chance for a damaging magnitude 5.5 or greater quake in central Oklahoma," said the USGS.
The government agency said, "They do not seem to be due to typical, random fluctuations in natural seismicity rates. Significant changes in both the background rate of events and earthquake triggers needed to have occurred in order to explain the increases in seismicity, which is not typically observed when modeling natural earthquakes. The analysis suggests that a likely contributing factor to the increase in earthquakes is triggering by wastewater injected into deep geologic formations."
Ellsworth isn't the first scientist to warn that fracking earthquakes could be getting larger. In May at the annual meeting of the Seismological Society of America, several scientists suggested that future quakes could be larger than anticipated.
"Induced seismicity complicates the seismic hazard equation," Gail Atkinson, a professor at the University of Western Ontario and one of Canada's foremost experts on seismic hazard, said at the meeting. She said that larger quakes in the future might overwhelm structures such as dams and nuclear power plants built for areas of low seismicity. "There is a real dearth of regulations. We need a clear understanding of the likely induced seismicity in response to new activity."
YOU MIGHT ALSO LIKE
Why Is It Legal to Cause Fracking Earthquakes In Colorado?
Did Fracking Cause Oklahoma to Have 3 Times as Many Earthquakes as California in 2014?
EcoWatch Daily Newsletter
A new report spotlights a U.N. estimate that at least 275 million people rely on healthy coral reefs. A sea turtle near the Heron Island in the Great Barrier Reef is seen above. THE OCEAN AGENCY / XL CATLIN SEAVIEW SURVEY
In a new report about how the world's coral reefs face "the combined threats of climate change, pollution, and overfishing" — endangering the future of marine biodiversity — a London-based nonprofit calls for greater global efforts to end the climate crisis and ensure the survival of these vital underwater ecosystems.
Half of the extracted resources used were sand, clay, gravel and cement, seen above, for building, along with the other minerals that produce fertilizer. Cavan Images / Cavan / Getty Images
The world is using up more and more resources and global recycling is falling. That's the grim takeaway from a new report by the Circle Economy think tank, which found that the world used up more than 110 billion tons, or 100.6 billion metric tons, of natural resources, as Agence France-Presse (AFP) reported.
By Gero Rueter
Heating with coal, oil and natural gas accounts for around a quarter of global greenhouse gas emissions. But that's something we can change, says Wolfgang Feist, founder of the Passive House Institute in the western German city of Darmstadt.

By George Citroner
Recent research finds that official government figures may be underestimating drug deaths by half.
Researchers estimate that 142,000 people died due to drug use in 2016.
Drug use decreases life expectancy after age 15 by 1.4 years for men and by just under 1 year for women, on average.
Government records may be severely underreporting how many Americans die from drug use, according to a new study by researchers from the University of Pennsylvania and Georgetown University.
Water coolers in front of shut-off water fountains at Center School in Stow, MA on Sept. 4, 2019 after elevated levels of PFAS were found in the water. David L. Ryan / The Boston Globe via Getty Images
In a new nationwide assessment of drinking water systems, the Environmental Working Group found that toxic fluorinated chemicals known as PFAS are far more prevalent than previously thought.