This website uses cookies to ensure you get the best experience while browsing it. By clicking 'Got It' you're accepting these terms.
Scientists Say Greenhouse Gas Emissions Continue to Wreak Havoc on Climate
Aug. 18, 2014 09:39AM EST
Climate
Two new scientific studies, reported by Climate News Network, have added still more links between human-caused release of greenhouse gases and climate change.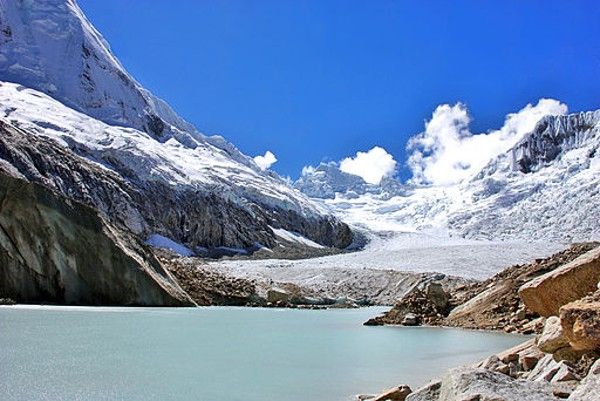 In Austria, scientist Ben Marzeion of University of Innsbruck's Institute of Meteorology and Geophysics was part of a team that tracked changes in glaciers around the world between 1851 and 2010, using 19th-century photos and paintings as a baseline. Computer models allowed them to take into account natural factors like volcanic eruptions and variations on weather patterns.  Their research, reported in the journal Science, found that the pace of glacier retreat has picked up dramatically in the last two decades.
"In our data, we find unambiguous evidence of anthropogenic contribution to glacier mass loss," said Dr Marzeion.
Dr. Marzeion's group figured that around a quarter of the melting between 1851 and 2010 is human-caused, and that between 1991 and 2010, the amount of human-caused melting has increased by two-thirds. 
"In the 19th century and first half of the 20th century we observed that glacier mass loss attributable to human activity is barely noticeable, but since then has steadily increased," said Dr Marzeion.
Meanwhile, the Proceedings of the National Academy of Sciences of the U.S. just published new research about "Rossby waves," waves in the jet stream that drive heat into cooler areas and cold into warmer areas, discovering that these waves are increasing in size and getting stuck, causing prolonged heat waves. The wave patterns are disrupted as more ice melts in Arctic regions, exposing more open sea which absorbs heat rather than reflecting it back into space.
With the Arctic warming twice as fast as the rest of Earth, its temperatures become more similar to other regions. But it's those variations that regulate the atmospheric circulation patterns that determine weather.
And, says the study's co-author Hans Joachim Schellnhuber, founding director of the Potsdam Institute for Climate Impact Research, "This melting of ice and snow is actually due to our lifestyle of churning out unprecedented amounts of greenhouse gases from fossil fuels."
YOU ALSO MIGHT LIKE
Melting Antarctic Glacier Unstoppable, Global Sea Level Could Rise by 4 Feet
How Melting Antarctic Glacier Will Make These 14 Coastal U.S. Attractions Look
Researchers Discover Arctic Warmer Than Anytime in Last 44,000 Years
EcoWatch Daily Newsletter
Fabian Krause / EyeEm / Getty Images
Water protectors of all persuasions gathered in talking circles at Borderland Ranch in Pe'Sla, the heart of the sacred Black Hills, during the first Sovereign Sisters Gathering. At the center are Cheryl Angel in red and white and on her left, Lyla June. Tracy Barnett
By Tracy L. Barnett
Sources reviewed this article for accuracy.
For Sicangu Lakota water protector Cheryl Angel, Standing Rock helped her define what she stands against: an economy rooted in extraction of resources and exploitation of people and planet. It wasn't until she'd had some distance that the vision of what she stands for came into focus.
Hedges, 2019 © Hugh Hayden. All photos courtesy of Lisson Gallery
By Patrick Rogers
"I'm really into trees," said the sculptor Hugh Hayden. "I'm drawn to plants."
BruceBlock / iStock / Getty Images
Thanks to their high concentration of powerful plant compounds, foods with a natural purple hue offer a wide array of health benefits.
Environmental Investigation Agency
Last week, the Peruvian Palm Oil Producers' Association (JUNPALMA) promised to enter into an agreement for sustainable and deforestation-free palm oil production. The promise was secured by the U.S. based National Wildlife Federation (NWF) in collaboration with the local government, growers and the independent conservation organization Sociedad Peruana de Ecodesarrollo.
Pixabay
Leaked documents show that Jair Bolsonaro's government intends to use the Brazilian president's hate speech to isolate minorities living in the Amazon region. The PowerPoint slides, which democraciaAbierta has seen, also reveal plans to implement predatory projects that could have a devastating environmental impact.
XL CATLIN SEAVIEW SURVEY / THE OCEAN AGENCY
Hope may be on the horizon for the world's depleted coral reefs thanks to scientists who successfully reproduced endangered corals in a laboratory setting for the first time, according to Reuters.