This website uses cookies to ensure you get the best experience while browsing it. By clicking 'Got It' you're accepting these terms.
Scientists Say Arctic Sea Ice Could 'Shrink to Record Low' This Summer
Apr. 27, 2016 09:48AM EST
Climate
Arctic sea ice could set a new record low extent this summer, say scientists at this year's European Geosciences Union (EGU) conference in Vienna.
Measurements from satellites and "snow buoys" deployed on sea ice reveal a "certain likeness" between recent conditions in the Arctic and those seen in the run up to the record summer low in 2012.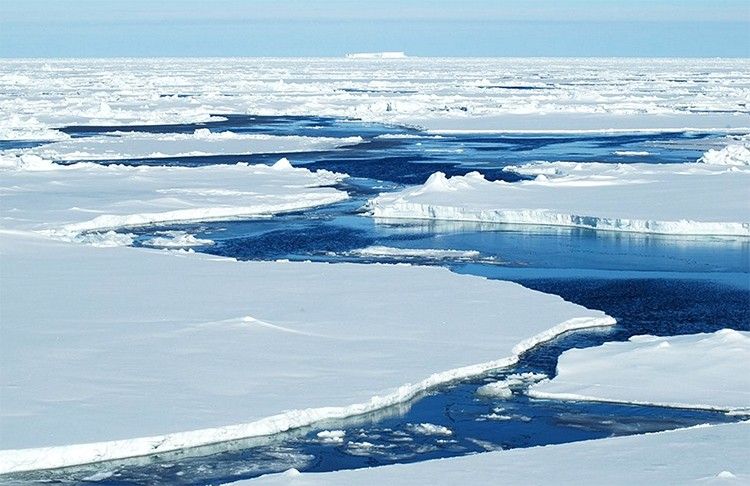 Carbon Brief asked other scientists here at EGU about the likelihood of this year's summer low setting a new record.
Record Low
The past winter has been something of a record-breaker for the Arctic.
Unusually warm air temperatures during the winter restricted sea ice growth and saw 2016 bring new record lows for sea ice extent for the months of January and February. This culminated in a winter maximum extent in March that clocked in as the smallest since satellite records began in 1979.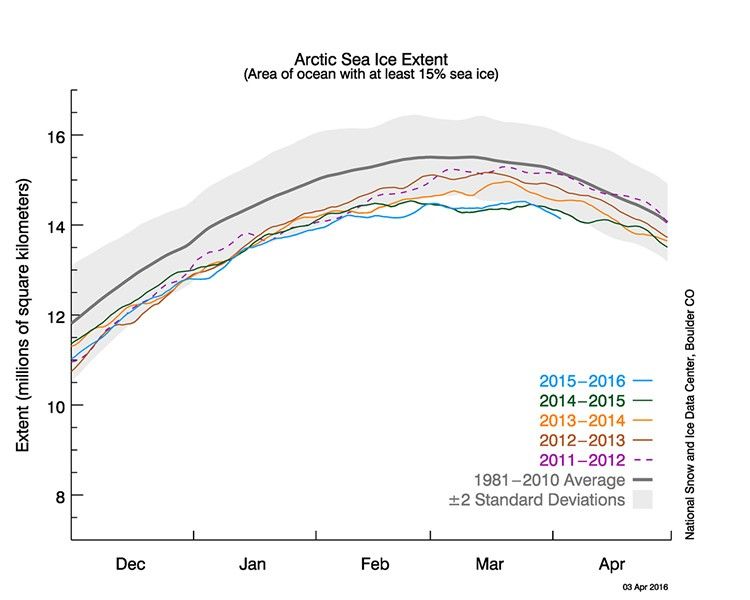 The passing of the winter peak signals the start of the melt season, where sea ice diminishes as temperatures rise through spring and into summer. Sea ice hits its lowest extent sometime in September or October. The record low for the summer minimum currently stands at 3.41m square kilometers, from 2012.
Speaking to Carbon Brief at EGU, Dr. Marcel Nicolaus, a sea ice physicist at the Alfred Wegener Institute for Polar and Marine Research, said the 2016 summer could equal or surpass, this record.
Sea ice conditions over the recent months are similar to those seen before the 2012 record, Nicolaus said. He identifies three main reasons why this year's summer minimum could rival 2012:
"We did see a stronger melt last summer than usual, so we went into the winter in November with thinner ice than the previous years. We saw, due to the warming, less freezing and less build-up of ice mass [during winter]. And we do see a shift of secure ice towards the northern end of the Fram Strait of the Atlantic Ocean, where it's very likely to be exported [away from the Arctic and into the North Atlantic] over the course of spring and summer."
These reasons won't guarantee a new record, Nicolaus adds, because sea ice melt also depends on the warmth and storminess of spring and summer—but they do boost the odds.
Warmer Than Normal
With almost 13,000 scientists at the EGU conference this week, Carbon Brief caught up with a few of them to ask about the prospects for Arctic sea ice for this year and beyond.
Prof. Julienne Stroeve, professor of polar observation and modeling at University College London and senior research scientist at the National Snow and Ice Data Centre (NSIDC), points out that a small winter sea ice extent doesn't necessarily translate into a summer low.
She tells Carbon Brief:
"Just because we have thinner ice and less sea ice right now—starting out the melt season—that doesn't necessarily mean we're going to have a new record low."
That's because the extent to how much sea ice melts through the summer is also dependent on the weather, Stroeve said. Thinner ice is more susceptible to being broken up by storms, which means it can melt more quickly. But scientists can't predict the weather several months in advance, so there's still a lot of uncertainties about how sea ice will fare over the summer.
That said, Stroeve also thinks the conditions are ripe for a new record:
"We had a warm winter and the warmth has continued into spring. If you look at air temperatures for the first three weeks of April, for example, the temperatures are 4-5 C warmer than normal over the whole Arctic Ocean … How that continues is going to play a key role, but certainly having thinner ice to start out with is not a good thing."
Dr. Ed Hawkins, associate professor at the University of Reading and lead investigator on an Arctic predictability project, makes a similar point. He tells Carbon Brief:
"This winter, we've seen very warm conditions in the Arctic. The air temperature has been very warm, which means the ice has not grown as much as it does normally, which means we're left now at the start of the summer [melt] season with much less less ice than we do normally.
"Whether this means we get a record low year later on in September when the ice reaches its minimum depends quite a lot on what the atmosphere does of the next few months—how many storms we get across the Arctic as they will help break up the ice. So, it depends on how many of those we get as to whether this year will be a record or not."
Even if this summer doesn't break the 2012 record, it's only a matter of time before it does get broken, said Dr. Alexandra Jahn, assistant professor at the Institute of Arctic and Alpine Research at the University of Colorado. She tells Carbon Brief:
"As long as we continue to emit greenhouse gases, we will continue to see a decline in Arctic sea ice. So we will eventually see a new record sea ice minimum in September, but it's very difficult to predict when exactly that will happen."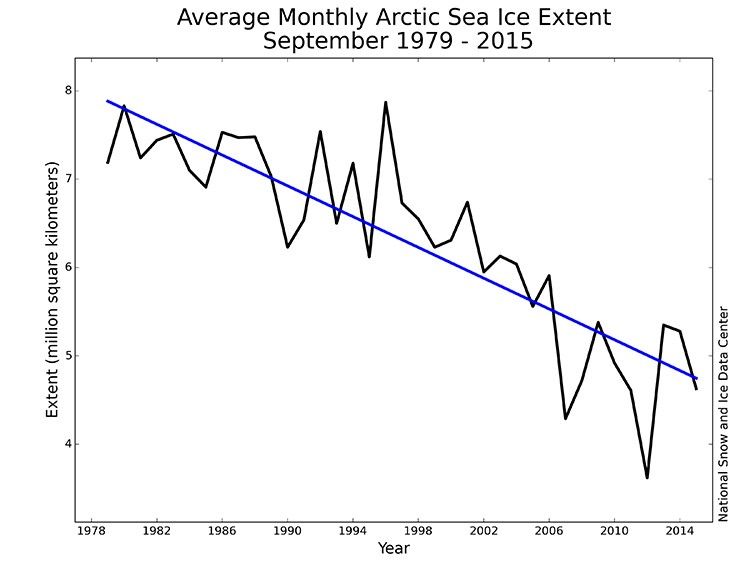 For readers at EGU this week, there are posters on sea ice research on display this evening (5:30 - 7 p.m.) in Hall X3 and talks on polar climate predictability from Hawkins, Jahn and others from 8:30 a.m. tomorrow morning in Room G2.
YOU MIGHT ALSO LIKE
Scientists Share Why Keeping Warming Under 1.5 Degrees Celsius Is Crucial
NOAA: Last Month Was by Far the Planet's Warmest March Since Record Keeping Began
EPA Underestimates Methane Emissions
March 2016 Was Hottest on Record by Greatest Margin Yet Seen for Any Month
EcoWatch Daily Newsletter
An African elephant is pictured on November 19, 2012, in Hwange National Park in Zimbabwe. MARTIN BUREAU / AFP / Getty Images
The unprecedented drought that has caused a water crisis in Zimbabwe has now claimed the life of at least 55 elephants since September, according to a wildlife spokesman, as CNN reported.
Maria Dornelas.
By John C. Cannon
Life is reshuffling itself at an unsettling clip across Earth's surface and in its oceans, a new study has found.
An Exxon station in Florida remains open despite losing its roof during Hurricane Katrina on Aug. 29, 2005. Florida Air National Guard photo by Master Sgt. Shaun Withers
The country's largest fossil fuel company goes on trial today to face charges that it lied to investors about the safety of its assets in the face of the climate crisis and potential legislation to fight it, as the AP reported.
El Niño's effect on Antarctica is seen in a tabular iceberg off of Thwaites ice shelf. Jeremy Harbeck / NASA
El Niños are getting stronger due to climate change, according to a new study in Monday's Proceedings of the National Academy of Sciences.
By Julia Ries
Antibiotic resistance has doubled in the last 20 years.
Additionally a new study found one patient developed resistance to a last resort antibiotic in a matter of weeks.
Health experts say antibiotic prescriptions should only be given when absolutely necessary in order to avoid growing resistance.
Over the past decade, antibiotic resistance has emerged as one of the greatest public health threats.
Pexels
There are hundreds of millions of acres of public land in the U.S., but not everyone has had the chance to hike in a national forest or picnic in a state park.
Workers attend to a rooftop solar panel project on May 14, 2017 in Wuhan, China. Kevin Frayer / Getty Images
By Simon Evans
Renewable sources of electricity are set for rapid growth over the next five years, which could see them match the output of the world's coal-fired power stations for the first time ever.