This website uses cookies to ensure you get the best experience while browsing it. By clicking 'Got It' you're accepting these terms.


The best of EcoWatch, right in your inbox. Sign up for our email newsletter!
Scientists Find High Fructose Corn Syrup Is as Bad For You as You Might Think
Jan. 19, 2015 08:52AM EST
Food
Sugar seems to be in every food we buy at the grocery, especially packaged, processed foods. Whether it's sugary beverages (including some of those supposedly good-for-you sports beverages), those boxed breakfast cereals with cartoon and animated movie characters to attract kids or even in ketchup and canned vegetables, it's hard to avoid.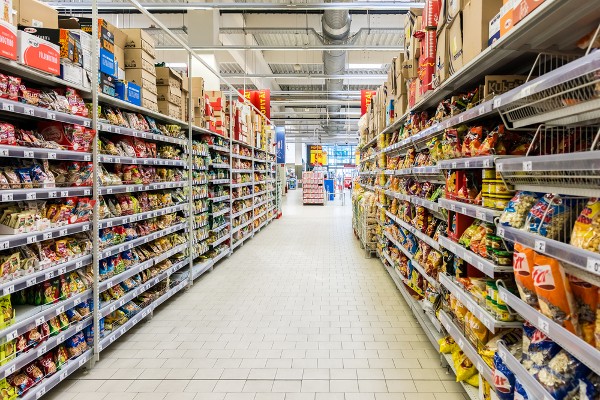 Photo credit: Shutterstock
Even harder to avoid is table sugar's evil cousin, high-fructose corn syrup (HFCS). It's got such a bad reputation that a couple of years ago the Corn Refiners Association petitioned the U.S. Food and Drug Administration (FDA) to be allowed to change its name to "corn sugar," claiming that its long name is what gives consumers a bad impression of it. They were turned down—rightfully—because "sugar" is a solid and "syrup" is a liquid and HFCS is a liquid additive.
And it is in everything. A recent trip to the grocery store revealed that of 15 product labels checked on foods next to the checkout line (where the least nutritious snack foods tend to be pushed), 13 had HFCS. (One that did not, surprisingly, was Kit Kat bars). Why did it become so ubiquitous? If you guessed "because it's cheap," you win! With corn widely grown in the U.S. on an industrial scale, it became more economical to use HFCS to sweeten mass-marketed foods such as snack foods, fast foods and sodas.
Added sugar of any kind isn't something you want to find a lot of in any food you buy. Americans eat far more sugar than is good for them. And while virtually all corn grown in the U.S. is genetically modified, making HFCS sure to be a GMO product, table sugar aka sucrose or cane sugar is extracted from beets, another major GMO crop.
But there are reasons why consuming too much HFCS could be even worse than eating too much table sugar. A recent study by University of Utah researchers and scheduled to be published in the March issue of The Journal of Nutrition found that the sugars found in HFCS were more toxic to mice than sucrose. When they fed mice a human-sized dose of either sugar, they observed hat the HFCS-type sugar reduced both the reproductive capacity and lifespan of female mice. Female mice fed fructose-glucose died at 1.87 times the rate of females on the sucrose diet. They produced 26.4 percent fewer offspring.
And while the researchers found no difference in male mice based on the type of sugar they were given, they said it could be that both sugars were equally toxic to the male mice.
"When the diabetes-obesity-metabolic syndrome epidemics started in the mid-'70s, they corresponded with both a general increase in consumption of added sugar and the switchover from sucrose being the main added sugar in the American diet to high-fructose corn syrup making up half our sugar intake," said UU professor Wayne Potts, senior author of the study. "This is the most robust study showing there is a difference between high-fructose corn syrup and table sugar at human-relevant doses."
So what should you do? One of the other study authors, James Ruff, has an answer.
"Our previous work and plenty of other studies have shown that added sugar in general is bad for your health," he said. "So first, reduce added sugar across the board. Then worry about the type of sugar, and decrease consumption of products with high-fructose corn syrup."
YOU MIGHT ALSO LIKE
An Eye-Opening Look at Added Sugar in Kids' Cereals
Add Sugar, Subtract Science: How the Food Industry Influences Policymaking
EcoWatch Daily Newsletter
PhotoAlto / Laurence Mouton / Getty Images
By Ana Reisdorf, MS, RD
You've probably heard the buzz around collagen supplements and your skin by now. But is the hype really that promising? After all, research has pointed to both the benefits and downsides of collagen supplements — and for many beauty-conscious folk, collagen isn't vegan.
Pixabay
By Marlene Cimons
Neil Pederson's introduction to tree rings came from a "sweet and kindly" college instructor, who nevertheless was "one of the most boring professors I'd ever experienced," Pederson said. "I swore tree rings off then and there." But they kept coming back to haunt him.
Aerial view of the explosion site of a chemical factory on March 22 in Yancheng, Jiangsu Province of China. Caixin Media / VCG / Getty Images)
At least 47 people have died in an explosion at a plant in Yancheng, China Thursday run by a chemical company with a history of environmental violations, Sky News reported.
A fishmonger in Elmina, a fishing port in the Central Region of Ghana. Environmental Justice Foundation
By Daisy Brickhill
Each morning, men living in fishing communities along Ghana's coastline push off in search of the day's catch. But when the boats come back to shore, it's the women who take over.
Pexels
By Sam Nickerson
Links between excess sugar in your diet and disease have been well-documented, but new research by Harvard's School of Public Health might make you even more wary of that next soda: it could increase your risk of an early death.
The study, published this week in the American Heart Association's journal Circulation, found that drinking one or two sugar-sweetened beverages (SSBs) each day — like sodas or sports drinks — increases risk of an early death by 14 percent.
Tyson Foods is recalling approximately 69,093 pounds of frozen chicken strips because they may have been contaminated with pieces of metal, the U.S. Department of Agriculture (USDA) Food Safety and Inspection Service (FSIS) announced Thursday.
The affected products were fully-cooked "Buffalo Style" and "Crispy" chicken strips with a "use by" date of Nov. 30, 2019 and an establishment number of "P-7221" on the back of the package.
"FSIS is concerned that some product may be in consumers' freezers," the recall notice said. "Consumers who have purchased these products are urged not to consume them. These products should be thrown away or returned to the place of purchase."
Environmental exposure to pesticides, both before birth and during the first year of life, has been linked to an increased risk of developing autism spectrum disorder, according to the largest epidemiological study to date on the connection.
The study, published Wednesday in BMJ, found that pregnant women who lived within 2,000 meters (approximately 1.2 miles) of a highly-sprayed agricultural area in California had children who were 10 to 16 percent more likely to develop autism and 30 percent more likely to develop severe autism that impacted their intellectual ability. If the children were exposed to pesticides during their first year of life, the risk they would develop autism went up to 50 percent.