This website uses cookies to ensure you get the best experience while browsing it. By clicking 'Got It' you're accepting these terms.
Scientists Find High Fructose Corn Syrup Is as Bad For You as You Might Think
Jan. 19, 2015 08:52AM EST
Food
Sugar seems to be in every food we buy at the grocery, especially packaged, processed foods. Whether it's sugary beverages (including some of those supposedly good-for-you sports beverages), those boxed breakfast cereals with cartoon and animated movie characters to attract kids or even in ketchup and canned vegetables, it's hard to avoid.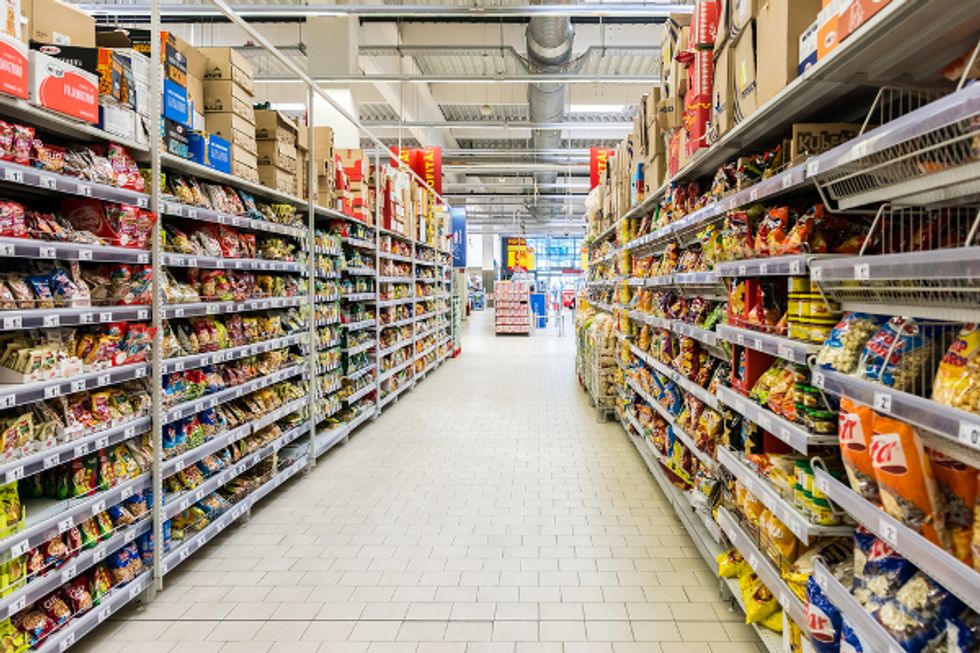 Photo credit: Shutterstock
Even harder to avoid is table sugar's evil cousin, high-fructose corn syrup (HFCS). It's got such a bad reputation that a couple of years ago the Corn Refiners Association petitioned the U.S. Food and Drug Administration (FDA) to be allowed to change its name to "corn sugar," claiming that its long name is what gives consumers a bad impression of it. They were turned down—rightfully—because "sugar" is a solid and "syrup" is a liquid and HFCS is a liquid additive.
And it is in everything. A recent trip to the grocery store revealed that of 15 product labels checked on foods next to the checkout line (where the least nutritious snack foods tend to be pushed), 13 had HFCS. (One that did not, surprisingly, was Kit Kat bars). Why did it become so ubiquitous? If you guessed "because it's cheap," you win! With corn widely grown in the U.S. on an industrial scale, it became more economical to use HFCS to sweeten mass-marketed foods such as snack foods, fast foods and sodas.
Added sugar of any kind isn't something you want to find a lot of in any food you buy. Americans eat far more sugar than is good for them. And while virtually all corn grown in the U.S. is genetically modified, making HFCS sure to be a GMO product, table sugar aka sucrose or cane sugar is extracted from beets, another major GMO crop.
But there are reasons why consuming too much HFCS could be even worse than eating too much table sugar. A recent study by University of Utah researchers and scheduled to be published in the March issue of The Journal of Nutrition found that the sugars found in HFCS were more toxic to mice than sucrose. When they fed mice a human-sized dose of either sugar, they observed hat the HFCS-type sugar reduced both the reproductive capacity and lifespan of female mice. Female mice fed fructose-glucose died at 1.87 times the rate of females on the sucrose diet. They produced 26.4 percent fewer offspring.
And while the researchers found no difference in male mice based on the type of sugar they were given, they said it could be that both sugars were equally toxic to the male mice.
"When the diabetes-obesity-metabolic syndrome epidemics started in the mid-'70s, they corresponded with both a general increase in consumption of added sugar and the switchover from sucrose being the main added sugar in the American diet to high-fructose corn syrup making up half our sugar intake," said UU professor Wayne Potts, senior author of the study. "This is the most robust study showing there is a difference between high-fructose corn syrup and table sugar at human-relevant doses."
So what should you do? One of the other study authors, James Ruff, has an answer.
"Our previous work and plenty of other studies have shown that added sugar in general is bad for your health," he said. "So first, reduce added sugar across the board. Then worry about the type of sugar, and decrease consumption of products with high-fructose corn syrup."
YOU MIGHT ALSO LIKE
An Eye-Opening Look at Added Sugar in Kids' Cereals
Add Sugar, Subtract Science: How the Food Industry Influences Policymaking
EcoWatch Daily Newsletter
Aerial view of Ruropolis, Para state, northen Brazil, on Sept. 6, 2019. Tthe world's biggest rainforest is under threat from wildfires and rampant deforestation. JOHANNES MYBURGH / AFP via Getty Images
By Kate Martyr
Deforestation in Brazil's Amazon rainforest last month jumped to the highest level since records began in 2015, according to government data.
A total of 563 square kilometers (217.38 square miles) of the world's largest rainforest was destroyed in November, 103% more than in the same month last year, according to Brazil's space research agency.
From January to November this year an area almost the size of the Caribbean island of Puerto Rico was destroyed — an 83% overall increase in destruction when compared with the same period last year.
The figures were released on Friday by the National Institute for Space Research (INPE), and collected through the DETER database, which uses satellite images to monitor forest fires, forest destruction and other developments affecting the rainforest.
What's Behind the Rise?
Overall, deforestation in 2019 has jumped 30% compared to last year — 9,762 square kilometers (approximately 3769 square miles) have been destroyed, despite deforestation usually slowing during November and December.
Environmental groups, researchers and activists blamed the policies of Brazil's president Jair Bolsonaro for the increase.
They say that Bolosonaro's calls for the Amazon to be developed and his weakening support for Ibama, the government's environmental agency, have led to loggers and ranchers feeling safer and braver in destroying the expansive rainforest.
His government hit back at these claims, pointing out that previous governments also cut budgets to environment agencies such as Ibama.
The report comes as Brazil came to loggerheads with the Association of Small Island States (AOSIS) over climate goals during the UN climate conference in Madrid.
AOSIS blasted Brazil, among other nations, for "a lack of ambition that also undermines ours."
Last month, a group of Brazilian lawyers called for Bolsonaro to be investigated by the International Criminal Court over his environmental policies.
Reposted with permission from DW.
The Carolina parakeet went extinct in 1918. James St. John /
CC BY 2.0
The Carolina parakeet, the only parrot species native to the U.S., went extinct in 1918 when the last bird died at the Cincinnati Zoo. Now, a little more than 100 years later, researchers have determined that humans were entirely to blame.
Pexels
Vitamin C is a very important nutrient that's abundant in many fruits and vegetables.
BLM drill seeders work to restore native grasses after wildfire on the Bowden Hills Wilderness Study Area in southeast Oregon, Dec. 14, 2018. Marcus Johnson / BLM / CC BY 2.0
By Tara Lohan
In 2017 the Thomas fire raged through 281,893 acres in Ventura and Santa Barbara counties, California, leaving in its wake a blackened expanse of land, burned vegetation, and more than 1,000 destroyed buildings.