This website uses cookies to ensure you get the best experience while browsing it. By clicking 'Got It' you're accepting these terms.
Scientists Discover Two Fatal Diseases Capable of Transmitting From Honey Bees to Bumblebees
Feb. 21, 2014 02:09PM EST
A new study published in the journal Nature investigating two infectious diseases—deformed wing virus (DWV) and the fungal parasite Nosema ceranea—finds that they could be spreading from honey bees to bumblebees, dramatically shortening the lifespan of the wild bumblebees. The study gives credence to recent research demonstrating that pesticide use compromises immune system functioning, dramatically raising their susceptibility to diseases.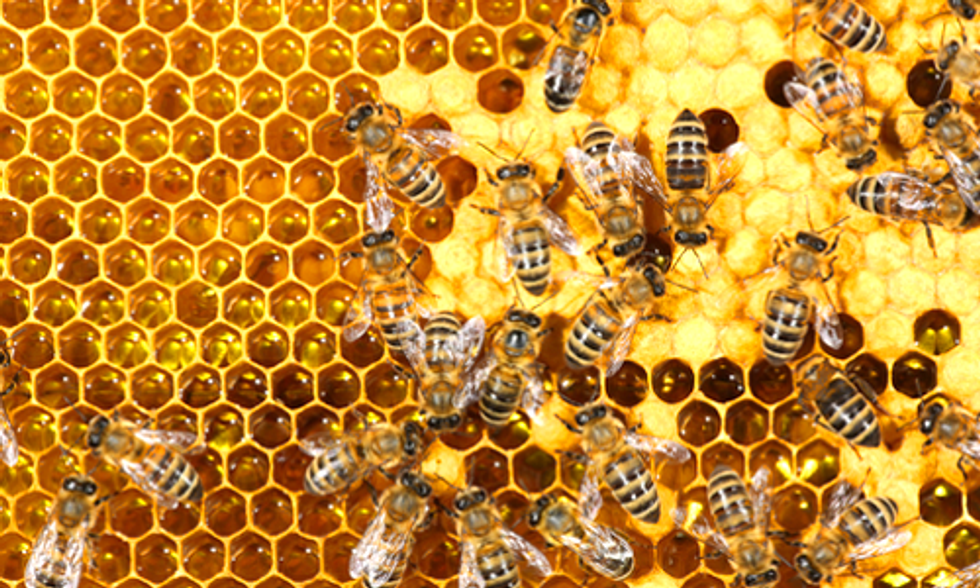 Photo courtesy of Shutterstock
The study, Disease Associations Between Honeybees and Bumblebees as a Threat to Wild Pollinators, suggests that managed, highly-dense populations of honey bees, are breeding grounds for pathogens which may then be transmitted to bumblebee populations. But unlike honey bees, infected bumblebees are much more affected by the disease, with their lives shortened by six full days.
"To put it into context, in the field a bumblebee worker lives 21 days," said co-author Mark Brown, PhD., of Royal Holloway, University of London. "For every bee that has this virus, you're losing about a third or a quarter of all the food it would bring back to the nest to help the nest grow." Additionally, while honey bee hives have tens of thousands of workers, bumblebee hives have only one hundred at most.
The study, underlines the importance of threatened wild pollinators—including bumblebees—which are estimated to provide $3 billion in pollination services to crops such as tomato, blueberry, melon, soybean, cucumber, squash, apple, peach and bell pepper in the U.S.
Previous studies have demonstrated that bumblebees can carry DWV, but none had mapped the distribution of infected and healthy honey bee and bumblebee populations. Researchers here discovered that roughly one-third of honey bees collected are infected with DWV and 11 percent of bumblebees carry the virus. By mapping out the distribution of disease presence, researchers found significant overlap, which suggest disease transmission between the two pollinator species.
"A geographical patterning provides us with the information that transmission is occurring among these animals—they are sharing parasite strains," said Dr. Brown. The infection could likely be spread when bumblebees forage on flowers already visited by infected honey bees, or by raiding competitors interested in stealing nectar. "We cannot say it definitively, but because of the epidemiology, the most likely explanation is that the honeybees are acting as the source of the virus for the bumblebees," said Dr. Brown.
The research adds to a body of knowledge demonstrating the range of threats that native and managed pollinators face. Underlying these threats is the persistent use of pesticides which weakens pollinator immunes systems making them more susceptible to parasites, pathogens and diseases. One study on pesticides in honey bee hives, published in Proceedings of the National Academy of Sciences, found that honey bees exposed to a typical fungicide were more than three times more likely to become infected when exposed to the parasite Nosema, compared to control bees which were not fed contaminated pollen.
Researchers here are particularly interested in further investigating the role of neonicotinoid pesticides, which are implicated as a driving cause of colony collapse disorder. "If bumblebees were exposed to neonicotinoids and had the same effect, you would expect the bumblebee viral load to be going through the roof. This is something we are hoping to test later," said Dr. Brown.
Visit EcoWatch's BIODIVERSITY page for more related news on this topic.

EcoWatch Daily Newsletter
Aerial shot top view Garbage trucks unload garbage to a recycle in the vicinity of the city of Bangkok, Thailand. bugto / Moment / Getty Images
German researchers have identified a strain of bacterium that not only breaks down toxic plastic, but also uses it as food to fuel the process, according to The Guardian.
The Environmental Protection Agency (EPA) issued a policy memo yesterday that is an expansive relaxation of legally mandated regulations on polluting industries, saying that industries may have trouble adhering to the regulations while they are short-staffed during the coronavirus global pandemic, according to the AP.
Hurricane Dorian was one of the 2019 Atlantic hurricane season's most devastating storms. NASA
2019 marked the fourth year in a row that the Atlantic hurricane season saw above-average activity, and it doesn't look like 2020 will provide any relief.
The deep, open ocean may seem like an inhospitable environment, but many species like human-sized Humboldt squids are well-adapted to the harsh conditions. 1,500 feet below the ocean's surface, these voracious predators could be having complex conversations by glowing and changing patterns on their skin that researchers are just beginning to decipher.
A worker distributes disinfection wipes at a farmers market at Richard Tucker Park in New York City on March 21, 2020. Lev Radin / Pacific Press / LightRocket via Getty Images
Not many restaurants will be able to survive coronavirus, and this is a personal, social and national tragedy.
I'm worried about farmers markets too.