This website uses cookies to ensure you get the best experience while browsing it. By clicking 'Got It' you're accepting these terms.
Scientists Debunk Benefits of Monsanto's 'DroughtGard' Corn
Jun. 05, 2012 10:05AM EST
GMO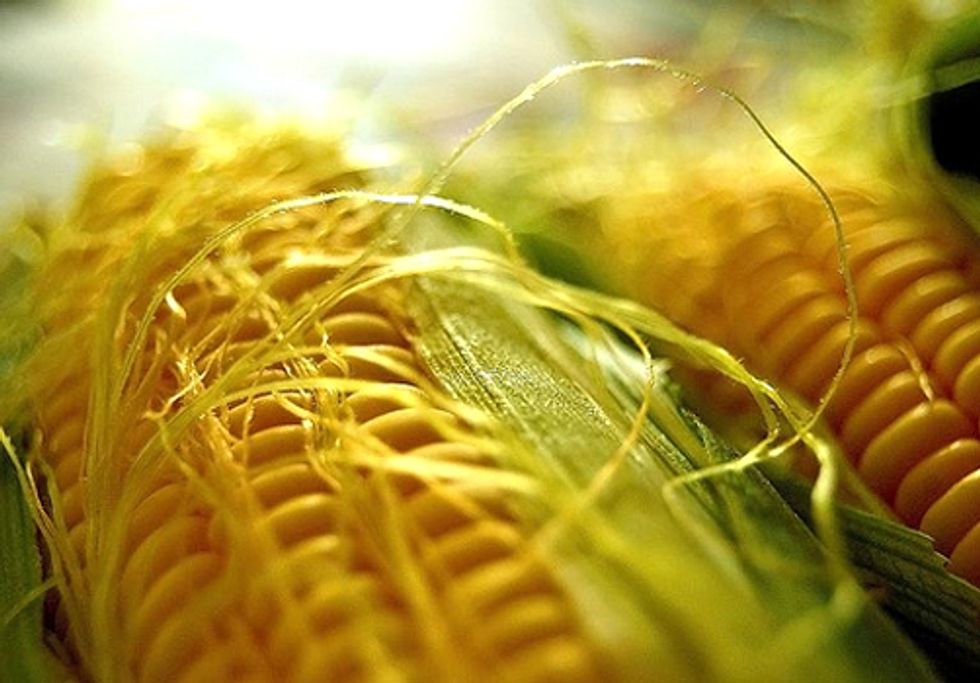 Monsanto's new drought tolerant corn, DroughtGard, reduces crop losses only modestly during moderate droughts, and will not reduce the crop's water requirements, according to a report released today by the Union of Concerned Scientists (UCS). The report found that traditional breeding and improved farming practices have done more to increase drought tolerance, and that further improvements in genetic engineering are unlikely to solve the drought problem in coming years.
"Farmers are always looking to reduce losses from drought, but the biotechnology industry has made little real-world progress on this problem," said Doug Gurian-Sherman, a senior scientist with UCS's Food & Environment Program and author of the report. "Despite many years of research and millions of dollars in development costs, DroughtGard doesn't outperform the non-engineered alternatives."
Agriculture accounts for about 70 percent of all water extracted from rivers and wells, making drought a serious and costly problem for farmers. An extreme drought is still plaguing Texas, triggering a record $5.2 billion in agricultural losses in 2011 alone. Monsanto's new corn is not likely to provide any practical help under such conditions, even by the company's guarded claims.
The report, High and Dry: Why Genetic Engineering is Not Solving Agriculture's Drought Problem in a Thirsty World, found that during limited testing, DroughtGard—the only crop engineered for drought tolerance approved for commercial use—reduced crop losses by about 6 percent. By comparison, breeding and improved farming practices have increased drought tolerance by roughly 1 percent per year over the past several decades.
In terms of crop yields, DroughtGard will increase overall corn production by about 1 percent because it is likely to be of practical value on only about 15 percent of U.S. corn acreage. Breeding and improved farming practices increase corn production by about 1.5 to 2 percent annually.
"If we were to conduct an apples-to-apples comparison today, we'd find that breeding and improved farming practices have increased drought tolerance in corn about two to three times faster than DroughtGard," said Gurian-Sherman. "Classical and newer forms of breeding are also far cheaper."
DroughtGard is further handicapped by the fact that it will work well only under moderate drought conditions, and climate scientists predict that drought frequency and severity likely will increase in some regions as climate change worsens, Gurian-Sherman said. The fact that drought is not predicable also makes it difficult for farmers to decide whether it is worthwhile to buy DroughtGard seed prior to the growing season.
Finally, Monsanto's advertising campaigns touted its intention to develop seeds that yield "more crop per drop," but there is no evidence that DroughtGard will help the crops or farmers use water more efficiently. And the biotech industry's pipeline for other water-efficient crops is virtually dry.
Congress and the U.S. Department of Agriculture can help farmers address droughts by substantially increasing support for public crop-breeding programs in the Farm Bill, Gurian-Sherman said. The Farm Bill also should fund research and offer incentives for farmers to adopt practices that improve drought tolerance such, as organic farming and similar methods that improve the soil's ability to retain moisture.
"The fact that DroughtGard may provide modest drought tolerance is a small step forward for the industry, but it's being outpaced by other methods," said Gurian-Sherman. "More Farm Bill investments in public-sector classical breeding and water-saving farming practices would be more cost-effective for taxpayers and farmers, and as the scientific track record to date shows, will help farmers far more than genetic engineering."
Visit EcoWatch's GENETICALLY MODIFIED ORGANISM page for more related news on this topic.
EcoWatch Daily Newsletter
Traffic moves across the Brooklyn Bridge on Aug. 2, 2018 in New York City. Drew Angerer / Getty Images
The Trump administration is expected to unveil its final replacement of Obama-era fuel-efficiency standards for cars and light trucks Tuesday in a move likely to pump nearly a billion more tons of carbon dioxide into the atmosphere over the lifetime of those less-efficient vehicles.
U.S. President Donald Trump listens as Anthony Fauci, Director of the National Institute of Allergy and Infectious Diseases speaks in the Rose Garden for the daily coronavirus briefing at the White House on March 29 in Washington, DC. Tasos Katopodis / Getty Images
By Jake Johnson
Just over a month after proclaiming that the number of coronavirus cases in the U.S. would soon "be down to close to zero," President Donald Trump said during a press briefing on the White House lawn Sunday that limiting U.S. deaths from the pandemic to between 100,000 and 200,000 people would mean his administration and the country as a whole did "a very good job."
Dicamba is having a devastating impact in Arkansas and neighboring states. A farmer in Mississippi County, Arkansas looks at rows of soybean plants affected by dicamba. The Washington Post / Getty Images
Documents unearthed in a lawsuit brought by a Missouri farmer who claimed that Monsanto and German chemical maker BASF's dicamba herbicide ruined his peach orchard revealed that the two companies knew their new agricultural seed and chemical system would likely damage many U.S. farms, according to documents seen by The Guardian.
Washington State Governor Jay Inslee and other leaders speak to the press on March 28, 2020 in Seattle. Karen Ducey / Getty Images