This website uses cookies to ensure you get the best experience while browsing it. By clicking 'Got It' you're accepting these terms.
Scientific Report: Keystone XL and Arctic Drilling Must Be Stopped
Dec. 10, 2013 11:49AM EST
Energy
By Andy Rowell
This is the scientific paper that should stop all Arctic drilling now. It should also stop the controversial Keystone XL pipeline.
It is yet another warning that business as usual for the oil industry is just not acceptable.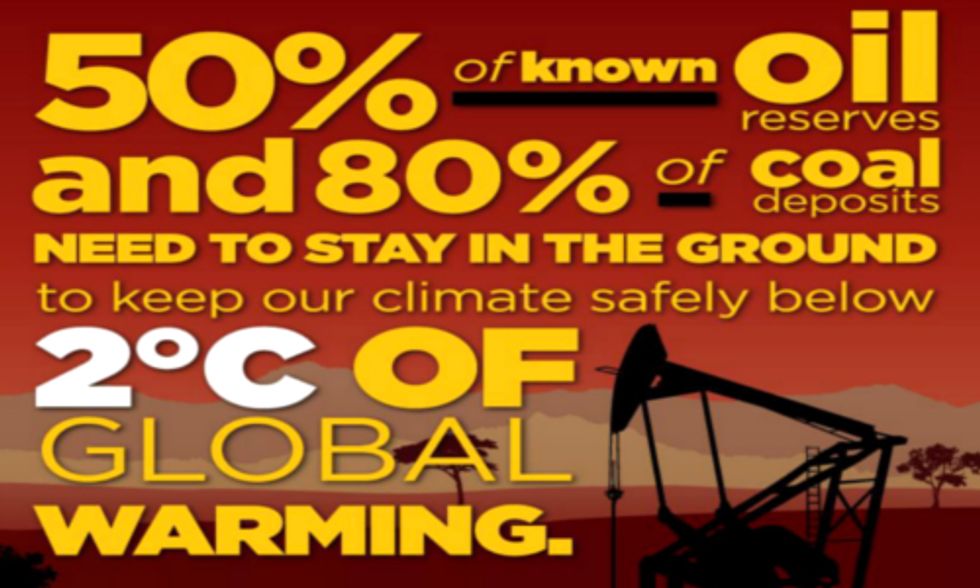 And it once again reiterates a simple truth so, so unpalatable to the Canadians: that exploiting the tar sands is incompatible with preventing climate change.
The paper should make deeply uncomfortable reading for any financial institution or oil company thinking of investing in the Arctic or the tar sands, or the heads of Organization of Petroleum Exporting Countries. In short, it affects everyone involved in the oil industry.
It should be essential reading for the CEOs of Gazprom and Shell, for one. And it should force them to change their unsustainable business strategies.
The paper, Un-burnable Oil: An Examination of Oil Resource Utilisation in a Decarbonised Energy System, will be published by the journal Energy Policy in Jan. 2014. You can view a copy here. And then you should spread it far and wide.
The scientists warn of a large "disconnect" between developing new areas of exploration such as the Arctic and "pledges to restrict temperature rises to two degrees Celsius. The continued licensing of new areas for oil exploration is only consistent with declared intentions to limit CO2 emissions and climate change if the majority of fields that are discovered remain undeveloped, which fatally undermines the economic rationale for their discovery in the first place."
The scientists argue that "large volumes of oil currently considered to be reserves cannot be produced before 2035 if there is to be an evens chance of limiting the global average temperature rise to two degrees Celsius."
Globally, they argue, that nearly 600 billion barrels of oil reserves must remain unused by 2035, if widespread Carbon, Capture and Storage (CCS) is unavailable.
This is just under 50 percent of current available reserves.
Even in a future scenario where there is widespread and rapid adoption of CCS in both the electricity and industry sectors, nearly 500 billion barrels must never be burnt.
In a scenario with no CCS, the scientists argue that no region can fully exploit their reserves although some regions must leave greater proportions of their reserves in situ than others: the Middle East must not use 55 percent or around 390 billion tons of its current reserves before 2035.
The warning over Arctic oil is clear: "These results suggest that the development of Arctic regions is largely inconsistent with an evens chance of limiting average global temperature change to two degrees Celsius and that it may be reasonable to classify Arctic resources as 'un-burnable'; this therefore calls into question the rationale for ongoing exploration efforts in Arctic regions, if stated commitments to emission reduction are to be taken seriously."
Another way to look at this, if Shell or Gazprom are serious about pushing ahead Arctic drilling then they are not serious about addressing climate change.
If the Canadians are thinking that not drilling Arctic oil makes it more likely that the tar sands should be exploited, they should think again. "If the declared 'proved' reserves of these countries were to be believed, then 80 percent of Canadian reserves and 92 percent Venezuelan reserves must remain in the ground," argue the scientists.
It is worth repeating that figure: 80 percent of tar sands reserves need to stay in the ground. And if that is the case, there is no need for the Keystone XL pipeline.
Visit EcoWatch's CLIMATE CHANGE page for more related news on this topic.
EcoWatch Daily Newsletter
Pro-environment demonstrators on the streets of Washington, DC during the Jan. 20, 2017 Trump inauguration.
Mobilus In Mobili
/ Flickr /
CC BY-SA 2.0
By Dr. Brian R. Shmaefsky
One year after the Flint Water Crisis I was invited to participate in a water rights session at a conference hosted by the US Human Rights Network in Austin, Texas in 2015. The reason I was at the conference was to promote efforts by the American Association for the Advancement of Science (AAAS) to encourage scientists to shine a light on how science intersects with human rights, in the U.S. as well as in the context of international development. My plan was to sit at an information booth and share my stories about water quality projects I spearheaded in communities in Bangladesh, Colombia, and the Philippines. I did not expect to be thrown into conversations that made me reexamine how scientists use their knowledge as a public good.
Mt. Rainier and Reflection Lake on Sept. 10, 2015. Crystal Geyser planned to open a bottling plant near Mt. Rainier, emails show.
louelke - on and off / Flickr
Bottled water manufacturers looking to capture cool, mountain water from Washington's Cascade Mountains may have to look elsewhere after the state senate passed a bill banning new water permits, as The Guardian reported.
Large storage tank of Ammonia at a fertilizer plant in Cubatão, Sao Paulo State, Brazil. Luis Veiga / The Image Bank / Getty Images
The shipping industry is coming to grips with its egregious carbon footprint, as it has an outsized contribution to greenhouse gas emissions and to the dumping of chemicals into open seas. Already, the global shipping industry contributes about 2 percent of global carbon emissions, about the same as Germany, as the BBC reported.
At high tide, people are forced off parts of the pathway surrounding DC's Tidal Basin. Andrew Bossi /
Wikimedia
The Jefferson Memorial in Washington, DC overlooks the Tidal Basin, a man-made body of water surrounded by cherry trees. Visitors can stroll along the water's edge, gazing up at the stately monument.
But at high tide, people are forced off parts of the path. Twice a day, the Tidal Basin floods and water spills onto the walkway.
Lioness displays teeth during light rainstorm in Kruger National Park, South Africa. johan63 / iStock / Getty Images
Ahead of government negotiations scheduled for next week on a global plan to address the biodiversity crisis, 23 former foreign ministers from various countries released a statement on Tuesday urging world leaders to act "boldly" to protect nature.