Food
Sep. 08, 2014 02:43PM EST
School Garden Program Teaches Kids to Eat and Grow Healthy Food
Since a taste for processed, sugar- and salt-heavy foods is developed at a young age, many healthy food initiatives are focusing on kids. And that means schools, where healthy eating programs are multiplying. Many of those go beyond just providing better quality food in lunch programs to educate and excite children about how food is grown and prepared.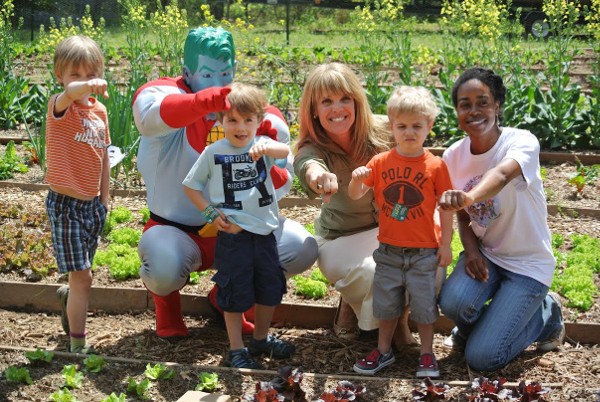 The mission of the 23-year-old Atlanta-based Captain Planet Foundation, founded by media mogul Ted Turner, is to encourage students to assume environmental leadership in their communities while beefing up their knowledge in all subject areas. Its Project Learning Garden program, for instance, teaches them about food production and processing while incorporating lessons in math, science, history, language arts and health. 
"One key element often overlooked in getting kids to eat better is the importance of how they eat at school," said Project Learning Gardens' program manager Kyla Van Deusen. "Kids learn how to enjoy fruits, vegetables and salads as a part of lunch, and this program has a direct impact on developing their palates from an early age. That palate development can also have an impact on how their parents eat, home meal preparation and on childhood obesity."
"Parents often report that their children ask them to buy new vegetables at the grocery store after growing and cooking the veggies themselves as part of a school garden program," she added. "One five-year-old said she preferred eating raw Brussels sprouts in the garden to her sour gummy worm treat!"
The program, which piloted in the 2011-2012 school year, is growing by leaps and bounds. Now, with more than 100 gardens in Atlanta, 10 more in Ventura, California that will be functioning by the end of this year and resources provided to more than 700 school gardens across the country, the Captain Planet Foundation is looking for ways to reach more kids and more schools.
As of this month, K-5 teachers and school groups anywhere in the U.S. are able download the program as well as purchase a supply kit to launch the program. The expansion is getting help from two partners. National food-to-school organization FoodCorps, part of the AmeriCorps Service Network, is providing service members to help create nutrition education programs, build and maintain school gardens (including planning for the knotty issue of summer garden maintenance when school is out) and bring quality local foods to school cafeterias.
Captain Planet Foundation also partners with packaging company Pratt Industries to allow schools that already have gardens to download the Learning Gardens standards-based lessons for free and order the classroom supply kits for $500. Schools can also order the Learning Gardens mobile cooking cart at cost, also about $500, shipping included.
Watch this great video to learn more:
YOU MIGHT ALSO LIKE
Farm to School Programs Grow Interest in Local Food and Healthy Eating
10 Ways to Teach Your Child to Eat Well
Food Education Inspires Kids to Eat Healthy and Support Sustainable Farming