This website uses cookies to ensure you get the best experience while browsing it. By clicking 'Got It' you're accepting these terms.
Say No to the Flaming Gorge Pipeline
Dec. 06, 2011 10:00AM EST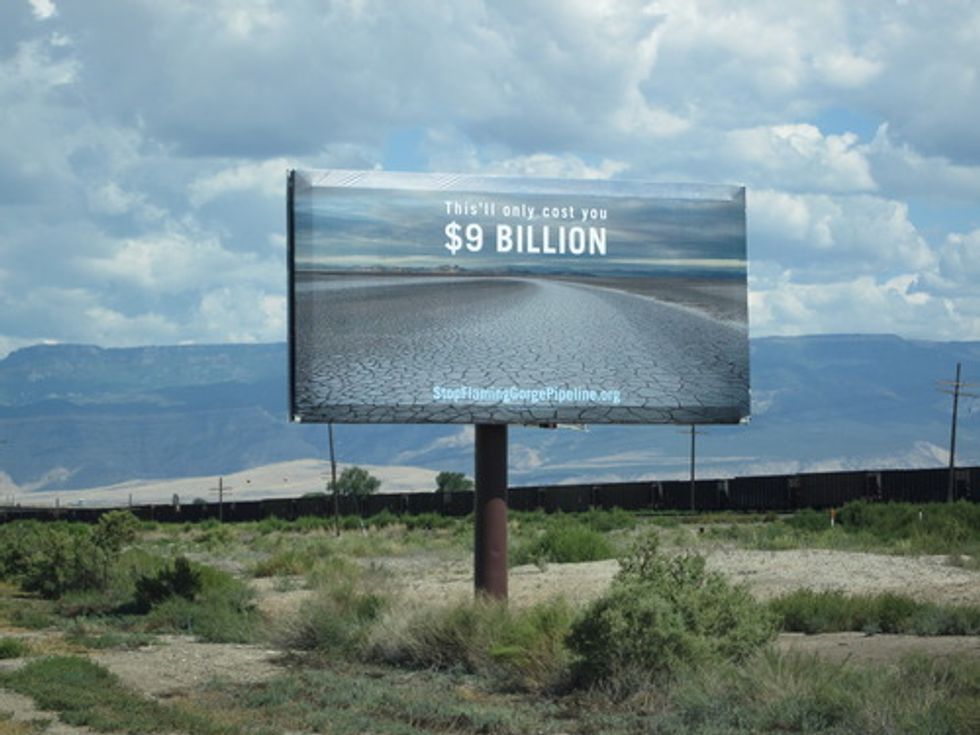 You can help the Green River continue to nurture fish and wildlife, recreational opportunities and local communities by working with us to stop one of the biggest, most expensive and most environmentally destructive water projects in the history of the Rocky Mountain West by submitting your comments by Dec. 14.
The Green River is one of the last, great Western rivers. From headwaters high in Wyoming's majestic Wind River Mountains, it flows south 730 miles before merging with the Colorado River, deep in Utah's Canyonlands National Park. But now a developer is proposing to build the "Flaming Gorge Pipeline," which would take up to 81 billion gallons of water per year from the Green River and pipe it more than 500 miles to the Colorado Front Range. Water from the Flaming Gorge Pipeline would be used to water lawns and help fuel the future growth of the sprawling metropolitan areas of the Colorado Front Range, and could support increased oil and gas production and fracking in Colorado as well. No river could sustain this type of water diversion without dire consequences.
Taking this water would harm endangered native fish found only in the Green River and a handful of other nearby waters. It would damage not only the Green River's fragile ecosystem, but also that of the downstream Colorado River. It would likely harm the rafting, fishing and outfitting economy of the Green and Colorado Rivers and make it even less likely that the Colorado River will again reach the Gulf of California.
The pipeline's developer has applied to the Federal Energy Regulatory Commission (FERC) for a preliminary permit for a "potential hydropower development." The permit, if granted, will provide the developer a first-in-time right to apply for a license to build and operate the pipeline. We and our allies feel that it is critical to help FERC see the serious flaws of this project and stop the process now, before federal resources are expended on a pointless investigation.
This project—with a projected price tag of up to $9 billion and potential impacts across the Green and Colorado River basins—is the wrong answer to the region's forecasted water shortfalls. We need a comprehensive approach to meeting future water needs—one that is based on the conservative and prudent use of water and the infrastructure and supplies that we have already developed. If we continue with business-as-usual, we will drain our iconic and invaluable rivers but still face a future water supply crisis. Rather than drain our rivers further while irresponsibly punting this issue to future generations, we should adopt a responsible and comprehensive approach today.
Take a moment to send in your comments. Thank you for your support.
For more information, click here.
EcoWatch Daily Newsletter
Participants of the climate demonstration Fridays for Future walk through Hamburg, Germany on Feb. 21, 2020. Axel Heimken / picture alliance via Getty Images
Blue whale (Balaenoptera musculus) surfacing, showing the remains of a blow and its mottled appearance near South Georgia Island in the Polar Regions. Mick Baines & Maren / Getty Images
The largest animal on Earth is proving that wildlife protections work.
More than 300 people were forced to evacuate and 46 were sent to the hospital after a gas pipeline ruptured in Mississippi Saturday.

Pexels
By Tim Lydon
Climate-related disasters are on the rise, and carbon emissions are soaring. Parents today face the unprecedented challenge of raising children somehow prepared for a planetary emergency that may last their lifetimes. Few guidebooks are on the shelves for this one, yet, but experts do have advice. And in a bit of happy news, it includes strategies already widely recognized as good for kids.
Pexels
Be it Nina Simone and James Brown for civil rights, Joni Mitchell and Marvin Gaye for the environment, or Jackson Browne and Buffalo Springfield for nuclear disarmament, musicians have long helped push social movements into the limelight.