This website uses cookies to ensure you get the best experience while browsing it. By clicking 'Got It' you're accepting these terms.
Say No to the Flaming Gorge Pipeline
Dec. 06, 2011 10:00AM EST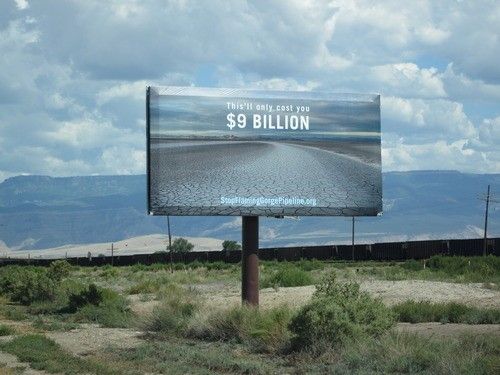 You can help the Green River continue to nurture fish and wildlife, recreational opportunities and local communities by working with us to stop one of the biggest, most expensive and most environmentally destructive water projects in the history of the Rocky Mountain West by submitting your comments by Dec. 14.
The Green River is one of the last, great Western rivers. From headwaters high in Wyoming's majestic Wind River Mountains, it flows south 730 miles before merging with the Colorado River, deep in Utah's Canyonlands National Park. But now a developer is proposing to build the "Flaming Gorge Pipeline," which would take up to 81 billion gallons of water per year from the Green River and pipe it more than 500 miles to the Colorado Front Range. Water from the Flaming Gorge Pipeline would be used to water lawns and help fuel the future growth of the sprawling metropolitan areas of the Colorado Front Range, and could support increased oil and gas production and fracking in Colorado as well. No river could sustain this type of water diversion without dire consequences.
Taking this water would harm endangered native fish found only in the Green River and a handful of other nearby waters. It would damage not only the Green River's fragile ecosystem, but also that of the downstream Colorado River. It would likely harm the rafting, fishing and outfitting economy of the Green and Colorado Rivers and make it even less likely that the Colorado River will again reach the Gulf of California.
The pipeline's developer has applied to the Federal Energy Regulatory Commission (FERC) for a preliminary permit for a "potential hydropower development." The permit, if granted, will provide the developer a first-in-time right to apply for a license to build and operate the pipeline. We and our allies feel that it is critical to help FERC see the serious flaws of this project and stop the process now, before federal resources are expended on a pointless investigation.
This project—with a projected price tag of up to $9 billion and potential impacts across the Green and Colorado River basins—is the wrong answer to the region's forecasted water shortfalls. We need a comprehensive approach to meeting future water needs—one that is based on the conservative and prudent use of water and the infrastructure and supplies that we have already developed. If we continue with business-as-usual, we will drain our iconic and invaluable rivers but still face a future water supply crisis. Rather than drain our rivers further while irresponsibly punting this issue to future generations, we should adopt a responsible and comprehensive approach today.
Take a moment to send in your comments. Thank you for your support.
For more information, click here.
EcoWatch Daily Newsletter
By Anne-Sophie Brändlin
October 16 marks World Food Day this year, a day celebrated every year by the United Nations' Food and Agriculture Organization (FAO).
World Food Day is a call to make healthy and sustainable diets affordable and accessible for everyone, while nurturing the planet at the same time.
Graphical representation of vertical pectoral herding by whale in Southeast Alaska. Prey are denoted in yellow. Whale deploys an upward-spiral bubble-net to corral prey and establish the first barrier; pectorals then protract to form a 'V' shape around the open mouth (depicted by blue arrows), creating a second physical barrier.
Kyle Kosma / Royal Society Open Science /
CC BY 4.0
When you have a whale-sized appetite, you need to figure out some pretty sophisticated feeding strategies. They mysteries of how a humpback whale traps so much prey have eluded scientists, until now.
California Yosemite River Scene.
Mobilus In Mobili / Flickr /
CC BY-SA 2.0
An advisory panel appointed by Trump's first Secretary of the Interior, Ryan Zinke, has recommended privatizing National Parks campgrounds, allowing food trucks in and setting up WiFi at campgrounds while also reducing benefits to seniors, according to the panel's memo.
Strips of native prairie grasses planted on Larry and Margaret Stone's Iowa farm protect soil, water and wildlife.
Iowa State University / Omar de Kok-Mercado, CC BY-ND
In Haiti, Action Against Hunger screens children for malnutrition. Christophe Da Silva / Action Against Hunger, Haiti
By Dr. Charles Owubah
As a child growing up on a farm in Ghana, I have personally known hunger. The most challenging time was between planting and harvesting – "the hunger season." There were many occasions when we did not know where the next meal would come from.
Today, on World Food Day, I think of the 820 million people around the world who are undernourished.
A Lyme disease warning on Montauk, Long Island, New York.
Neil R / Flickr
Biomedical engineers have developed a new, rapid test capable of detecting Lyme disease in just 15 minutes.
Brown bear fishing for salmon in creek at Pavlof Harbor in Tongass National Forest, Alaska. Wolfgang Kaehler / LightRocket / Getty Images
The Trump administration has moved one step closer to opening Earth's largest intact temperate rainforest to logging.
The Democratic primary candidates take the stage during Tuesday's debate. SAUL LOEB / AFP via Getty Images
On Tuesday night, the Democratic presidential candidates gathered for what The Guardian said was the largest primary debate in U.S. history, and they weren't asked a single question about the climate crisis.