This website uses cookies to ensure you get the best experience while browsing it. By clicking 'Got It' you're accepting these terms.


The best of EcoWatch, right in your inbox. Sign up for our email newsletter!
Saving the World One Farm at a Time
Apr. 24, 2014 02:49PM EST
Food

This Earth Day we saw a global community in crisis. A terrifying climate trend that has the American people … yawning? A recent poll shows people nearly across the board rate climate change near the bottom of their lists of problems facing the nation. Why? Climate is big, intangible and hard to wrap our brains around. We can't hold it in our hands or look it in the eye. Or can we?
Climate change, or more accurately climate chaos, hits each and every one of us in an incredibly intimate way—right in the stomach. From the global breadbasket to our nation's farm fields to pantries everywhere, our food supply is at risk. Climate chaos isn't just an environmental issue. It is a grocery store issue, a dinner plate issue, a filling-our-bellies issue.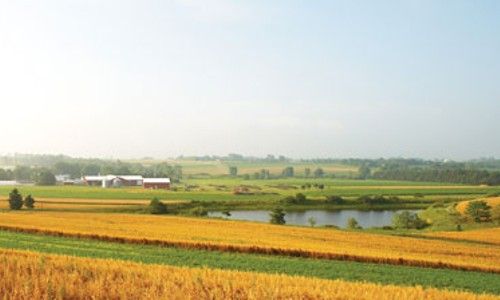 Rodale Institute farm.
Instead of picturing graphs and thermometers and melting ice caps when we think about climate chaos, we should be seeing rolling fields of grain, vines of succulent tomatoes, lazily grazing livestock, and the faces of our neighbor farmers, both rural and urban alike, struggling and failing due to droughts, floods, super weeds and other extreme consequences of a changing climate.
There is hope and we're standing on it. Our food supply and our farmers, both in the eye of the storm and so often contributors to climate change, could also be our salvation.
Changing the way we farm can reverse climate change.
Researchers have called it biological, ecological, progressive, pro-soil and carbon farming, among others. Add these terms on top of organic, local, free-range, sustainable, natural, fair trade, etc. and you have a recipe for mental overload.
There is one thing farms that fight climate chaos have in common. There is one sure thing that turns a farm from a contributor to climate change into a solution: Healthy soil.
At the Rodale Institute we were organic before it had a definition and, back then, soil was at the very heart of what we did. Robert Rodale called it regenerative agriculture.
Regenerative organic agriculture starts with the soil. It improves the resources it uses, rather than destroying or depleting them. It is a holistic approach to growing food that encourages continual on-farm innovation for environmental, social, economic and spiritual well being. It is an umbrella that includes practices that often fall separately under certified organic, fair trade, local, etc. and aims to continuously improve soil, food, human health, communities and the wider world.
Today we know that healthy soil is the key to climate change, food security and more. We could capture more than 100 percent of current annual carbon dioxide emissions with a switch to widely available and inexpensive regenerative organic management practices.
Climate chaos seems overwhelming and unsolvable, but we can begin reversing the destructive trend today. The answer is farming. Not just business-as-usual industrial farming, but farming like the Earth matters. Farming like water and soil and land matter. Farming like clean air matters. Farming like human health, animal health and ecosystem health matters. Farming in a way that restores and even improves our land. This kind of farming is called regenerative organic agriculture and it is the short-term solution to climate change we need to implement today.
Simply put, if we make the soil healthy, we can reverse climate change.
——–
YOU ALSO MIGHT LIKE
Stop Feeding the Beast and Start Feeding the People
How Organic Farming Can Reverse Climate Change
How Buying Local Food Grows Local Economies
——–
EcoWatch Daily Newsletter
jenifoto / iStock / Getty Images
Many people consider granola bars a convenient and healthy snack and enjoy their flavor and versatility.
A common green darners (Anax junius). Judy Gallagher / Flickr
By Jason Bittel
It's that time of year again: Right now, monarch butterflies are taking wing in the mountains of northwestern Mexico and starting to flap their way across the United States.
fstop123 / iStock / Getty Images Plus
At EcoWatch, our team knows that changing personal habits and taking actions that contribute to a better planet is an ongoing journey. Earth Day, happening on April 22, is a great reminder for all of us to learn more about the environmental costs of our behaviors like food waste or fast fashion.
To offer readers some inspiration this Earth Day, our team rounded up their top picks for films to watch. So, sit back and take in one of these documentary films this Earth Day. Maybe it will spark a small change you can make in your own life.
Denali national park. Domen Jakus / Flickr / CC BY-NC 2.0
By Stephanie Gagnon
Happy National Parks Week! This year, between April 20 and 28, escape to the beautiful national parks — either in person or in your imagination — and celebrate the amazing wildlife that calls these spaces home.
Sesame, three months old, at Seal Rescue Irleand.
Screenshot / Seal Rescue Ireland Instagram
On Friday, Seal Rescue Ireland released Sesame the seal into the ocean after five months of rehabilitation at the Seal Rescue Ireland facility. Watch the release on EcoWatch's Facebook.

Beer packs of Guinness will now come in a cardboard box. Diageo

By Jordan Davidson
Guinness is joining the fight against single use plastic. The brewer has seen enough hapless turtles and marine life suffering from the scourge of plastic.
Maskot / Getty Images
People of all ages are spending more of their day looking at their phones, computers and television screens, but parents now have another reason for limiting how much screen time their children get — it could lead to behavioral problems.