This website uses cookies to ensure you get the best experience while browsing it. By clicking 'Got It' you're accepting these terms.
Saving the Colorado River Demands Innovative Thinking
Feb. 01, 2012 08:40AM EST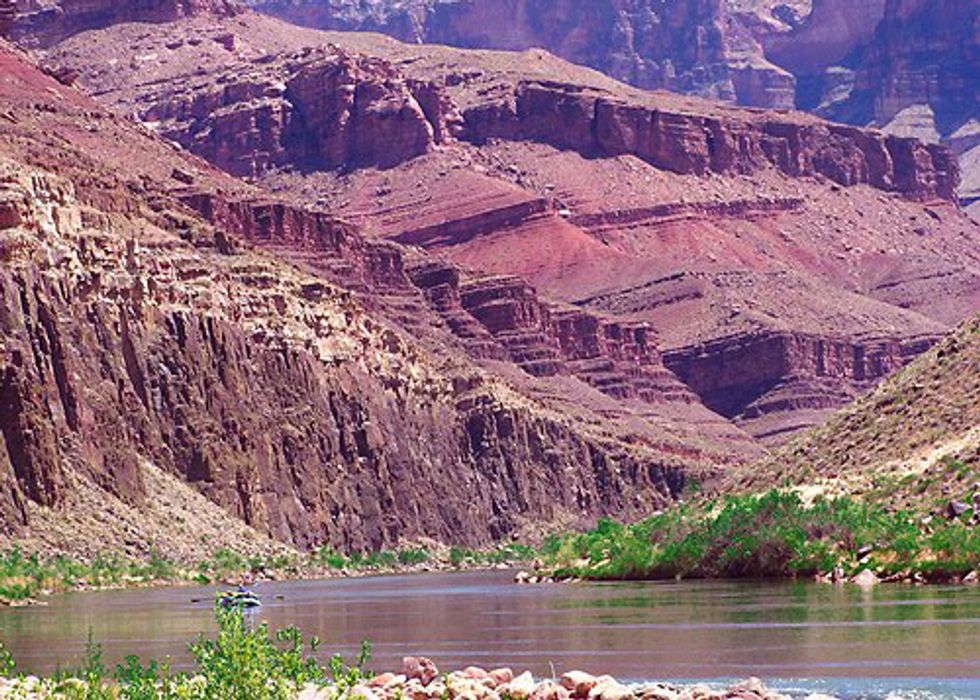 The Bureau of Reclamation today received a proposed set of common-sense solutions to solve the imbalance between supply and demand for water in the Colorado River Basin, where the Bureau projects river flow will decrease by an average of about nine percent over the next 50 years due to climate change. The proposal by Environmental Defense Fund—which includes ideas by other conservation groups and stakeholders—was in response to the Feb. 1 deadline for public input of "options and strategies" for a study to define and solve future imbalances in water supply and demand in the basin through 2060.
"Our proposed solutions don't include expensive new infrastructure and diversions that threaten the health of the Colorado River and the recreation and tourism economy of the region," said Dan Grossman, Rocky Mountain regional director for Environmental Defense Fund and a former vice chairman of the Agriculture, Natural Resources and Energy Committee in the Colorado Senate. "Instead, we are focusing on common-sense ideas—including water banks, water re-use and municipal and agricultural efficiency—to solve the imbalance between supply and demand, while protecting the healthy flows of the river."
Water banks are institutional mechanisms that can be set up in one state, or by multiple states, to use existing storage in a more flexible manner—particularly during drought—by holding "deposits" of water leased or purchased from existing users. For example, they hold the potential to be a cost-effective way of preventing the chaotic effects of a "call" on the river under the Colorado River Compact. The compact stipulates that when river flows are insufficient to satisfy the Lower Basin states' water entitlement on the river, the lower basin can place a call on the river water, forcing upper basin states to stop diverting water until the lower basin's water entitlement is satisfied.
"Managing the Colorado River in a hotter and drier west requires bold and innovative thinking," added Grossman. "We can't continue to adhere to the dogmas of the 19th and 20th centuries and expect to solve this impending crisis."
The Colorado River Basin is one of the most critical sources of water in the western U.S. and Mexico, providing water to 30 million people in seven states—Arizona, California, Colorado, New Mexico, Nevada, Utah, and Wyoming. The Colorado River Basin Water Supply & Demand Study—due to be completed in June by the Bureau of Reclamation and agencies from the seven basin states—is focusing on the needs of basin resources that are dependent upon a healthy river system. They include:
Water for municipal, industrial, and agricultural use
Hydroelectric power generation
Recreation
Fish and wildlife and their habitats
Water quality including salinity
Flow and water-dependent ecological systems
Flood control, all under a range of conditions that could occur over the next 50 years.
"As we begin forging a new path forward for managing the Colorado River in the age of limits, we need to think about the impacts of our actions on future generations in the west," concluded Grossman. "Current demands from residential development and agriculture are overtaxing a river that is diminishing because of a changing climate. We need flexible, market-driven solutions that will protect the river and the ecosystems and western economies it supports."
For more information, click here.
—————
Environmental Defense Fund (edf.org), a leading national nonprofit organization, creates transformational solutions to the most serious environmental problems. EDF links science, economics, law and innovative private-sector partnerships
EcoWatch Daily Newsletter
Blue whale (Balaenoptera musculus) surfacing, showing the remains of a blow and its mottled appearance near South Georgia Island in the Polar Regions. Mick Baines & Maren / Getty Images
The largest animal on Earth is proving that wildlife protections work.
More than 300 people were forced to evacuate and 46 were sent to the hospital after a gas pipeline ruptured in Mississippi Saturday.

Pexels
By Tim Lydon
Climate-related disasters are on the rise, and carbon emissions are soaring. Parents today face the unprecedented challenge of raising children somehow prepared for a planetary emergency that may last their lifetimes. Few guidebooks are on the shelves for this one, yet, but experts do have advice. And in a bit of happy news, it includes strategies already widely recognized as good for kids.
Pexels
Be it Nina Simone and James Brown for civil rights, Joni Mitchell and Marvin Gaye for the environment, or Jackson Browne and Buffalo Springfield for nuclear disarmament, musicians have long helped push social movements into the limelight.
Yulia Lisitsa / iStock / Getty Images Plus
Collagen is the most abundant protein in your body.
It is the major component of connective tissues that make up several body parts, including tendons, ligaments, skin, and muscles.