Saving Civilization is Not a Spectator Sport
Oct. 02, 2012 09:44AM EST
Climate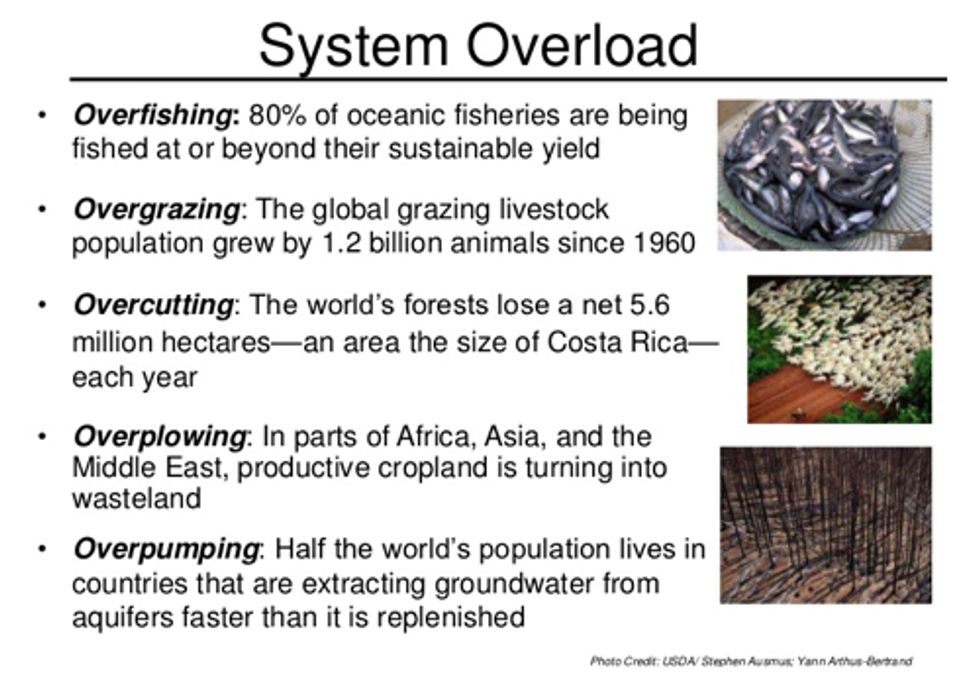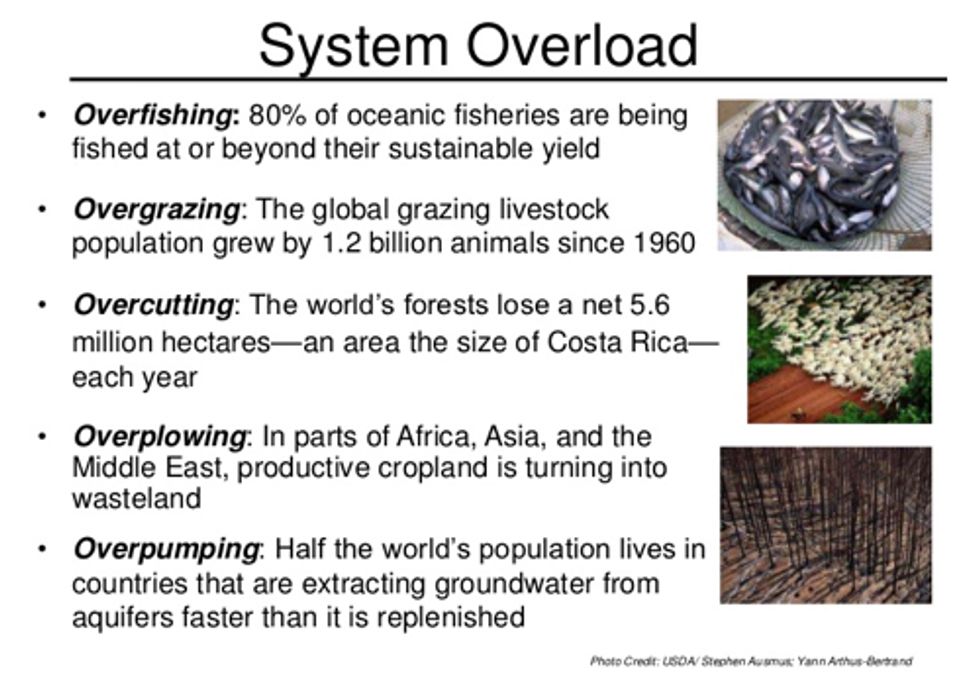 Food is the new oil. Land is the new gold.
The world food situation is deteriorating. Grain stocks have dropped to a dangerously low level. The World Food Price Index has doubled in a decade. The ranks of the hungry are expanding. Political unrest is spreading. 

On the demand side of the food equation, there will be 219,000 people at the dinner table tonight who were not there last night. And some 3 billion increasingly affluent people are moving up the food chain, consuming grain-intensive livestock and poultry products. 

At the same time, water shortages and heat waves are making it more difficult for farmers to keep pace with demand. As grain-exporting countries ban exports to keep their food prices down, importing countries are panicking. In response, they are buying large tracts of land in other countries to grow food for themselves. The land rush is on.
Could food become the weak link for us as it was for so many earlier civilizations? This slideshow presentation, based on Lester Brown's latest book, Full Planet, Empty Plates: The New Geopolitics of Food Scarcity, explains why world food supplies are tightening and tells what we need to do about it.
The slides are designed to be shared, so feel free to pass along the link to others who might be interested. Use the slideshow to anchor a lesson in the classroom or to spread the word within your community on why and how we need to mobilize to fix our food system. You are welcome to modify it to suit your needs. We ask only that you appropriately credit Earth Policy Institute and the photographers, notably Yann Arthus-Bertrand, eminent French photographer and friend of Earth Policy Institute, whose works appear within. 

If you find this tool useful, please let us know how you are using it in your community, classroom or congregation by sending an e-mail to [email protected]. We may add your example to our ever-growing list of the many ways folks around the world are spreading the Plan B vision.

 Remember, we all have a role to play. Saving civilization is not a spectator sport. 

Download brief overview presentation in PowerPoint (24 slides, 3.7 MB)
Downlaod brief overview presentaion as PDF (3.2 MB)
Download full summary presentation in PowerPoint (79 slides, 12.1 MB)
Download full summary presentation as PDF (12.1 MB)
Visit EcoWatch's FOOD and CLIMATE CHANGE pages for more related news on this topic.
EcoWatch Daily Newsletter