This website uses cookies to ensure you get the best experience while browsing it. By clicking 'Got It' you're accepting these terms.


The best of EcoWatch, right in your inbox. Sign up for our email newsletter!
Sardine Fishing Banned in Pacific Northwest as Stocks Hit Historic Low
Apr. 12, 2016 02:12PM EST
Animals
Regulators from the U.S. Pacific Fishery Management Council have banned sardine fishing off California, Oregon and Washington to allow the struggling species to recover.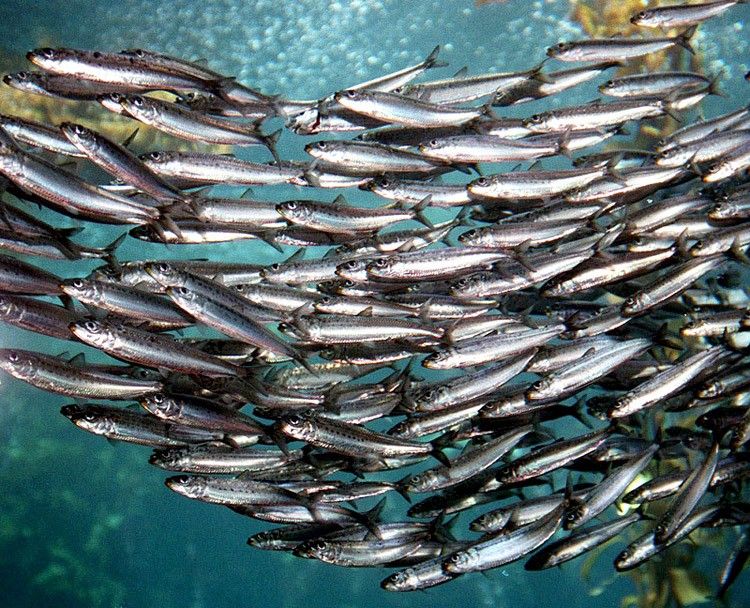 This is the second year in a row that the West coast fishing regulatory body was forced to take this action. Ominously, as The Oregonion pointed out, the council might have to continue the ban for years to come since there are less than 65,000 metric tons of adult sardines in the ocean this year, according to federal estimates. Under West coast fishery rules, sardine fishing must cease when adult stocks dip below 150,000 metric tons.
The council writes that sardines were once "the most abundant fish species in the California current" which runs from Oregon to Baja California. Reuters, however, reported that Pacific sardine numbers have plummeted 90 percent since 2007.
Sardine stocks are at historic lows and might get worse, according to The Maritime Exclusive, "The sardine fishery closure is the second in as many years; it was closed mid-season last year due to low stocks, but it has since fallen further, and is expected to be down by 30 percent over last year by summer."
The council is also considering the full closure of coho and chinook salmon fisheries off Washington state's coast for the first since 1994.
There could be a number of culprits behind the region's shrinking sardine numbers, including climate change, natural population ebbs and flows or overfishing. The mysterious "blob" of warm water that's 4°C warmer than the surrounding Pacific is also suspect.
Geoff Shester, a campaign director for Oceana, blames overfishing. "It's a broken system when you allow the fishing fleet to allot 40 percent of their catch to sardines and label it as 'bycatch' even when the fishery is closed," he told The Maritime Exclusive. "It's perfectly legal under the current system."
The little sardine has a big role in the oceanic food chain. The disappearance of the high-fat, high-calorie fish species—namely sardines and anchovies—has been pegged as the reason why so many starving sea lions have been stranded along Southern California's coast in recent years. Instead, sea lions have had to settle for less nourishing food sources, such as rockfish and market squid.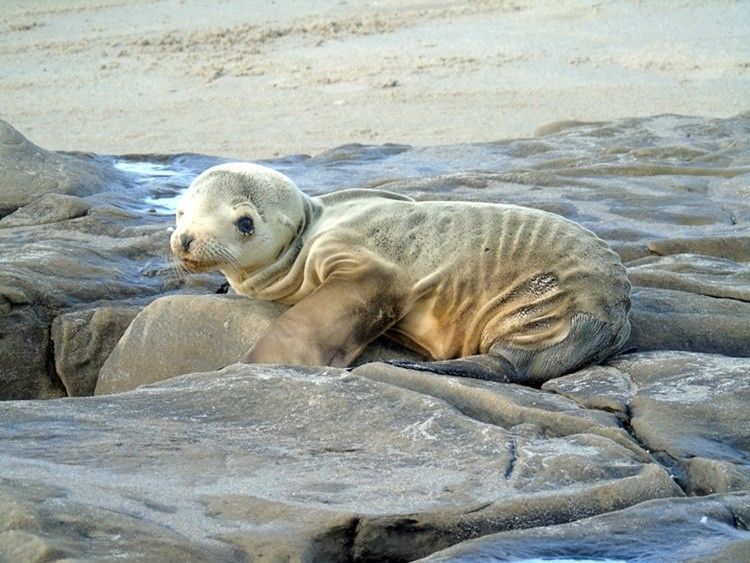 Last year, more than 3,000 sea lions were found stranded on Southern California beaches, a number higher than the previous five years combined. As of last week, there have been at least 375 sea lion strandings in 2016. Photo credit: NOAA Fisheries West Coast/Flickr
As EcoWatch reported, the number of U.S. domestic fishing stocks listed as overfished or threatened by overfishing declined to the fewest number since 1997, according to the 2014 Status of U.S. Fisheries report to Congress from the National Oceanic and Atmospheric Administration (NOAA).
"The progress that has been made toward eliminating overfishing in U.S. waters is encouraging and a testament to the effectiveness of our federal fisheries policy, the Magnuson-Stevens Act," said Greenpeace oceans campaign director John Hocevar. "However, we still have a long way to go before we can rest on our laurels. Too little attention has been paid to protecting the habitat that sustains fish and other types of marine life, and too much industrial fishing relies on methods that are overly destructive. Bycatch remains a serious problem for many fisheries, sometimes with major implications for whales, sea turtles, and other protected species."
Hocevar cited some specific areas where improvement was needed, such as holding U.S. fisheries that operate outside federal waters, which includes most U.S. tuna fishing operations, to higher standards to reduce bycatch and let tuna populations rebuild. He also said that traceability needs to be improved, and fraud and mislabeling reduced, to increase public awareness about how seafood was caught. He seconded Sobeck's reference to the need to address the danger of climate change-driven changes to the oceans' ecosystems.
"As we are seeing with the collapse of the sardine population off the California coast, intentionally reducing fish populations by 60 percent or more can make them much more vulnerable to the impacts of climate change," said Hocevar. "We need to factor in the uncertainty associated with climate change, and use a more precautionary approach to setting catch levels and managing for healthy ecosystems."
YOU MIGHT ALSO LIKE
How an Army of Ocean Farmers Is Starting an Economic Revolution
Unlocking the Potential of Sustainable Fishing
5 Island Nations That Could Completely Dry Up This Month
Removal of 4 Dams to Reopen 420 Miles of Historic Salmon Habitat on Klamath River
EcoWatch Daily Newsletter
The 18th century St. Catherine of Alexandria church is seen after its bell tower was destroyed following a 6.3 magnitude earthquake that struck the town of Porac, pampanga province on April 23. TED ALJIBE / AFP / Getty Images
At least 16 people have died, 81 are injured and 14 are still missing after an earthquake struck Luzon island in the Philippines Monday, according to the latest figures from the National Disaster Risk Reduction and Management Council, as the Philippine Star tweeted Tuesday.
Climate change activists gather in front of the stage at the Extinction Rebellion group's environmental protest camp at Marble Arch in London on April 22, on the eighth day of the group's protest calling for political change to combat climate change. TOLGA AKMEN / AFP / Getty Images
Pexels
By Alina Petre, MS, RD (CA)
Veganism refers to a way of living that attempts to minimize animal exploitation and cruelty. For this reason, vegans aim to exclude all foods containing meat, poultry, fish, eggs, dairy and honey from their diet (1).
American farmers use chlorpyrifos, a pesticide tied to brain and nervous system issues, on crops such as apples, broccoli, corn and strawberries. Stephanie Chapman / Flickr / CC BY 2.0
By Jessica Corbett
In a ruling welcomed by public health advocates, a federal court on Friday ordered the Trump administration to stop stalling a potential ban on a pesticide linked to brain damage in children, giving regulators until mid-July to make a final decision.
fstop123 / iStock / Getty Images Plus
At EcoWatch, our team knows that changing personal habits and taking actions that contribute to a better planet is an ongoing journey. Earth Day, happening on April 22, is a great reminder for all of us to learn more about the environmental costs of our behaviors like food waste or fast fashion.
To offer readers some inspiration this Earth Day, our team rounded up their top picks for films to watch. So, sit back and take in one of these documentary films this Earth Day. Maybe it will spark a small change you can make in your own life.
NASA
By Shuchi Talati
Solar geoengineering describes a set of approaches that would reflect sunlight to cool the planet. The most prevalent of these approaches entails mimicking volcanic eruptions by releasing aerosols (tiny particles) into the upper atmosphere to reduce global temperatures — a method that comes with immense uncertainty and risk. We don't yet know how it will affect regional weather patterns, and in turn its geopolitical consequences. One way we can attempt to understand potential outcomes is through models.
Maria Gunnoe Flight, courtesy of southwings.org
By Julia Conley
Green groups on Saturday celebrated the latest federal ruling aimed at preventing President Donald Trump from rolling back environmental regulations that were put in place by his predecessor.
NASA scientists flew over the Kuskokwim river in southwest Alaska in 2017 to investigate how water levels in the Arctic landscape change as permafrost thaws. Peter Griffith, NASA