This website uses cookies to ensure you get the best experience while browsing it. By clicking 'Got It' you're accepting these terms.
Sardine Fishing Banned in Pacific Northwest as Stocks Hit Historic Low
Apr. 12, 2016 02:12PM EST
Animals
Regulators from the U.S. Pacific Fishery Management Council have banned sardine fishing off California, Oregon and Washington to allow the struggling species to recover.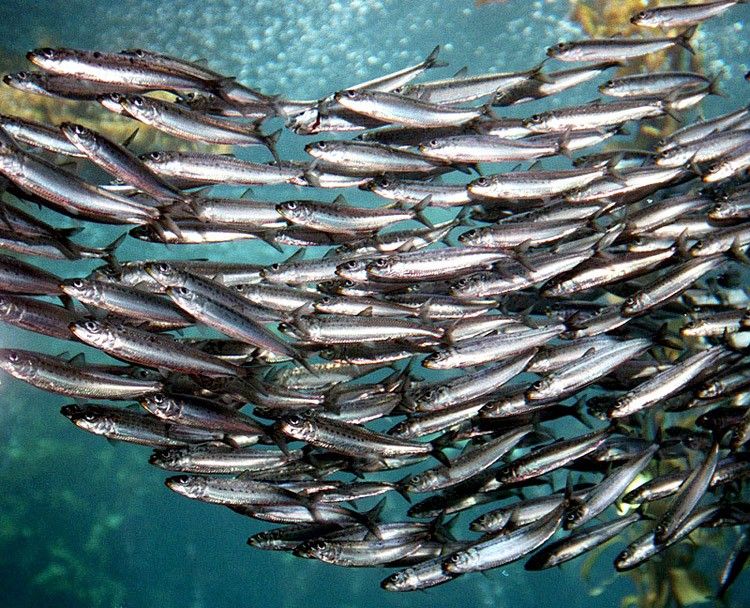 This is the second year in a row that the West coast fishing regulatory body was forced to take this action. Ominously, as The Oregonion pointed out, the council might have to continue the ban for years to come since there are less than 65,000 metric tons of adult sardines in the ocean this year, according to federal estimates. Under West coast fishery rules, sardine fishing must cease when adult stocks dip below 150,000 metric tons.
The council writes that sardines were once "the most abundant fish species in the California current" which runs from Oregon to Baja California. Reuters, however, reported that Pacific sardine numbers have plummeted 90 percent since 2007.
Sardine stocks are at historic lows and might get worse, according to The Maritime Exclusive, "The sardine fishery closure is the second in as many years; it was closed mid-season last year due to low stocks, but it has since fallen further, and is expected to be down by 30 percent over last year by summer."
The council is also considering the full closure of coho and chinook salmon fisheries off Washington state's coast for the first since 1994.
There could be a number of culprits behind the region's shrinking sardine numbers, including climate change, natural population ebbs and flows or overfishing. The mysterious "blob" of warm water that's 4°C warmer than the surrounding Pacific is also suspect.
Geoff Shester, a campaign director for Oceana, blames overfishing. "It's a broken system when you allow the fishing fleet to allot 40 percent of their catch to sardines and label it as 'bycatch' even when the fishery is closed," he told The Maritime Exclusive. "It's perfectly legal under the current system."
The little sardine has a big role in the oceanic food chain. The disappearance of the high-fat, high-calorie fish species—namely sardines and anchovies—has been pegged as the reason why so many starving sea lions have been stranded along Southern California's coast in recent years. Instead, sea lions have had to settle for less nourishing food sources, such as rockfish and market squid.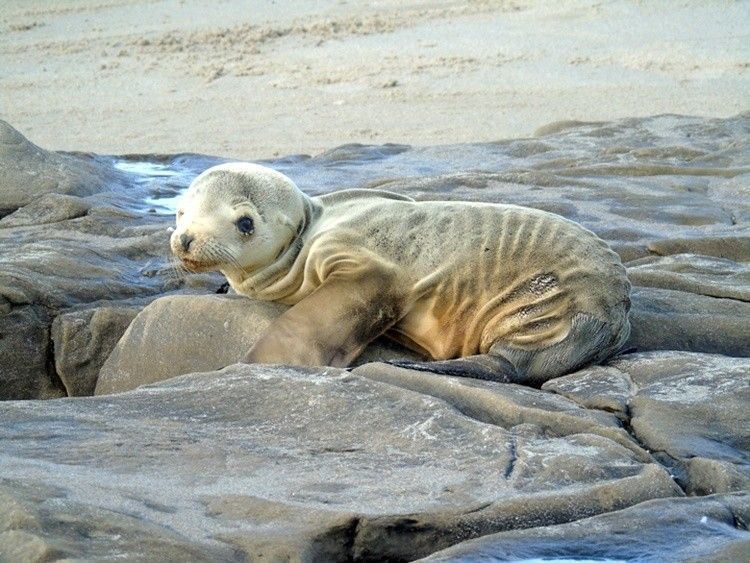 Last year, more than 3,000 sea lions were found stranded on Southern California beaches, a number higher than the previous five years combined. As of last week, there have been at least 375 sea lion strandings in 2016. Photo credit: NOAA Fisheries West Coast/Flickr
As EcoWatch reported, the number of U.S. domestic fishing stocks listed as overfished or threatened by overfishing declined to the fewest number since 1997, according to the 2014 Status of U.S. Fisheries report to Congress from the National Oceanic and Atmospheric Administration (NOAA).
"The progress that has been made toward eliminating overfishing in U.S. waters is encouraging and a testament to the effectiveness of our federal fisheries policy, the Magnuson-Stevens Act," said Greenpeace oceans campaign director John Hocevar. "However, we still have a long way to go before we can rest on our laurels. Too little attention has been paid to protecting the habitat that sustains fish and other types of marine life, and too much industrial fishing relies on methods that are overly destructive. Bycatch remains a serious problem for many fisheries, sometimes with major implications for whales, sea turtles, and other protected species."
Hocevar cited some specific areas where improvement was needed, such as holding U.S. fisheries that operate outside federal waters, which includes most U.S. tuna fishing operations, to higher standards to reduce bycatch and let tuna populations rebuild. He also said that traceability needs to be improved, and fraud and mislabeling reduced, to increase public awareness about how seafood was caught. He seconded Sobeck's reference to the need to address the danger of climate change-driven changes to the oceans' ecosystems.
"As we are seeing with the collapse of the sardine population off the California coast, intentionally reducing fish populations by 60 percent or more can make them much more vulnerable to the impacts of climate change," said Hocevar. "We need to factor in the uncertainty associated with climate change, and use a more precautionary approach to setting catch levels and managing for healthy ecosystems."
YOU MIGHT ALSO LIKE
How an Army of Ocean Farmers Is Starting an Economic Revolution
Unlocking the Potential of Sustainable Fishing
5 Island Nations That Could Completely Dry Up This Month
Removal of 4 Dams to Reopen 420 Miles of Historic Salmon Habitat on Klamath River
EcoWatch Daily Newsletter
Brown bear fishing for salmon in creek at Pavlof Harbor in Tongass National Forest, Alaska. Wolfgang Kaehler / LightRocket / Getty Images
The Trump administration has moved one step closer to opening Earth's largest intact temperate rainforest to logging.
The Democratic primary candidates take the stage during Tuesday's debate. SAUL LOEB / AFP via Getty Images
On Tuesday night, the Democratic presidential candidates gathered for what The Guardian said was the largest primary debate in U.S. history, and they weren't asked a single question about the climate crisis.
A. Battenburg / Technical University of Munich
By Sarah Kennedy
Algae in a pond may look flimsy. But scientists are using algae to develop industrial-strength material that's as hard as steel but only a fraction of the weight.
Variety of fermented food korean traditional kimchi cabbage and radish salad. white and red sauerkraut in ceramic plates over grey spotted background. Natasha Breen / REDA&CO / Universal Images Group / Getty Image
Even if you've never taken probiotics, you've probably heard of them.
These supplements provide numerous benefits because they contain live microorganisms, such as bacteria or yeast, which support the healthy bacteria in your gut (1, 2, 3, 4).
Pexels
Singapore will become the first country in the world to place a ban on advertisements for carbonated drinks and juices with high sugar contents, its health ministry announced last week. The law is intended to curb sugar consumption since the country has some of the world's highest diabetes rates per capita, as Reuters reported.
A typical adult takes around 20,000 breaths per day. If you live in a megacity like Beijing, with many of those lungfuls you're likely to inhale a noxious mixture of chemicals and pollutants.
Fred Stone holds his brown swiss cow Lida Rose at his Arundel dairy farm on March 18 after a press conference where he spoke about PFAS chemical contamination in his fields. Gregory Rec / Portland Portland Press Herald via Getty Images
By Susan Cosier
First there was Fred Stone, the third-generation dairy farmer in Maine who discovered that the milk from his cows contained harmful chemicals. Then came Art Schaap, a second-generation dairy farmer in New Mexico, who had to dump 15,000 gallons of contaminated milk a day.
Protesters attend the 32nd annual Fur-Free Friday demonstration on Nov. 23, 2018 in Beverly Hills, California. Ella DeGea / Getty Images
California Governor Gavin Newsom signed into law a bill that that bans the sale and manufacture of fur products in the state. The fur ban, which he signed into law on Saturday, prohibits Californians from selling or making clothing, shoes or handbags with fur starting in 2023, according to the AP.