Santorum to Pope Francis: Police Bedrooms Not Climate Issues
Jun. 03, 2015 10:20AM EST
Climate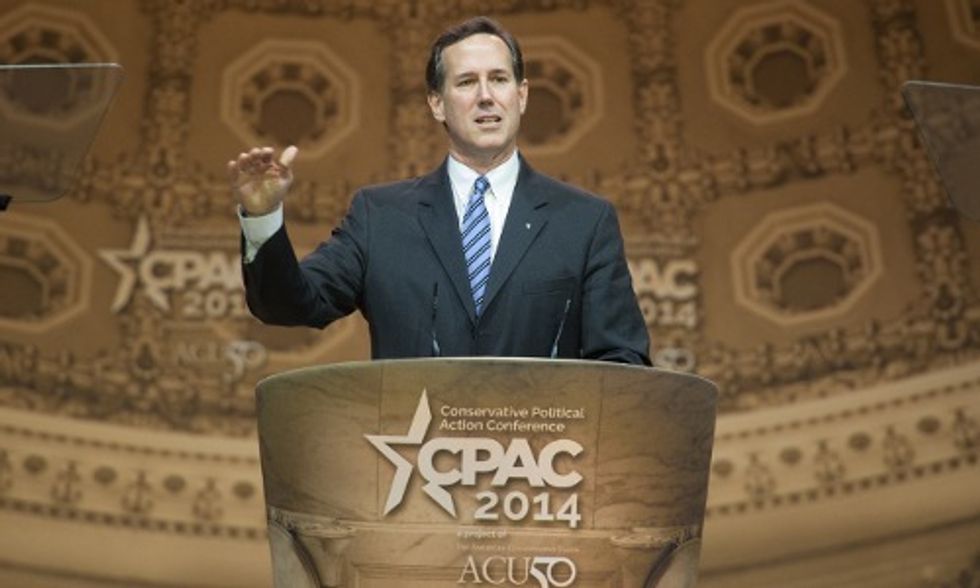 Former Pennsylvania senator and now second-time presidential candidate Rick Santorum has consistently positioned himself as the most religiously extreme candidate in a field of extreme rightwing candidates, holding up his devout, ultra-conservative Roman Catholicism as a key credential. He's previously preached blind adherence to church teachings.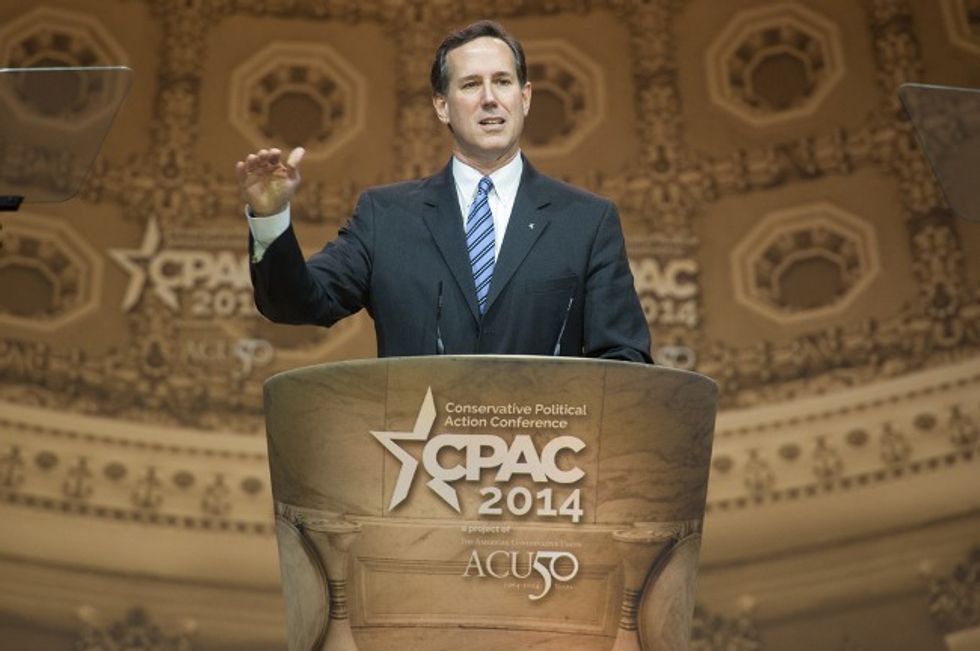 Photo credit: Shutterstock
But, like many of his ilk, he's only happy when the Pope is condemning sex, not so much when he's speaking on issues such as poverty and the climate. So now that Pope Francis has taken a leadership role in addressing climate change—addressing the subject frequently in public remarks, convening a conference on climate at the Vatican last month and preparing to release an encyclical on the topic—Santorum has decided he's a better judge of what church priorities should be than the Pope.
In an interview with radio host Dom Giordano in Philadelphia this week, Santorum was asked what he thought about Pope Francis' commitment to helping deal with climate change and his statements about how climate impacts the poor.
"I understand and I sympathize and I support completely the Pope's call for us to do more to create opportunities for people to be able to rise in society, and to care for the poor," said Santorum.
But ... "The church has gotten it wrong a few times on science, and I think that we probably are better off leaving science to the scientists," he said.
What Santorum didn't say was that virtually every climate scientist agrees with the Pope and that the Pope himself is a scientist, with a degree in chemistry. Santorum is a lawyer with degrees in business and political science.
Santorum went on to say that the church should stick with "what we're really good at, which is theologically and morally."
"I think when we get involved with controversial political and scientific theories, then I think the church is probably not as forceful and credible," said Santorum. "And I've said this to the bishops many times when they get involved in agriculture policy or things like that, that are really outside of the scope of what the church's main message is."
Why condemning marriage equality and contraceptive use—two pet Santorum issues that probably top the list of controversial political and scientific theories—is any more in the scope of the church than agriculture policy is hard to figure out, since the Bible addresses agriculture copiously and the other two issues not at all.
Santorum, of course, has joined many other Republicans in claiming climate change is a "hoax." "The dangers of carbon dioxide? Tell that to a plant, how dangerous carbon dioxide is," he has said. He called the idea of greenhouse gas emissions driving climate change "patently absurd."
He has said that the idea of climate change is a "beautifully concocted scheme" based on "junk science" being used by liberals as "just an excuse for more government control of your life."
At a campaign event last week in Iowa, Santorum responded to a questioner who said that Christians had an obligation to be good stewards for the Earth by saying, "I always have problems when people come up and say the science is settled. That's what they said about the world being flat. When someone says the science is settled you're not a scientist, because scientists never say the science is settled. The idea that the science is settled, to me, tells me that this is political science, not real science."
YOU MIGHT ALSO LIKE
Pope Francis to Host Major Summit on Climate Change
Pope Francis: 'If We Destroy Creation, Creation Will Destroy Us'
EcoWatch Daily Newsletter