This website uses cookies to ensure you get the best experience while browsing it. By clicking 'Got It' you're accepting these terms.
Santiago's Metro System to Become World's First to Be Powered Largely by Solar and Wind
May. 31, 2016 09:49AM EST
The subway system in Chile's capital will soon be the world's first to run largely on renewable energy sources.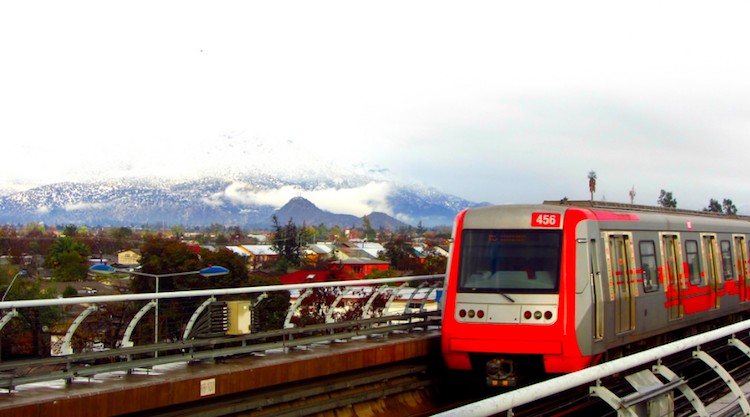 Santiago's metro has 103 kilometers of tracks and 108 stations, making it the second-longest metro system in Latin America after Mexico City. Photo credit: Flickr
The Metro de Santiago, the second-longest metro system in Latin America after Mexico City, has signed two agreements, one with a solar energy provider and another with a wind power company, which will provide 60 percent of metro's energy needs by 2018.
An announcement of the $500 million deal was made last week by Chilean President Michelle Bachelet during a visit to the National Stadium station that's currently under construction.
"More than two and a half million passengers use the Metro daily," she said. "[They] will not only be able to travel faster and safer; they will also be able to travel in a means of transport that cares for the planet, which reduces our carbon footprint and that makes possible a sustainable future for all."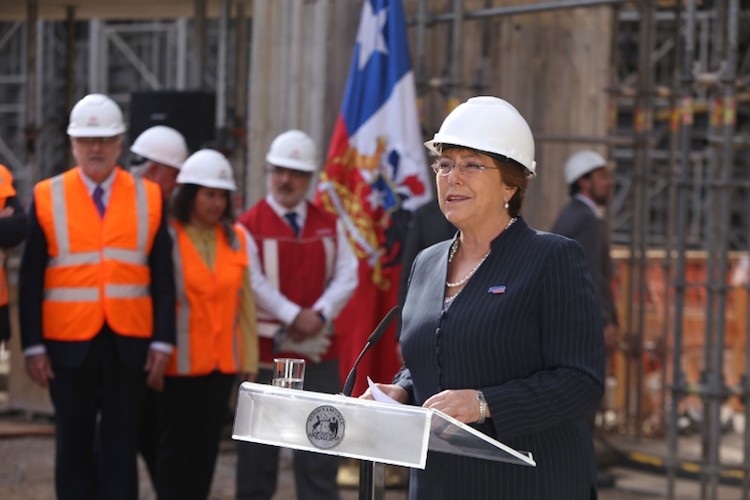 Chile's President Michelle Bachelet announces on May 23 that the Metro de Santiago will become the world's first metro to run mostly on renewables. Photo credit: SunPower Corp
California solar company SunPower, an affiliate of French oil company Total, will begin construction of the El Pelícano Solar Project, a 100-megawatt facility near the municipalities of La Higuera and Vallenar. The solar plant, expected to go live by the end of 2017, will supply 300 gigawatt hours per year of clean energy to Metro de Santiago, or 42 percent of its annual energy demands.
"SunPower is proud to serve Metro of Santiago's growing energy demand with cost-competitive, renewable solar power," Eduardo Medina, the executive vice president of SunPower's global power plants, said. "Solar is an ideal energy source for Chile because of the country's high solar resource and transparent energy policies. In partnership with Total, SunPower is committed to the continued growth of our business in Chile."
As for wind power, the metro will receive 18 percent of its energy needs from a 185-megawatt San Juan wind project developed by Spain-based Elecnor and owned by Brazilian renewable energy firm Latin America Power, according to Quartz.
Quartz noted that both solar and wind projects will start service in 2018 and supply the metro for the next 15 years. The metro will receive its remaining 40 percent of its energy needs from the Chilean electric distribution company Chilectra.
The Natural Resources Defense Council noted that the amount of energy generated by the wind and solar projects for the metro will be equivalent to the energy needs of 104,000 homes. Not only that, the impressive initiative is expected to mitigate 130,000 tons of CO2 emissions annually.
YOU MIGHT ALSO LIKE
It's Time to Break Saudi's Oil Monopoly and Embrace Clean Transportation
Ready to Buy an Electric Vehicle? Here's What You Need to Know
Solar Boat to Make Solo Trip From California to Hawaii
Plus, learn if there's one that's best for your health.
Catherine Falls Commercial / Moment / Getty Images
An invasive Amynthas worm, also known as a crazy snake worm, Asian jumping worm and Alabama jumper Tom Potterfield / Flickr
By Jason Bittel
My wife and I built a house two years ago on a few acres of woodland outside of Pittsburgh. The backyard is full of maples, poplars, briars and common spicebush. Two-lined salamanders and grumpy-looking crayfish wade among the rocks in the small stream that runs down the edge of the property. Deer, raccoon and opossum tracks appear regularly in the snow and mud. Sometimes, my trail-cam even catches a pair of gray foxes as they slink through the night.
AleksandarNakic / Getty Images
By Kate Murphy
No matter the time of year, there's always a point in each season when my skin decides to cause me issues. While these skin issues can vary, I find the most common issues to be dryness, acne and redness.

David Woodfall / The Image Bank / Getty Images
By Sam Nickerson
The U.S. Environmental Protection Agency (EPA) in April 2018 proposed relaxing standards related to how it assesses the effects of exposure to low levels of toxic chemicals on public health.
Now, correspondence obtained by the LA Times revealed just how deeply involved industry lobbyists and a controversial, industry-funded toxicologist were in drafting the federal agency's proposal to scrap its current, protective approach to regulating toxin exposure.
Steve Irwin poses with a three foot long alligator at the San Francisco Zoo on June 26, 2002. Justin Sullivan / Getty Images
February 22 is the birthday of conservationist and beloved TV personality "Crocodile Hunter" Steve Irwin, who would have been 57 years old today.
Irwin's life was tragically cut short when the barb from a stingray went through his chest while he was filming in 2006, but his legacy of loving and protecting wildlife lives on, most recently in a Google Doodle today honoring his birthday.