This website uses cookies to ensure you get the best experience while browsing it. By clicking 'Got It' you're accepting these terms.
Santa Claus + 7 Elves Arrested Protesting Fracking Infrastructure
Dec. 23, 2014 08:24AM EST
Yesterday morning nine people dressed as Mr. and Mrs. Santa Claus and their elves were arrested and charged with trespassing and disorderly conduct as they blockaded the gates of Texas-based Crestwood Midstream's gas storage facility on the shore of Seneca Lake in upstate New York. These local residents were protesting the methane gas storage expansion project that will store highly pressurized, explosive gas in abandoned salt caverns.
The Crestwood project has faced unparalleled public opposition due to unresolved questions about geological instabilities, fault lines, possible salinization of the lake and public health concerns. Local residents are outraged that Crestwood was given approval by the Federal Energy Regulatory Commission to store two billion cubic feet of methane (natural gas) in the caverns along the western shore of Seneca Lake where the New York State DEC temporarily halted plans to stockpile propane and butane (LPG) due to ongoing concerns for safety, health and the environment.
"Don't worry, boys and girls, I'll be out of jail in time to deliver your presents," said Mr. Claus, Stefan Senders of Schuyler County, as he was being handcuffed.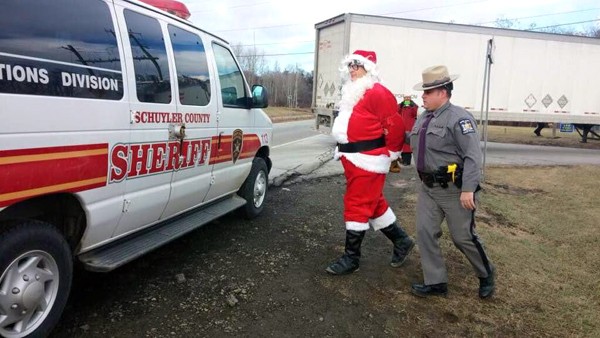 Yesterday's arrests follow 28 arrests last week in a blockade lead by prominent local musicians. Members of the Irish folk band, The Grady Girls, along with acclaimed banjoist Richie Stearns and fiddler Rosie Newton, were among those arrested. While blockading a large truck from entering the gates at Crestwood, the musicians sang, danced, played instruments and held banners that read "This Land is Our Land" and "Gas/Water: Which Side Are You On?"
"When I was deciding whether to get arrested or not, I saw a sticker on my own car that said, 'What Would Pete Do?,'" said singer and banjo musician Richie Stearns referring to legendary folk singer Pete Seeger.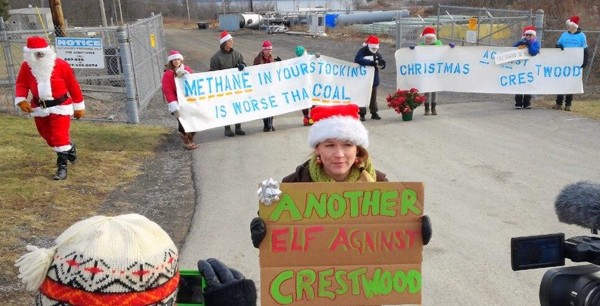 The We Are Seneca Lake nonviolent, civil disobedience campaign is in its ninth week of blockades to stop construction at the gas storage facility with a running total of 170 arrests.
The project is opposed by more than 200 businesses, more than 60 wineries, 11 municipalities (including neighboring Watkins Glen) and thousands and thousands of residents in the Finger Lakes region who are concerned about the threat it poses to human health, drinking water and the local economy, including the tourism industry.
YOU MIGHT ALSO LIKE
RFK, Jr. and Josh Fox Chime in on New York Fracking Ban Victory
Monumental Growth of Crude-by-Rail Ignites Communities to Fight Back
Southwest Greenland had the most consistent ice loss from 2003 to 2012. Eqalugaarsuit, Ostgronland, Greenland on Aug. 1, 2018.
Rob Oo / CC BY 2.0
Finally, some good news about the otherwise terrible partial government shutdown. A federal judge ruled that the Trump administration cannot issue permits to conduct seismic testing during the government impasse.
The Justice Department sought to delay—or stay—a motion filed by a range of coastal cities, businesses and conservation organizations that are suing the Trump administration over offshore oil drilling, Reuters reported. The department argued that it did not have the resources it needed to work on the case due to the shutdown.
Climate change has been called the biggest challenge of our time. Last year, scientists with the United Nations said we basically have 12 years to limit global warming to 1.5ºC to avoid planetary catastrophe.
Amid a backdrop of rising global carbon emissions, there's a real case for pessimism. However, many scientists are hopeful of a way out.
Demonstrators participate in a protest march over agricultural policy on Jan. 19 in Berlin, Germany. Carsten Koall / Getty Images Europe
By Andrea Germanos
Organizers said 35,000 people marched through the streets of the German capital on Saturday to say they're "fed up" with industrial agriculture and call for a transformation to a system that instead supports the welfare of the environment, animals and rural farmers.

A Massachusetts road coated with snow and ice following the winter storm which prompted Trump to mock climate change. Scott Eisen / Getty Images
President Donald Trump has once again contradicted the findings of the U.S. government when it comes to the threat posed by climate change. Days after a Department of Defense report outlined how climate-related events like wildfires and flooding put U.S. military installations at risk, Trump took to Twitter to mock the idea that the world could be getting warmer, Time reported.
Trump's tweet came in response to a massive winter storm that blanketed the Midwest and Northeast this weekend.
The fire that erupted after a pipeline explosion in Mexico Friday. FRANCISCO VILLEDA / AFP / Getty Images
By Jason Bittel
Formidable predators stalk the forests between Panama and northern Argentina. They are sometimes heard but never seen. They are small but feisty and have even been documented trying to take down a tapir, which can top out at nearly 400 pounds. Chupacabras? No.
Mead is a fermented beverage traditionally made from honey, water and a yeast or bacterial culture.
U.S. Army member helps clear debris from Tyndall Air Force Base following Hurricane Michael.
U.S. Army
A tree found severed in half in an act of vandalism in Joshua Tree National Park. Gina Ferazzi / Los AngelesTimes / Getty Images
By Rhea Suh
One month on, the longest and most senseless U.S. government shutdown in history is taking a grave and growing toll on the environment and public health.

Food inspectors have been idled or are working without pay, increasing the risk we'll get sick from eating produce, meat and poultry that isn't properly checked. National parks and public wilderness lands are overrun by vandals, overtaken by off-road joyriders, and overflowing with trash. Federal testing of air and water quality, as well as monitoring of pollution levels from factories, incinerators and other sources, is on hold or sharply curtailed. Citizen input on critical environmental issues is being hindered. Vital research and data collection are being sidelined.