Santa Claus + 7 Elves Arrested Protesting Fracking Infrastructure
Yesterday morning nine people dressed as Mr. and Mrs. Santa Claus and their elves were arrested and charged with trespassing and disorderly conduct as they blockaded the gates of Texas-based Crestwood Midstream's gas storage facility on the shore of Seneca Lake in upstate New York. These local residents were protesting the methane gas storage expansion project that will store highly pressurized, explosive gas in abandoned salt caverns.
The Crestwood project has faced unparalleled public opposition due to unresolved questions about geological instabilities, fault lines, possible salinization of the lake and public health concerns. Local residents are outraged that Crestwood was given approval by the Federal Energy Regulatory Commission to store two billion cubic feet of methane (natural gas) in the caverns along the western shore of Seneca Lake where the New York State DEC temporarily halted plans to stockpile propane and butane (LPG) due to ongoing concerns for safety, health and the environment.
"Don't worry, boys and girls, I'll be out of jail in time to deliver your presents," said Mr. Claus, Stefan Senders of Schuyler County, as he was being handcuffed.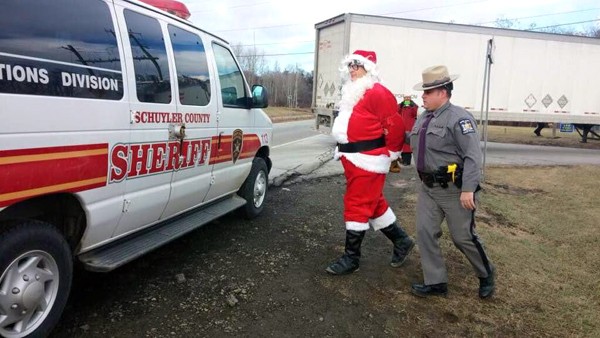 Yesterday's arrests follow 28 arrests last week in a blockade lead by prominent local musicians. Members of the Irish folk band, The Grady Girls, along with acclaimed banjoist Richie Stearns and fiddler Rosie Newton, were among those arrested. While blockading a large truck from entering the gates at Crestwood, the musicians sang, danced, played instruments and held banners that read "This Land is Our Land" and "Gas/Water: Which Side Are You On?"
"When I was deciding whether to get arrested or not, I saw a sticker on my own car that said, 'What Would Pete Do?,'" said singer and banjo musician Richie Stearns referring to legendary folk singer Pete Seeger.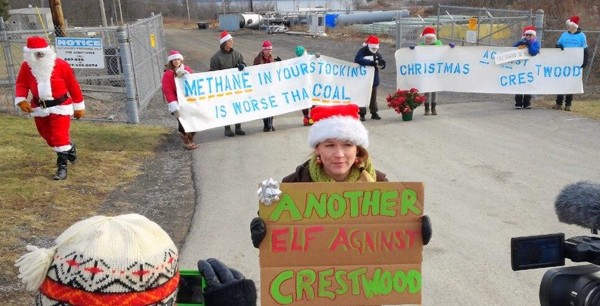 The We Are Seneca Lake nonviolent, civil disobedience campaign is in its ninth week of blockades to stop construction at the gas storage facility with a running total of 170 arrests.
The project is opposed by more than 200 businesses, more than 60 wineries, 11 municipalities (including neighboring Watkins Glen) and thousands and thousands of residents in the Finger Lakes region who are concerned about the threat it poses to human health, drinking water and the local economy, including the tourism industry.
YOU MIGHT ALSO LIKE
RFK, Jr. and Josh Fox Chime in on New York Fracking Ban Victory
Monumental Growth of Crude-by-Rail Ignites Communities to Fight Back
Glyphosate, the main ingredient in Monsanto's widely used herbicide Roundup, will be added July 7 to California's list of chemicals known to the state to cause cancer, according to a Reuters report Tuesday. This news comes after the company's unsuccessful attempt to block the listing in trial court and requests for stay were denied by a state appellate court and California's Supreme Court.
California's Office of Environmental Health Hazard Assessment (OEHHA) announced the designation on Monday under the Safe Drinking Water and Toxic Enforcement Act of 1986, or Proposition 65.
Keep reading...
Show less
www.facebook.com
Keep reading...
Show less
Researchers from the Marine Animal Response Society examine one of the dead right whales. Marine Animal Response Society
Canadian government officials and marine biologists are investigating the mysterious deaths of six North American right whales. The endangered animals all turned up dead between June 6 and June 23 in the Gulf of St. Lawrence, off Canada's southeastern coast.
North Atlantic right whales are the rarest of all large whale species and among the rarest of all marine mammal species, with only about 450 right whales in the North Atlantic.
Keep reading...
Show less
Scott Pruitt testifies during his Senate confirmation hearing for EPA administrator, January 2017.
The U.S. Environmental Protection Agency's (EPA) chief of staff pressured the leader of its Board of Scientific Counselors to change her congressional testimony to downplay the impact of the agency's mass dismissal of scientists from the board, the New York Times reports.
Keep reading...
Show less
By Jason Mark
Sequoiadendron giganteum. That's the scientific name for the giant sequoia: the mammoth trees found in California's Sierra Nevada that are the largest organisms on Earth, and among the longest-lived. Biologists estimate that about half of all sequoias live in Giant Sequoia National Monument, a 328,000-acre preserve in the Southern Sierra Nevada established by President Clinton in 2000.
Now that national monument is in jeopardy.
Keep reading...
Show less
By Andy Rowell
Donald Trump this week is launching an "energy week," pushing the argument that the U.S. will become a net exporter of oil and gas.
The president and his cronies are talking about a new era of "U.S. energy dominance," which could stretch for decades to come. However, no one believes the president anymore.
Keep reading...
Show less
UN
By Colleen Curry
The United Nations has designated 23 new sites around the world to its World Network of Biosphere reserves—stunning natural landscapes that balance environmental and human concerns and strive for sustainability.
The forests, beaches and waterways were added to the list this year at the International Coordinating Council of the Man and the Biosphere Programme meeting in Paris earlier this month.
Keep reading...
Show less
Jun. 26, 2017 01:48PM EST
www.elysee.fr
By Andy Rowell
There is a growing feeling within European capitals that a quiet, but deeply positive, revolution is happening under Emmanuel Macron in France.
Macron's opinion poll rating is high, especially boosted in how the young French president has reacted to Donald Trump on the international stage.
Keep reading...
Show less
Jun. 26, 2017 12:32PM EST
www.facebook.com
Keep reading...
Show less