This website uses cookies to ensure you get the best experience while browsing it. By clicking 'Got It' you're accepting these terms.
Santa Arrested at Gates of Crestwood Saying No to Dirty Energy, Yes to Renewables
Dec. 21, 2015 05:17PM EST
Climate
The Grinch, Santa and his elves took a short break from their Christmas preparations today to visit the gates of the Crestwood gas storage facility near Seneca Lake in New York to warn the company that Santa—and the world—is watching. His elves and local friends held signs saying, "Dirty energy = naughty, clean renewables = nice" and "Here comes the sun, go solar!"
Santa and 12 others, including the Grinch, were arrested for disorderly conduct while stopping a truck pulling construction equipment. Their message: there's still time to get on Santa's "nice" list.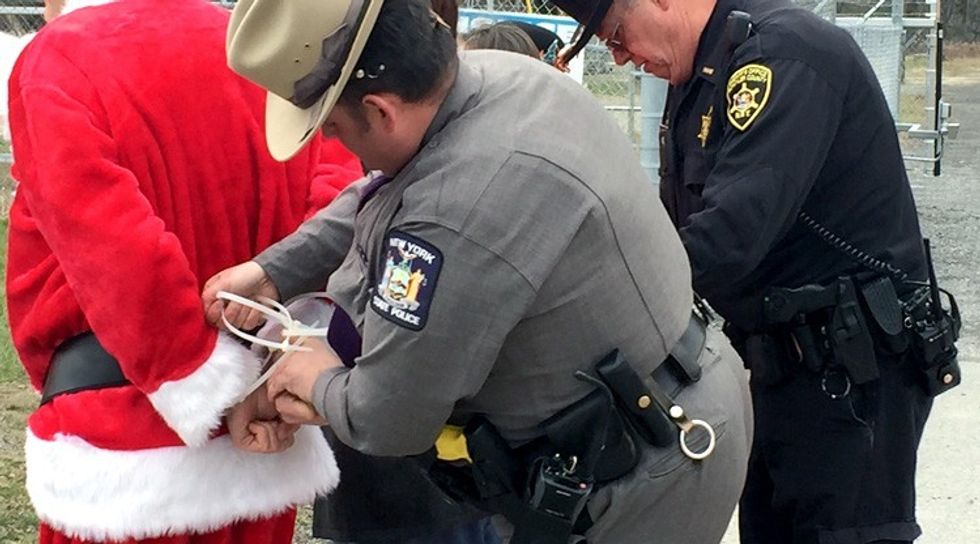 "Santa is very worried about climate change," elves close to Santa said. "He paid close attention to the climate negotiations in Paris. Where will we live when the ice at the North Pole melts? The reindeer are already falling through the melting tundra in their feeding grounds. It's not just an issue for us, but for all the people living near the coasts … as ice melts, seas rise. Santa does not want anyone to be climate refugees."
The Crestwood gas storage facility proposes to store methane, propane and butane in salt caverns under the shores of Seneca Lake. It is one of many projects, including pipelines, which aim to develop "new markets" for the current glut of natural gas from the fracking boom, committing people to using natural gas far into the future. Natural gas is primarily methane, a significantly more potent greenhouse gas than carbon dioxide over a 20-year timeframe.
"I'm here today to make sure kids know who's being naughty and nice," said Santa. "Crestwood has been very, very naughty by promoting the use of natural gas, which is making climate change worse. The people getting arrested at the gate, on the other hand, are very, very nice and are working hard to protect all of us."
"I applaud what protesters there [at Seneca Lake] are doing," Robert Howarth said in an interview with Evan Dawson on WXXI's Connections in response to news that the North Pole gang was blockading at Crestwood.
Howarth is a climate scientist and was a Cornell University delegate at the Paris climate talks earlier this month. "Coming out of Paris, we need to be carbon neutral by about 2035. Natural gas, and shale gas in particular, is a disaster to what we are trying to do to reach this climate target ... Methane is 100-fold more potent a greenhouse gas than carbon dioxide when it's in the atmosphere ... If we immediately move off of natural gas, it will buy us 30 or 40 more years before we hit that 1.5 degree temperature increase."
Santa and the Grinch joined many friends from the area in welcoming the return of the sun at Winter Solstice, noting that solar panels have been particularly high on the wish list requests in the area this year.
"Seneca Lake and the climate of the world are more important than things that go blink or things that are swirled," said the Grinch. "The people who stand on this line today show the spirit of Christmas is not far away."
Schuyler County deputies arrested the 13 shortly before 2 p.m. as they blocked a dump truck pulling a mini excavator from leaving the facility.
The 13 protesters were transported to the Schuyler County Sheriff's department, charged with disorderly conduct and released.
Crestwood's methane gas storage expansion project was approved by the U.S. Federal Energy Regulatory Commission in October 2014 in the face of broad public opposition and unresolved questions about geological instabilities, fault lines and possible salinization of Seneca Lake. The total number of arrests in the civil disobedience campaign over the past year now stands at 452. Whether due to low natural gas prices or the ongoing direct action campaign, construction of Crestwood's natural gas storage expansion has not yet begun.
The 13 arrested today included: Stefan Senders (Santa Claus), 56, Hector, Schuyler County; Charlotte Senders (The Grinch), 19, Hector, Schuyler County; Coert Bonthius (Elf), 62, Ithaca, Tompkins County; Krys Cail (Elf), 62, Ulysses, Tompkins County; Lyndsay Clark (Elf), 54, Springwater, Livingston County; Kim Cunningham (Elf), 59, Naples, Ontario County; Barbara Eden (Elf), 63, Ithaca, Tompkins County; Patricia Heckart (Elf), 64, Ulysses, Tompkins County; Gretchen Herrmann (Elf), 66, Ithaca, Tompkins County; Todd Hobler (Elf), 53, Buffalo, Erie County; Gabrielle Illava (Elf), 26, Ithaca, Tompkins County; Bruce Reisch (Elf), 60, Geneva, Ontario County; and Gabriel Shapiro (Elf), 19, Ithaca, Tompkins County.
YOU MIGHT ALSO LIKE
And the Climate Pretender Award Goes to …
New Yorkers Celebrate One-Year Anniversary of Fracking Ban
Confirmed: 4.6-Magnitude Earthquake in British Columbia Caused by Fracking (Likely World's Largest)
EcoWatch Daily Newsletter
In this view from an airplane rivers of meltwater carve into the Greenland ice sheet near Sermeq Avangnardleq glacier on Aug. 4 near Ilulissat, Greenland. Climate change is having a profound effect in Greenland, where over the last several decades summers have become longer and the rate that glaciers and the Greenland ice cap are retreating has accelerated. Sean Gallup / Getty Images
The rate that Greenland's ice sheet is melting surpassed scientists' expectations and has raised concerns that their worst-case scenario predictions are coming true, Business Insider reported.
An Alagoas curassow in captivity. Luís Fábio Silveira / Agência Alagoas / Mongabay
By Pedro Biondi
Extinct in its habitat for at least three decades, the Alagoas curassow (Pauxi mitu) is now back in the jungle and facing a test of survival, thanks to the joint efforts of more than a dozen institutions to pull this pheasant-like bird back from the brink.

Elizabeth Warren's Blue New Deal aims to expand offshore renewable energy projects, like the Block Island Wind Farm in Rhode Island.
Luke H. Gordon / Flickr
By Julia Conley
Sen. Elizabeth Warren expanded her vision for combating the climate crisis on Tuesday with the release of her Blue New Deal — a new component of the Green New Deal focusing on protecting and restoring the world's oceans after decades of pollution and industry-caused warming.
Former U.S. Secretary of State Rex Tillerson leaves the courthouse after testifying in the Exxon Mobil trial on Oct. 30, 2019 in New York. DON EMMERT / AFP via Getty Images
A judge in New York's Supreme Court sided with Exxon in a case that accused the fossil fuel giant of lying to investors about the true cost of the climate crisis. The judge did not absolve Exxon from its contribution to the climate crisis, but insisted that New York State failed to prove that the company intentionally defrauded investors, as NPR reported.
By Sharon Elber
You may have heard that giving a pet for Christmas is just a bad idea. Although many people believe this myth, according to the ASPCA, 86 percent of adopted pets given as gifts stay in their new homes. These success rates are actually slightly higher than average adoption/rehoming rates. So, if done well, giving an adopted pet as a Christmas gift can work out.