This website uses cookies to ensure you get the best experience while browsing it. By clicking 'Got It' you're accepting these terms.
Santa Arrested at Gates of Crestwood Saying No to Dirty Energy, Yes to Renewables
Dec. 21, 2015 05:17PM EST
Climate
The Grinch, Santa and his elves took a short break from their Christmas preparations today to visit the gates of the Crestwood gas storage facility near Seneca Lake in New York to warn the company that Santa—and the world—is watching. His elves and local friends held signs saying, "Dirty energy = naughty, clean renewables = nice" and "Here comes the sun, go solar!"
Santa and 12 others, including the Grinch, were arrested for disorderly conduct while stopping a truck pulling construction equipment. Their message: there's still time to get on Santa's "nice" list.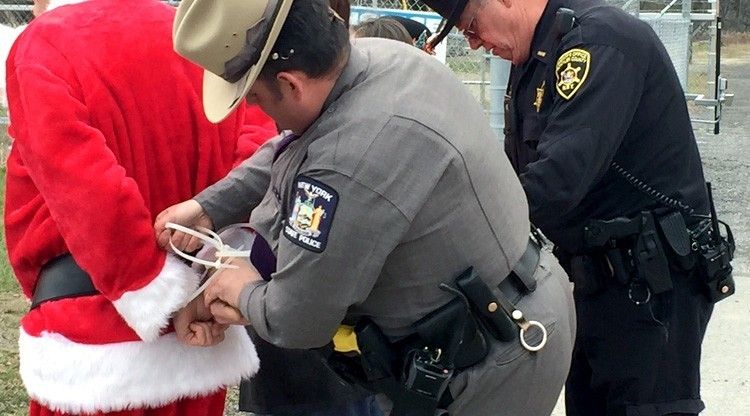 "Santa is very worried about climate change," elves close to Santa said. "He paid close attention to the climate negotiations in Paris. Where will we live when the ice at the North Pole melts? The reindeer are already falling through the melting tundra in their feeding grounds. It's not just an issue for us, but for all the people living near the coasts … as ice melts, seas rise. Santa does not want anyone to be climate refugees."
The Crestwood gas storage facility proposes to store methane, propane and butane in salt caverns under the shores of Seneca Lake. It is one of many projects, including pipelines, which aim to develop "new markets" for the current glut of natural gas from the fracking boom, committing people to using natural gas far into the future. Natural gas is primarily methane, a significantly more potent greenhouse gas than carbon dioxide over a 20-year timeframe.
"I'm here today to make sure kids know who's being naughty and nice," said Santa. "Crestwood has been very, very naughty by promoting the use of natural gas, which is making climate change worse. The people getting arrested at the gate, on the other hand, are very, very nice and are working hard to protect all of us."
"I applaud what protesters there [at Seneca Lake] are doing," Robert Howarth said in an interview with Evan Dawson on WXXI's Connections in response to news that the North Pole gang was blockading at Crestwood.
Howarth is a climate scientist and was a Cornell University delegate at the Paris climate talks earlier this month. "Coming out of Paris, we need to be carbon neutral by about 2035. Natural gas, and shale gas in particular, is a disaster to what we are trying to do to reach this climate target ... Methane is 100-fold more potent a greenhouse gas than carbon dioxide when it's in the atmosphere ... If we immediately move off of natural gas, it will buy us 30 or 40 more years before we hit that 1.5 degree temperature increase."
Santa and the Grinch joined many friends from the area in welcoming the return of the sun at Winter Solstice, noting that solar panels have been particularly high on the wish list requests in the area this year.
"Seneca Lake and the climate of the world are more important than things that go blink or things that are swirled," said the Grinch. "The people who stand on this line today show the spirit of Christmas is not far away."
Schuyler County deputies arrested the 13 shortly before 2 p.m. as they blocked a dump truck pulling a mini excavator from leaving the facility.
The 13 protesters were transported to the Schuyler County Sheriff's department, charged with disorderly conduct and released.
Crestwood's methane gas storage expansion project was approved by the U.S. Federal Energy Regulatory Commission in October 2014 in the face of broad public opposition and unresolved questions about geological instabilities, fault lines and possible salinization of Seneca Lake. The total number of arrests in the civil disobedience campaign over the past year now stands at 452. Whether due to low natural gas prices or the ongoing direct action campaign, construction of Crestwood's natural gas storage expansion has not yet begun.
The 13 arrested today included: Stefan Senders (Santa Claus), 56, Hector, Schuyler County; Charlotte Senders (The Grinch), 19, Hector, Schuyler County; Coert Bonthius (Elf), 62, Ithaca, Tompkins County; Krys Cail (Elf), 62, Ulysses, Tompkins County; Lyndsay Clark (Elf), 54, Springwater, Livingston County; Kim Cunningham (Elf), 59, Naples, Ontario County; Barbara Eden (Elf), 63, Ithaca, Tompkins County; Patricia Heckart (Elf), 64, Ulysses, Tompkins County; Gretchen Herrmann (Elf), 66, Ithaca, Tompkins County; Todd Hobler (Elf), 53, Buffalo, Erie County; Gabrielle Illava (Elf), 26, Ithaca, Tompkins County; Bruce Reisch (Elf), 60, Geneva, Ontario County; and Gabriel Shapiro (Elf), 19, Ithaca, Tompkins County.
YOU MIGHT ALSO LIKE
And the Climate Pretender Award Goes to …
New Yorkers Celebrate One-Year Anniversary of Fracking Ban
Confirmed: 4.6-Magnitude Earthquake in British Columbia Caused by Fracking (Likely World's Largest)
EcoWatch Daily Newsletter
Ryan Hagerty / USFWS
It's become a familiar story with the Trump administration: Scientists write a report that shows the administration's policies will cause environmental damage, then the administration buries the report and fires the scientists.
A coalition of some of the largest environmental groups in the country joined forces to file a lawsuit in federal court challenging the Trump administration's maneuver to weaken the Endangered Species Act.
beyond foto / Getty Images
By Kimberly Holland
Children who eat a lot of gluten in their earliest years may have an increased risk of developing celiac disease and gluten intolerance, according to a new study published in JAMATrusted Source.
Joe Raedle / Getty Images
By Jake Johnson
Calling the global climate crisis both the greatest threat facing the U.S. and the greatest opportunity for transformative change, Sen. Bernie Sanders unveiled today a comprehensive Green New Deal proposal that would transition the U.S. economy to 100 percent renewable energy and create 20 million well-paying union jobs over a decade.
The Parties to CITES agreed to list giraffes on Appendix II of the Convention on International Trade in Endangered Species (CITES) today at the World Wildlife Conference or CoP18 in Geneva. Such protections will ensure that all giraffe parts trade were legally acquired and not sourced from the poached giraffes trade and will require countries to make non-detriment findings before allowing giraffe exports. The listing will also enable the collection of international trade data for giraffes that might justify greater protections at both CITES and other venues in the future.

The WHO stressed that more research is needed on the potential health risks of microplastic ingestion. luchschen / iStock / Getty Images Plus
The UN's health agency on Thursday said that microplastics contained in drinking water posed a "low" risk at their current levels.
However, the World Health Organization (WHO) — in its first report on the potential health risks of microplastic ingestion — also stressed more research was needed to reassure consumers.
Brazil's right-wing President Jair Bolsonaro is giving President Trump a run for his money in the alternative facts department.
Washington Gov. Jay Inslee, who made solving the climate crisis the center of his presidential campaign, is dropping out of the 2020 Democratic primary race.