This website uses cookies to ensure you get the best experience while browsing it. By clicking 'Got It' you're accepting these terms.


The best of EcoWatch, right in your inbox. Sign up for our email newsletter!
Sandra Steingraber: Why I am in Jail
Nov. 21, 2014 04:22PM EST
Energy

Breakfast in the Chemung County Jail is served at 5 a.m. This morning—Friday, November 21, 2014—it was Cheerios and milk plus two slaps of universally-despised "breakfast cake." Along with trays of food—which are passed through the bars—arrive the morning rounds of meds for the inmates who take them. Now comes my favorite time of day in jail—the two quiet hours between breakfast and 7 a.m. before the television clicks on and we are ordered to make our beds and the loud day begins. Between the end of breakfast and 7 a.m., most women go back to sleep. Now I can hear only the sounds of their breathing—different rhythms all—and, on the far side of the steel door—the occasional voices of the C.O.s (correction officers, a.k.a. the guards) and the walkie-talkie orders they themselves are receiving.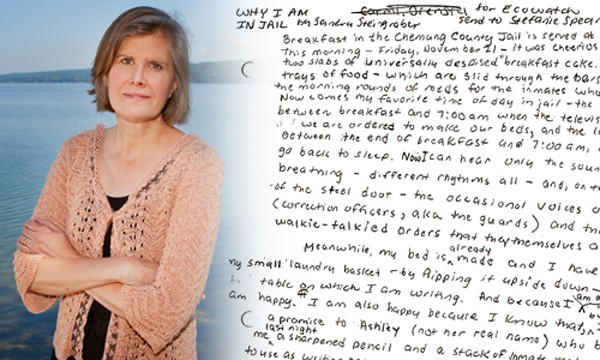 Meanwhile, my bed is already made and I have repurposed my small laundry basket—by flipping it upside down—into a table on which I am writing. And because I am a writer who is writing, I am happy.
I am also happy because I know that, by writing, I am fulfilling a promise to Ashley (not her real name) who brought me last night a sharpened pencil and a stack of inmate medical request forms to use as writing paper. After hearing my story—narrated through the bars of my cell as I am being kept in "keeplock" until the results of my TB screening come back—Ashley said, "I know about you Seneca Lake protesters. I read about that. But only once. You have to keep fighting. You have to write to the newspaper. You can do that from here, you know. You can't just sit in your cell for 14 days and do nothing. You have to fight." And then she ran off and found me paper.
Sitting on a stool outside my cell—which is welded to the far row of bars—Ashley freely dispensed advice last night for the We Are Seneca Lake movement. "Don't give up. Keep writing the newspapers. They are always looking for stories." She added, "I may be only 21, but I'm wise about some things."
Here's Ashley's story: She was arrested two years ago—at age 19—for stealing a pumpkin. She is jailed now for violating probation. She has three kids—ages 6, 4 and 2—who are staying with her foster mother in Allegany County until she serves her time. She'll be out the day after Christmas. Meanwhile, she's studying for her GED and laying plans to go to college.
Half the women in my cell block are here for probation violation. One thing they all agree on: It's almost impossible to be a single mother in search of housing and a job, both of which require mobility, and comply with probation rules, which restrict mobility. Better to do the time and then make a fresh start.
I get that. And it's a logic that runs parallel to my own. I have come to believe that a successful civil disobedience campaign likewise depends on the willingness of at least some of us to gladly accept jail time over other kinds of sentences, such as paying fines.
There are four reasons for this. First, it shows respect for the law. In my case, I was arrested for trespassing on the driveway of a Texas-based energy company that has the sole intention of turning the crumbling salt mines underneath the hillside into massive gas tanks for the highly-pressurized products of fracking: methane, propane and butane. (The part of the plan involving methane storage has already been approved by the Federal Energy Regulatory Commission). Even before the infrastructure for this gas storage is built, Crestwood Midstream has polluted the lake with salt, at levels that exceed its legal limits. Crestwood's response is to pay a fine and keep polluting. By contrast, I refuse to pay a fine to excuse my crime and so accepted the lawful consequences of my actions.
Second, extending one's civil disobedience testimony in jail shows seriousness of intent. Four of the 17 civil disobedients who have so far been arraigned as part of the We Are Seneca Lake campaign have chosen jail instead of fines: 75-year-old Dwain Wilder, a veteran of the Navy who was incarcerated for Veteran's Day; 86-year-old Roland Micklem, a Quaker, who is now incarcerated in the Schuyler County Jail [Roland Micklem was released yesterday due to health concern]; 58-year-old Colleen Boland, a retired Air Force sergeant who served in the White House; and me (I'm a 55-year-old biologist and author).
Colleen occupies the cell next to mine. We talk through the wall. Colleen, Roland and I are on track to find out what they serve prisoners for Thanksgiving dinner.
By our willing separation from our families, by our sacrifice and consent to suffer, by our very absence, we are saying that we object in the strongest terms to the transformation of our beloved Finger Lakes community into a hub for fracking. We object to the occupation of our lakeshore by a Houston-based corporation that seeks to further build out fossil-fuel infrastructure in a time of climate emergency, and in so doing, imperils a source of drinking water for 100,000 people.
Third, by filling the jails with mothers, elders and veterans, we peacefully provoke a crisis that cannot be ignored by media or political leaders. Of course, civil disobedience is always a method of last recourse, deployed when all other methods of addressing a grievance have been exhausted. We have turned over all stones. We have submitted comments, written letters, offered testimony, filed Freedom of Information requests for secret documents—only to see our legitimate concerns brushed aside. Our incarceration shows that the regulatory system is broken. So far, in the Seneca Lake campaign, there have been 59 arrests, and a majority of those have yet to be sentenced. There will be more of us in jail before the year is out.
And the fourth reason is this: spending time in jail is a time of personal transformation. Alone with a pencil, some inmate request forms for stationery, the Bible and your own thoughts, you discover that you are braver than you knew. You are doing time, and time offers the possibility of rededicating oneself to the necessary work ahead: dismantling the fossil fuel industry in the last 20 years left to us, before the climate crisis spins into unfixable, unending calamity.
Last night I learned how to create a tool for changing the channel on the television, which blares from the other side of two rows of bars. It involves twisting newspaper around a row of pencils and stiffening it with toothpaste.
Thus do the women of the Chemung County Jail—all mothers—exert agency over the circumstances of their lives and defy the status quo. That's a skill set we all need. As Ashley scolded me last night, while passing a sharpened pencil through the bars, "You can't just sit there for the next 14 days. Start fighting."
YOU MIGHT ALSO LIKE
Steingraber, Boland and Micklem Sentenced to 15 Days in Jail for Protesting Methane Gas Storage
Jon Stewart Rips Sen. Landrieu for Hail Mary Attempt to Pass Keystone Pipeline
Native Americans Arrested Following Keystone XL Pipeline Vote
EcoWatch Daily Newsletter
Aerial view of the explosion site of a chemical factory on March 22 in Yancheng, Jiangsu Province of China. Caixin Media / VCG / Getty Images)
At least 47 people have died in an explosion at a plant in Yancheng, China Thursday run by a chemical company with a history of environmental violations, Sky News reported.
A fishmonger in Elmina, a fishing port in the Central Region of Ghana. Environmental Justice Foundation
By Daisy Brickhill
Each morning, men living in fishing communities along Ghana's coastline push off in search of the day's catch. But when the boats come back to shore, it's the women who take over.
Pexels
By Sam Nickerson
Links between excess sugar in your diet and disease have been well-documented, but new research by Harvard's School of Public Health might make you even more wary of that next soda: it could increase your risk of an early death.
The study, published this week in the American Heart Association's journal Circulation, found that drinking one or two sugar-sweetened beverages (SSBs) each day — like sodas or sports drinks — increases risk of an early death by 14 percent.
Tyson Foods is recalling approximately 69,093 pounds of frozen chicken strips because they may have been contaminated with pieces of metal, the U.S. Department of Agriculture (USDA) Food Safety and Inspection Service (FSIS) announced Thursday.
The affected products were fully-cooked "Buffalo Style" and "Crispy" chicken strips with a "use by" date of Nov. 30, 2019 and an establishment number of "P-7221" on the back of the package.
"FSIS is concerned that some product may be in consumers' freezers," the recall notice said. "Consumers who have purchased these products are urged not to consume them. These products should be thrown away or returned to the place of purchase."
Environmental exposure to pesticides, both before birth and during the first year of life, has been linked to an increased risk of developing autism spectrum disorder, according to the largest epidemiological study to date on the connection.
The study, published Wednesday in BMJ, found that pregnant women who lived within 2,000 meters (approximately 1.2 miles) of a highly-sprayed agricultural area in California had children who were 10 to 16 percent more likely to develop autism and 30 percent more likely to develop severe autism that impacted their intellectual ability. If the children were exposed to pesticides during their first year of life, the risk they would develop autism went up to 50 percent.
The ExxonMobil Torrance Refinery in Torrance, California.
waltarrrr / Flickr
ExxonMobil could be the second company after Monsanto to lose lobbying access to members of European Parliament after it failed to turn up to a hearing Thursday into whether or not the oil giant knowingly spread false information about climate change.
The call to ban the company was submitted by Green Member of European Parliament (MEP) Molly Scott Cato and should be decided in a vote in late April, The Guardian reported.
Bernie Sanders holds his first presidential campaign rally at Brooklyn College on March 02 in Brooklyn, New York. Kena Betancur / VIEWpress / Corbis. Getty Images
Bernie Sanders has become the first contender in the crowded 2020 Democratic presidential primary field to pledge to offset all of the greenhouse gas emissions released by campaign travel, The Huffington Post reported Thursday.