Sandra Steingraber: Dispatches From the Paris Climate Talks
Dec. 11, 2015 09:44AM EST
Climate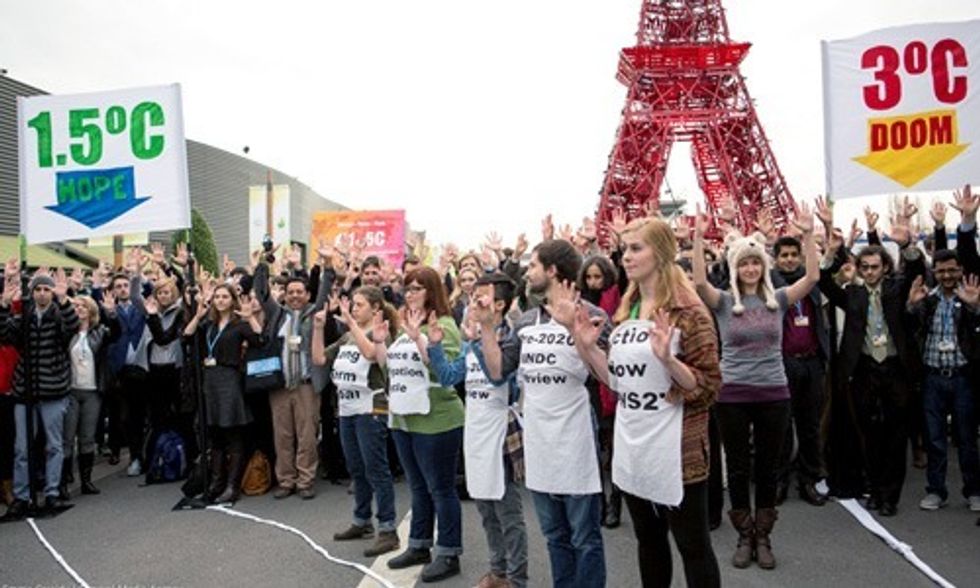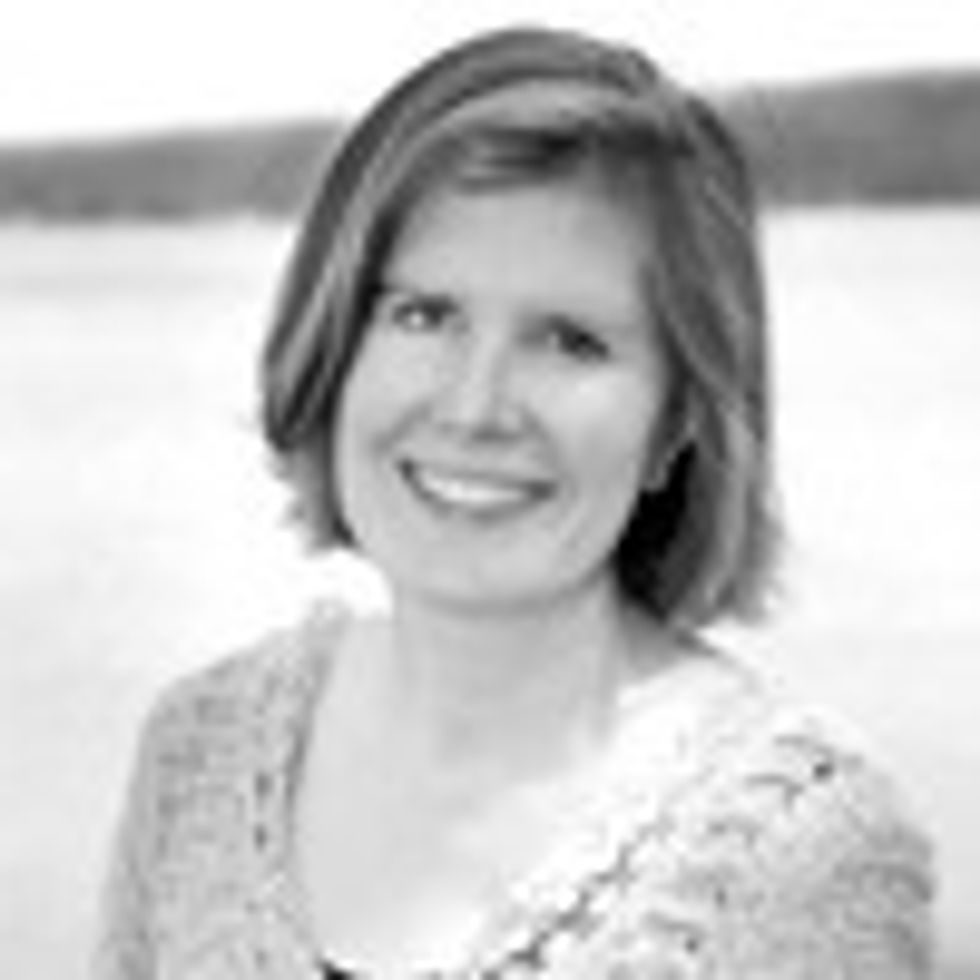 To walk into the vast, gated community called Le Bourget, where the two-week Paris climate summit is nearly over, is to enter a surreal community.
It starts with the candy-colored sculptures of megafauna who pose, two by two, along the main boulevard just on the other side of the security checkpoint. They are larger than life (to remind us of the enormity of the task at hand?) and translucent (to signal openness and sincerity of effort?).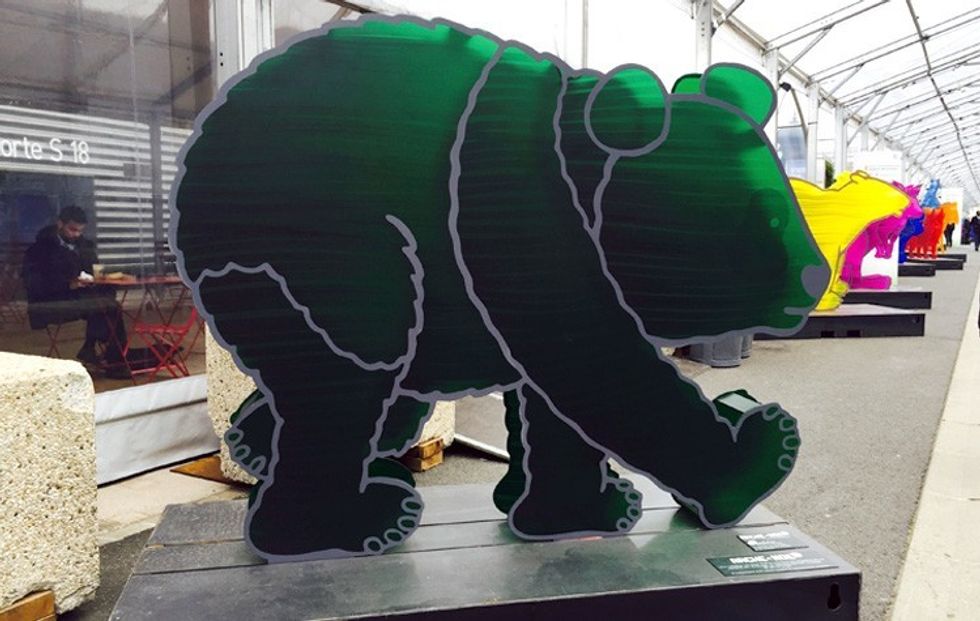 Meanwhile, the vaulted, transparent roof above the animal parade gives the impression that we are looking at the sky through an upside down, glass-bottomed boat.
Lord, has our arc already passed the tipping point?
In fact, there are skylights throughout this complex of outsized buildings, bathing everything and everyone in the serenity of natural light—as oblique as it is in northern hemisphere December.
Sunlight shines on the battalions of journalists at work in the press room that is, all by itself, the size of an airplane terminal. It shines into the bustling exhibitions halls where everyone with a booth claims to be part of the solution and ready to lead, including the very nice woman at Nuclear4Climate with her many pie charts.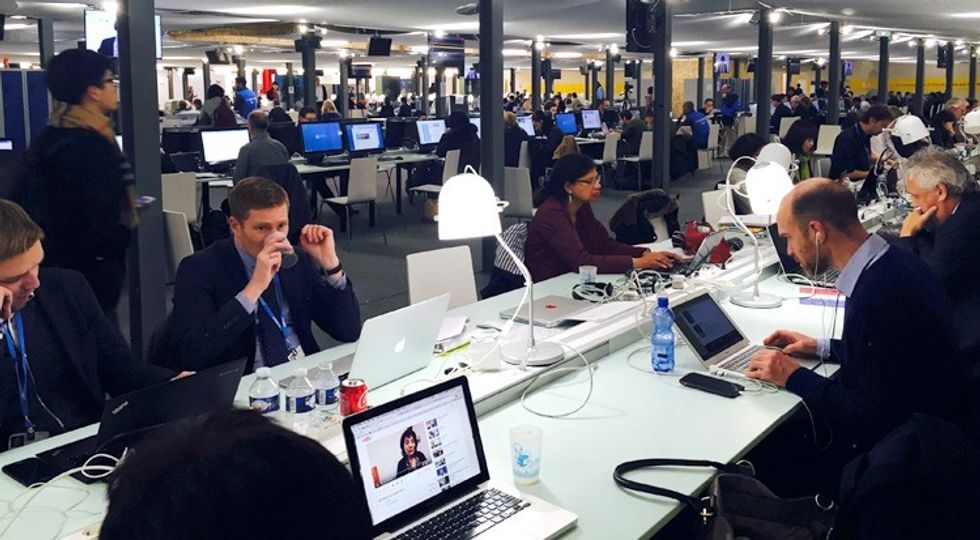 It glints off the ubiquitous, glossy news brief that lies on every café table and writing surface, courtesy of We Mean Business, the voice of the investor community that "stands ready to lead the global transition to a thriving, clean economy" but only if the world's governments adopt "an ambitious catalytic agreement that signals an irreversible shirt to a new global economy."
And the sun is presumably also shining in the inner sanctum of this buzzing place where the climate treaty is being forged behind closed doors. On Monday morning, negotiators handed a 21-page draft document to the world's ministers—as a kind of passing of a baton in a relay race that is taking place on a political high wire.
Sunday was scheduled as a day of rest for the teams of negotiators, but, in fact, they continued to toil away here in their efforts to hammer out a global agreement that is supposed to trigger rapid decarbonization of a global energy system that, currently, is 80 percent dependent on lighting carbon on fire.
In this process, the negotiators and the ministers are not sequestered away, like jurors, from the kaleidoscope of plenaries, debates, summits, announcements and media events going on all around them—and at any given hour there are multiple presentations in multiple venues—but exist in a dynamic relationship with them. They give and receive messages. They take meetings. They emerge to make announcements. They are entreated, cajoled, pressured and tweeted at. They participate in media events, attended by hundreds.
It's the first time I've heard a question at a press conference begin with the words, "Your excellency..."
And because last week's negotiators delivered to this week's ministers a draft with many bracketed passages, indicating places where the language is contested and multiple word choices remain to be made, almost nothing, at this point, has been taken off the table and anything could still happen in the next few days.
The sense here is that COP21, as the Paris climate talks are called, could be a truly historic moment. A turning point in human history. A transformational event that helps avert planetary catastrophe.
Or it could entirely go off the rails.
La Bourget is not a cynical or hysterical place. In spite of the treaty's many remaining unresolved issues—What's the time scale? What's the temperature target? Who pays? How are commitments verified?—the mood here remains cooperative, urgent and doggedly determined. For now.
As is it does at the profusion of side events going on all over the city of Paris, any one of which would be a headliner affair in any other context.
On Sunday night, I walked by past the Arc de Triumph and dropped in on the World Climate Summit. With Sustainia Awards to hand out "to the winners of tomorrow" and multiple plenary presentations, the summit brought together hundreds of investors, financiers, bankers, business leader and entrepreneurs of all kinds. Ted Turner was in the house. So was Sir Richard Branson. The price of a ticket: $1,000. (I had a press pass).
Richard Branson Presents @Sustainia Award for World's Most Innovative City Solution @dnvgl @xynteo https://t.co/8Q37PkfOCs via @ecowatch

— Bjørn K. Haugland (@Bjørn K. Haugland)1449481061.0
In an interview with me at the end of the evening, the hosts of the event, Michael Mathres—strategic communications advisor, co-founder of World Climate Ltd. and longtime observer of the many rounds of United Nations climate talks, had this to say about COP21: "I'm quite hopeful. This is the first weekend and it's the first time where all the countries have signed a draft agreement on the first weekend. It's rare to have a draft so early."
Noting that U.S. CEOs were now on board along with their European counterparts, Marthres claimed the global business community was ready for action and was waiting only for a strong signal from political leaders that the commitment to renewable energy and a decarbonized future was deep, broad and enduring.
He was also sanguine about the provisional language still remaining in the draft treaty—"it's matter of negotiating"—although doubtful that the final version would ultimately embrace the target temperature rises that science claims is necessary to save island nations from drowning (1.5 degrees or less). Nevertheless, Mathres thought the real value of the treaty lie not so much in the thermometer number chosen for the final draft but in its ability to kick-start investment and so create accelerating change that can be further ratcheted up in the years ahead.
As an example, Mathres pointed to the momentum of China, which went from zero solar panels 10 years ago to becoming the world's leader in solar power today. The driving force, he said, was not a treaty but lowered technology costs and greater efficiencies.
For Mathres, who is French, the big potential obstacle in the road to a renewable, carbon-free future is not the climate denying hold-outs elected to high office in the U.S. ("you can't count on the U.S. Congress") but financial instruments. Especially irksome to Mathres is the fact that the Green Climate Fund—the mechanism by which developed nations help developing nations go renewable—has a budget of $100 billion in while subsidies given to the fossil fuel industry exceed $500 billion. That sends the wrong signal to business and finance leaders.
Those fossil fuels have but two faces. "Coal is dead. It's the end of coal," Mathres said matter of factly. As he sees it, oil and gas are the sole remaining competitors with renewables. Of these, the oil industry, he noted, had been unusually quiet at COP21, while natural gas has been speaking loudly, trying to position itself as a big player and a "bridge" to renewables.
And what did Mathres think about that? "Look," he said. "I'm against gas. You can compensate for gas with renewables. We don't need gas." He also noted that promotion of natural gas would give the upper hand to Russia, which sits atop vast gas fields.
Mathres' optimistic candor and concerns about the possible direction of financial incentives were shared by Peik Stenlund, one of 50 CEOs attending the World Climate Summit.
Stendlund told me that the 2009 climate treaty negotiations in Copenhagen—widely seen as a failure—changed his life entirely. "COP15 inspired me to devote my life to solving the problem of climate change."
Smiling, he added, "I was very young."
Now, the company he founded, Swedish-based Pamojo, provides electricity, via gasification of waste plus solar panels, to rural east African communities.
Stendlund's enthusiasm for scalable business models that serve sustainable energy needs was palpable. He told me that he sees himself as an active change maker—one of many here at the summit—who is ready to ramp up. To that end, he is about to launch a foundation. "If politicians can't agree to do something, we can do something—as long as there are ears on the political side listening to our needs," said Stenlund.
And what are those needs? The founder and CEO didn't hesitate. "We need the right incentives. Carbon dioxide needs to be taxed."
Needless to say, not everyone here at COP21 is focused on how to incentivize technological innovation through pricing and financial schemes. Some delegates are more concerned about their island homes being swept out to sea. Or the tundra melting beneath their feet.
By Monday morning, back at La Bourget, indigenous groups were openly expressing alarm about the possibilities of a minimalist deal that would allow for 3 degrees of warming. "Below 1.5 to stay alive!" was the rallying cry.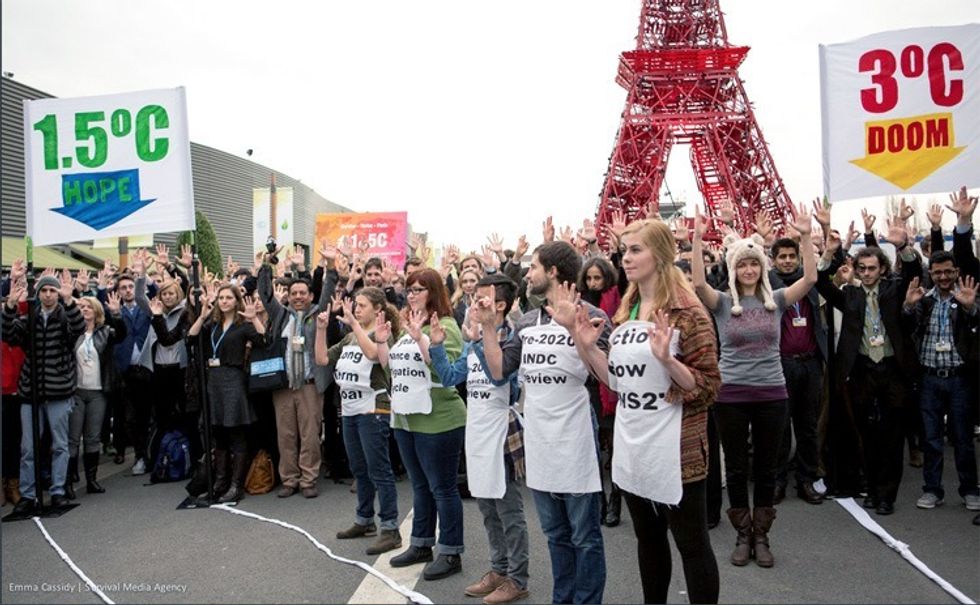 Also on Monday, Climate Action Network's daily newsletter, Eco, ran an open letter to the negotiating ministers under the headline "Non, Je Ne Regrette Rien" (No, I Regret Nothing): "The two deals are clear. We can have the no-regrets deal or we can have the 3-degrees deal. The question now becomes: Who will bring us to the no-regrets deal?"
On the same day, U.N. Secretary General Ban Ki-Moon urged the ministers in a direct address, which he also shared with the media in a press conference, to be bold and do "what the science tells us … nature goes on its on way. It does not negotiate with humans. It does not wait for humans." He openly acknowledged that, above 1.5 degrees of warming, many island nations will drown.
A clear and simple message: 1.5 to stay alive! #COP21 #ZeroBy2050 https://t.co/BVeRSsLcte

— Klaas Decorte (@Klaas Decorte)1449578516.0
By the end of Tuesday, the 1.5-degree target was still on the table and rumors and reports swirled that momentum was building behind it. Sec. of State John Kerry said that the U.S. would support 1.5. But as an "aspirational" goal.
[email protected]

Pledges New Support to Vulnerable Countries at #COP21 https://t.co/0kNYTFJVpJ @sierraclub @StateDept https://t.co/kxgLZiOsLW

— EcoWatch (@EcoWatch)1449673738.0
So, now we enter the final 72-hour hours of the two-week climate talks and all I know for sure is that I increasingly dislike Le Bourget's expressionless, cartoon animal greeters, which seem to offer no clues at all about what the ultimate outcome will be. Upon which everything we love depend.
So, every morning at dawn, before heading out to Le Bourget, I jog through the Tuileries Garden near my hotel by the Louvre where the statuary is demonstrative and has things to say about nature, victory, heroism and betrayal.
Along the gravel path, under an open sky, Hercules contemplates his superhuman labors. Theseus clubs the Minotaur. A shepherd rescues a goat. A lion subdues a crocodile. Nymphs repose by pools of water. Lovers kiss.
And Cain strides naked and alone, hands over face, having just learned, too late, that, yes, he was his brother's keeper.
YOU MIGHT ALSO LIKE
Why Climate Leadership Means Keeping Fossil Fuels in the Ground
John Kerry Pledges New Support to Vulnerable Countries at COP21
7 Ways the Outcome of Paris Climate Talks Will Impact Your Day-to-Day Life
Patti Smith, Thom Yorke and Flea Rock Out at Pathway to Paris Concert
EcoWatch Daily Newsletter
Related Articles from EcoWatch