This website uses cookies to ensure you get the best experience while browsing it. By clicking 'Got It' you're accepting these terms.


The best of EcoWatch, right in your inbox. Sign up for our email newsletter!
Sanders Touts Fracking Ban as Clinton Pushes Renewables Plan Just Days Before California Primary
Jun. 02, 2016 12:25PM EST
Fracking
Hillary Clinton and Bernie Sanders are ramping up their green bona fides before the Golden State's crucial Democratic primary Tuesday. The Democratic presidential candidates recently elaborated their national energy plans, with Sanders calling for a nationwide ban on fracking and Clinton pledging to use federal lands to enable the nation's transition to more renewable energy.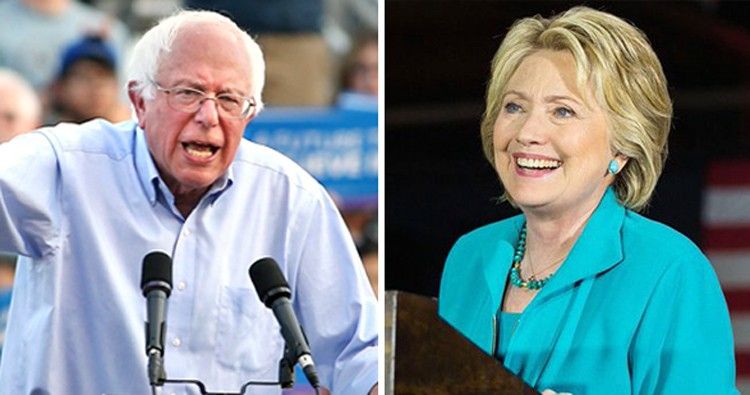 Bernie Sanders
"If elected president, we will not need state-by-state, county-by-county action, because we are going to ban fracking in 50 states in this country," the Vermont Senator said at a press conference in Spreckels, California. "I hope very much that Monterey County will continue the momentum that makes it clear that fracking is not safe, is not what we want for our kids."
He also called Clinton out for being weak on fracking regulations. The former Secretary of State has been attacked for her enthusiasm for fracking and natural gas, and for saying at a December 2014 New York City speech before the League of Conservation Voters, "If we are smart about this and put in place the right safeguards, natural gas can play an important bridge role in the transition to a cleaner energy economy."
"Secretary Clinton and I obviously have many, many differences of opinions on many issues, but on the issue of fracking, our differences of opinion are pretty profound," he said. "I think it is too late for regulation. I think fracking ought to be banned in America."
During his speech, Sanders said that the Democratic Party as a whole should also adopt a fracking ban on its platform.
"I would hope the Democratic Party makes it clear that it has the guts to stand up to the fossil fuel industry and tell them that their short-term profits are not more important than the health of our children or the future of our planet," he said.
Sanders said he will be fighting Clinton all the way to the Democratic National Convention in late July, even though at this point it is mathematically impossible for him to win the nomination based on pledged delegates alone.
However, as Grist noted, even if he loses the nomination, one of the candidate's biggest contributions is pulling Clinton and the party to the left. Additionally, as the publication observed, he was recently awarded five out of 15 slots on the all-important Democratic Party Platform Drafting Committee, ensuring that his environmental and progressive legacy will live on if he doesn't win.
Sanders's candidates include academic and political activist Cornel West, Minnesota Rep. Keith Ellison, Arab American Institute head James Zogby, Native American activist Deborah Parker and climate activist Bill McKibben.
Hillary Clinton
"Now, as we work to combat climate change and build America into the world's clean energy superpower, our public lands can once again play a key role in unlocking the resources we need," Clinton wrote in an editorial in the Mercury News published Wednesday.
She continued, "We can accelerate our transition to a clean energy economy by increasing renewable energy generation on public lands and offshore waters tenfold within a decade."
According to her campaign website, Clinton has set a goal to generate enough renewable energy to power every home in the country.
"To help meet this goal, Clinton will expand energy production on public lands and waters ten-fold within ten years of taking office, while reforming federal fossil fuel leasing," the site states.
Clinton, who has a narrow two-point lead over Sanders in California, recently received a rare endorsement from the Natural Resources Defense Council (NRDC)'s Action Fund, the first time the NRDC has backed a presidential candidate.
"Hillary Clinton is an environmental champion with the passion, experience and savvy to build on President Obama's environmental legacy," Rhea Suh, president of the NRDC Action fund, said. "More than any other candidate running, Hillary Clinton understands the environmental challenges America faces, and her approach to solving them is grounded in the possibility and promise our democracy affords."
Michael Brune, Sierra Club's executive director, also praised Clinton's environmental stewardship plan, calling it a "huge step forward that would build on the progress President Obama has made to keep our cherished public lands public."
He said that Clinton's proposal pushes for reforms of oil and gas leasing programs, and "ends the debate once and for all surrounding offshore drilling in the Arctic and the Atlantic."
"This detailed, specific plan also reaffirms our belief that everyone should have the same opportunities to enjoy and explore our parks, and boosts the American outdoor economy that creates jobs and generates billions of dollars. Additionally, Clinton is committing to protect our forests and expanding the resources available to fight devastating wildfires," Brune added.
"We applaud this proposal that makes conservation central to Clinton's campaign and offers powerful solutions to protect our treasured lands and make them more accessible and available for generations to come."
The Sierra Club has not endorsed a presidential candidate.
YOU MIGHT ALSO LIKE
This One Chart Says It All for the Future of Solar Energy 
EcoWatch Daily Newsletter
An artist's rendering of the recomposition facility. MOLT Studios
Washington became the first U.S. state to legalize human composting Tuesday, offering residents a more environmentally friendly way to dispose of their remains, AFP reported.
Mr.TinDC / Flickr / CC BY-ND 2.0
Many nutrients are essential for good health.
By Pat Thomas
Throughout the U.S., major food brands are trying to get rid of GMO ingredients — not necessarily for the right reasons, but because nearly half of consumers say they avoid them in their food, primarily for health reasons.
But the CEO of Impossible Foods, purveyor of the Impossible Burger, is bucking that trend.
People in more than 100 countries are expected to take part in well over 1,000 strikes on May 24 to demand climate action from their governments. @ExtinctionR / Twitter
DoneGood
By Cullen Schwarz
Ethical shopping is a somewhat new phenomenon. We're far more familiar with the "tried and tested" methods of doing good, like donating our money or time.
Asian elephants frolic in Kaudulla Wewa at Kaudulla National Park in central Sri Lanka.
David Stanley /
CC BY 2.0
When it comes to saving some of the planet's largest animals, a group of researchers says that old methods of conservation just won't cut it anymore.
smcgee / Flickr / CC BY-NC 2.0
Several New York City Starbucks exposed customers to a potentially deadly pesticide, two lawsuits filed Tuesday allege.