This website uses cookies to ensure you get the best experience while browsing it. By clicking 'Got It' you're accepting these terms.
Sanders Touts Fracking Ban as Clinton Pushes Renewables Plan Just Days Before California Primary
Jun. 02, 2016 12:25PM EST
Energy
Hillary Clinton and Bernie Sanders are ramping up their green bona fides before the Golden State's crucial Democratic primary Tuesday. The Democratic presidential candidates recently elaborated their national energy plans, with Sanders calling for a nationwide ban on fracking and Clinton pledging to use federal lands to enable the nation's transition to more renewable energy.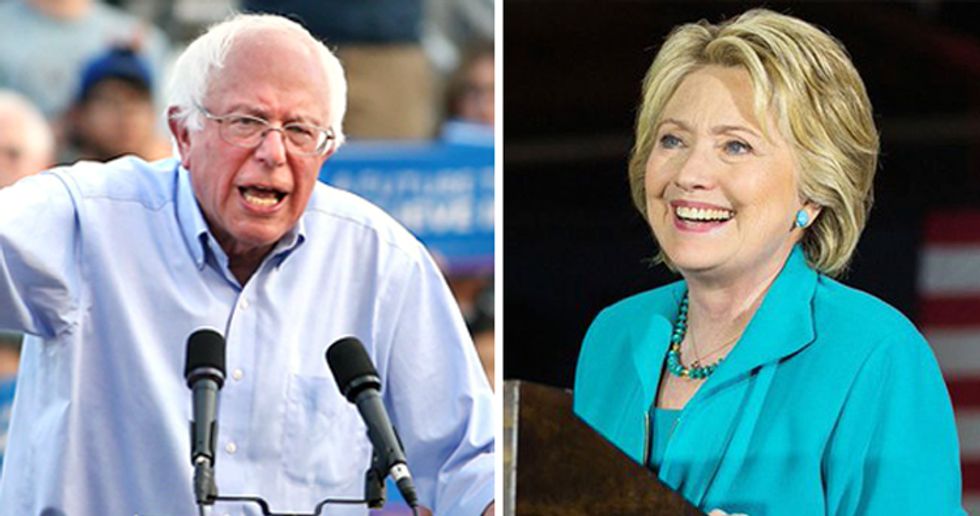 Bernie Sanders
"If elected president, we will not need state-by-state, county-by-county action, because we are going to ban fracking in 50 states in this country," the Vermont Senator said at a press conference in Spreckels, California. "I hope very much that Monterey County will continue the momentum that makes it clear that fracking is not safe, is not what we want for our kids."
He also called Clinton out for being weak on fracking regulations. The former Secretary of State has been attacked for her enthusiasm for fracking and natural gas, and for saying at a December 2014 New York City speech before the League of Conservation Voters, "If we are smart about this and put in place the right safeguards, natural gas can play an important bridge role in the transition to a cleaner energy economy."
"Secretary Clinton and I obviously have many, many differences of opinions on many issues, but on the issue of fracking, our differences of opinion are pretty profound," he said. "I think it is too late for regulation. I think fracking ought to be banned in America."
During his speech, Sanders said that the Democratic Party as a whole should also adopt a fracking ban on its platform.
"I would hope the Democratic Party makes it clear that it has the guts to stand up to the fossil fuel industry and tell them that their short-term profits are not more important than the health of our children or the future of our planet," he said.
Sanders said he will be fighting Clinton all the way to the Democratic National Convention in late July, even though at this point it is mathematically impossible for him to win the nomination based on pledged delegates alone.
However, as Grist noted, even if he loses the nomination, one of the candidate's biggest contributions is pulling Clinton and the party to the left. Additionally, as the publication observed, he was recently awarded five out of 15 slots on the all-important Democratic Party Platform Drafting Committee, ensuring that his environmental and progressive legacy will live on if he doesn't win.
Sanders's candidates include academic and political activist Cornel West, Minnesota Rep. Keith Ellison, Arab American Institute head James Zogby, Native American activist Deborah Parker and climate activist Bill McKibben.
Hillary Clinton
"Now, as we work to combat climate change and build America into the world's clean energy superpower, our public lands can once again play a key role in unlocking the resources we need," Clinton wrote in an editorial in the Mercury News published Wednesday.
She continued, "We can accelerate our transition to a clean energy economy by increasing renewable energy generation on public lands and offshore waters tenfold within a decade."
According to her campaign website, Clinton has set a goal to generate enough renewable energy to power every home in the country.
"To help meet this goal, Clinton will expand energy production on public lands and waters ten-fold within ten years of taking office, while reforming federal fossil fuel leasing," the site states.
Clinton, who has a narrow two-point lead over Sanders in California, recently received a rare endorsement from the Natural Resources Defense Council (NRDC)'s Action Fund, the first time the NRDC has backed a presidential candidate.
"Hillary Clinton is an environmental champion with the passion, experience and savvy to build on President Obama's environmental legacy," Rhea Suh, president of the NRDC Action fund, said. "More than any other candidate running, Hillary Clinton understands the environmental challenges America faces, and her approach to solving them is grounded in the possibility and promise our democracy affords."
Michael Brune, Sierra Club's executive director, also praised Clinton's environmental stewardship plan, calling it a "huge step forward that would build on the progress President Obama has made to keep our cherished public lands public."
He said that Clinton's proposal pushes for reforms of oil and gas leasing programs, and "ends the debate once and for all surrounding offshore drilling in the Arctic and the Atlantic."
"This detailed, specific plan also reaffirms our belief that everyone should have the same opportunities to enjoy and explore our parks, and boosts the American outdoor economy that creates jobs and generates billions of dollars. Additionally, Clinton is committing to protect our forests and expanding the resources available to fight devastating wildfires," Brune added.
"We applaud this proposal that makes conservation central to Clinton's campaign and offers powerful solutions to protect our treasured lands and make them more accessible and available for generations to come."
The Sierra Club has not endorsed a presidential candidate.
YOU MIGHT ALSO LIKE
This One Chart Says It All for the Future of Solar Energy 
EcoWatch Daily Newsletter
A new report spotlights a U.N. estimate that at least 275 million people rely on healthy coral reefs. A sea turtle near the Heron Island in the Great Barrier Reef is seen above. THE OCEAN AGENCY / XL CATLIN SEAVIEW SURVEY
In a new report about how the world's coral reefs face "the combined threats of climate change, pollution, and overfishing" — endangering the future of marine biodiversity — a London-based nonprofit calls for greater global efforts to end the climate crisis and ensure the survival of these vital underwater ecosystems.
Half of the extracted resources used were sand, clay, gravel and cement, seen above, for building, along with the other minerals that produce fertilizer. Cavan Images / Cavan / Getty Images
The world is using up more and more resources and global recycling is falling. That's the grim takeaway from a new report by the Circle Economy think tank, which found that the world used up more than 110 billion tons, or 100.6 billion metric tons, of natural resources, as Agence France-Presse (AFP) reported.
By Gero Rueter
Heating with coal, oil and natural gas accounts for around a quarter of global greenhouse gas emissions. But that's something we can change, says Wolfgang Feist, founder of the Passive House Institute in the western German city of Darmstadt.

By George Citroner
Recent research finds that official government figures may be underestimating drug deaths by half.
Researchers estimate that 142,000 people died due to drug use in 2016.
Drug use decreases life expectancy after age 15 by 1.4 years for men and by just under 1 year for women, on average.
Government records may be severely underreporting how many Americans die from drug use, according to a new study by researchers from the University of Pennsylvania and Georgetown University.
Water coolers in front of shut-off water fountains at Center School in Stow, MA on Sept. 4, 2019 after elevated levels of PFAS were found in the water. David L. Ryan / The Boston Globe via Getty Images
In a new nationwide assessment of drinking water systems, the Environmental Working Group found that toxic fluorinated chemicals known as PFAS are far more prevalent than previously thought.