This website uses cookies to ensure you get the best experience while browsing it. By clicking 'Got It' you're accepting these terms.
Sanders Calls Out Clinton's Silence on Keystone XL
Jul. 15, 2015 10:02AM EST
Politics
Presidential candidate Hillary Clinton met behind closed doors with House and Senate Democrats Tuesday to talk about her positions on key issues. According to the members of Congress who attended the lunch, she told them that climate change can be a winning issue for Democrats, especially among younger voters, if they can develop a message to persuade voters that action is essential.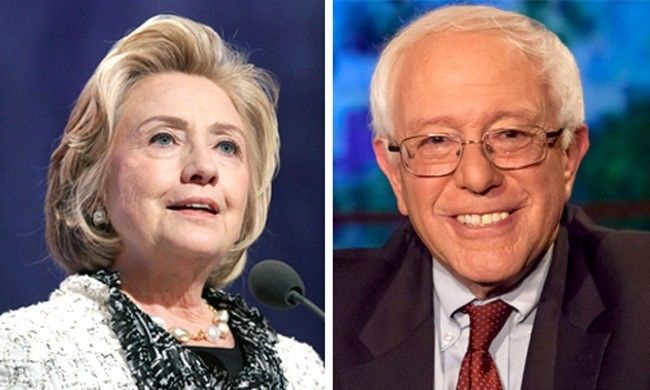 "She was incredible," said Maryland Sen. Ben Cardin. "She really relates [climate change] to the current political communities and how we have to do a better job. We know the policy, but we have to do a better job on the politics."
Congressman Raul Grijalva of Arizona, who co-chairs the House Progressive Caucus, also gave Clinton's session a favorable review.
"I thought it was pretty solid," he said. "Some of the progressive issues and members have kind of been crying in the wilderness for a while, and now these issues like climate change, income inequality and the jobs agenda are resonating with the public. The fact that the progressive causes and organizations feel more in touch with and included with Hillary now is a mark that she understands that."
"You hear issues from her when she's out on the stump that are pretty much identical with what progressives are saying in the caucus," said Ohio Sen. Sherrod Brown.
According to the National Journal, "Clinton framed global warming as a pressing and serious threat and touted the climate credentials of John Podesta, the chairman of her 2016 campaign and a former climate adviser to President Obama."
However, she also went easy on coal, according to Sen. Joe Manchin, who represents the coal mining state of West Virginia. He invited Clinton to tour West Virginia's coal country.
"She was very much concerned," he said. "She said people need to realize what coal has done for this country. People don't realize that; they just want to condemn it now, and she was very compassionate about that."
In addition, Clinton continued her silence on an issue that many environmental activists see as make-or-break: the Keystone XL pipeline. She has said nothing about whether she would give the project a thumbs-up or a thumbs-down.
One of her competitors for the Democratic presidential nomination, Vermont Sen. Bernie Sanders, left the meeting early and held a press conference to remind reporters that he is more progressive than Clinton and that he stands firmly against the pipeline.
"I have helped lead the opposition against the Keystone pipeline," said Sanders. "I don't believe we should be excavating or transporting some of the dirtiest fuel on this planet. I think Secretary Clinton has not been clear on her views on that issue."
Senate Minority Leader Harry Reid said that Sanders has also been invited to come make a presentation to congressional Democrats.
A third Democratic primary candidate, Martin O'Malley, has also been running on strong environmental advocacy and opposes Keystone XL. He has called for the U.S. to be powered 100 percent by renewables by 2050. Both O'Malley and Sanders joined Green Party candidate Jill Stein in taking a pledge—promoted by The Nation and 350 Action—to reject any campaign funding from fossil fuel companies. Clinton did not respond to the pledge.
But regardless of where Clinton stands in relation to Sanders and O'Malley, her record and her remarks on climate are in stark contrast to the entire Republican field, now up to 15 candidates and soon to be 16 when Ohio Gov. John Kasich announces his candidacy on July 21. While a few have tentatively said that climate change is likely happening, all have warmly embraced the fossil fuel industry and most have joined congressional Republicans in rejecting steps to address climate, and all support the Keystone XL pipeline.
YOU MIGHT ALSO LIKE
Hillary Clinton Announces 2016 Presidential Bid: Find Out Where She Stands on Climate
9 Climate-Denying Republicans Who Might Run for President
Martin O'Malley Enters Presidential Race Calling Climate Change 'Greatest Business Opportunity to Come to Our Country in 100 Years'
EcoWatch Daily Newsletter
The 16-year-old Swede Greta Thunberg speaks during her protest action for more climate protection with a reporter. Steffen Trumpf / picture alliance / Getty Images
By Mark Hertsgaard and Kyle Pope
It's been 30 years since Bill McKibben rang the warning bells about the threat of man-made climate change — first in a piece in The New Yorker, and then in his book, The End of Nature.
Thousands of protestors marched in front of Frankfurt's International Motor Show (IAA) on Saturday to show their disgust with the auto industry's role in the climate crisis. The protestors demanded an end to combustion engines and a shift to more environmentally friendly emissions-free vehicles, as Reuters reported.
Setting and testing the line protections for Siemens SF6 gas insulated switchgear in 2007.
Xaf / Flickr /
CC BY-NC 2.0
Ella Olsson / Pexels
By Elizabeth Streit, MS, RDN, LD
Sweet and regular potatoes are both tuberous root vegetables, but they differ in appearance and taste.
They come from separate plant families, offer different nutrients, and affect your blood sugar differently.
Scientists in Saskatchewan found that consuming small amounts of neonicotinoids led white-crowned sparrows to lose significant amounts of weight and delay migration, threatening their ability to reproduce. Jen Goellnitz / Flickr
By Julia Conley
In addition to devastating effects on bee populations and the pollination needed to feed humans and other species, widely-used pesticides chemically related to nicotine may be deadly to birds and linked to some species' declines, according to a new study.

German Chancellor Angela Merkel's government is set to unveil a package of measures on Friday, Sept. 20, to ensure that the country cuts its greenhouse gas emissions 55% by 2030, compared with the 1990 levels.
Assorted plastic bottles. mali maeder / Pexels
People carry children on a flooded street in Almoradi, Spain on Sept. 13. JOSE JORDAN / AFP / Getty Images