This website uses cookies to ensure you get the best experience while browsing it. By clicking 'Got It' you're accepting these terms.
Sand Mining Takes Toll on Wisconsin As Fracking Escalates Nationwide
Aug. 04, 2014 03:55PM EST
How is mining related to fracking? 
Well, the process of hydraulic fracturing forces fluid into the rock at extremely high pressure. This pries open natural pre-existing cracks (fractures) in the bedrock, and also causes new cracks (induced fractures) to form. This network of enhanced and induced fractures is what allows gas and oil to flow out of the rock and into the well. To keep these fractures from snapping shut when the fracking operation is completed and the pressure is eased, you need to prop them open with something. That's why fracking fluid—a highly engineered fluid that is mostly water by volume, but can contain dozens of different chemicals—always includes a "proppant." The drilling industry has developed manufactured proppants, but often the proppant of choice is a clean, consistent, well-rounded, tough, fine-grained sand. A typical fracking operation in the Eagle Ford Shale in Texas, for example, can use 4 million pounds or more of sand.
Where is all the sand coming from? As you might expect, Texas is one place where sand-mining is booming. But surprisingly, most of this sand comes from a place more famously associated with beer and brauts: Wisconsin. The rapid proliferation of sand-mining operations is getting a lot of attention there and raising concerns about public health and safety, property values, quality of life and environmental impacts.
Responding to these concerns, the Wisconsin Department of Natural Resources (DNR) just published an interactive map showing the locations of all the facilities, active and inactive, involved in the mining and processing of sand in that state. Their map doesn't have imagery, so you can't actually "see" any of these mining operations. But when we asked, the DNR promptly gave us the facilities data (updated as of May 1, 2014), so we could make our own map using Google Maps Engine: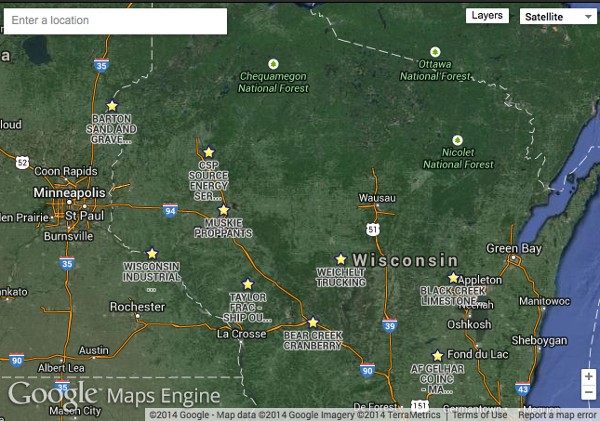 Voila! Here is our map of the Wisconsin frac-sand operations. We decided to only include "active" facilities on this map. Now you can explore and zoom in on any facility, and see the latest high-resolution imagery available through Google (July 2011 in the example shown below).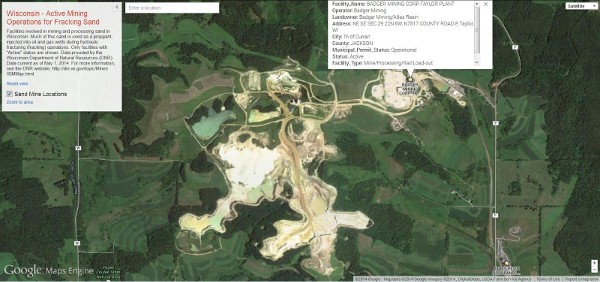 You Might Also Like
SkyTruth Tracks Fracking From the Edge of Space
SkyTruth's Satellite Surveillance Keeps Close Watch on Polluters
Groups Call for Ban on Frac-Sand Mining in Wisconsin
Climate activist Greta Thunberg addresses the European Commission on Feb. 21 in Brussels, Belgium. Sylvain Lefevre / Getty Images
By Julia Conley
Sixteen-year-old climate action leader Greta Thunberg stood alongside European Commission President Jean-Claude Juncker Thursday in Brussels as he indicated—after weeks of climate strikes around the world inspired by the Swedish teenager—that the European Union has heard the demands of young people and pledged more than $1 trillion over the next seven years to address the crisis of a rapidly heating planet.

In the financial period beginning in 2021, Juncker said, the EU will devote a quarter of its budget to solving the crisis.
A new study reveals the health risks posed by the making, use and disposal of plastics. Jeffrey Phelps / Getty Images
With eight million metric tons of plastic entering the world's oceans every year, there is growing concern about the proliferation of plastics in the environment. Despite this, surprisingly little is known about the full impact of plastic pollution on human health.
But a first-of-its-kind study released Tuesday sets out to change that. The study, Plastic & Health: The Hidden Costs of a Plastic Planet, is especially groundbreaking because it looks at the health impacts of every stage in the life cycle of plastics, from the extraction of the fossil fuels that make them to their permanence in the environment. While previous studies have focused on particular products, manufacturing processes or moments in the creation and use of plastics, this study shows that plastics pose serious health risks at every stage in their production, use and disposal.
IKEA is working on a specially-designed, air-purifying curtain called the GUNRID. IKEA
Air pollution within the home causes 3.8 million deaths a year, according to the World Health Organization. A recent University of Colorado in Boulder study reported by The Guardian found that cooking a full Thanksgiving meal could raise levels of particulate matter 2.5 in the house higher than the levels averaged in New Delhi, the world's sixth most polluted city.
But soon, you will be able to shop for a solution in the same place you buy your budget roasting pans. IKEA is working on a specially-designed, air-purifying curtain called the GUNRID.
The first member of the giant tortoise species Chelonoidis phantasticus to be seen in more than 100 years. RODRIGO BUENDIA / AFP / Getty Images
A rare species of giant tortoise, feared extinct for more than 100 years, was sighted on the Galápagos island of Fernandina Sunday, the Ecuadorian government announced.