San Francisco Becomes First Major City to Require Solar Panels on New Buildings
San Francisco is one step closer to its goal of transitioning to 100 percent renewable energy after the city's Board of Supervisors unanimously voted on Tuesday to mandate solar installations on new buildings.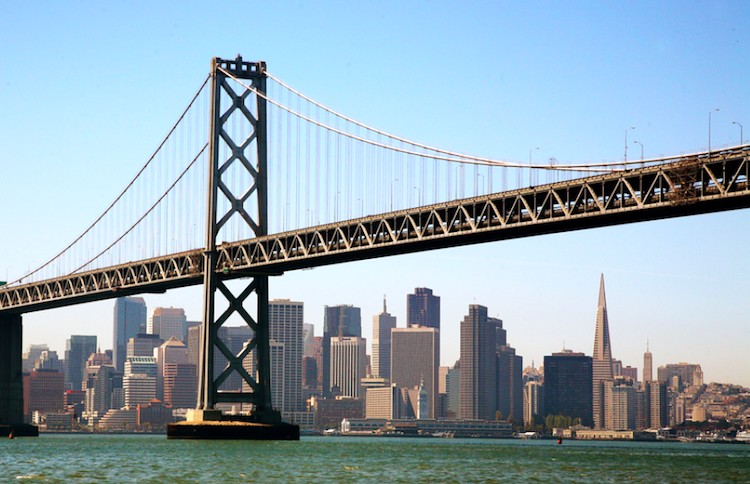 San Francisco has mandated rooftop solar panels on new buildings starting in 2017. Photo credit: Flickr
According to the San Francisco Examiner, starting Jan. 1 of next year, new commercial and residential buildings up to 10 stories high must install rooftop solar systems for heat or electricity. Buildings that are taller are exempt for now.
The famously green metropolis is now the first major city in the U.S. to legislate such a requirement. San Francisco follows the footsteps of the smaller towns of Lancaster and Sebastopol. The municipalities, which are also in California, passed similar mandates in 2013.
"This legislation will help move us toward a clean energy future and toward our city's goal of 100 percent renewable energy by 2025," supervisor Scott Wiener, who introduced the legislation, wrote on his Facebook page.
He added that San Francisco's new rooftop solar law is an extension of an already established California law that requires all buildings 10 floors or less designate at least 15 percent of the rooftop for solar use.
"My legislation takes the next step by requiring that the rooftops not just be solar ready, but actually have solar panels installed," he said.
"Solar ready" means that the roof is unshaded by the proposed building itself and free of obtrusions, Wiener explained on his website.
As the Examiner explained, the new legislation would give San Francisco's solar capacity a big boost and help avert emissions:
To gauge the impact the mandate could have, the Department of Environment applied the proposal to construction projects in the pipeline in the third quarter of 2014 and found the 200 projects with solar installations would "avoid over 26,000 metric tons of carbon dioxide emissions per year."
The current 24.8 megawatt solar systems in place would increase by 7.4 megawatts. The 7.4 megawatts of solar energy can produce 10.5 gigawatt hours of electricity annually, which can power about 2,500 San Francisco homes, [Barry Hooper, the Department of Environment Green Building Coordinator] said Tuesday.
"The Better Roofs ordinance continues to push the city as a national leader on solar policy," Josh Arce, former president of the San Francisco Commission on the Environment, and community liaison for Laborers Local 261, a labor organization that trains solar jobseekers, said in a statement. "This legislation will expand our efforts to cover San Francisco rooftops with solar panels and tackle climate change, while also creating good jobs for our community."
For building developers who do not want to go solar, Wiener is also working on back-up plan to allow for living roofs, or green roofs, instead of solar panels.
"Living roofs, like the one on the roof of the California Academy of Sciences in Golden Gate Park, provide insulation, reduce stormwater from entering the sewer, enhance biodiversity and habitat, sequester carbon, and capture pollution," he said in a statement.
The legislation is similar to a mandate passed in France last year that all new buildings be covered in partial green roofing or solar panels.
The city is expected to debate the follow-up green roof legislation in the coming months, the Examiner reported.
California as a whole happens to be the number one solar state in the U.S. According to new statistics from the Solar Energy Industries Association, the Golden State's 13,241 megawatts of solar capacity is capable of powering an estimated 3.32 million homes.
The state also has more solar jobs and installed more megawatts of solar capacity last year than any other state in the nation.
YOU MIGHT ALSO LIKE
Top 10 States Harnessing the Power of the Sun 
Al Gore and Neil deGrasse Tyson Talk the Future of Our Planet
U.S. Wind Energy Blew Away Records in 2015
Is the World Bank Snatching Climate Defeat From the Jaws of Victory?
By Sydney Robinson
President Trump has no doubt been given a long list of extravagant, elaborate gifts in his lifetime, but the gift given to him today by Pope Francis may not make it on his most favorite list.
Keep reading...
Show less
By John Rogers
Maybe it's because I first started working on clean energy while serving in the Peace Corps he founded, or maybe it's my years of working on these issues from his home state. But I can't help thinking about the 100th anniversary of John F. Kennedy's birth, and connecting his stirring rhetoric to the energy challenges of our times.
Here's what our 35th president might have said about the challenges of energy transition and the opportunities in clean energy:
"Change is the law of life. And those who look only to the past or present are certain to miss the future."
Keep reading...
Show less
Keep reading...
Show less
The Brooks Range in the Arctic National Wildlife Refuge. Hillebrand / U.S. Fish and Wildlife Service
By Andy Rowell
"Disruption" is one of the buzzwords of the energy market right now as plummeting costs of renewables is changing the way we heat our homes and drive our automobiles.
Some of the biggest names in the energy business spoke Wednesday on that very topic in London at the Financial Times' Energy Transition Strategies Summit, at the panel Rethinking Energy in a Time of Disruption.
Keep reading...
Show less
Chris Kick / Twitter
Keep reading...
Show less
Shaahina Ali
Keep reading...
Show less
The federal government is providing extensive support for fossil fuel production on public lands and waters offshore, through a combination of direct subsidies, enforcement loopholes, lax royalty collection, stagnant lease rates and other advantages to the industry, a report released Wednesday found.
Keep reading...
Show less
By Elgie Holstein
The federal budget that the president proposes annually and Congress votes on is more than a collection of numbers. It tells us who the president is, what he stands for and what he cares about.
Keep reading...
Show less


Get EcoWatch in your inbox