This website uses cookies to ensure you get the best experience while browsing it. By clicking 'Got It' you're accepting these terms.
San Francisco Bans Plastic Water Bottle Sales on Public Property
Jul. 14, 2014 03:24PM EST
It took nearly a decade of grassroots organizing to ban the sale of plastic water bottles on public property in San Francisco, according to Nick Guroff of the nonprofit Corporate Accountability International. Finally, in early March 2014, the city's Board of Supervisors voted unanimously to pass a bottle-banning ordinance introduced a year earlier; Mayor Edwin M. Lee signed it into law shortly thereafter.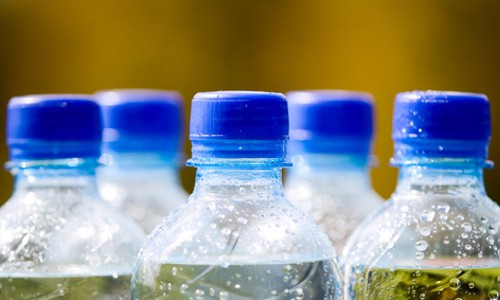 The ban is set to go into effect in October 2014, and will be the first of its kind in the nation. Photo courtesy of Shutterstock
As Eve Andrews wrote in an article at Grist.org, "San Francisco might have done it just a little bit to make every other American city look even worse. (Oh, come on! You were thinking it too!)"
Still, we're cheering for this ecological victory in "Frisco."
Set to take effect in October 2014, it's the first law of its kind to be adopted by a major U.S. city.
"Where we have public spaces, either in buildings or in parks and other open space—these are places that we don't want the sale or distribution of plastic water bottles," said David Chiu, the city official who introduced the ordinance last year.
Instead, the city is encouraging residents to use metal or other reusable bottles, Chiu said. As with bans on plastic grocery bags in many cities, the goal is to promote sustainability by cutting down on needless and ecologically harmful waste.
In the video below, created by Center for a New American Dream, San Franciscans talk about how they got the new law passed and how it will be implemented.
Pixabay
By John R. Platt
The world needs to change the way it eats, not just as individuals but as a society.
The Russian military is taking measures to protect the residents of a remote Arctic settlement from a mass of polar bears, German press agency DPA reported.
The move comes after regional authorities declared a state of emergency over the weekend after sightings of more than 50 bears in the town of Belushya Guba since December.
This year's letter from Bill and Melinda Gates focused on nine things that surprised them. For the Microsoft-cofounder, one thing he was surprised to learn was the massive amount of new buildings the planet should expect in the coming decades due to urban population growth.
"The number of buildings in the world is going to double by 2060. It's like we're going to build a new New York City every month for the next 40 years," he said.
Over the past few years, it seems vegan cooking has gone from 'brown rice and tofu' to a true art form. These amazing cooks show off the creations on Instagram—and we can't get enough.