This website uses cookies to ensure you get the best experience while browsing it. By clicking 'Got It' you're accepting these terms.
Sam Branson: Why Ending Energy Poverty Is a Race We Must Win
May. 06, 2015 08:59AM EST
"When you are faced with a crisis, you either feel paralyzed by fear or feel empowered to make a change."
That is a quote the amazing Dr. Jill Bolte Taylor once told me, and it's exactly how I feel when it comes to facing a challenge.
It's why I embarked on a three-month expedition to the Arctic to highlight climate change, and it's why I travelled from London to the Matterhorn in Switzerland entirely under human power to raise money for life skills programs around the UK.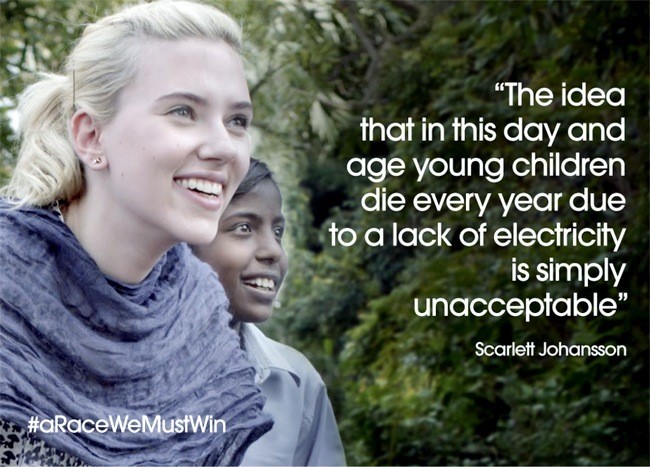 I care about this planet deeply, and trying to make the world a better place is something that drives me every day. This is a wonderful world—it's not just a place we live in, but it's a living and fragile entity that needs to be cared for.
One of those crisis' that the world is facing is energy poverty. More than 1.3 billion people in the world lack access to the very things that we take as granted—affordable and reliable electricity. That is a staggering and very worrying statistic, and it needs to be dealt with. That is why I am delighted there is a day of action today, May 6, to highlight energy poverty.
I set up my production company, Sundog Pictures, to make a difference by telling stories that matter and help to change the way people see the world. That is the power of films—they can take vast and complex subjects and make you understand them in an engaging and entertaining way. They can change your view of the world in a very short space of time.
Narrated by Scarlett Johansson, our #aRaceWeMustWin film is a hard hitting short that deals with the facts about energy poverty.
As Scarlett says, "As someone who cares deeply about this planet, the idea that in this day and age young children die every year due to lack of electricity is simply unacceptable"
"What people want in life is a purpose. They don't want to merely survive—what they want is an opportunity to provide a life for themselves and a chance to prove their worth. Getting them out of energy poverty gives them that opportunity."
There are many great initiatives out there that are trying to empower the lives that are in danger, and this film is part of the Wind for Prosperity journey that Sundog Pictures are proudly telling the story of.
Anchored on wind power technology, Wind for Prosperity aims to help the tens of millions of people that are in energy poverty and live in areas with abundant wind resources. Wind for Prosperity creates a world of new opportunities to provide clean water, health care, irrigation, educational opportunities, communications infrastructure, and other social and economic benefits for rural communities where such opportunities are now lacking or limited—and does so on self-sustaining commercial terms.
We made this film to inform, engage and inspire. I hope we were successful and that you share the message because ending energy poverty is truly a race we must win.
YOU MIGHT ALSO LIKE
Elon Musk: Tesla Battery Will 'Fundamentally Change the Way the World Uses Energy'
Solar Capacity in the U.S. Enough to Power 4 Million Homes
Plus, learn if there's one that's best for your health.
Catherine Falls Commercial / Moment / Getty Images
An invasive Amynthas worm, also known as a crazy snake worm, Asian jumping worm and Alabama jumper Tom Potterfield / Flickr
By Jason Bittel
My wife and I built a house two years ago on a few acres of woodland outside of Pittsburgh. The backyard is full of maples, poplars, briars and common spicebush. Two-lined salamanders and grumpy-looking crayfish wade among the rocks in the small stream that runs down the edge of the property. Deer, raccoon and opossum tracks appear regularly in the snow and mud. Sometimes, my trail-cam even catches a pair of gray foxes as they slink through the night.
AleksandarNakic / Getty Images
By Kate Murphy
No matter the time of year, there's always a point in each season when my skin decides to cause me issues. While these skin issues can vary, I find the most common issues to be dryness, acne and redness.

David Woodfall / The Image Bank / Getty Images
By Sam Nickerson
The U.S. Environmental Protection Agency (EPA) in April 2018 proposed relaxing standards related to how it assesses the effects of exposure to low levels of toxic chemicals on public health.
Now, correspondence obtained by the LA Times revealed just how deeply involved industry lobbyists and a controversial, industry-funded toxicologist were in drafting the federal agency's proposal to scrap its current, protective approach to regulating toxin exposure.
Steve Irwin poses with a three foot long alligator at the San Francisco Zoo on June 26, 2002. Justin Sullivan / Getty Images
February 22 is the birthday of conservationist and beloved TV personality "Crocodile Hunter" Steve Irwin, who would have been 57 years old today.
Irwin's life was tragically cut short when the barb from a stingray went through his chest while he was filming in 2006, but his legacy of loving and protecting wildlife lives on, most recently in a Google Doodle today honoring his birthday.