Russia Wants to Be World's Top Exporter of Non-GMO Food
Russia—which largely opposes genetically modified food (GMOs) and is stamping out GMOs in its entire food production—wants to be world's largest exporter of non-GMO food, according to RT.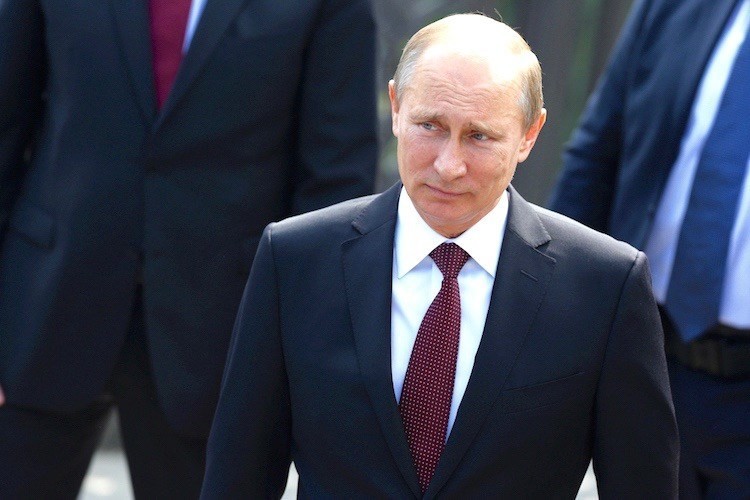 Photo credit: Slavko Sereda
/
Shutterstock
In a speech given to Russian Parliament last week, President Vladimir Putin announced his intention to be the world's biggest supplier of "ecologically clean and high-quality food" and criticized GMO food production in western countries even though demand for organic food has soared exponentially in recent years.
"We are not only able to feed ourselves taking into account our lands, water resources—Russia is able to become the largest world supplier of healthy, ecologically clean and high-quality food which the Western producers have long lost, especially given the fact that demand for such products in the world market is steadily growing," he said.
Putin also said that in the last decade, Russia has gone from importing half of its food to becoming a net exporter. Putin claims that Russia now makes more money from selling food than from selling weapons and fuel.
"Ten years ago, we imported almost half of the food from abroad, and were dependent on imports. Now Russia is among the exporters. Last year, Russian exports of agricultural products amounted to almost $20 billion—a quarter more than the revenue from the sale of arms, or one-third the revenue coming from gas exports," he said.
The Russian president also wants the country to be completely self-sufficient in food production in less than five years.
"By 2020, Russia must provide itself with all food," he said. "We need to cultivate the millions of acres now idle."
The president suggested confiscating unused farmland and selling it to new owners willing to till it, according to another article from RT.
Russia is notoriously anti GMO. In September, Russia announced plans to remove GMOs from its entire food production.
"As far as genetically-modified organisms are concerned, we have made decision not to use any GMO in food productions," Russia's Deputy PM Arkady Dvorkovich announced at an international conference on biotechnology in the city of Kirov.
In 2012, Russia banned imports of Monsanto's corn after a French study linked the company's GMO-product to tumors in lab rats (the study was later retracted).
Last year, Russia banned imports of GMO products, with Russian Prime Minister Dmitry Medvedev saying the nation already has the resources to produce its own non-GMO fare.
"If the Americans like to eat GMO products, let them eat it then. We don't need to do that; we have enough space and opportunities to produce organic food," said Medvedev.
According to official statistics from the country, the presence of GMOs in the Russian food industry has declined from 12 percent to a mere 0.01 percent in the past 10 years, RT observed.
YOU MIGHT ALSO LIKE
3 Ways Monsanto Contributes to Climate Chaos and World Hunger
Erin Brockovich: The Biotech Industry is Jeopardizing Our Health
Mark Ruffalo: 'Monsanto Chief is Horrible'
China to Clone 1 Million Cows a Year to Meet Country's Rising Demand for Beef
A coalition of conservation groups and others announced Thursday that a historic number of comments and petitions of support have been submitted to the U.S. Department of the Interior in support of Bears Ears National Monument. Despite the entirely inadequate 15-day comment period ending on May 26, more than 685,000 comments in support of Bears Ears National Monument have been collected.
Keep reading...
Show less
Rink Glacier in western Greenland, with a meltwater lake visible center. NASA/OIB
Scientists have had their eyes on Greenland as its iconic glaciers have begun disappearing due to a warming climate. But, what they didn't expect to see was a whole new type of melting.
Keep reading...
Show less
Mountain View Fire
By Lena Moffitt
An oil tanker in Mead, Colorado exploded, killing one and injuring three on Thursday. Authorities are continuing to investigate the cause of the explosion.
Keep reading...
Show less
Banner created by Alliance for Climate Education
Keep reading...
Show less
Twenty-two GOP senators sent a letter Thursday urging Donald Trump to pull out of the Paris agreement. They argued remaining in the deal could "upend" the administration's ability "to fulfill its goal of rescinding the Clean Power Plan."
Keep reading...
Show less
By Cheryl Johncox
The Federal Energy Regulatory Commission (FERC) rejected on Thursday Energy Transfer Partners' request to resume horizontal directional drilling at two sites for its Rover fracked gas pipeline. This rejection comes after numerous leaks into Ohio's wetlands, and Clean Air and Clean Water act violations. FERC has halted the process at only eight locations of the 32 where drilling is taking place under Ohio's wetlands and streams.
Keep reading...
Show less
By Nadia Prupis
A majority of people in eight countries say they are ready to change their lifestyles if it would prevent climate catastrophe, a survey on global threats released Wednesday found.
Keep reading...
Show less
May. 25, 2017 01:55PM EST
Bill Maher is sick of billionaires' obsession with Mars, more like "Mars-a-Lago," he said.
In a new animation produced by ATTN:, the popular talk show host of Real Time, discusses the perils of our planet, including how "climate change is killing us."
Keep reading...
Show less