This website uses cookies to ensure you get the best experience while browsing it. By clicking 'Got It' you're accepting these terms.


The best of EcoWatch, right in your inbox. Sign up for our email newsletter!
Runaway Greenhouse Effect On Venus Foreshadows Earth's Climate Disaster
Aug. 13, 2013 10:20AM EST
Climate
By Tim Radford
There is already a runaway greenhouse effect on the planet Venus: all the oceans have boiled away, the clouds rain sulphuric acid and the atmosphere at ground level is hot enough to melt lead. The only comfort is that if such a transformation does affect the Earth, it probably won't be for a billion years or so.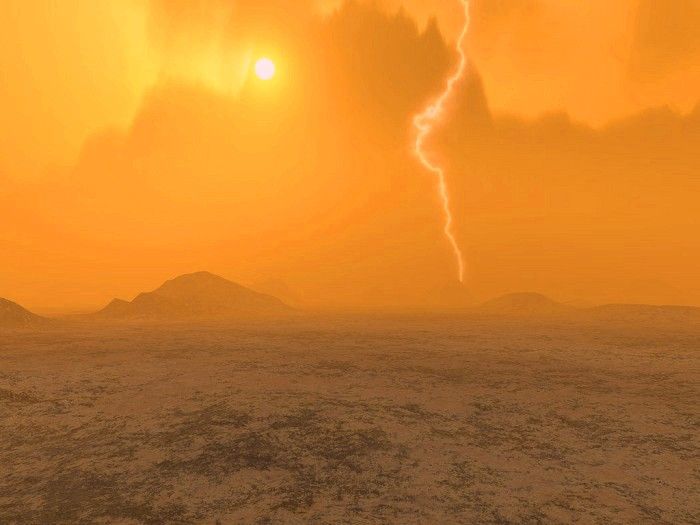 Colin Goldblatt of the University of Victoria in Canada and U.S. colleagues report in Nature Geoscience that they have been taking a new cool look at what makes one terrestrial planet temperate and stable and the other so hot that the ocean boils away, and the answer is disconcerting. Both outcomes are possible for a planet that receives the same level of solar radiation as the Earth does today.
"A runaway greenhouse could in theory be triggered by increased greenhouse forcing, but anthropogenic emissions are probably insufficient," the authors say, comfortingly.
The Goldilocks Planet
The research grows out of a continuing academic interest in the unusual condition of planet Earth—just far enough from the Sun for water to freeze but near enough for some of it to melt and evaporate, massive enough to retain an atmosphere and clouds of water vapor but small enough for a gravitational pull that will allow complex creatures to evolve, grow tall and even fly. Goldilocks, the girl in the British fairy story, chose the porridge that was not too hot, not too cold, but just right, and planetary scientists have co-opted the imagery, and dubbed the Earth the Goldlilocks planet.
But global warming fueled by carbon dioxide (CO2) emissions from the burning of fossil fuels is a warning that "just right" might not be a permanent condition, and environmental campaigners have frequently warned of the dangers of a runaway greenhouse effect—in which an increasingly warmer world means greater and greater releases of trapped carbon and methane, until the process becomes unstoppable. Until the Nature Geoscience paper, the assumption was that such a process was unlikely: a Venus-style runaway warming would require more solar radiation than the Earth actually gets.
Clouds Make the Difference
But while carefully considering the factors that make Earth such a desirable residence—fully air-conditioned and with hot and cold running water—Goldblatt and his colleagues found a puzzle. Their numerical models calculated the balance between solar radiation absorbed and thermal radiation emitted and found that the sunshine levels on Earth now would actually make a runaway greenhouse possible.
What makes the difference right now are the clouds, which serve to reflect radiation back into space and which eventually condense and return evaporated water to the land and then the oceans. But water vapor is also a greenhouse gas, so as long as the vapor forms clouds that provide what engineers call negative feedback, and damp down the warming, the temperatures stay within manageable limits. But the logic is that with greater levels of greenhouse gases—and with fewer clouds—conditions could change, the atmosphere would become steamier, ever more heat would be retained and eventually life would become impossible.
But there has never been a runaway greenhouse on Earth—it would have sterilized the planet and life would never have emerged at all—and the planet has been at least 10 degrees Celsius hotter during the Eocene 50 million years ago, when CO2 levels were much higher.
"With CO2 and temperature both higher then than we expect in the foreseeable future, this implies that an anthropogenic runaway greenhouse is unlikely," the authors conclude.
But they also warn that Venus today is a reminder of what the Earth could become, and they expect a runaway greenhouse on Earth in about 1.5 billion years "if water is the only greenhouse gas, or sooner if there are others."
Visit EcoWatch's CLIMATE CHANGE pages for more related news on this topic.
——–

EcoWatch Daily Newsletter
Cigarette butt litter. Tavallai / CC BY-ND 2.0
By Dipika Kadaba
We've known for more than 50 years that smoking cigarettes comes with health hazards, but it turns out those discarded butts are harmful for the environment, too. Filtered cigarette butts, although small, contain dozens of chemicals, including arsenic and benzene. These toxins can leach into the ground or water, creating a potentially deadly situation for nearby birds, fish and other wildlife.
Thanasis Zovoilis / DigitalVision / Getty Images
Infants less than a year old should not be exposed to electronic screens, the World Health Organization (WHO) said on Wednesday.
Bill Pugliano / Getty Images
By Wenonah Hauter
Five years ago this week, an emergency manager appointed by then-Michigan Gov. Rick Snyder made the devastating decision to save money by switching Flint's water supply over from Detroit's water system to the Flint River. Seen as a temporary fix, the new water supply was not properly treated. High levels of lead leached from the old pipes, poisoning a generation of Flint's children, and bacteria responsible for an outbreak of Legionnaires' Disease killed more than a dozen residents.
Los Angeles-Long Beach, California is listed as the nation's smoggiest city. Pixabay
Kissing bug. Pavel Kirillov / Flickr / CC BY-SA 2.0
The Centers for Disease Control and Prevention (CDC) confirmed that the kissing bug, which can transmit a potentially deadly parasite, has spread to Delaware, ABC News reported Wednesday.
Did you know that more than a third of food is wasted or thrown away every year? And that only 25 percent of it would be enough to feed the 795 million undernourished people in the world? That's why today is Stop Food Waste Day, a chance to reflect on what you can do to waste less of the food you buy.
Stop Food Waste Day is an initiative of food service company Compass Group. It was launched first in the U.S, in 2017 and went global the year after, making today it's second worldwide celebration.
Flames and smoke are seen billowing from the roof at Notre-Dame Cathedral on April 15 in Paris, France. Veronique de Viguerie / Getty Images
When Paris's Notre Dame caught fire on April 15, the flames threatened more than eight centuries of culture and history. The fire evoked shock, horror and grief worldwide. While the cathedral burned, French President Emmanuel Macron expressed determination to rebuild what the French regard as a sacred site.