This website uses cookies to ensure you get the best experience while browsing it. By clicking 'Got It' you're accepting these terms.
Rooftop Solar Boom Underway
Aug. 20, 2014 09:18AM EST
Business
Predicting the arrival of solar energy for electricity that is as cheap as local electricity prices is actually harder than predicting the sunrise. But Union of Concerned Scientists' (UCS) new solar infographic tells this exciting crossover point is right in front of millions of homeowners across the country.
What's going on up on the roof?
For more than 120 years, homes and businesses have been buying electricity. Now rooftop solar electricity production is changing the way hundreds of thousands of homeowners get energy. Most have added solar panels because this makes money, and that motivation will keep growing and spreading.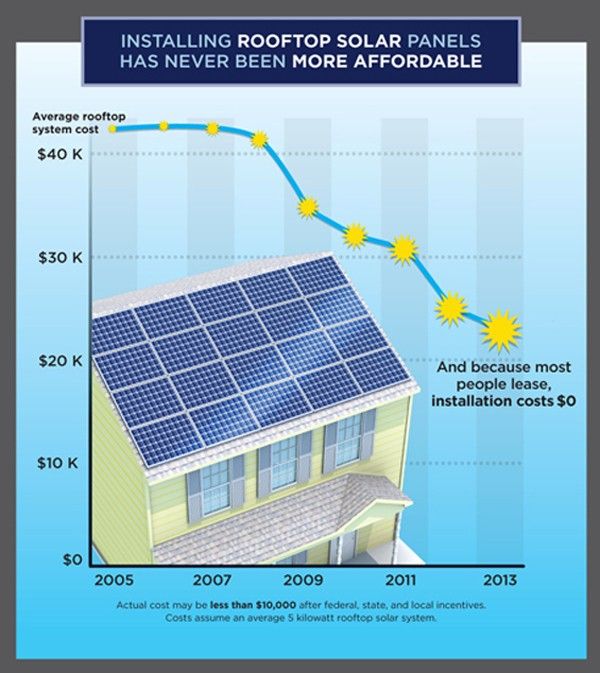 Small-scale solar photovoltaic (PV) systems on rooftops have suddenly become the most commonly built, most numerous electric generators, with individuals making decisions based on the cost of the solar panels and the price of their local electric utility.
Over half the states could have rooftop solar that's as cheap as local electricity prices by 2017
UCS estimates that with rapid declines in the cost of panels and installations, homes in 11 states plus the District of Columbia can use a federal tax credit and financing to make electricity cheaper than they buy it. Seventeen more states are within three years of this tipping point. This map shows where.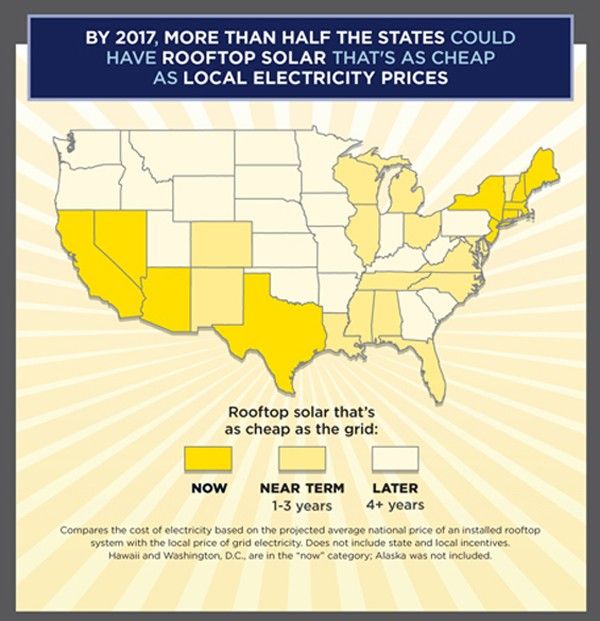 This is big news! Some say it is the end of the old ways, a revolution.
How do we reach that conclusion? We start with two National Renewable Energy Laboratory (NREL) analyses of break-even for an investment in PV (solar photovoltaic) panels compared with paying the residential rate for electricity. We picked through the NREL studies as we were producing our own update on the rise of solar energy. In their analysis, NREL assessed the available sunshine, projected current and future local electricity prices escalating 0.5 percent per year, and included financing and federal tax incentives to determine what the cost of solar (in dollars per watt) would need to be to reach break-even.
What was really missing from these NREL studies is a projection of when the break-even point is likely to be reached. Not faulting the lab, just saying that when UCS compared the NREL numbers on break-even costs and other organizations projections of prices, this all became more clear. And much more interesting. Now anyone can look at the map and see there are going to be some changes coming.
NREL's analysis (and therefore ours) is conservative in some important ways:
No state or local incentives are used. Including existing state tax incentives available in 45 states, or other local support for solar generation would lower the break-even cost for a residential PV system (net present value).

Some utilities have an optional time-of-use rate structure that also would improve the economics of residential solar. The benefits of this can be seen in 

this analysis

.

Also not included in our take on the NREL numbers is a price on carbon, which would recognize a value of avoiding emissions.
Deutsche Bank and NRG have come to very similar conclusions with their own analyses, while others like Citigroup predict continued declines in the cost of solar panels, global demand, and inevitable price parity.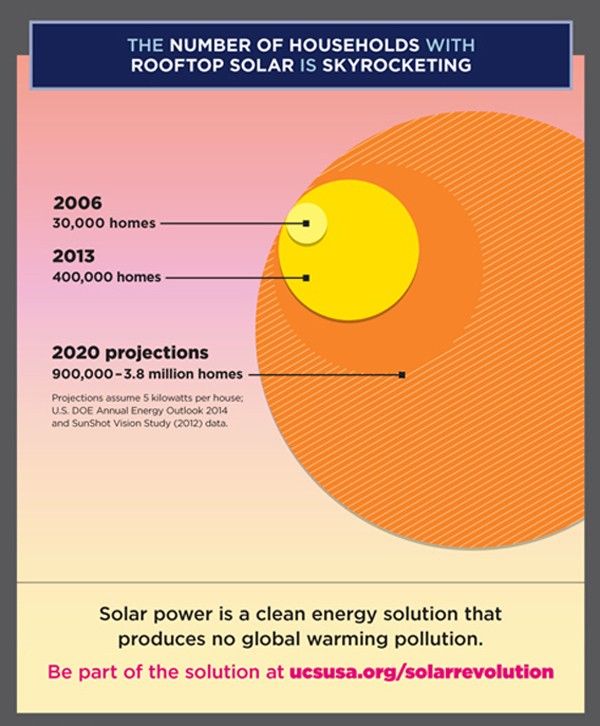 How soon can you get solar?
New energy supplies are often known long before they become practical and economical. Wind power, nuclear power and shale gas all had been identified as potential energy supplies but were considered too expensive. Wind power and shale gas have come way down in price. Now solar is making its move. And rooftop solar is crossing the threshold, and a solar boom is underway.
If you are interested in getting solar panels on your roof, ask for a quote from a solar firm. Since our map did not include state and local incentives that can accelerate the economics, you may get an even better answer. Keep in mind that the NREL assumption about how energy prices will change is only an assumption.
Unlike most energy supply decisions, the choice of rooftop solar is within your control. If you want to adjust your economics to recognize carbon savings, you can do that too, with this energy choice. There is so much that changes when solar becomes cost-effective. This is just getting started.
YOU ALSO MIGHT LIKE
Major Federal Court Ruling Will Help Transition Grid to Renewables
Is the U.S. Electric Grid Ready for a Renewable Energy Future?
EcoWatch Daily Newsletter
SHEALAH CRAIGHEAD
By Elliott Negin
On July 19, President Trump hosted Apollo 11 astronauts Buzz Aldrin and Michael Collins and their families, along with the family of their deceased colleague Neil Armstrong, at a White House event to commemorate the 50th anniversary of the first manned landing on the moon.
The study looked at three groups of diverse lizards from South America. Daniel Pincheira-Donoso
Cold-climate lizards that give live birth to their offspring are more likely to be driven to extinction than their egg-laying cousins as global temperatures continue to rise, new research suggests.
Sean Gallup / Getty Images
A stock photo of fire in the Amazon; a record number of fires have burned there this year. Brasil2 / E+ / Getty Images
Tuna auctions are a tourist spectacle in Tokyo. Outside the city's most famous fish market, long queues of visitors hoping for a glimpse of the action begin to form at 5 a.m. The attraction is so popular that last October the Tsukiji fish market, in operation since 1935, moved out from the city center to the district of Toyosu to cope with the crowds.

gmnicholas / E+ / Getty Images
Kristan Porter grew up in a fishing family in the fishing community of Cutler, Maine, where he says all roads lead to one career path: fishing. (Porter's father was the family's lone exception. He suffered from terrible seasickness, and so became a carpenter.) The 49-year-old, who has been working on boats since he was a kid and fishing on his own since 1991, says that the recent warming of Maine's cool coastal waters has yielded unprecedented lobster landings.
Aerial view of lava flows from the eruption of volcano Kilauea on Hawaii, May 2018. Frizi / iStock / Getty Images
Hawaii's Kilauea volcano could be gearing up for an eruption after a pond of water was discovered inside its summit crater for the first time in recorded history, according to the AP.