This website uses cookies to ensure you get the best experience while browsing it. By clicking 'Got It' you're accepting these terms.
Rollback of Environmental Regulations Destroy Florida's Greatest Assets
Jan. 13, 2012 02:59PM EST
By Jimmy Orth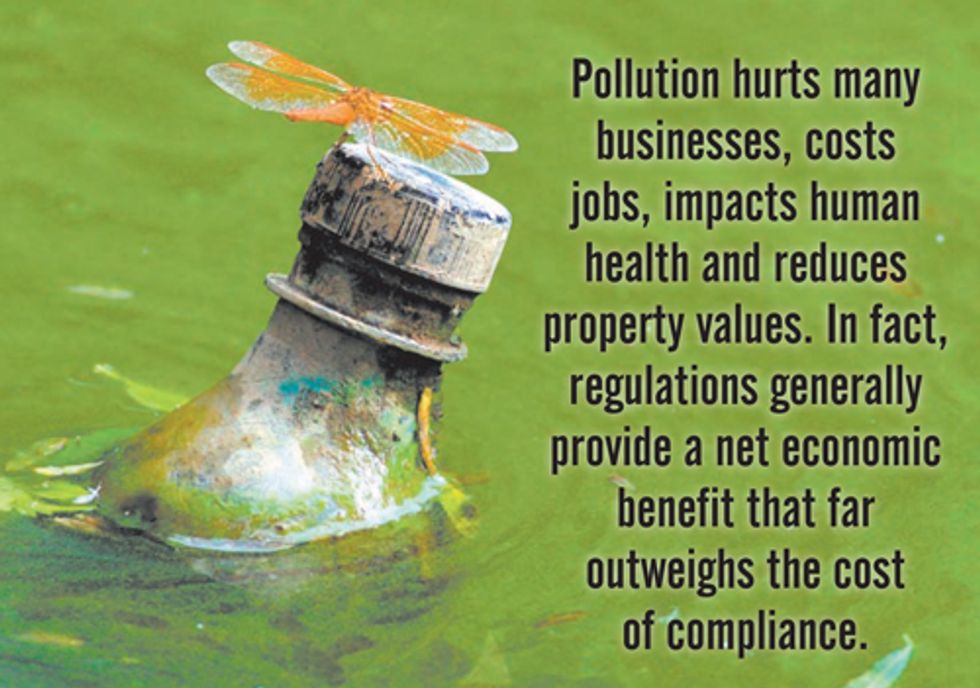 Are you one of the millions of Florida citizens who love and value our state's beautiful beaches, springs, wetlands, forests and rivers, like the St. Johns River? If so, buckle your chinstrap and get ready to help defend and protect Florida's natural heritage from another barrage of attacks from shortsighted politicians and industry groups. Governor Rick Scott and many of our state's legislators have made no bones about their intentions to scale back environmental and growth management regulations, and they are off to a good start. Regrettably, this wrong-headed approach to stimulating Florida's economy will only benefit a few at the expense of the majority of our citizens and future generations.
Unfortunately, they don't seem to grasp the significant economic and human health benefit of a clean and healthy environment. Natural systems provide valuable services to humans (clean air, food prevention, water purification, etc.) that would be much more expensive or even impossible for us to replicate. Our natural resources are extremely important to our quality of life and are a major reason why so many people visit or relocate to our state in the first place. They have also ignored the enormous cost of pollution. Pollution hurts many businesses, costs jobs, impacts human health, reduces property values and our tax base, and diminishes recreational opportunities and our quality of life. These significant costs are rarely if ever mentioned or offset against the cost of compliance when the efficacy of regulations is being publicly debated or evaluated. Ignoring the consequences and external costs of pollution is irresponsible and a disservice to the citizens of Florida.
The result is that these politicians are dismantling our environmental safeguards with very little evidence or justification for their actions. In fact, regulations generally provide a net economic benefit that far outweighs the cost of compliance. The most recent cost-benefit report on major regulations by the non-partisan Office of Management and Budget found that total annual benefits are "between $132 billion and $655 billion, while the estimated annual costs are in the aggregate between $44 billion and $62 billion." The same holds true when only looking at environmental regulations, such as the Clean Air Act. The OMB found that the total economic benefits of the Clean Air Act are estimated at more than four to eight times the costs of compliance. In the last two decades, emissions of the most common air pollutants have declined by 41 percent, while Gross Domestic Product (GDP) has increased by more than 64 percent. In other words, most of the environmental safeguards that protect our environment and human health are actually a boon for our economy, not the "job killing" red tape that detractors would have us falsely believe.
In addition to abolishing regulations, our governor and legislature are threatening the health of Florida's environment by weakening policies, lowering water quality standards and neutralizing planning and regulatory agencies through budget cuts, moratoriums or political pressure. Their aggressive actions have already dramatically changed the course of the water management districts and water policy in this state, putting us on a path toward less protection for our already-imperiled waterways and aquifer.
For instance, a dramatic shift has taken place within the St. Johns River Water Management District (SJRWMD). The SJRWMD has abandoned efforts to produce an updated water supply plan, once a top priority said to be legislatively mandated and an essential road map to the future. The SJRWMD has pulled back on funding commitments and plans for critical water conservation and restoration programs. The agency has also ended an important rule-making process that would have established sensible water conservation requirements for permit applicants. Less than a year ago, the SJRWMD was sounding the alarm that Northeast Florida was reaching the sustainable limits of the aquifer. However, the District recently issued an unprecedented Consumptive Use Permit to the JEA utility that could eventually result in a 40 percent increase in withdrawals from the aquifer. Use permit was issued despite U.S. Geological Survey models that indicate current Northeast Florida groundwater pumping is already adversely impacting the flows and levels of springs, lakes and waterways to the west.
We have also turned back the clock on growth management in our state, with recent changes to the Growth Management Act and the dismantling of the Department of Community Affairs. We now have a much smaller and less capable state planning agency, and Gov. Scott vetoed state funding for Florida's 11 regional planning councils. This will result in less-effective state and regional oversight and guidance, and potentially less protection for our critical water resources from sprawl and poor planning. Unfortunately, many local governments don't have sufficient planning departments or expertise. Many also often lack the resources to engage in regional planning efforts necessary to protect surface and groundwater resources that extend beyond county lines and are of regional or statewide significance. Now, local governments can also change their comprehensive plans at every commission or council meeting, instead of twice a year as previously allowed. These are critical road maps for smart growth that must be updated periodically, but were never intended to be changed easily or often.
The bottom line is, the dramatic changes to water policy and growth management that are taking place are limiting our ability to adequately protect our natural resources. These changes have been hyped as efforts to stimulate our economy by creating jobs and attracting businesses. However, these policy changes are actually counter to the economic interests of our state and its citizens and do nothing to address the root causes of our economic woes.
For instance, we all know that overbuilding and speculation played a big role in our current problems, yet, inexplicably, efforts are underway to expedite the permitting process. The president of the Florida Home Builders Association recently said, "No one can argue that we have excess housing inventory in Florida, given that our state is ground zero for foreclosures and distressed properties." The recent census revealed that 1.6 million homes are vacant in Florida, not to mention all of the homes and offices that have already been approved for development. According to Charles Lee of Audubon of Florida, "between 2007 and 2011, over 2,500 comprehensive plan amendments were approved under Florida's growth management laws that would allow over 1,000,000 new residential dwellings and over 2.7 billion square feet of commercial, office and industrial space." So how can anyone really think that a burdensome permitting process and growth management laws have stymied growth and economic development in Florida? We obviously needed more controls in place, not fewer, to ensure smarter growth patterns and keep in check the kind of rampant growth that's helped to drag our economy down.
We already have approximately 569 square miles of estuaries, 1,918 miles of rivers and streams and 378,435 acres of lakes that have been identified as impaired by nutrients. In addition, lakes, rivers and streams classified as impaired increased 3 percent compared with the Florida Department of Environmental Protection's 2008 Water Quality Assessment. According to the SJRWMD, 97 percent of the District is either a Priority Water Resource Caution Area or a Potential Caution Area.
Despite the obvious shortcomings of our growth and water management systems, we don't need to throw the baby out with the bathwater. The previous system clearly offered more planning guidance, oversight and protections than are provided by the recent changes. However, we do need to make improvements to the planning process and water management districts and implement more vigorous protections to better protect our environment. Instead, the governor and legislature are making radical changes that will only make matters worse—for both our environment and our economy.
Now is the time to recognize the value of investing in the protection and restoration of our water resources and environment. Dismantling and eliminating environmental safeguards and refusing to address costly pollution problems that threaten human health and hurt local communities is a radical proposition that will have devastating long-term consequences for our state's economy and its citizens.
Our economic well-being is inextricably linked to how effectively we protect our environment and preserve our natural resources. Safeguarding all of Florida's air, waters and natural lands is simply a prudent and wise economic investment in the future of our state and a more sensible and defensible approach to economic recovery.
For more information, click here.
EcoWatch Daily Newsletter
"It would be great to see all the candidates join Elizabeth Warren in taking the No Big Ag Money Pledge," said Citizens Regeneration Lobby's Alexis Baden-Mayer.
Peter Blanchard
/ Flickr / ric (CC BY 2.0)
Food system justice and environmental advocates on Wednesday urged all Democratic presidential hopefuls to follow in the footsteps of Sen. Elizabeth Warren in signing a pledge rejecting campaign cash from food and agribusiness corporations.
A new study shows the impact Native Americans had on landscapes was "small" compared to what followed by Europeans. The findings provide important takeaway for
conservation
in New England today, seen above in a view of areas surrounding Rangeley Lakes in Maine. Cappi Thompson / Moment / Getty Images
There's a theory going around that Native Americans actively managed the land the lived on, using controlled burns to clear forests. It turns out that theory is wrong. New research shows that Native Americans barely altered the landscape at all. It was the Europeans who did that, as ZME Science reported.
Loggers operate in an area of lodgepole pine trees killed by the mountain pine beetle in the Beaverhead-Deerlodge National Forest on Sept. 13, 2019 in Montana. As climate change makes summers hotter and drier in the Northern Rockies, forests are threatened with increasing wildfire activity, deadly pathogens and insect infestations, including the mountain pine beetle outbreak. The insects have killed more than six million acres of forest across Montana since 2000. Chip Somodevilla / Getty Images
Wild rice flatbread is one of many Native recipes found in Indigikitchen.
Indigikitchen
The online cooking show Indigikitchen is providing a platform to help disseminate Indigenous food recipes — while helping eaters recognize their impact on the planet and Native communities.
On the Solomon Islands, rats and poachers are the two major threats to critically endangered sea turtles. A group of local women have joined forces to help save the animals from extinction.