This website uses cookies to ensure you get the best experience while browsing it. By clicking 'Got It' you're accepting these terms.
Rockin' the Bakken 21st Century Style
Mar. 13, 2015 08:11AM EST
Energy
North Dakota's Bakken boom, and potential bust, are definitely in the news. Journalists, documentary filmmakers, landowners and community groups have given it a name and a face. Yet it's still hard to understand until you put your boots on the ground and watch the oil being drilled, pumped and trucked to rail stations, 24-7, as it's moved out of the region.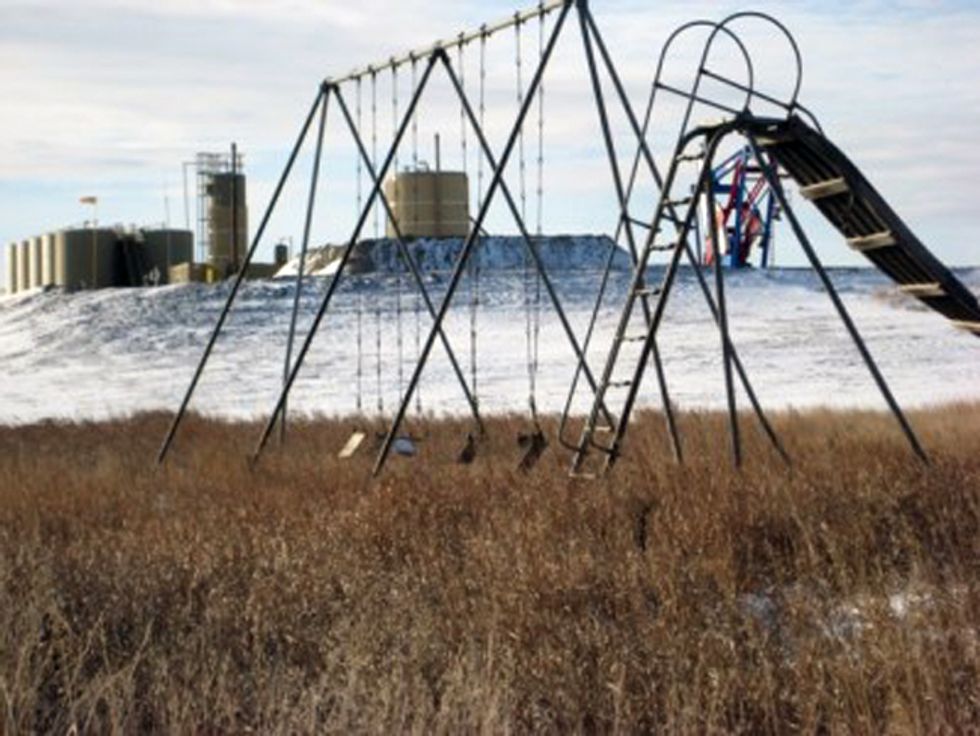 In Western Montana and Wyoming, we hear a steady drumbeat of stories about what the boom has brought—truck fatalities, worker deaths, pipeline spills, exploding trains, illegal dumping of radioactive waste, murders, gangs and human trafficking ... to name a few.
We also hear about the wealth. Shiny pick up trucks line our downtown streets with bumper stickers announcing hard working men and women are "Rockin' the Bakken." We're also told that desperately needed jobs are being created to provide energy independence for Americans.
Corporate Takeover of Community
The boom/bust cycle is not a new phenomenon; our region has seen our share. What's hard to understand about this particular boom is that oil industry executives and our government officials didn't have the foresight to prepare for it. Ensuring basic public health safeguards, social services and workplace safety should be automatic in the 21st century. Communities who bear the brunt of producing this nonrenewable resource should have the same protection as the people who consume it.
But in the Bakken, public officials are watching North Dakota crumble into unmonitored ruin—ignoring environmental chaos and a public health crisis that promises to boom after the after the oil has gone bust.
Meanwhile, the Bakken's local health and social service professionals, educators, and faith-based leaders have been overwhelmed by a stream of social issues including: a housing crisis, worker deaths, migration of national and international workers, childhood homelessness, crime, violence, a burgeoning drug and sex industry, and nearly insurmountable obstacles to the distribution of basic human services.
Thoughtful people are working to keep climate-damaging fuels in the ground. But in the Bakken, industry is flaring millions of cubic feet of methane gas into the air. While entire countries are trying to conserve water and look for a sustainable way of living, the people of North Dakota are sinking into a mire of mud, caused by oil and salt water spills. Feeding the planet is the goal of forward thinking people, but in North Dakota, thousands of acres of farmland has been sacrificed.
The Bakken is Rockin'. It's Rockin' from a 21st Century corporate takeover, where our environment, communities and basic human rights are going, going, gone.
For more information
Earthworks report on flaring in the Bakken and the Eagle Ford Shale plays: Up in Flames—U.S. Shale Oil Boom Comes at Expense of Wasted Natural Gas, Increased Carbon Dioxide
University of North Dakota: Black Gold and the dark underside of its development on human service delivery
Dakota Resource Council documentary: This Is Our Country - Living with the Wild West Oil Boom
Deborah Thomas is a northwest Wyoming resident who has been living with oil and gas development for years since before the fracking boom. In addition to collaborating with Earthworks she is the CEO of ShaleTest.org, a non-profit organization that collects environmental data and provides testing to lower income families and communities that are negatively impacted by shale oil and gas extraction.
YOU MIGHT ALSO LIKE
Analysis of California's Fracking Wastewater Reveals a Slew of Toxic Chemicals Linked to Cancer and Other Illnesses
Yet Another Oil Bomb Train Explosion Marks Fourth Derailment in Four Weeks
EcoWatch Daily Newsletter
A new report spotlights a U.N. estimate that at least 275 million people rely on healthy coral reefs. A sea turtle near the Heron Island in the Great Barrier Reef is seen above. THE OCEAN AGENCY / XL CATLIN SEAVIEW SURVEY
In a new report about how the world's coral reefs face "the combined threats of climate change, pollution, and overfishing" — endangering the future of marine biodiversity — a London-based nonprofit calls for greater global efforts to end the climate crisis and ensure the survival of these vital underwater ecosystems.
Half of the extracted resources used were sand, clay, gravel and cement, seen above, for building, along with the other minerals that produce fertilizer. Cavan Images / Cavan / Getty Images
The world is using up more and more resources and global recycling is falling. That's the grim takeaway from a new report by the Circle Economy think tank, which found that the world used up more than 110 billion tons, or 100.6 billion metric tons, of natural resources, as Agence France-Presse (AFP) reported.
By Gero Rueter
Heating with coal, oil and natural gas accounts for around a quarter of global greenhouse gas emissions. But that's something we can change, says Wolfgang Feist, founder of the Passive House Institute in the western German city of Darmstadt.

By George Citroner
Recent research finds that official government figures may be underestimating drug deaths by half.
Researchers estimate that 142,000 people died due to drug use in 2016.
Drug use decreases life expectancy after age 15 by 1.4 years for men and by just under 1 year for women, on average.
Government records may be severely underreporting how many Americans die from drug use, according to a new study by researchers from the University of Pennsylvania and Georgetown University.
Water coolers in front of shut-off water fountains at Center School in Stow, MA on Sept. 4, 2019 after elevated levels of PFAS were found in the water. David L. Ryan / The Boston Globe via Getty Images
In a new nationwide assessment of drinking water systems, the Environmental Working Group found that toxic fluorinated chemicals known as PFAS are far more prevalent than previously thought.