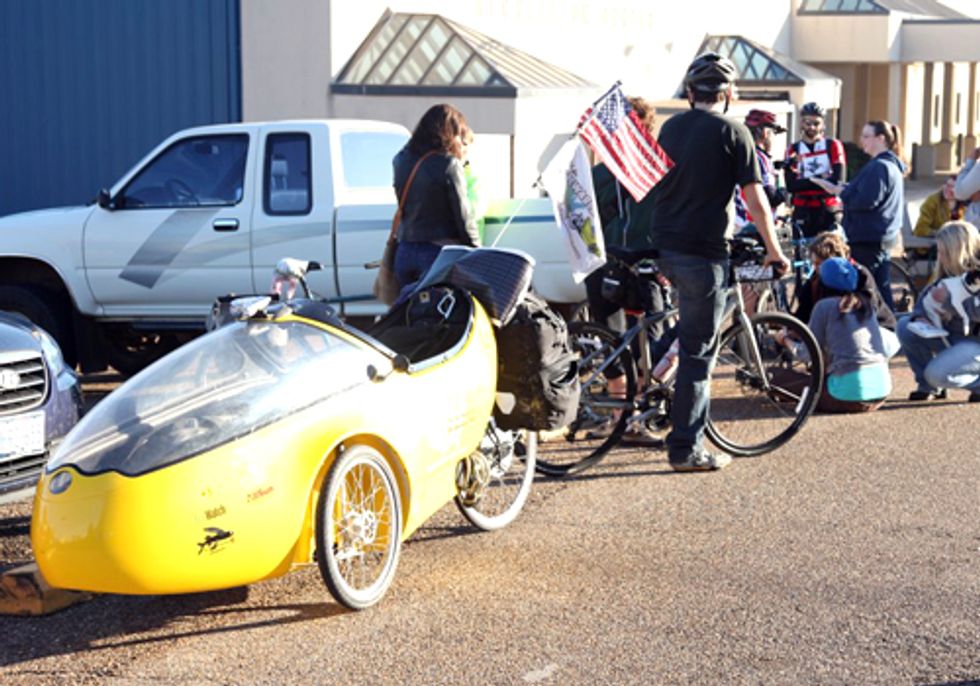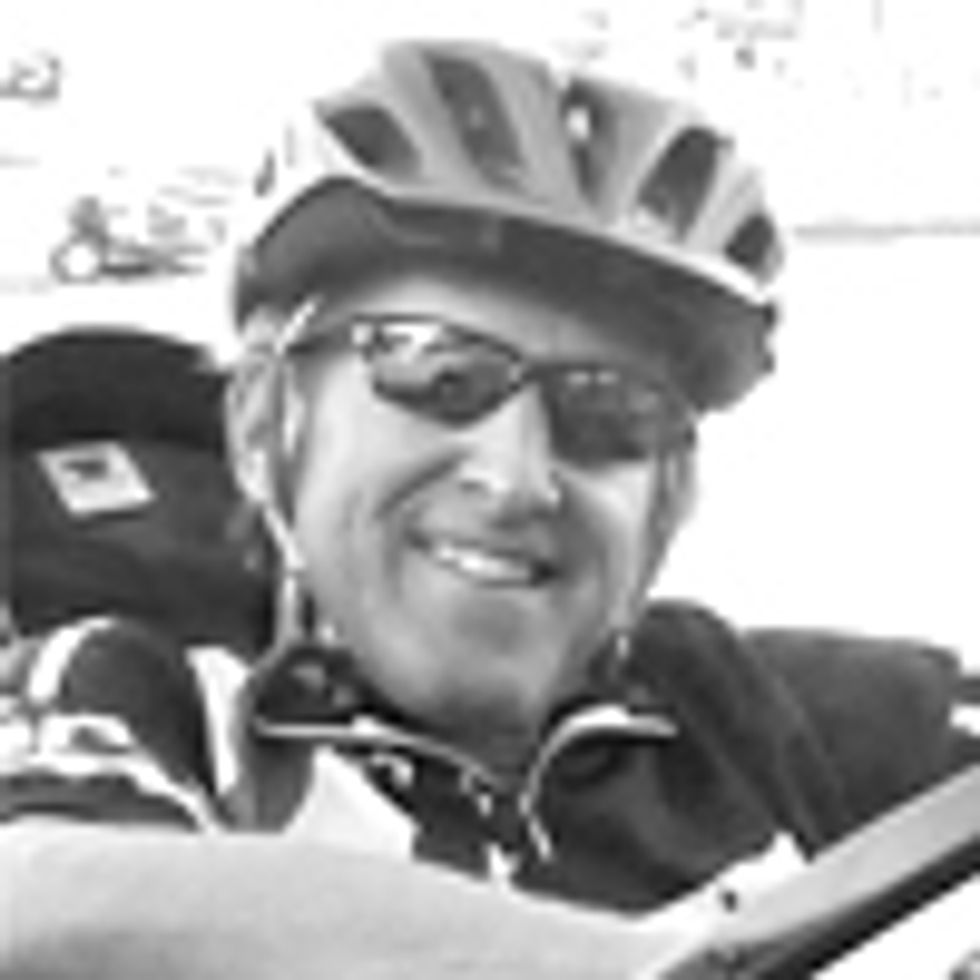 Welcome to Rocket Trike Diaries—a 10 week video tour of the 2011 "Ride for Renewables: No Tar Sands Oil On American Soil!" Join Renewable Rider Tom Weis as he pedals his rocket trike 2,150 miles through America's heartland in support of landowners fighting TransCanada's toxic Keystone XL tar sands pipeline scheme. Here are the video entries from Week Nine:
Video Entry #58: 92 Year Old Pilots Rocket Trike
Renewable Rider Tom Weis films 92 year old Furman Boles from Scroggins, Texas in the rocket trike. Furman describes being in the trike as "a whole new world," saying, "the future's right ahead." He jokingly agrees to take over and pedal the rest of the way to Port Arthur.
Video Entry #59: Texas Farmer "Misled" & "Betrayed" By TransCanada
Renewable Rider Tom Weis speaks with Susan Scott of Sulphur Springs, Texas about threats Keystone XL poses to the farm she loves. She talks about being bullied into cooperating by a TransCanada official who lied to her about eminent domain. Calling the project a "deadly situation," she warns of threats to local water supplies, saying, "If we don't have water, there's no us." Susan says the project is all about "greed" and "money." She says seeing neighbor David Daniel's yard sign opposing Keystone XL gave her hope to fight.
Video Entry #60: Texas Woman Says Officials "Bought and Paid For"
Renewable Rider Tom Weis speaks with Patti Radillo of Yantis, Texas about the dangers of Keystone XL and the failure of the state's elected officials to protect public health. Saying we all need clean air to breathe, clean water to drink and clean land to grow food on, she stresses the importance of protecting Texas' Lake Fork Reservoir and the Carrizo-Wilcox Aquifer from tar sands oil spills. Patti says she knows first-hand what pollution does to families and shares a story of being eight years old when a Union Carbide plant in her neighborhood exploded, leading to a lifetime of respiratory illnesses for her and her three sisters. She says tar sands spills elsewhere have already caused small businesses to go under, local economies to die, and pregnant women to bear children with birth defects. Charging Texas politicians with being "bought by the corporations," she concludes: "People are dying. People are suffering. And some one has to speak up and say no more."
Video Entry #61: College Student: "Horrible" Corporate Behavior "Freaks Me Out"
Renewable Rider Tom Weis speaks with Daniel Baugh, student at Stephen F. Austin State University, about his future. Daniel took time away from studying for finals to join a solidarity bike ride against Keystone XL through downtown Nacogdoches, Texas. He envisions a world where we live closer to the earth and where oil isn't needed. He decries huge companies wasting a lot of money doing "horrible things," saying it's "scary" and "really freaks me out." He says he doesn't want people he doesn't know messing things up "for a last ditch effort on something that we don't even need." Daniel is studying to be a blacksmith, so he can work with the land himself.
Video Entry #62: Keystone XL "Won't Go Through. We Won't Let It."
Renewable Rider Tom Weis hears Kendal Martel of Nacogdoches, Texas explain why she is so passionate about stopping Keystone XL. Describing Texas communities as "under attack" by TransCanada, she calls the Keystone XL fight "a huge test for America." Addressing local misperceptions about environmentalism, Kendal says environmentalists are simply dedicated to "protecting our air, our food and our water." She calls on President Obama to "be a leader, like he promised," but asserts the pipeline won't go through either way: "We won't let it."
Video Entry #63: Retired Military Vet: TransCanada Has "Lied to Everybody"
Renewable Rider Tom Weis speaks with Eddie Radillo at the Art & Espresso coffee shop in Winnsboro, Texas. Eddie talks about how dangerous tar sands oil violates U.S. climate law; enables the Chinese military; threatens Texas' Carrizo-Wilcox Aquifer; destroys Canadian boreal forests; endangers indigenous tribal communities; and contaminated Michigan's Kalamazoo River. Calling Texans a "very moral" and "patriotic" people, he challenges true Texans to stand up and push back against TransCanada's illegal trespassing and lies. Eddie is the author of the Tar Sands Song: .
Video Entry #64: Rocket Trike Meets Saturn V Rocket at NASA's Johnson Space Center
Renewable Rider Tom Weis provides an up close walking tour of a massive Saturn V rocket at NASA's Johnson Space Center in Houston, Texas. Reflecting on the historic Apollo 11 Mission, he talks about national pride and the need for a new generational mission: a green energy "moon shot" for America. A wall display featuring famous astronauts Neil Armstrong, Michael Collins and "Buzz" Aldrin prompts him to ask: "Who are going to be the American heroes of our generation?" Afterwards, he rolled the rocket trike into the building for a shot of the two "rockets" together, before getting an unforgettable tour of NASA's Mission Control.
Visit EcoWatch's KEYSTONE XL page for more related news on this topic.
EcoWatch Daily Newsletter