This website uses cookies to ensure you get the best experience while browsing it. By clicking 'Got It' you're accepting these terms.
Robert Reich: The New Truth About Free Trade
Mar. 15, 2016 11:14AM EST
Business
I used to believe in trade agreements. That was before the wages of most Americans stagnated and a relative few at the top captured just about all the economic gains.
The old-style trade agreements of the 1960s and 1970s increased worldwide demand for products made by American workers and thereby helped push up American wages.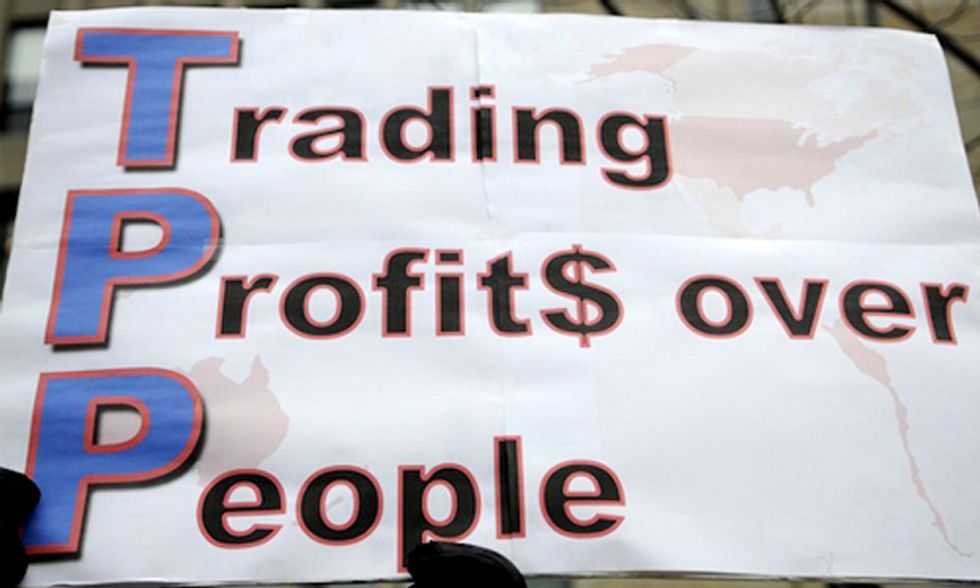 The new-style agreements increase worldwide demand for products made by American corporations all over the world, enhancing corporate and financial profits but keeping American wages down.
The fact is, recent trade deals are less about trade and more about global investment.
Big American corporations no longer make many products in the U.S. for export abroad. Most of what they sell abroad they make abroad.
The biggest things they "export" are ideas, designs, franchises, brands, engineering solutions, instructions and software, coming from a relatively small group of managers, designers and researchers in the U.S.
The Apple iPhone is assembled in China from components made in Japan, Singapore and a half-dozen other locales. The only things coming from the U.S. are designs and instructions from a handful of engineers and managers in California.
Apple even stows most of its profits outside the U.S. so it doesn't have to pay American taxes on them.
Recent "trade" deals have been wins for big corporations and Wall Street, along with their executives and major shareholders, because they get better direct access to foreign markets and billions of consumers.
They also get better protection for their intellectual property—patents, trademarks and copyrights—and for their overseas factories, equipment and financial assets.
That's why big corporations and Wall Street are so enthusiastic about the Trans Pacific Partnership (TPP)—the giant deal among countries responsible for 40 percent of the global economy.
That deal would give giant corporations even more patent protection overseas. And it would allow them to challenge any nation's health, safety and environmental laws that stand in the way of their profits—including our own.
But recent trade deals haven't been wins for most Americans.
By making it easier for American corporations to make things abroad, the deals have reduced the bargaining power of American workers to get better wages here.
The Trans Pacific Trade Partnership's investor protections will make it safer for firms to relocate abroad—the Cato Institute describes such protections as "lowering the risk premium" on offshoring—thereby further reducing corporate incentives to make and do things in the U.S., using and upgrading the skills of Americans.
Proponents say giant deals like the TPP are good for the growth of the U.S. economy. But that argument begs the question of whose growth they're talking about.
Almost all the growth goes to the richest one percent. The rest of us can buy some products cheaper than before, but most of those gains would are offset by wage losses.
In theory, the winners could fully compensate the losers and still come out ahead. But the winners don't compensate the losers.
For example, it's ironic that the administration is teaming up with congressional Republicans to enact the TPP, when congressional Republicans have done just about everything they can to keep down the wages of most Americans.
They've refused to raise the minimum wage (whose inflation-adjusted value is now almost 25 percent lower than it was in 1968), expand unemployment benefits, invest in job training, enlarge the Earned Income Tax Credit, improve the nation's infrastructure or expand access to public higher education.
They've embraced budget austerity that has slowed job and wage growth. And they've continued to push "trickle-down" economics—keeping tax rates low for America's richest, protecting their tax loopholes and fighting off any attempt to raise taxes on wealthy inheritances to their level before 2000.
I've seen first-hand how effective Wall Street and big corporations are at wielding influence—using lobbyists, campaign donations and subtle promises of future jobs to get the global deals they want.
Global deals like the TPP will boost the profits of Wall Street and big corporations and make the richest one percent even richer. But they'll contribute to the steady shrinkage of the American middle class.
YOU MIGHT ALSO LIKE
Big Food Found Guilty in Multimillion Dollar Cover Up in GMO Labeling Fight
Palm Oil Scorecard: Find Out Which Brands Are (and aren't) Helping Save Indonesia's Rainforests
Science and Politics Clash as Humanity Nears Climate Change Tipping Point
EcoWatch Daily Newsletter
No longer will the options when we die be a choice between just burial or cremation. Soon it will be possible to compost your remains and leave your loved ones with rich soil, thanks to a new funeral service opening in Seattle in 2021 that will convert humans into soil in just 30 days, as The Independent reported.
You can reduce the footprint of a medium-sized live tree by donating it to elephants at a local zoo, like this African elephant pictured above. eans / iStock / Getty Images
The holiday season is supposed to be about giving and sharing, but often it is actually about throwing away. The U.S. generates 25 percent more garbage between Thanksgiving and New Year's than it does during the rest of the year. That's around one million extra tons per week, according to National Environmental Education Foundation (NEEF) figures reported by The Associated Press.
The Opera House is seen with smoke haze which enveloped Sydney Harbor on Dec. 10 in Sydney, Australia. Smoke haze hangs over the city as the New South Wales fire danger risk is raised from 'very high' to 'severe'. James D. Morgan / Getty Images
The brushfires raging through New South Wales have shrouded Australia's largest city in a blanket of smoke that pushed the air quality index 12 times worse than the hazardous threshold, according to the Australia Broadcast Corporation (ABC).
People walk across the bridge near Little Raven Court in downtown Denver. Younger Americans increasingly prefer to live in walkable neighborhoods. Helen H. Richardson / The Denver Post via Getty Images
By David B. Goldstein
Energy efficiency is the cornerstone of any country's plan to fight the climate crisis. It is the cheapest option available, and one that as often as not comes along with other benefits, such as job creation, comfort and compatibility with other key solutions such as renewable energy. This has been recognized by the International Energy Agency (IEA) for at least a decade.
Activists from Extinction Rebellion New York City engaged in nonviolent direct action to confront climate change outside City Hall on April 17, 2019. Erik McGregor / Pacific Press / LightRocket via Getty Images
By Andrea Germanos

Over 500 groups on Monday rolled out an an action plan for the next president's first days of office to address the climate emergency and set the nation on a transformative path towards zero emissions and a just transition in their first days in office.