Robert Reich: The New Truth About Free Trade
I used to believe in trade agreements. That was before the wages of most Americans stagnated and a relative few at the top captured just about all the economic gains.
The old-style trade agreements of the 1960s and 1970s increased worldwide demand for products made by American workers and thereby helped push up American wages.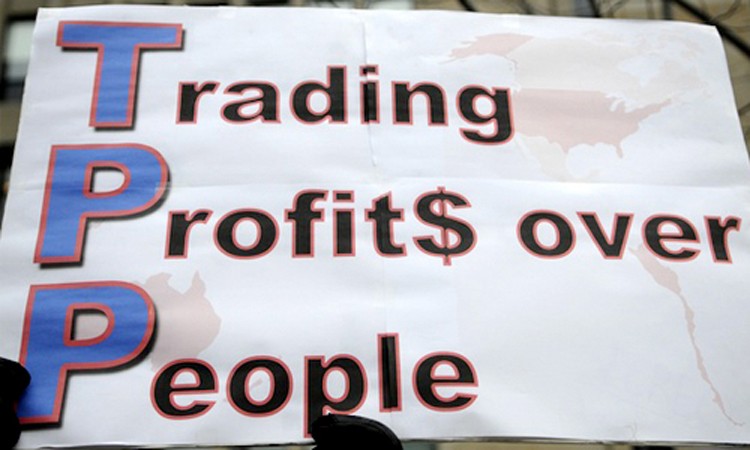 The new-style agreements increase worldwide demand for products made by American corporations all over the world, enhancing corporate and financial profits but keeping American wages down.
The fact is, recent trade deals are less about trade and more about global investment.
Big American corporations no longer make many products in the U.S. for export abroad. Most of what they sell abroad they make abroad.
The biggest things they "export" are ideas, designs, franchises, brands, engineering solutions, instructions and software, coming from a relatively small group of managers, designers and researchers in the U.S.
The Apple iPhone is assembled in China from components made in Japan, Singapore and a half-dozen other locales. The only things coming from the U.S. are designs and instructions from a handful of engineers and managers in California.
Apple even stows most of its profits outside the U.S. so it doesn't have to pay American taxes on them.
Recent "trade" deals have been wins for big corporations and Wall Street, along with their executives and major shareholders, because they get better direct access to foreign markets and billions of consumers.
They also get better protection for their intellectual property—patents, trademarks and copyrights—and for their overseas factories, equipment and financial assets.
That's why big corporations and Wall Street are so enthusiastic about the Trans Pacific Partnership (TPP)—the giant deal among countries responsible for 40 percent of the global economy.
That deal would give giant corporations even more patent protection overseas. And it would allow them to challenge any nation's health, safety and environmental laws that stand in the way of their profits—including our own.
But recent trade deals haven't been wins for most Americans.
By making it easier for American corporations to make things abroad, the deals have reduced the bargaining power of American workers to get better wages here.
The Trans Pacific Trade Partnership's investor protections will make it safer for firms to relocate abroad—the Cato Institute describes such protections as "lowering the risk premium" on offshoring—thereby further reducing corporate incentives to make and do things in the U.S., using and upgrading the skills of Americans.
Proponents say giant deals like the TPP are good for the growth of the U.S. economy. But that argument begs the question of whose growth they're talking about.
Almost all the growth goes to the richest one percent. The rest of us can buy some products cheaper than before, but most of those gains would are offset by wage losses.
In theory, the winners could fully compensate the losers and still come out ahead. But the winners don't compensate the losers.
For example, it's ironic that the administration is teaming up with congressional Republicans to enact the TPP, when congressional Republicans have done just about everything they can to keep down the wages of most Americans.
They've refused to raise the minimum wage (whose inflation-adjusted value is now almost 25 percent lower than it was in 1968), expand unemployment benefits, invest in job training, enlarge the Earned Income Tax Credit, improve the nation's infrastructure or expand access to public higher education.
They've embraced budget austerity that has slowed job and wage growth. And they've continued to push "trickle-down" economics—keeping tax rates low for America's richest, protecting their tax loopholes and fighting off any attempt to raise taxes on wealthy inheritances to their level before 2000.
I've seen first-hand how effective Wall Street and big corporations are at wielding influence—using lobbyists, campaign donations and subtle promises of future jobs to get the global deals they want.
Global deals like the TPP will boost the profits of Wall Street and big corporations and make the richest one percent even richer. But they'll contribute to the steady shrinkage of the American middle class.
YOU MIGHT ALSO LIKE
Big Food Found Guilty in Multimillion Dollar Cover Up in GMO Labeling Fight
Palm Oil Scorecard: Find Out Which Brands Are (and aren't) Helping Save Indonesia's Rainforests
Science and Politics Clash as Humanity Nears Climate Change Tipping Point
Bill Maher is sick of billionaires' obsession with Mars, more like "Mars-a-Lago," he said.
In a new animation produced by ATTN:, the popular talk show host of Real Time, discusses the perils of our planet, including how "climate change is killing us."
Keep reading...
Show less
Dr. Benjamin D. Santer, research scientist
A group of prominent climate scientists have written a study explicitly refuting statements made by the U.S. Environmental Protection Agency Administrator Scott Pruitt on climate data. During his Senate confirmation hearing, Pruitt claimed in a written response that satellite data shows a "leveling off" of warming over the past two decades.
Keep reading...
Show less
By David Pomerantz
The Nevada Assembly passed a bill Wednesday that would dramatically increase the growth of renewable energy in the state, but Sheldon Adelson, the casino magnate and major donor to Donald Trump, is attempting to prevent the bill from becoming law.
Keep reading...
Show less
Matt Crossick
By Yosola Olorunshola
Whether it's through fashion or protest, Vivienne Westwood is not a woman afraid of making a statement.
On May 23, she rocked up to the residence of the Archbishop of Canterbury in London with a special guest—the Grim Reaper—to issue a strong statement on the Church of England's position on fracking.
Keep reading...
Show less
By Paul Brown
The food industry and big agricultural concerns are driving climate change and at the same time threatening to undermine efforts to feed the world's growing population, according to GRAIN, an organization that supports small farmers.
Particularly singled out for criticism are the large chemical fertilizer producers that have gained access to the United Nations talks on climate change. GRAIN accuses them of behaving like the fossil fuel companies did in the 1990s, pushing false information in the hope of delaying real action on climate change.
Keep reading...
Show less
By Sydney Robinson
President Trump has no doubt been given a long list of extravagant, elaborate gifts in his lifetime, but the gift given to him today by Pope Francis may not make it on his most favorite list.
Keep reading...
Show less
By John Rogers
Maybe it's because I first started working on clean energy while serving in the Peace Corps he founded, or maybe it's my years of working on these issues from his home state. But I can't help thinking about the 100th anniversary of John F. Kennedy's birth, and connecting his stirring rhetoric to the energy challenges of our times.
Here's what our 35th president might have said about the challenges of energy transition and the opportunities in clean energy:
"Change is the law of life. And those who look only to the past or present are certain to miss the future."
Keep reading...
Show less
May. 24, 2017 01:47PM EST
Keep reading...
Show less


Get EcoWatch in your inbox