This website uses cookies to ensure you get the best experience while browsing it. By clicking 'Got It' you're accepting these terms.
Robert Reich: The New Truth About Free Trade
Mar. 15, 2016 11:14AM EST
Business
I used to believe in trade agreements. That was before the wages of most Americans stagnated and a relative few at the top captured just about all the economic gains.
The old-style trade agreements of the 1960s and 1970s increased worldwide demand for products made by American workers and thereby helped push up American wages.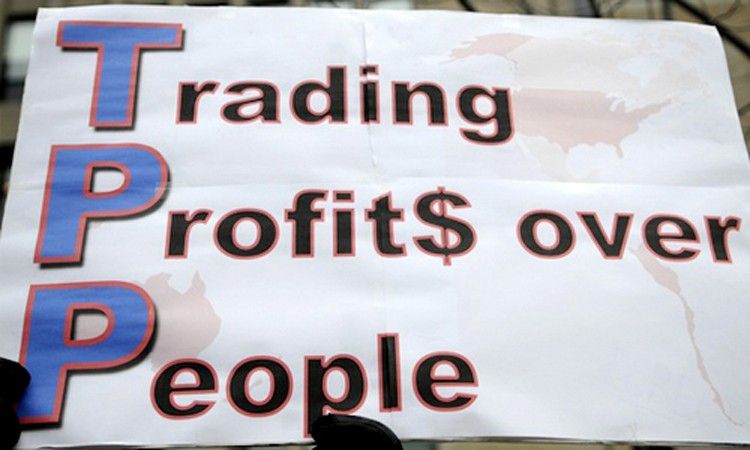 The new-style agreements increase worldwide demand for products made by American corporations all over the world, enhancing corporate and financial profits but keeping American wages down.
The fact is, recent trade deals are less about trade and more about global investment.
Big American corporations no longer make many products in the U.S. for export abroad. Most of what they sell abroad they make abroad.
The biggest things they "export" are ideas, designs, franchises, brands, engineering solutions, instructions and software, coming from a relatively small group of managers, designers and researchers in the U.S.
The Apple iPhone is assembled in China from components made in Japan, Singapore and a half-dozen other locales. The only things coming from the U.S. are designs and instructions from a handful of engineers and managers in California.
Apple even stows most of its profits outside the U.S. so it doesn't have to pay American taxes on them.
Recent "trade" deals have been wins for big corporations and Wall Street, along with their executives and major shareholders, because they get better direct access to foreign markets and billions of consumers.
They also get better protection for their intellectual property—patents, trademarks and copyrights—and for their overseas factories, equipment and financial assets.
That's why big corporations and Wall Street are so enthusiastic about the Trans Pacific Partnership (TPP)—the giant deal among countries responsible for 40 percent of the global economy.
That deal would give giant corporations even more patent protection overseas. And it would allow them to challenge any nation's health, safety and environmental laws that stand in the way of their profits—including our own.
But recent trade deals haven't been wins for most Americans.
By making it easier for American corporations to make things abroad, the deals have reduced the bargaining power of American workers to get better wages here.
The Trans Pacific Trade Partnership's investor protections will make it safer for firms to relocate abroad—the Cato Institute describes such protections as "lowering the risk premium" on offshoring—thereby further reducing corporate incentives to make and do things in the U.S., using and upgrading the skills of Americans.
Proponents say giant deals like the TPP are good for the growth of the U.S. economy. But that argument begs the question of whose growth they're talking about.
Almost all the growth goes to the richest one percent. The rest of us can buy some products cheaper than before, but most of those gains would are offset by wage losses.
In theory, the winners could fully compensate the losers and still come out ahead. But the winners don't compensate the losers.
For example, it's ironic that the administration is teaming up with congressional Republicans to enact the TPP, when congressional Republicans have done just about everything they can to keep down the wages of most Americans.
They've refused to raise the minimum wage (whose inflation-adjusted value is now almost 25 percent lower than it was in 1968), expand unemployment benefits, invest in job training, enlarge the Earned Income Tax Credit, improve the nation's infrastructure or expand access to public higher education.
They've embraced budget austerity that has slowed job and wage growth. And they've continued to push "trickle-down" economics—keeping tax rates low for America's richest, protecting their tax loopholes and fighting off any attempt to raise taxes on wealthy inheritances to their level before 2000.
I've seen first-hand how effective Wall Street and big corporations are at wielding influence—using lobbyists, campaign donations and subtle promises of future jobs to get the global deals they want.
Global deals like the TPP will boost the profits of Wall Street and big corporations and make the richest one percent even richer. But they'll contribute to the steady shrinkage of the American middle class.
YOU MIGHT ALSO LIKE
Big Food Found Guilty in Multimillion Dollar Cover Up in GMO Labeling Fight
Palm Oil Scorecard: Find Out Which Brands Are (and aren't) Helping Save Indonesia's Rainforests
Science and Politics Clash as Humanity Nears Climate Change Tipping Point
EcoWatch Daily Newsletter

georgeclerk / E+ / Getty Images
By Jennifer Molidor
One million species are at risk of extinction from human activity, warns a recent study by scientists with the United Nations. We need to cut greenhouse gas pollution across all sectors to avoid catastrophic climate change — and we need to do it fast, said the Intergovernmental Panel on Climate Change.
This research should serve as a rallying cry for polluting industries to make major changes now. Yet the agriculture industry continues to lag behind.
Edwin Remsburg / VW Pics / Getty Images
Botswana, home to one third of Africa's elephants, announced Wednesday that it was lifting its ban on the hunting of the large mammals.
"The Ministry of Environment, Natural Resources Conservation and Tourism wishes to inform the public that following extensive consultations with all stakeholders, the Government of Botswana has taken a decision to lift the hunting suspension," the government announced in a press release shared on social media.
Pxhere
By Richard Denison
Readers of this blog know how concerned EDF is over the Trump EPA's approval of many dozens of new chemicals based on its mere "expectation" that workers across supply chains will always employ personal protective equipment (PPE) just because it is recommended in the manufacturer's non-binding safety data sheet (SDS).
By Grant Smith
From 2009 to 2012, Gregory Jaczko was chairman of the Nuclear Regulatory Commission, which approves nuclear power plant designs and sets safety standards for plants. But he now says that nuclear power is too dangerous and expensive — and not part of the answer to the climate crisis.
A lake in Rocky Mountain National Park. Brett Walton / Circle of Blue
By Brett Walton
When Greg Wetherbee sat in front of the microscope recently, he was looking for fragments of metals or coal, particles that might indicate the source of airborne nitrogen pollution in Rocky Mountain National Park. What caught his eye, though, were the plastics.
Gabriele Holtermann Gorden / Pacific Press / LightRocket / Getty Images
In a big victory for animals, Prada has announced that it's ending its use of fur! It joins Coach, Jean Paul Gaultier, Giorgio Armani, Versace, Ralph Lauren, Vivienne Westwood, Michael Kors, Donna Karan and many others PETA has pushed toward a ban.
This is a victory more than a decade in the making. PETA and our international affiliates have crashed Prada's catwalks with anti-fur signs, held eye-catching demonstrations all around the world, and sent the company loads of information about the fur industry. In 2018, actor and animal rights advocate Pamela Anderson sent a letter on PETA's behalf urging Miuccia Prada to commit to leaving fur out of all future collections, and the iconic designer has finally listened.
Amer Ghazzal / Barcroft Media / Getty Images
If people in three European countries want to fight the climate crisis, they need to chill out more.
That's the conclusion of a new study from think tank Autonomy, which found that Germany, the UK and Sweden all needed to drastically reduce their workweeks to fight climate change.
Amazon Employees for Climate Justice held a press conference after the annual shareholder meeting on May 22. Amazon Employees for Climate Justice