Robert F. Kennedy Jr. Praises Obama's Carbon Rules, Blasts Koch Brothers on 'The Ed Show'
Jun. 03, 2014 09:02AM EST
Climate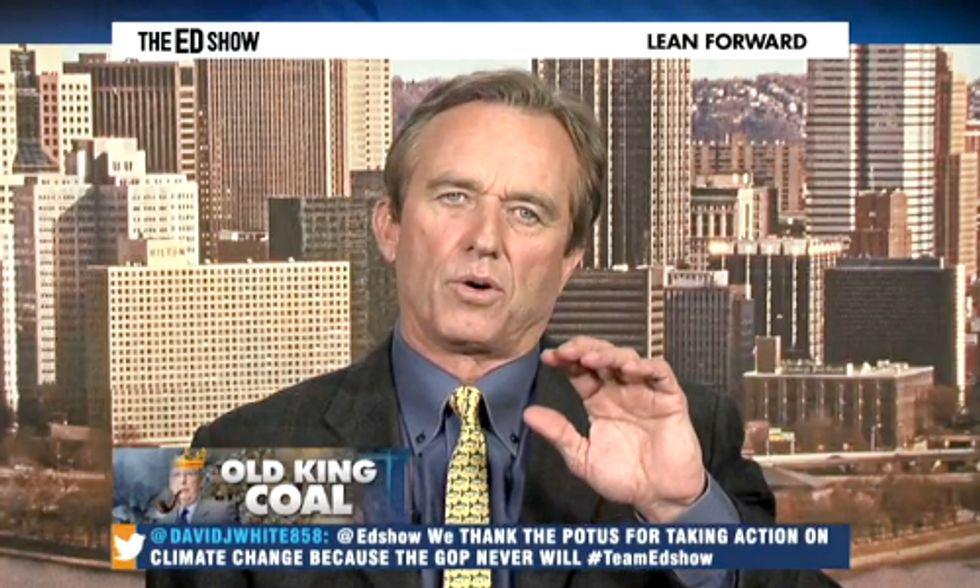 Reactions are pouring in to President Barack Obama's monumental carbon emissions proposal, presented Monday by U.S. Environmental Protection Agency Administrator Gina McCarthy. While some opposers have already declared it "Obamacare for air," other took to the airwaves to praise the plan.
Waterkeeper Alliance President Robert F. Kennedy, Jr. was among them, appearing on MSNBC's The Ed Show to describe why environmentalists like himself are "delighted" with the proposal.
Kennedy, also a senior attorney for the Natural Resources Defense Council and co-director of the Pace Environmental Litigation Clinic, particularly likes that the EPA will offer states the flexibility to make their own plans to reduce emissions and erase their reliance on coal. 
"We know what you can do, we've scientifically determined that, and we are going to give you a target," he said, as if hypothetically speaking for the EPA. "If, for example, last year your state was discharging 19,000 tons of carbon, by 2030 you can only discharge 15,000 tons. We're not going to tell you how to get there, we're just going to tell you that you need to do it one way or another. If you want to use the marketplace, use the marketplace."
He also took a moment to blast the Koch Brothers, whose Cato Institute claimed the new rules would reduce warming by just 0.018 percent. Kennedy explained what he expects their role to be in the pushback against the carbon regulations; what their Cato Institute is really used for; and why they actually "hate free markets."
"Really, [the Cato Institute's] primary purpose is creating the philosophical justification for unlimited, corporate profit takings without regulation," he said. "They hate free market capitalism. What they really love, Ed, is a ruthless, brutal, merciless capitalism for the poor and a socialism for the rich.
"It's a corporate kleptocracy, and it's led by the big polluters."
——–
YOU ALSO MIGHT LIKE
Obama and EPA Release Historic Carbon Reduction Plan to Fight Climate Change
Dubbing New EPA Carbon Plan 'Obamacare For The Air,' Mainstream Media Fails to See Republican Extremism
Dark Money Documentary Exposes Koch Brothers' Spending Secrets
——–
EcoWatch Daily Newsletter