This website uses cookies to ensure you get the best experience while browsing it. By clicking 'Got It' you're accepting these terms.
Rite Aid: Still Making the Wrong Choice for Forests
Jul. 22, 2015 01:28PM EST
Earlier this year, we told you about how Rite Aid—the third-largest drugstore chain in the U.S.—has been making the wrong choice for forests by not managing where its paper comes from. Without a paper procurement policy, Rite Aid is exposed to controversies in its supply chain via the millions of pounds of paper it purchases for throwaway flyers.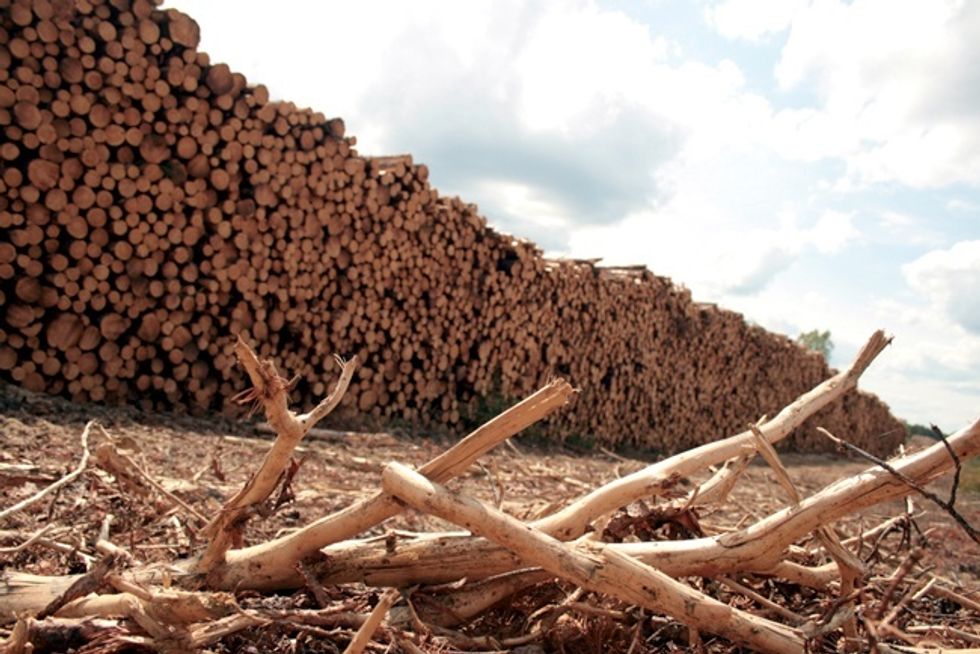 Rite Aid has reason to scrutinize where its paper comes from. Resolute Forest Products, currently one of its major suppliers, is destroying endangered forests—including precious wildlife habitat—and has at times logged in Indigenous First Nation territories without consent. Despite repeated outreach to Rite Aid back in April, the company continues to ignore the signs and symptoms that it has a serious problem.
It's time for Rite Aid to make the right choice for our forests. Here's what's at stake.
The Problem: Destruction in Canada's Boreal Forest
With roughly 4,600 stores in 31 states and DC, Rite Aid is a neighborhood staple for many Americans. Many of us have likely been inside a store and touched the very paper linked to unsustainable logging without even knowing.
While its advertised sales and discounts may be appealing, the paper the company uses for its sales flyers is currently bad news for the largest remaining intact forest in North America, the Boreal. And that means bad news for the climate, endangered wildlife and Indigenous First Nations communities.
Rite Aid's sales flyers are printed on paper from Resolute Forest Products, a company that is logging in some of the last ancient forests in Canada still undisturbed by industrial development. This type of logging threatens wildlife like the woodland caribou and puts one of Earth's largest carbon sinks at risk. At times, Resolute has even ignored the rights of First Nations communities that have inhabited the Boreal for countless generations and who are decision-makers in their territories.
So far, Rite Aid has continued to ignore where its paper comes from and turn a blind eye to the forest destruction behind its throwaway flyers. But it doesn't have to be this way.
Companies Prove Forest Protection Is Possible
Public support has been an important force behind more companies abandoning practices that destroy our forests. In just the last few years, a growing number of large companies like Kimberly-Clark, Procter & Gamble, Hewlett-Packard and others have adopted policies that minimize their impact on endangered forests.
And now, even while Rite Aid still refuses to adopt a meaningful paper policy—a standard practice for a company of its size—we can again send the company a strong message. One of the largest drugstores in the United States cannot continue to ignore what the best science tells us: the Canadian Boreal forest is at risk and Rite Aid's paper supplier, Resolute, is making a bad situation worse.
It's Time for Rite Aid to Make the 'Rite' Choice
We know that Rite Aid can make the right choice for the Boreal by adopting a paper policy that avoids unsustainable sources and maximizes the use of recycled and Forest Stewardship Council (FSC)-certified paper. These sort of customer signals encourage the sustainable use of forests that are economically viable for local communities, respects the rights of First Nations and doesn't threaten the existence of wildlife species like the Woodland Caribou.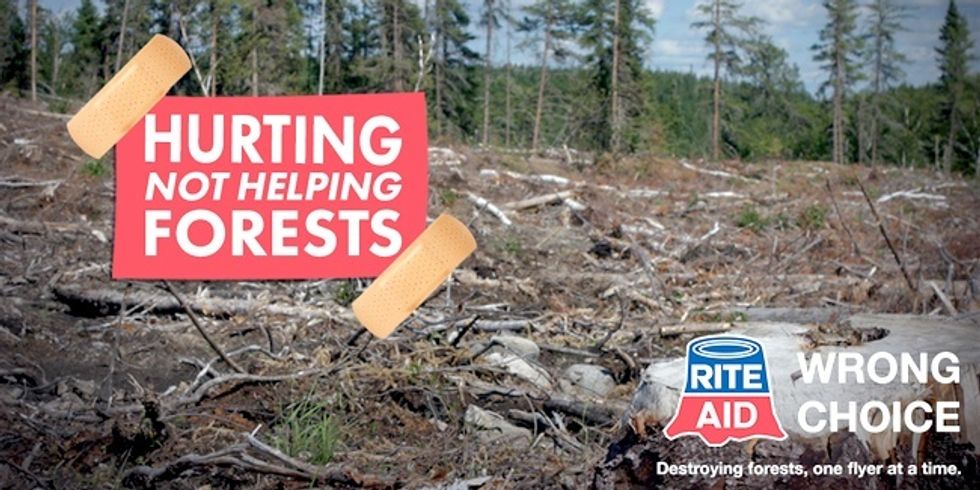 Now, we're calling on Rite Aid to do the 'rite' thing before the damage to endangered forests in the Boreal gets worse.
Take action today. Tell Rite Aid's CEO to do the 'rite' thing for forests.
YOU MIGHT ALSO LIKE
The Battle to Save the Endangered and Heavily Poached Pangolin
Why Would 46 Senators Support Burning Trees for Electricity When It Contributes More to Climate Change Than Coal?
Drone Footage Captures the Shocking Reality of Rainforest Destruction
EcoWatch Daily Newsletter
No longer will the options when we die be a choice between just burial or cremation. Soon it will be possible to compost your remains and leave your loved ones with rich soil, thanks to a new funeral service opening in Seattle in 2021 that will convert humans into soil in just 30 days, as The Independent reported.
You can reduce the footprint of a medium-sized live tree by donating it to elephants at a local zoo, like this African elephant pictured above. eans / iStock / Getty Images
The holiday season is supposed to be about giving and sharing, but often it is actually about throwing away. The U.S. generates 25 percent more garbage between Thanksgiving and New Year's than it does during the rest of the year. That's around one million extra tons per week, according to National Environmental Education Foundation (NEEF) figures reported by The Associated Press.
The Opera House is seen with smoke haze which enveloped Sydney Harbor on Dec. 10 in Sydney, Australia. Smoke haze hangs over the city as the New South Wales fire danger risk is raised from 'very high' to 'severe'. James D. Morgan / Getty Images
The brushfires raging through New South Wales have shrouded Australia's largest city in a blanket of smoke that pushed the air quality index 12 times worse than the hazardous threshold, according to the Australia Broadcast Corporation (ABC).
People walk across the bridge near Little Raven Court in downtown Denver. Younger Americans increasingly prefer to live in walkable neighborhoods. Helen H. Richardson / The Denver Post via Getty Images
By David B. Goldstein
Energy efficiency is the cornerstone of any country's plan to fight the climate crisis. It is the cheapest option available, and one that as often as not comes along with other benefits, such as job creation, comfort and compatibility with other key solutions such as renewable energy. This has been recognized by the International Energy Agency (IEA) for at least a decade.
Activists from Extinction Rebellion New York City engaged in nonviolent direct action to confront climate change outside City Hall on April 17, 2019. Erik McGregor / Pacific Press / LightRocket via Getty Images
By Andrea Germanos

Over 500 groups on Monday rolled out an an action plan for the next president's first days of office to address the climate emergency and set the nation on a transformative path towards zero emissions and a just transition in their first days in office.