Rising Sea Levels Could Spark Largest Migration of Displaced People in History
Feb. 26, 2013 12:25PM EST
Climate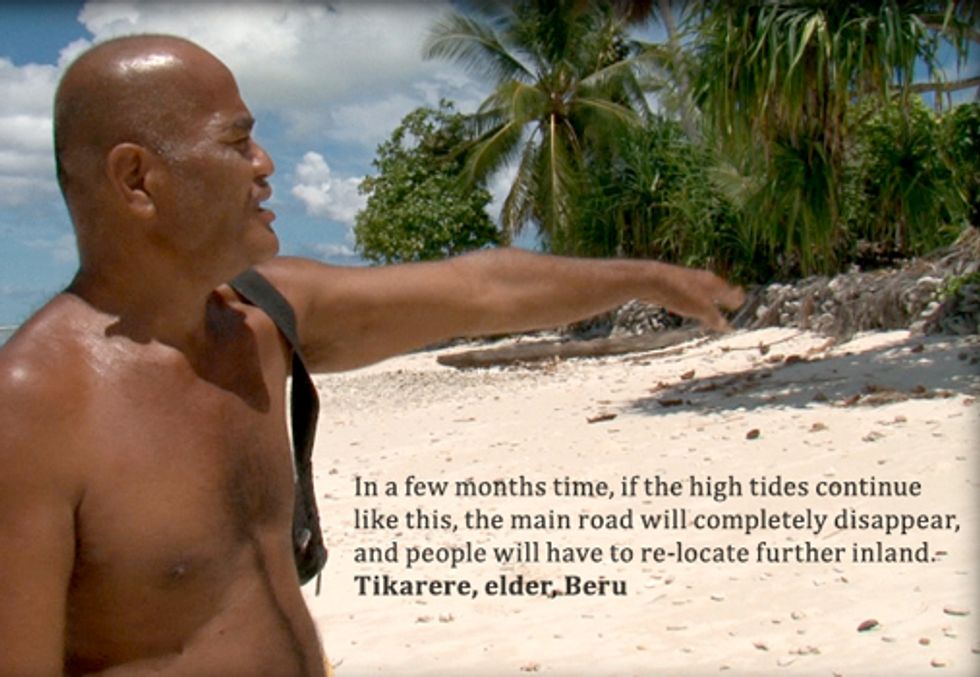 This Saturday March 2 is the Warrior Day of Action when Pacific Islanders on the frontline of climate change will mobilize to send a message to the world that they will fight to protect their land, their existence and their identity from rising tides.
To support their efforts for climate justice, Specialty Studios is offering the award-winning film The Hungry Tide free for viewing and sharing through March 3. The Australian-produced 53-minute documentary personalizes the plight of the Pacific island nation of Kiribati, which is already being inundated by rising seas and could become the world's first climate-induced migration of an entire nation.
Kiribati is expected to be one of the first countries to disappear as a result of climate change. Sea level rise and increasing salinity are threatening the homes and lives of 105,000 residents spread over 33 atolls. One of the least developed countries in the world, Kiribati has contributed little to worldwide carbon emissions, yet has the most to lose from global warming.
The Hungry Tide shows clearly the tragic impact of climate change on Kiribati, and exposes the stark global inequalities driving the global warming phenomenon. The film personalizes the story by following the life and work of Maria Tiimon, who evolves to become one of the most prominent advocates for the rights of Pacific Islanders. Originally from Kiribati, Tiimon works for an organization in Sydney as an impassioned campaigner for her sinking nation. But right from the start, Tiimon finds herself frequently torn between the needs of her family on Kiribati and her role on the world stage.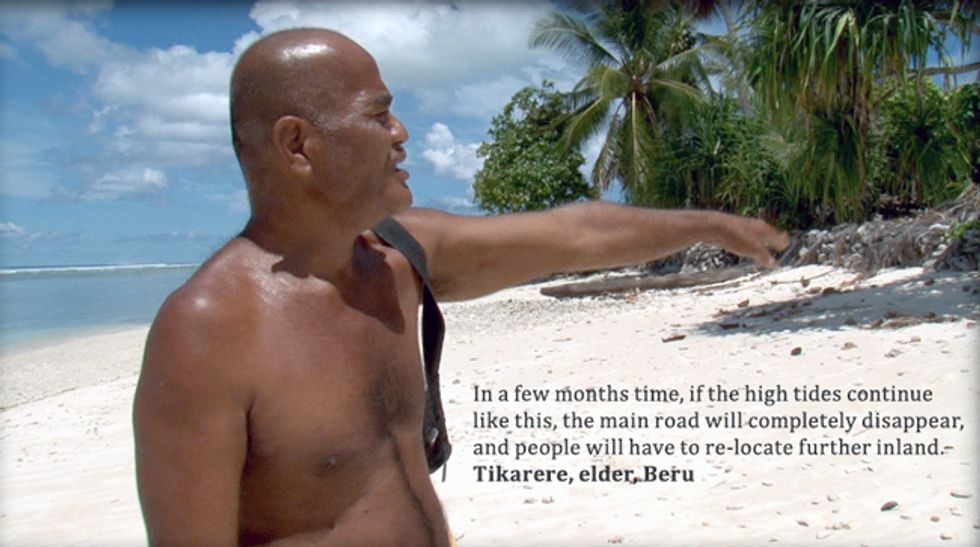 A rather shy Tiimon travels to the Climate Change Conference in Copenhagen to press for a new binding treaty to dramatically reduce greenhouse emissions. "Industrial countries are causing change in the climate and we are the first to feel the consequences," said Tiimon. Later, as a more confident advocate, she travels to Cancun for the next Climate Change Conference (COP16).
While Tiimon's life and work unfold, the situation in Kiribati deteriorates. Seawalls protecting an entire community are swept away. Only decisive global action will save Kiribati from disappearing. But pledges made at the climate change conferences to cut carbon emissions have fallen far short of their targets. And promises to assist poorer countries to adapt to climate change haven't materialized. As a result, Kiribati's president believes that relocation may be the only option, "To plan for the day when you no longer have a country is indeed painful but I think we have to do that."
Visit EcoWatch's CLIMATE CHANGE page for more related news on this topic.
——–
Click here to tell Congress to Expedite Renewable Energy.

EcoWatch Daily Newsletter