Riding Together Against Keystone XL
Apr. 23, 2014 08:30AM EST
Energy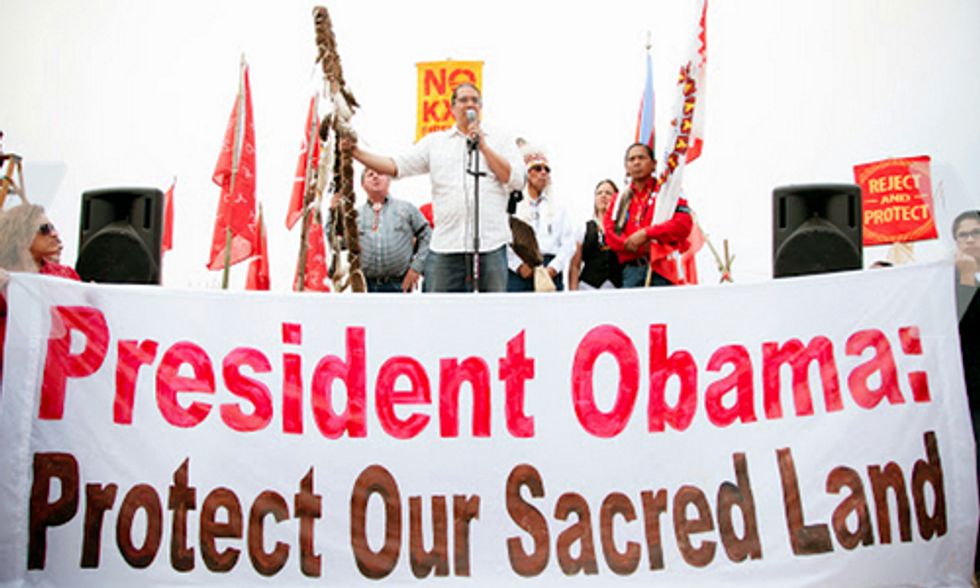 To politicians in Washington, the Keystone XL pipeline is an abstraction: just another political football to hurl back and forth across partisan lines. But along the pipeline's proposed route, Keystone XL is a clear and present danger, threatening a people's traditional way of life—not to mention the health and safety of their communities.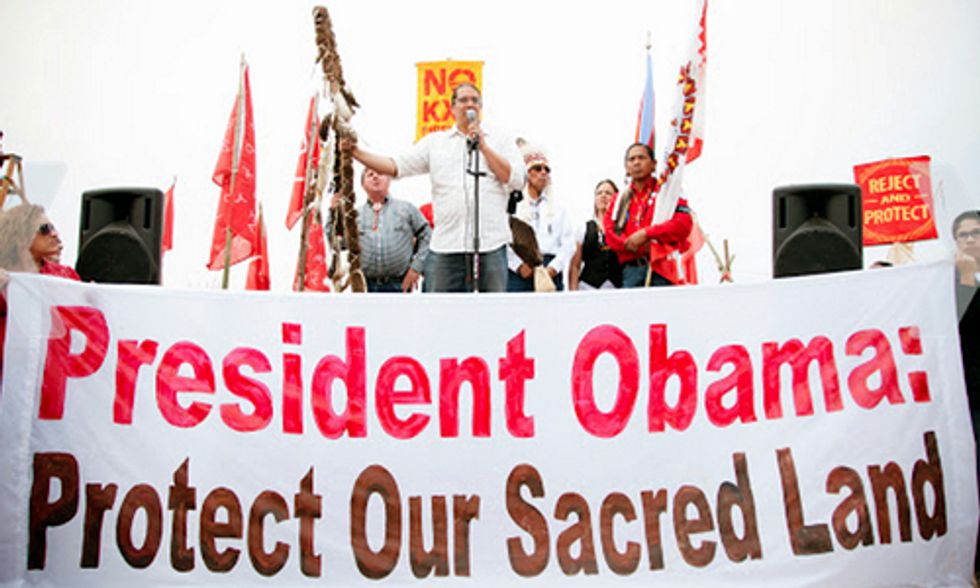 We come from very different places. One of us is a Hollywood actor. The other is community leader of the Oglala Sioux, a part of the Lakota nation. One of us works in the metropolis of Los Angeles. The other makes a home in Pine Ridge Indian Reservation, amid the long grasses and rolling hills of South Dakota.
Yet despite these differences, we share many things in common. Both of us are women profoundly concerned with the legacy we are leaving for future generations. We share a commitment to protecting the land, air and climate all our lives depend on, whether we live in the city or country, and we understand that we share these same life support systems. We believe that protecting the living soil and uncontaminated water in which we can grow food, safe from oil spills and other pollution, is our sacred duty. And we are united, and we are not alone, in our unrelenting opposition to the Keystone XL tar sands pipeline.
Last fall, we joined a horseback ride along the proposed pipeline route to see firsthand the land that this controversial project would defile. Over the years, Native Americans have gone on many rides, sometimes into battle, sometimes into exile. This ride was a way of bearing witness to the changes that a foreign company, TransCanada, is attempting to impose upon these ancient lands that so many depend on to maintain their livelihoods, culture and traditions.
Legend tells of a black snake that will threaten our people. Keystone XL is that serpent, a 1,700 mile pipe that would carry toxic tar sands oil across our land and over our water. The tail of the serpent would sit in the Canadian tar sands of Alberta, where indigenous peoples have fallen victim to increased cancer rates and the deadly pollution caused by the oil industry. The serpent's mouth opens on the Gulf of Mexico, spewing toxic emissions in refinery communities like Port Arthur, Texas, where mothers must watch their children grow up with debilitating asthma and other environmentally-related health problems.
In between, Keystone XL would run through some of the country's most vulnerable land, carrying dirty tar sands crude through the sensitive Sand Hills ecosystem and the Ogallala Aquifer—one of the largest sources of fresh water in the world—which provides clean water for drinking and agriculture to much of the Midwest. The tar sands crude that the pipeline would carry through our land is the thickest, dirtiest form of oil there is. In the case of a leak or spill, this thick crude would sink in water, making it nearly impossible to clean up and threatening the health and safety of this region for decades to come. Even worse, tar sands crude is significantly more carbon-heavy than other kinds of oil: By allowing huge quantities to reach the global market, the Keystone pipeline would do irrevocable damage to our climate, resulting in more of the extreme weather events that are already threatening our communities. Building this pipeline would create immediate dangers to the health and safety of our communities, and break our promise to leave future generations with a clean, livable planet.
Yesterday, the Cowboy and Indian Alliance, a group of ranchers, farmers and tribal leaders along the pipeline route, came together for a five-day encampment on the National Mall in Washington D.C. to pressure President Obama to reject Keystone XL and protect our precious lands and waters. Last Friday, the State Department delayed a decision on Keystone XL because of concerns about the route in Nebraska. We want to show the president the faces of the people all along the pipeline route whose lives will be affected by his decision. We invite the public to join us and thousands of others on Saturday, April 26 for a public procession through the nation's capital.
Cowboys and Indians are often at odds in Hollywood movies. But in this fight, they are riding against a common enemy: Big Oil. Now, it's up to President Obama to choose which side he's on. As for us, we know where we stand: together.
Daryl Hannah is an actress and director. Debra White Plume is a community leader of the Oglala Sioux. Both are environmental activists.
——–
YOU MIGHT ALSO LIKE
Bill McKibben: We Need to Win Not Delay the Keystone XL Pipeline Decision
Anti-Keystone XL Groups Discuss Delayed Decision on MSNBC
Could We Win the Keystone XL Battle But Still Lose the Tar Sands War?
——–
EcoWatch Daily Newsletter